"Welcome to Hawai'i" Should Have Limits
Hawaii Business Magazine's editor makes a case for luring more affluent travelers to the Islands – and discouraging the budget conscious from visiting.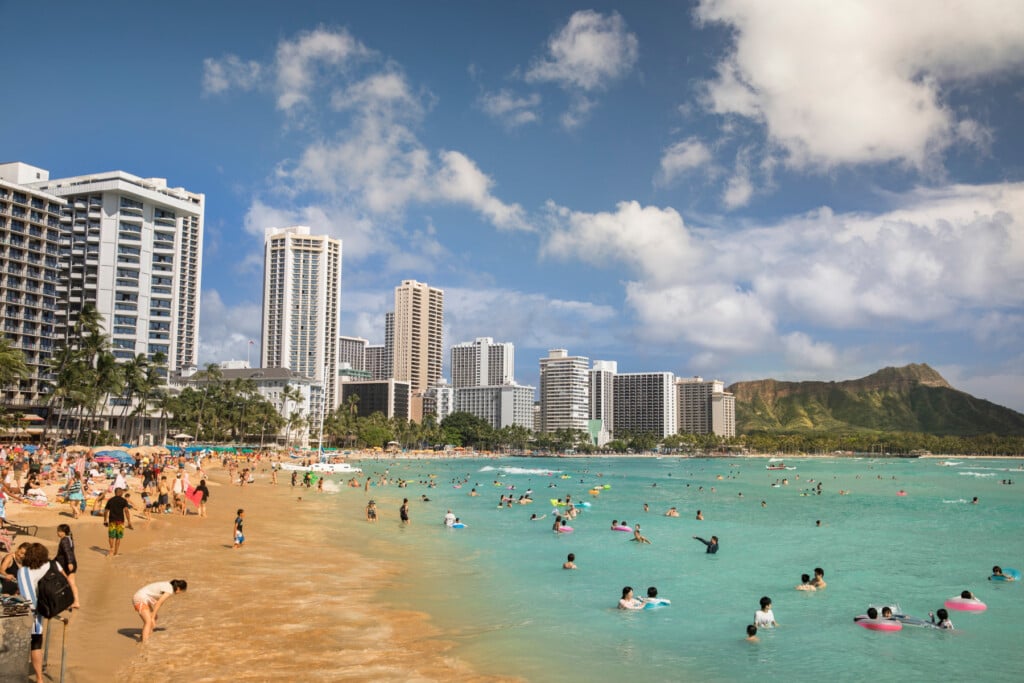 People are sometimes shocked by my unrealistic insistence that we ban all budget travelers from Hawai'i.
You know the varied types of people on discount vacations: families of four who jam into one discount hotel room; 20-somethings with only backpacks for luggage and whose favored accommodation is a tent; and seniors who ride TheBus everywhere, only attend free events and get most of their calories from Costco samples.
In my ruthless fantasy world, I would use artificial intelligence to identify the cheapskates before they got off their planes, detain them at the gate and put them on the first flight out to a cheaper tourism destination like Florida or Myrtle Beach.
Of course, the most realistic way to prevent budget travelers from coming is to raise the cost of vacationing in Hawai'i – which means even the biggest cheapskates spend more money here than they otherwise would.
You know the phrase "It's for your own good." This is for our own good. For the good of Hawai'i and the people of Hawai'i.
When budget travelers spend a week here, they leave impacts like everyone does – think of those college students hiking seven trails in seven days while leaving us with only a few hundred dollars of their spending money and much less in taxes.
That's a great deal for them, but a raw deal for kama'āina and the 'āina itself, and the opposite of regenerative tourism. I love Hawai'i too much to welcome that deal.
I prefer when hotels can get $800 and more a night for a room, as long a good chunk of that ends up in local workers' pockets and the taxes get paid.
Changes in Tourism
Staff Writer and Engagement Editor Noelle Fujii-Oride writes in this issue about various forms of regenerative tourism around the Islands – methods that share the same goal as my radical proposal. They want tourists to leave smaller footprints and give back enough in time and money so Hawai'i's people – inside and outside the tourism industry – can have a decent quality of life. And the land and sea will flourish.
More money is a huge factor: better wages for tourism workers, money to fix roads, sewers and hiking trails and to finance cesspool conversions and save our coral (another story in this issue), and a million other purposes.
People in popular destinations worldwide are demanding their own forms of regenerative tourism. One August story in The New York Times listed increased taxes and fees at many European tourist meccas to help pay for city services:
Amsterdam raised the tourist accommodation tax.
Barcelona now charges visitors a "city surcharge" on top of its accommodation tax.
The Croatian city of Dubrovnik imposed a tax on cruise ships.
Even Manchester – not among my top destinations in England except for soccer – has imposed a hotel tax.
And on the English coast, the town of St. Ives is charging visitors 40 pence to use the toilets.
The Regenerative Premium
Politicians added the charges because of pressure from voters who felt the benefits of tourism were outweighed by the price residents were paying for it in their daily lives. The increased taxes seek to redress the imbalance.
Tourist taxes are the subject of endless debate in Hawai'i. Many people outside the tourism industry love to raise taxes on tourists – more gain and less pain for locals, they say.
But the tourism industry says every time we raise taxes on tourists or increase fees, we drive some to go elsewhere. Undoubtedly true, but the tougher questions are: Do we really want those budget travelers who are driven away, and how many tourists are too many for Hawai'i?
The Hawai'i Tourism Authority and DBEDT know public sentiment cannot be ignored. That's why they regularly survey residents with questions like: Is tourism an industry that enhances residents' quality of life? In both DBEDT surveys last year, the yeas and nays of varying intensity came out about even. Not a ringing endorsement for an industry dependent on the aloha spirit.
For regenerative tourism, popular destinations like Amsterdam and Barcelona can charge a premium and still draw lots of affluent tourists. In Hawai'i, we can too, and we'll eventually discover just how much of a regenerative premium.