Hawaiian Airlines New Repair Hangar Can Hold 5 Jets at Once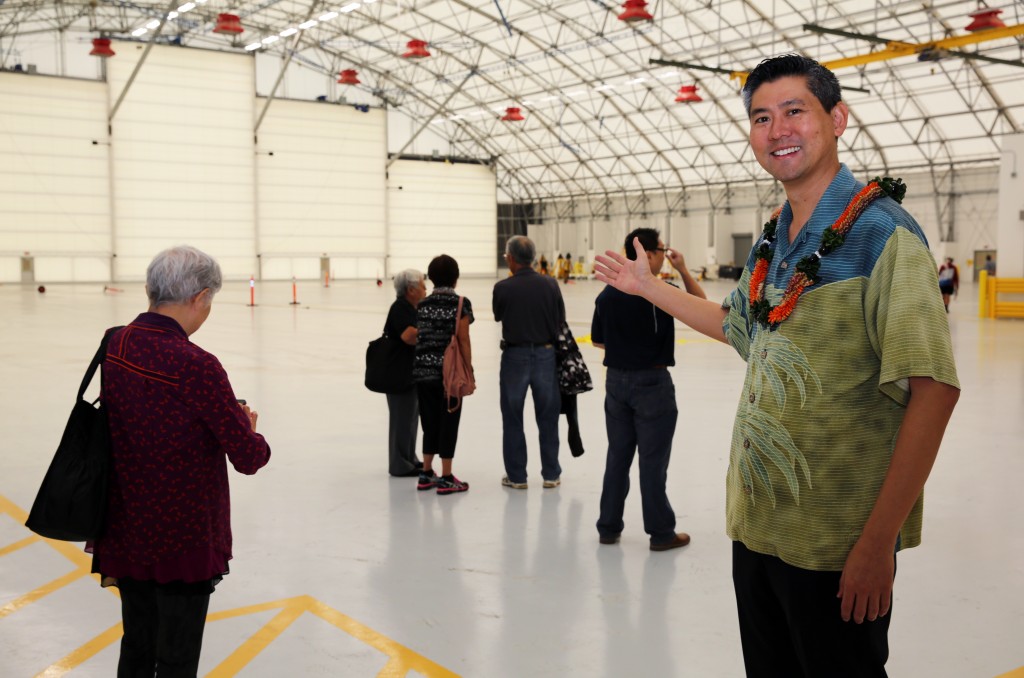 Above: Rock Tang, Hawaiian Airlines' managing director of corporate real estate, welcomes news media and airline retirees to the new repair hangar, which is almost the size of two football fields. The white doors and posts at left rise to let in planes.
---
Hawaiian Airlines dedicated its new maintenance and repair facility at Honolulu's Inouye International Airport – including a giant hangar that could house as many as five of its passenger jets at once.
Saturday was the 88th anniversary of the airline's first flight on Nov. 11, 1929. Hawaiian used the occasion to dedicate the Charles Elliott Maintenance and Cargo Facility, named in honor of the pilot for that maiden flight from Honolulu to Hilo, who went on to play many other important roles at the airline.
News media and Hawaiian Airlines retirees were invited into the enormous hangar. Rock Tang, Hawaiian's managing director of corporate real estate, said it covers 95,800 square feet, almost the size of two football fields and could hold five Boeing 717 jets at once or many other combinations of planes from the Hawaiian fleet.
The hangar's state of the art equipment included emergency systems that can fill the hangar in a few minutes with fire retardant foam to a depth of 14 feet. It will begin handling the airline's maintenance work in mid-December.
By coincidence, the dedication came a day after Hawaiian's main interisland competitor, Island Air, flew its final flights. Hawaiian Airlines CEO Mark Dunkerley said his airline had immediately added three flights and was allowing Island Air passengers to fly standby on all flights.
Asked whether Hawaiian would add regularly scheduled flights that would replace those flown by Island Air, Dunkerley said, "Hawaiian Airlines, since its inception, has always provided capacity for people travelling between the islands. That won't change. There will always be seats available. We will always meet the needs of this community.
"In the short term, we're looking to increase the number of flights we have. We've already added three extra flights to accommodate Island Air's customers, but generally we're assessing the amount of capacity this market needs going forward."
Hawaiian Airlines archivist Rick Rogers, a retired Hawaiian pilot, also filled a time capsule at the facility with hundreds of pieces of memorabilia, which he said included historical uniforms, photographs and videos, oral histories, flight menus, a maintenance screwdriver and a piece of the original "skin" of the plane from that inaugural flight. The time capsule is scheduled to be opened on Nov. 11, 2079, the 150th anniversary of the flight.