Hawaii's First Responders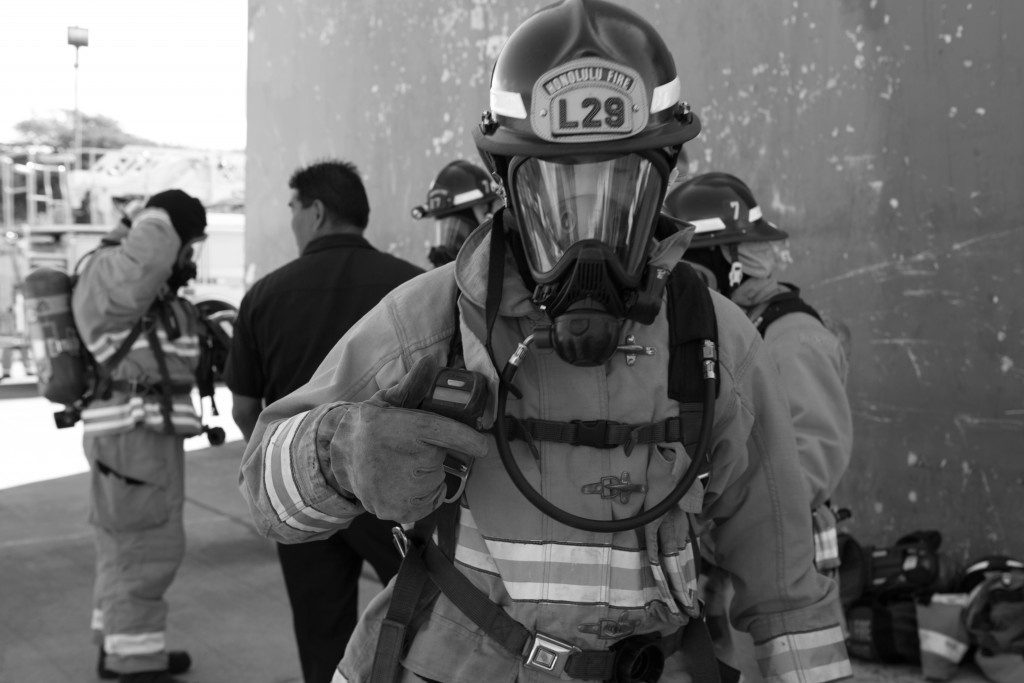 This Sept. 11 marks the 11th anniversary of the 2001 terrorist attacks and the 20th anniversary of the day Hurricane Iniki struck Kauai and Oahu's Waianae Coast. The solemn occasion is a fitting opportunity to publish this photo essay on the men and women who work every day to save lives.
FIRE RESCUE
A flashover – when a room bursts into flames – can kill firefighters, so it's crucial they recognize when one is imminent. Training at the Honolulu Fire Department Training Center helps recruits and veterans recognize the increased heat, thick, darkening smoke and free burning in the ceiling that indicate a flashover is coming, explains HFD Capt. Carlton Yamada, who oversees fire operations training. However, modern personal protection equipment is so effective that sometimes firefighters cannot immediately feel the increasing heat, which can reach 1,000 degrees Fahrenheit. "This simulation provides real life indicators leading to the decision that 'I need to get out,' " Yamada says.
This training session combines simulated fire conditions with a Mayday drill, in which a firefighter helps a colleague in trouble. Here, FF3 Randall Gibo helps FF1 Jason DeCova, who is lying on the ground.
Flashover and some other training are conducted in a rectangular module that resembles a shipping container and is equipped with rooms, a bed and a stove. Propane jets ignite the interior and theatrical smoke adds to the realistic conditions. The firefighter on the facing page is FF1 Michael Ball.
CANINE UNIT
At top right, Cpl. Rusty Radona of the Honolulu Police Department commands Chico to release his bite on Officer Augustine Agas' "fat suit." Chico is an 8-½-year-old Belgian Malinoise, a dog bred for personal protection and law enforcement. The human members of HPD's Canine Unit include eight handlers, each assigned to their own dogs. Most of the 13 dogs are Belgian Malinoise, purchased from a trainer in Denver, Ind., though there are several bloodhounds and a Dutch Shepherd named Cento, shown above right. The Belgian Malinoises received initial training in Europe and the officers speak to them in Dutch.
"The dogs are trained for obedience and aggression before we get them," says Cpl. Clerie Silva. "Each dog has a specialty, whether it be bombs or drugs." Other activities include tracking and apprehending suspects, and finding articles or evidence at a crime scene. Photo at top middle shows the subdued patch worn by members of HPD's Specialized Services Division. The picture below that shows an officer handling a C-4 explosive training aid.
COAST GUARD
Abram Heller, an aviation survival technician and a rescue swimmer, is lowered down a trail line from an HH-65A Dolphin helicopter to a U.S. Coast Guard boat during training about five miles off Sand Island. "These types of trainings are done approximately twice a week and are crucial to prepare us when we actually have to do a life-saving mission," says USCG public affairs officer and HC-130 Hercules pilot Lt. Andre Delima. "Basket hoists are used not only for water rescues, but land rescues, too."
On this mission, the Dolphin helicopter was manned by Heller, pilots Lt. j.g. Sam Pemberton and Lt. Jason Gross, and aviation maintenance technician Molly Bowser, who not only does maintenance on the helicopter, but is responsible for navigating and operating the hoist. The Dolphin's fuel tank holds about 200 gallons of fuel, on which it can fly for up to three hours.
OCEAN RESCUE
The job of lifeguards is no longer just to watch for people in trouble, says Honolulu Water Safety Officers Dave Loui, left, and Tim Brandon, who were keeping people safe at Sandy Beach on a Tuesday morning. "In the old days," Brandon says, "lifeguards just waited for stuff to happen. In the past 10 to 12 years, we have moved to taking on a more proactive role. So we walk the beach and talk to people, educate them about water safety and suggest alternative safer beaches if they're not experienced."
EMERGENCY ROOM
Below right, Dr. Catherine Oliver, chief of The Queen's Medical Center's Emergency Department, treats a patient who walked in with an infection that he says started with an ant bite but swelled into a serious situation. Physician's assistant Veronica Gomez, in protective gear, assists Oliver as she probes the infected area.
Oliver, who has been practicing medicine for seven years, says the vast majority of patients who come into the ER have true emergencies and arrive around the clock. "We start to see an increase in patients around 5 a.m. with about eight to 10 patients an hour starting around 9 a.m. It slows down between 2 a.m. to 4 a.m. but generally we're pretty busy between 9 a.m. to 10 p.m.," she says.
In the 40 minutes that Hawaii Businessspent following Oliver, she treated five patients, whose conditions included a broken tailbone, a gout attack, and knee and wrist injuries.
EMERGENCY MEDICAL SERVICES
Paramedics with the City and County of Honolulu have to deal with health emergencies at all times of the day and night. At right, paramedics Jon Kusano and Julie Watanuki tend to a 40-year-old man who had trouble breathing. The patient, who was recovering from throat cancer, was transported to the Queen's ER.
Below right, Honolulu's chief of emergency medical services, Patty Dukes, consults with paramedics helping a diabetic patient who had just crossed Punchbowl Street after being discharged from Queen's. The patient, who EMS workers knew suffers from a series of medical problems, was found to be hypoglycemic and was taken back to Queen's.
Dukes oversees 270 paramedics, plus 25 to 30 dispatchers and other support staff. When she joined the department 28 years ago, there were only six women on staff. Today, women make up 35 to 45 percent of the department.
Above left, paramedics and firefighters help a man who apparently had a seizure on a city bus in Kalihi. After being treated on the bus and then off the bus, the patient refused to go to a hospital, so, after signing a release of liability form, he was allowed to reboard the bus.
At right, Watanuki uses a Panasonic ToughBook computer to log information on a 3-year-old boy who was injured at Chuck E. Cheese's restaurant in Kalihi. The boy, being held in his mother's arms, was cut on his forehead. Watanuki says Honolulu EMS teams usually take children to Kapiolani Medical Center, though trauma victims go to Queen's and burn injuries are treated at Straub.