Chefzone Provides Help for Busy Restauranteurs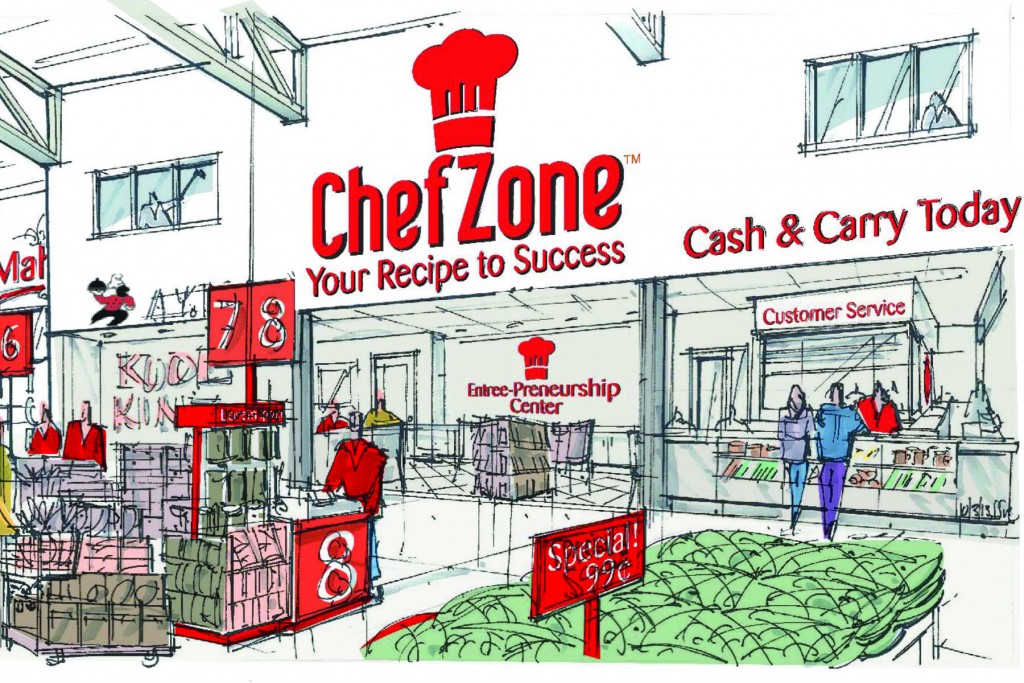 Shopping at warehouse stores can be crazy: Traffic frequently jams inside and outside the stores as badly as on our highways, and that's especially difficult for restaurateurs and other business people who need to grab supplies fast and get back to work.
That's why chef Camile Komine is looking forward to the launch this fall of ChefZone, Y. Hata & Co. Ltd.'s cash-and-carry wholesale club for food-service operators, including independent restaurateurs, catering companies, food trucks and nonprofits. The 45,000-square-foot facility at 2888 Ualena St., near Honolulu International Airport, will feature more than 6,000 food-service products, equipment and supplies, and access to more than 35,000 items through special order.
And because chefs love cooking more than they love budgeting, the facility's Entree-preneurship Center will provide free business support such as menu engineering, food costing, graphic design and social media advice. A free demonstration kitchen will let vendors show how to prepare their products, and offer workshops and certification programs to food-service workers.
"There has been a big puka in the industry and I am so glad Y. Hata is doing this," says Komine, the owner of the food truck Camile's on Wheels and the catering chef at the Kailua Racquet Club, who also caters outside events. "I'm growing, and my needs are growing."
Russell Hata, CEO at Y. Hata and founder of ChefZone, says there were few options in Hawaii for small- and independent-restaurant operators. Neither Sam's Club nor Costco provides a full line of food-service products, he says. So, for the past four years, Hata and his team researched the mainland market and discovered food-service cash-and-carry stores that were offering more than the big boxes.
"We decided a key area the company would focus on was helping local businesses and realizing local food sustainability," Hata says. "The cash-and-carry store would help the small, independent restaurateur as well as the local farmer."
He says his vision is a one-stop shop that would do everything possible to help restaurants and be a hub for local farmers to bring their products to market.
Milt Yamada of PROforma Favorable Impressions Hawaii took advantage of the business assistance and got guidance on licensing, permitting and trade-name filing.
"I needed Y. Hata to assist with our food costing and sourcing of product and equipment, and so far they have exceeded our expectations," Yamada says. "They've suggested an operational plan, sourcing review, equipment lists, serving projections, staffing overview, item-cost calculator and menu planning."
Jason Kim, chef and owner of Good to Grill in Kapahulu, says ChefZone's vast selection and early morning hours will be especially helpful.
"Sometimes Costco has things, sometimes Sam's has things, and sometimes they don't always have the same things you are used to getting," Kim says. "This throws everything off. You can order from ChefZone and there's consistency in packaging and brands and one less thing for me to worry about."
He says he's especially interested in one of the skills that the Entree-preneurship Center will teach: How to break down recipes to cost out dishes. He also likes the idea of a place dedicated to training staff, especially with a hands-on demonstration kitchen.
"No other place has a demo kitchen where you can create products. It's hard to do that in your own restaurant when your staff is doing prep work," Kim says. "We can take ourselves out of our busy restaurant life and be in another world, work with our teams, make better dishes and become better restaurants."
Matt Wagner, director of sales for Armstrong Produce, a supplier whose products are distributed through Y. Hata, says ChefZone will help it better provide fresh produce to smaller operators.
"This concept addresses ours and Y. Hata's customers need to avoid things like delivery minimums. If they don't have enough storage space or (refrigerator) space to hold a full case of cabbage, they can now get broken cases and buy by the pound," Wagner says.
Ken Weir is the kitchen and food services manager for the Kualoa-Heeia Ecumenical Youth Project, also known as Key Project. The nonprofit's kitchen is used for catering, as an incubator to help small businesses succeed, and to train youth and senior citizens in culinary and food-safety skills.
"The service and quality we get at Y. Hata is incredible," Weir says. "When I walk in the door, they bend over backward, which is important when it comes to building relationships. When I only need a half of a case of something, they will break it out for me so I don't have to buy more than I need."
Weir says the personal service at Y. Hata brings him back, but he's especially looking forward to shopping without the warehouse-store crowds. He can leave his chef coat on, breeze in, get what he needs and get back to Hauula.
"They take good care of us. This will just make it better."
ChefZone
2888 Ualena St.
Monday to Friday, 7 a.m. to 6 p.m.
Saturdays, 7 a.m. to 4 p.m.
Sundays, 8 a.m. to 3 p.m.