Hidden Gems to Help You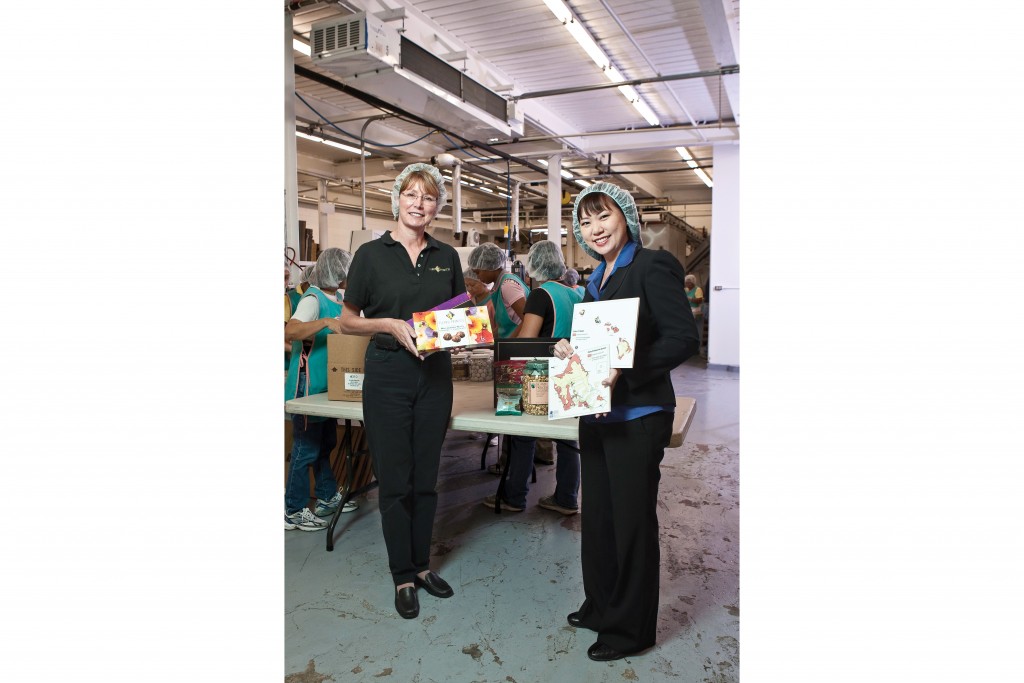 Five government resources that can jumpstart your small business
Island Princess, a local candy company, had been growing since it began in 1983 but struggled to stay alive when the economy nosedived after 9/11. "Sales were way down and we were looking for ways to cut costs and save jobs," says vice president Gwendolyn Purdy.
The Hawaii Enterprise Zones Partnership was her lifeline and saved the company over $300,000 in seven years. "The funds that remained with our company instead of going out through taxes really assisted us in growing," she says.
The EZ Partnership is a "hidden gem" government program, one of many that help small businesses raise money, increase revenue, cut costs and improve efficiency. "It all comes down to education," says Michelle Muraoka, state coordinator for the partnership. People won't use programs they don't know exist. But since many of you don't have the time to uncover these programs, we have done the work for you. Here are five programs that could help grow and improve your small business.
Hawaii Enterprise Zone Partnership
586-2593, www.hawaii.gov/dbedt/business/programs/ez
The EZ Partnership is a state and county effort that offers tax credits and other incentives to certain types of businesses located in designated enterprise zones. "From the state's side, this is a job creation program," Muraoka says.
Each company must have at least one full-time employee, but other hiring requirements depend on whether a firm is existing or new. Existing businesses must increase their staff by 10 percent in year one and maintain that employee level for the second and third years. They then need to increase staff by 15 percent over the next four years. New businesses need to increase their staff by 10 percent in the first year and maintain that employee level for six more years.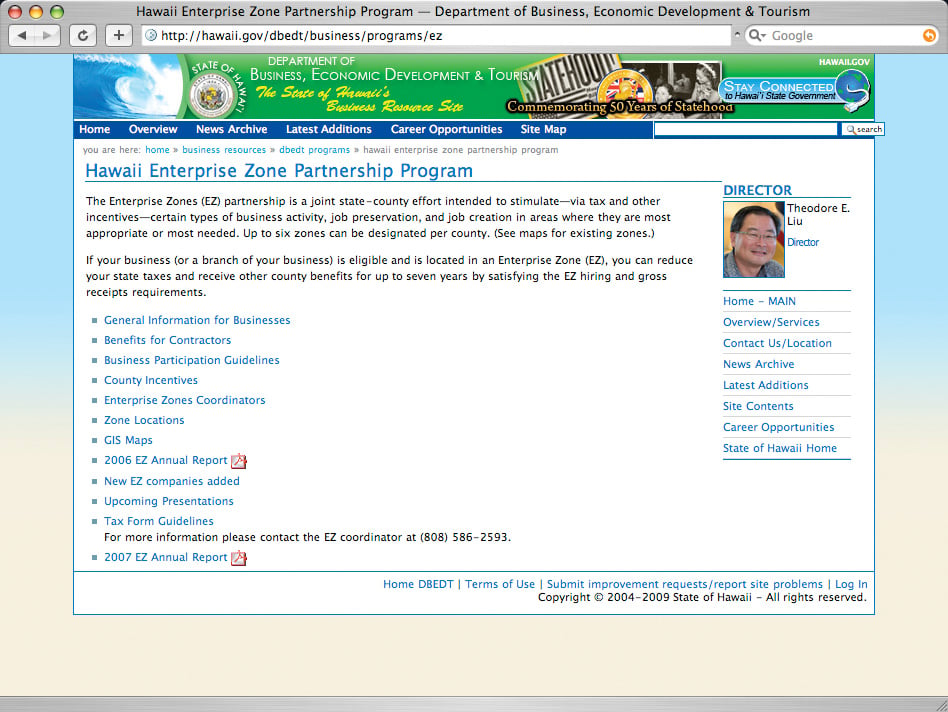 Muraoka says planning can make the hiring requirements less challenging. For example, a business that starts the program in a slow year when it has minimal staff, should find it easier to add the required employees if the economy improves.
At least 50 percent of a business' annual gross receipts must be from qualified industries. About a dozen sectors are eligible, but Muraoka says manufacturing, wholesaling and agriculture are the most common. Each county may nominate up to six enterprise zones, based on the area's high unemployment or low median income, and they remain zones for up to 20 years. Island Princess was already in Mapunapuna, a designated enterprise zone.
Businesses that fulfill the program's annual requirements receive a 100 percent exemption from general excise tax (GET), an 80 percent nonrefundable state income tax credit the first year, which declines by 10 percent each of the next six years. There is an additional nonrefundable state income tax credit equal to 80 percent of unemployment insurance premiums paid the first year, which also declines 10 percent for the next six. Licensed contractors are exempt from GET on revenue from construction done at the EZ site of any enrolled business.
"This program doesn't give you money, but it reduces the amount of tax that you owe and will hopefully make your business more profitable," Muraoka says. Each county government offers other incentives, such as property-tax adjustments, waiving of zoning or building permit fees, and fast-track permitting. There are about 200 companies enrolled with about 20 more joining each year.
Purdy says the process to apply is comparable to filing your taxes. "The effort is minimal compared to the return," she says. "During hard times, if it means it'll keep employees working, it's worth it to at least find out more about the program."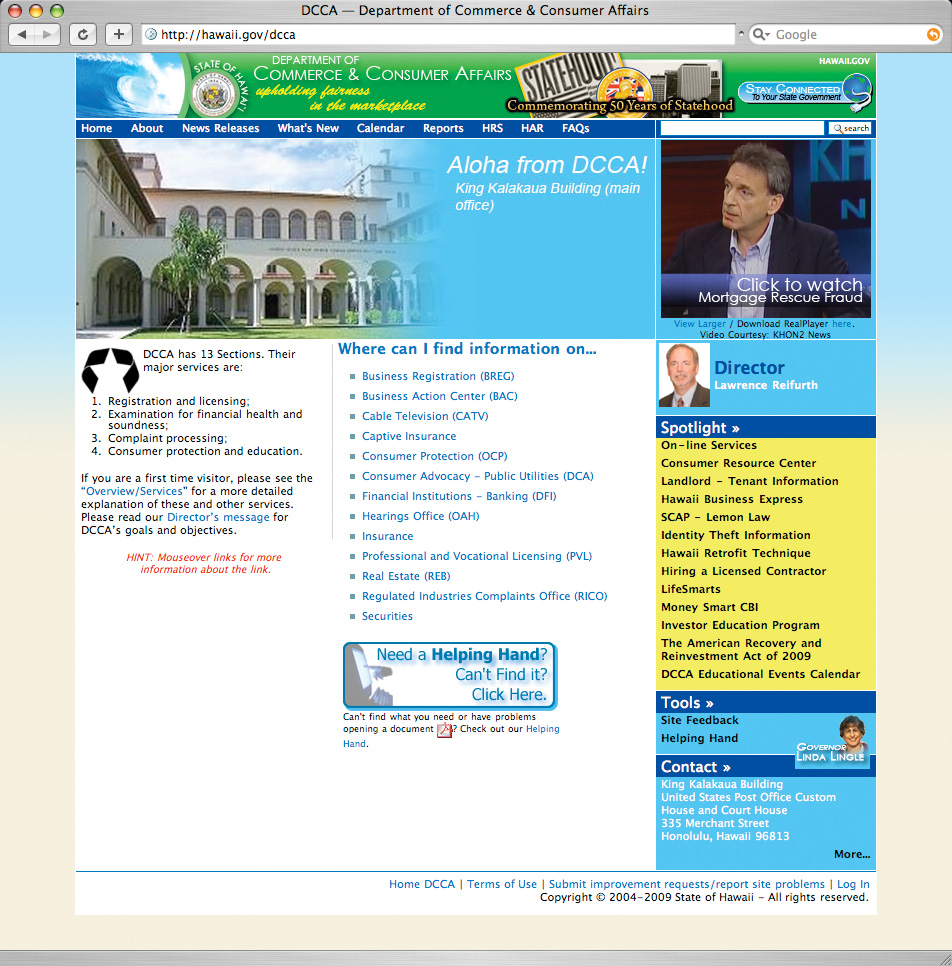 Business Action Center
 586-2545, www.hawaii.gov/dcca
If you're an entrepreneur looking to launch your own business, this one-stop shop in Honolulu's Nimitz Center should be your first step. It helps individuals register their businesses, trade names or trademarks; keep up with annual filings for an existing business; obtain their GET licenses, tax forms and tax information; get a federal employer's ID number; and receive written guidance on unemployment insurance tax, disability, workers' compensation and prepaid healthcare insurance. The office, run by the state Department of Commerce and Consumer Affairs, also provides comprehensive information on licensing rules for all governments.
"We do filings with three different state agencies: the Business Registration Division for the DCCA, the Department of Taxation's Licensing Branch and the employee registration with the Department of Labor," says BAC manager Jayna Uyehara. "We have all of the forms here and we walk people through filling them out so that it lessens the chance of the filing being rejected."
The center also tells you what paperwork is needed for your particular kind of business and which government agencies need those forms.
"The other thing that we do, which no other state does, is we have an Internet live chat option," Uyehara adds. "It's an instant messaging system if you have a question so you can get immediate responses." For clients who can stop by the BAC, Uyehara says, face-to-face, friendly interaction is the center's forte.
Every Monday, a counselor from the U.S. Small Business Administration comes in from 10 a.m. to noon to provide one-on-one, free counseling on federal loans. Every Thursday, from 11 a.m. to 1 p.m., an attorney from the Hawaii State Bar Association provides free legal advice.
"We're a great place to do research and learn," Uyehara says. "If you were to do all of these filings separately, you'd have to go to several different offices and you'd probably have to go downtown. If you do all the forms right the first time, it'll save you a lot of time and energy."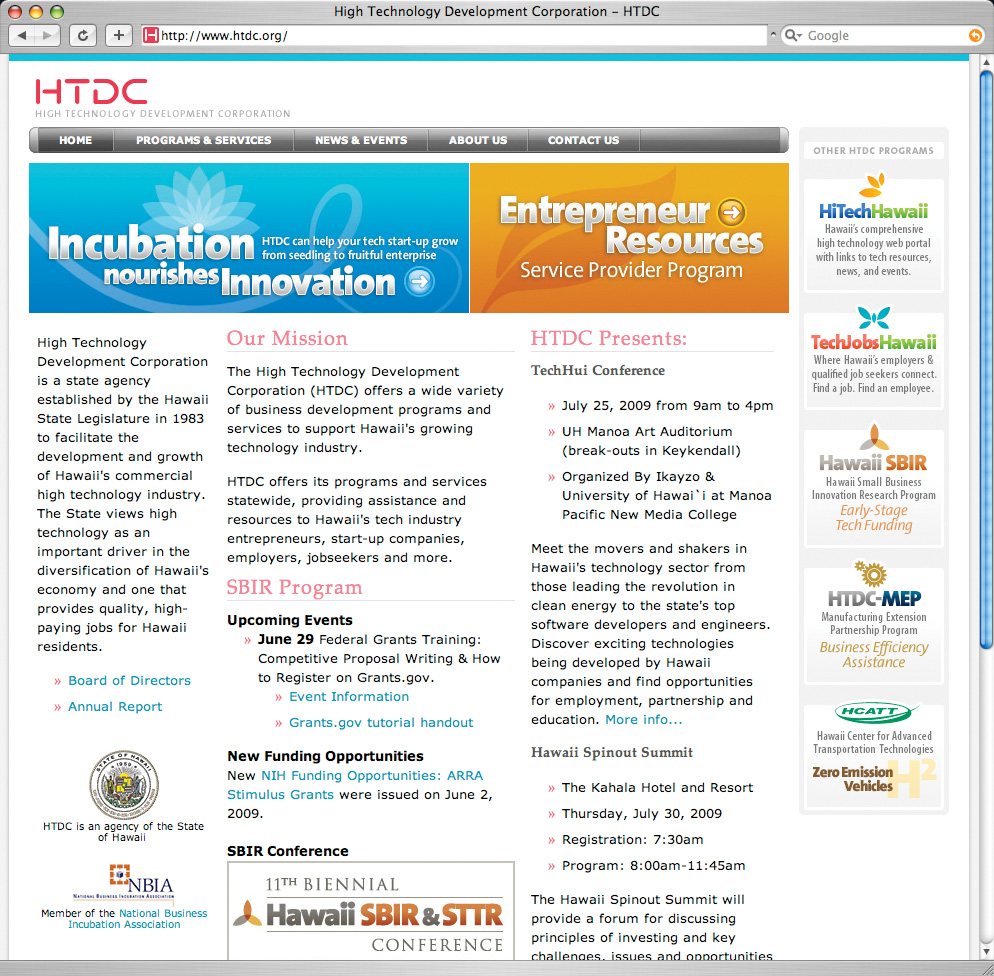 High Technology Development Corporation
539-3806, www.htdc.org
HTDC is a state agency created to help develop Hawaii's high-technology industry. It offers business development programs and services, including workshops, management consulting, and online tech and business resources.
Its Manufacturing Extension Partnership (MEP) works with small- and medium-sized manufacturing and pre-manufacturing companies to increase profitability and competitiveness. Staff can also provide one-on-one consultation, project management and market research.
"Although the name MEP suggests manufacturing, a lot of businesses can qualify for manufacturing or pre-manufacturing," says Yuka Nagashima, HTDC's executive director and CEO. "They could be a company like Hawaiian Host – they've actually been a client of ours. We helped optimize their food manufacturing and test new recipes. We can also be of assistance to larger businesses that need to increase their product lines because their traditional ones need to be diversified in this economy. We assist with the innovation side of the manufacturing or company plans. We also do a lot of streamlining a company's operations and try to bring added value to a company by eliminating waste and increasing quality without adding cost or staff."
Nagashima says smaller companies struggling to get to the next level of efficiency or who want to expand their product lines and businesses would benefit most. On average, 98 companies a year participate.
Another HTDC program is more technical and involved, but helps qualified companies get their ideas and products to market. The Small Business Innovation Research Assistance Program is a $2.2 billion, three-phase federal program that gives small businesses the opportunity to win research and development awards. Hawaii-based companies awarded Phase 1 funding get about $100,000 to work on a prototype concept. "This is very important because venture capitalists will not fund for a company to make the prototype," Nagashima says. "There aren't very many people who would fund you at this point because it's sort of half research, half development, so it's still kind of theoretical. Nobody else would really fund that, so the SBIR grant is really important for those types of companies."
Next, Phase 1 companies can apply for Phase 2, which is a much bigger award – about $750,000 – to develop the physical prototype.
Nagashima says HTDC also helps with Phase 0. "Say you haven't gotten Phase 1 yet," she says. "Those grants to get the awards are very difficult to write. They're very specialized. We will teach companies what the process is, how they should write the grant and how they can edit the grant application to improve their chances of winning Phase 1."
The HTDC also provides some matching funds for Phase 1 companies. "We want more Hawaii companies to win Phase 2, so we're trying to make it a little easier for them." Companies that reach Phase 3 begin commercialization of their ideas.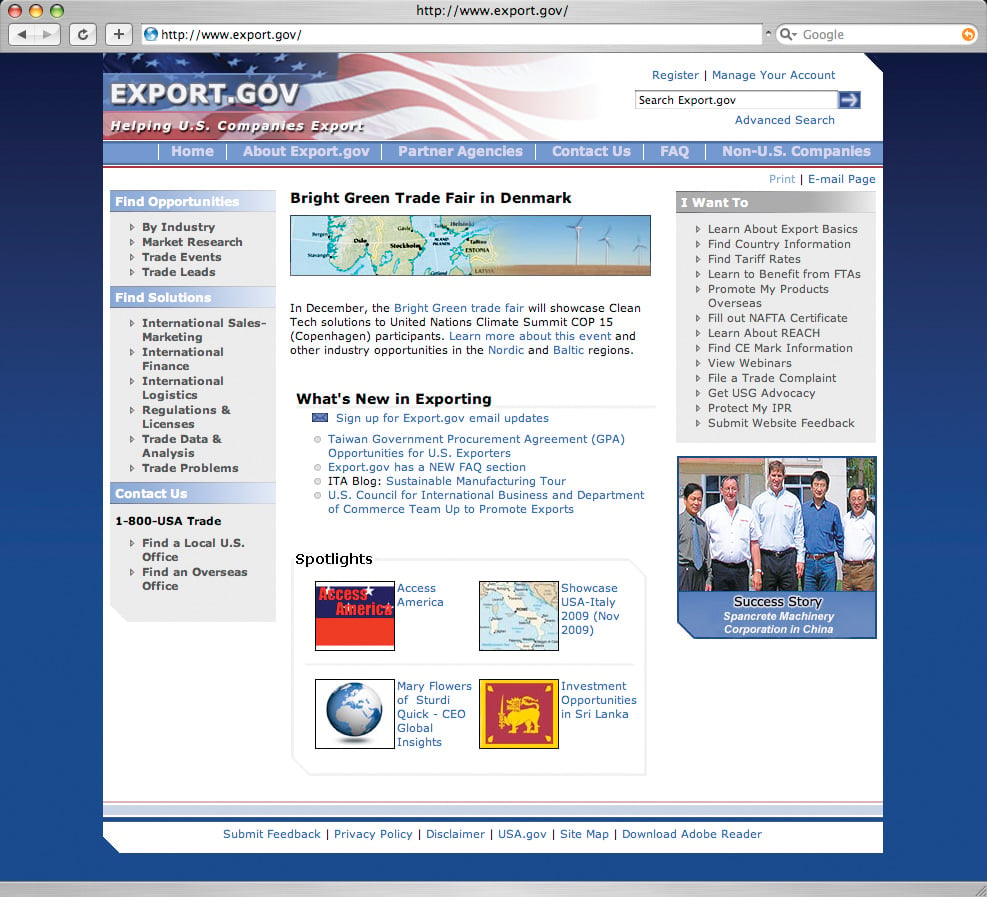 Hawaii Export Assistance Center
522-8041, www.export.gov
If you're looking to expand internationally, this center is a gold mine of information and marketing expertise. It is run by the U.S. Commercial Service, a global network of experienced trade professionals spread over almost 90 countries.
The center offers customized market research, trade missions, logistical support and counseling, international partner searches and personalized consulting. Many basic services are free, with nominal fees for other options, such as Gold Key Service, a match-making program that results in one-on-one meetings with pre-screened contacts in your desired market. For a company of 500 employees or less, the Gold Key Service costs $700. New exporters get it for half price.
Your business must be a U.S. company and your product or service must contain at least 51 percent U.S. content. "So, if you're importing pianos from China and you're trying to re-export to Australia, we don't consider that a U.S. product," says John Holman, director of the Pacific Islands U.S. Commercial Service.
Holman single-handedly mans the center, located at the Foreign Trade Zone, just makai of Honolulu's Restaurant Row, but he has "experienced and knowledgeable colleagues all around the world who are ready and willing to assist.
"We actually do the technical work – write business plans, do market studies and cash-flow projections…"

David Gillespie, Pacific Business Center Program
"We pre-screen companies to do business with, shake out less legitimate partners and give the Hawaii company immediate legitimacy."
In 2007, the center recruited Oils of Aloha to join the Hawaii delegation at the HOFEX Food Trade Show and a spin-off trade mission to Macau. Dana Gray, chairman of Oils of Aloha, connected with a client from Fiji with whom he has since developed a strong business relationship. Additionally, he hooked up with a buyer from New Zealand and now has a presence there.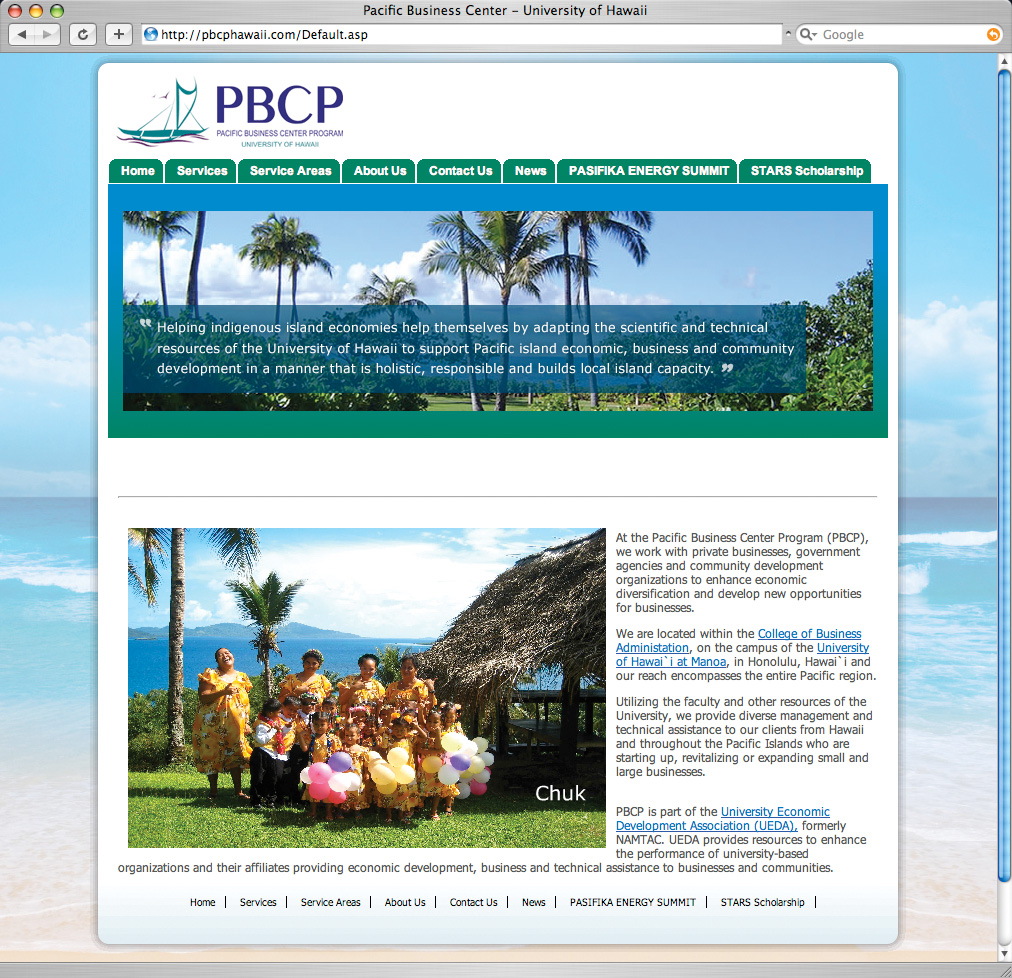 Pacific Business Center Program
956-6286, www.pbcphawaii.com
This program at the University of Hawaii's Shidler College of Business helps entrepreneurs, businesses, government agencies and community-development organizations. Its goal is to use UH resources to enhance economic diversification and develop new opportunities for businesses throughout the U.S.-affiliated Pacific Islands, including Guam, Samoa, Micronesia, Palau and the Marshall Islands. PBCP draws on technical experts throughout the UH system, and other universities in Hawaii and the Pacific Islands.
For new ventures or businesses changing direction, the center offers business plans, feasibility studies, management consulting and market research. Established businesses can get executive training, financial planning, strategic planning and operations analysis, as well as other help.
Michelle Clark, PBCP business development manager, says the center's strength is its staff. "We give realistic advice to all of our clients because we know that it's better to be practical and upfront," Clark says.
Senior business development manager David Gillespie says the PBCP is a resource for businesses at all stages. "We actually do the technical work – write business plans, do market studies and cash-flow projections – based on the information provided by the client," he says. Gillespie says many clients are from the high-tech and retail sectors, but the center also works with government and community agencies on economic development plans, and policy analysis and formulation. The PBCP provides free fixed-fee proposals for all potential clients.
"It's $30 an hour for any of our MBA students to help and $60 for any of our professional managers," Gillespie says. "But we know we put in a lot more hours than we charge for and we're still the best deal in town."
Recently, the PBCP worked closely with Pipeline Micro to create a business plan for its liquid cooling system in electronics. In January, Pipeline Micro announced it had secured $7 million from venture capitalists.
The PBCP also manages the Honolulu Minority Business Enterprise Center, which supports minority individuals, businesses and organizations. It specializes in organizational assessment, business plan development, procurement guidance, financial risk analysis and process improvement, among other things.
Affordable Office Space
The Manoa Innovation Center is more than just cheap rent. The incubation program lets entrepreneurs avoid a long lease when money is tight. "Our flexibility in our lease terms is something that's not well known," says Yuka Nagashima, executive director and CEO of HTDC, which oversees the center and the Maui Research and Technology Center in Kihei.
After the first 45 days, tenants at the Manoa center are on a month-to-month lease and can choose offices from 300 to 2,000 square feet in size. Rent, through the end of the year, starts at $1.06 a square foot for the first year in Manoa and $1.31 in Kihei. Base rates earlier this year for comparable commercial office space in Honolulu were about $1.42 per square foot.
Working alongside other startups that are experiencing similar challenges is also valuable, offering "synergy and camaraderie," Nagashima says.
Businesses can stay at the Manoa center for up to five years, but start paying market rent in their third. "We want to provide infrastructure within Hawaii that will foster the growth of the tech sector where the commercial real estate infrastructure is not sufficient," Nagashima adds.
The center also helps companies that don't require office space yet, but need a business address, and use of a conference room and other shared facilities and equipment.