High-Rises Design Inspired by the Ocean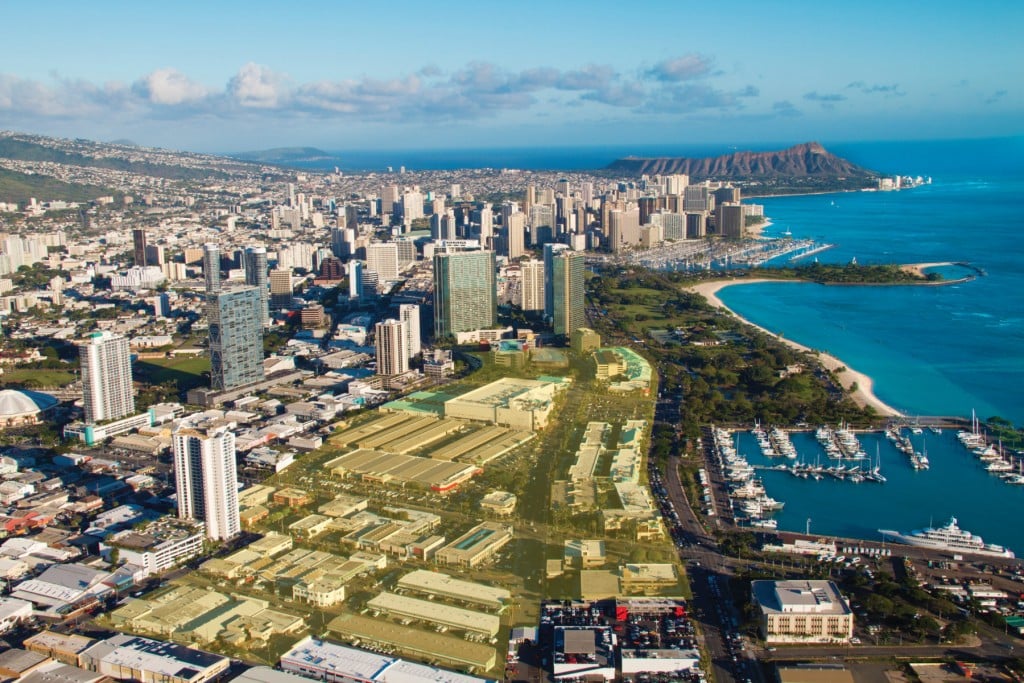 It's not your imagination, Honolulu is packed with high-rises. In fact, it ranks sixth in the United States —right behind San Francisco—and 30th in the world among cities with the most skyscrapers, according to Emporis, a building-industry information clearinghouse.
Since statehood, high-rise condominiums have evolved from concrete towers with prominent lanai into shiny, smooth, glass towers such as Hokua or the Moana Vista. Some look better than others, but one thing none of them do particularly well is tell a story through architecture. That's about to change with the first two luxury condos that Howard Hughes Corp. will be building in its Ward Village redevelopment. They won't just offer ocean views, they'll draw their inspiration from the ocean.
Waiea, at 1118 Ala Moana (currently the parking lot across from Ward Theatres), will tap into the area's fishing history, while kitty-corner from it, at 1108 Auahi St. (formerly Pier 1), Anaha will reflect the ocean in a figurative as well as literal way, with windows and lanai set in undulating rhythms to resemble a procession of waves at sea catching the light. Anaha is designed by Solomon Cordwell Buenz out of San Francisco with local partner Ben Woo Architects.
Strachan Forgan, an associate principal at SCB, says Anaha's effect will be achieved by "interlocking and alternating softly curved floorplates, wrapped in a smooth glass skin. This composition is reminiscent of the play between the crests and troughs of an open-ocean wave (and) the reflection of light will constantly alter as the viewpoint and environmental conditions change."
"The abstraction of waves is common in the Islands' artistic traditions," SCB says, and the firm aims for Anaha to contribute to that architecturally. Anaha also needed to fit in with the Ward Village master plan, so, while the abstracted waves of the tower speak to the area's historic ties to the ocean, its ground floors fill the site, per the plan, with apartment flats and shops, offering, "a unique streetscape and interaction with the retail along Kamakee Street." Says Forgan, "The opening created between these geometries creates a vibrant focal point approaching the lobby."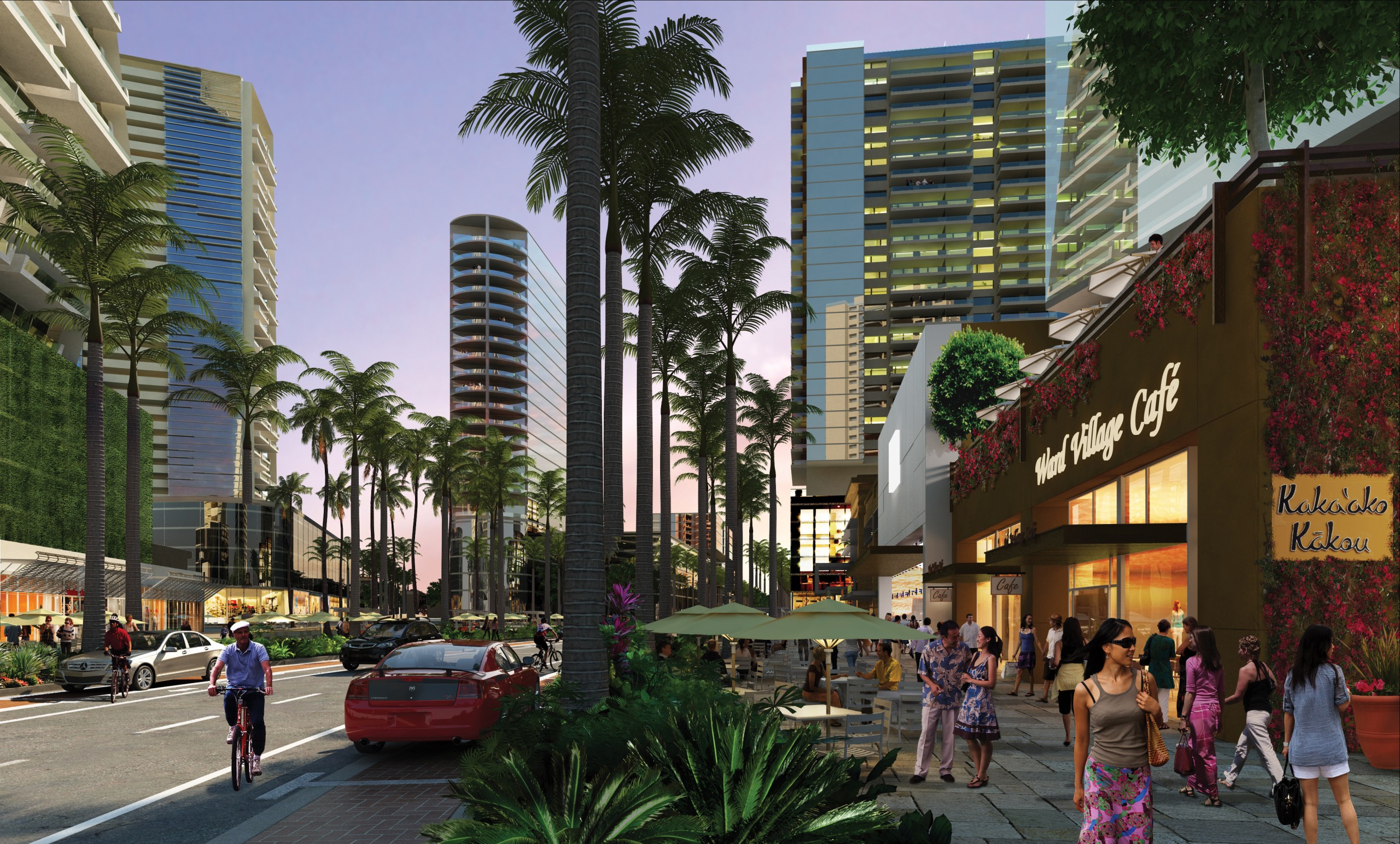 For Waiea's Canadian architect, James K.M. Cheng, the realization that the original shoreline passes right through Waiea's site was pivotal to the building's design. "That got us thinking about how to have a geological relationship with the site as well as a connection to Hawaiian folklore," he says.
The geological relationship will come through in the way the three main masses of the building – high-rise tower, low-rise townhouses and parking structure – will seem to rise up out of reflecting pools and lava rock, as if they were islands themselves. For Cheng, however, the ocean represents a potential threat to the building as well as an inspiration.
"We're aware of the possibility of sea-level rise, that in 50 years it could be higher than today, so all the life-sustaining equipment in the building is placed above grade," he says. Along the makai side of the building, concrete walls that provide privacy for townhouse residents are also meant to protect the building from possible storm surges.
The top-to-bottom glass skin of a modern high-rise is called a curtain wall because it hangs like a curtain from the steel and concrete structure of the building. On Waiea, the glass will look like a curtain frozen in mid-billow, though the designers would prefer if you thought of it as a fishing net.
Honolulu architect Rob Iopa, president of WCIT Architecture, collaborated with Cheng on the design of Waiea, for which he did extensive research into the area's history and legends.
In brief, there was a deity for fishing and ocean activities named Kuulakai, who possessed magical fishing tools and who had a son named Aiai. Kuulakai passed his knowledge on to Aiai, and, when the time came for Kuulakai to leave earthly life, he left his fishing tools to Aiai and instructed him to go from island to island establishing fishponds. Aiai did exactly that, finally settling in Kakaako, where he had a son of his own, Puniaiki, who helped Aiai develop fishponds.
The fishery just off the original shoreline in the area was known as Kukuluaeo, which is the name of the Hawaiian stilt, a long-legged bird that lives at the shoreline.
The legend plays out in the design of Waiea: the taller residential tower represents Kuula-kai, the lower represents Aiai and the gentle folds of the glass curtain wall is their net. Says Iopa, "Like Kuulakai and Aiai once did, the building stands in the tidal pools of the water's edge, net draped, patiently waiting and ever searching."
Before Western contact, Kakaako was filled with inland fishponds, salt pans, marshes and kalo loi, in addition to the thriving fisheries.
Landfill between the 1840s and 1880s eventually turned everything from the original shoreline all the way to the inner reef into solid land. The widest fill is everything between Ala Moana boulevard and Kakaako Waterfront Park. While the shoreline changed, things changed dramatically for Native Hawaiians, who once crowded into a shantytown called Squattersville on this new landfill until the area was cleared for a city incinerator.
Victoria and Curtis Perry Ward and their daughters then owned everything from Thomas Square to the shore, completing an elegant home called the Old Plantation in 1881 (torn down in 1958 to make way for the Blaisdell Center). In 1919, Kewalo Harbor was dredged, and became home to lumber schooners, then fleets of Japanese fishing sampans. Then light industry and retail came to the area.
Now Howard Hughes Corp., with the help of cultural advisors such as Iopa, is infusing its Ward Village redevelopment with nonstop Hawaiian terms, history and cultural concepts. Waiea means "water of life." Anaha means "reflection of light." Marketing material for Ward Village talks a lot about modern-day ahupuaa, as if it were possible to go directly from hale pili to high-rises.
And yet, it really is crafting a village. As dense as Kakaako is and seemingly packed with people, it's a bit shocking when Race Randle, director of development for Howard Hughes, reminds me that, in the 60 acres it is redeveloping, there are currently no actual residents.
"It's all commercial right now," he says. When the redevelopment is complete, with its 20 new towers over the next 10 or 20 years, there will be 4,000 families in the area. "It would take 800 acres of green field in Ewa to house that many people."
These first two towers, on which construction will start this year, are definitely statement buildings. Studio apartments at Anaha start in the $470,000s and one-bedroom units at Waiea start at $1.5 million. Waiea also features a penthouse with four bedrooms, 4.5 bathrooms and 4,000 square feet of space.* Part of what they're asserting is an environmental sensitivity throughout the Ward Village concept. So far, so good. In late November, the Ward Village project – the entire 60-acre master plan – was awarded a LEED Neighborhood Design Platinum certification by the U.S. Green Building Council, for sustainability as a walkable, mixed-use neighborhood. It's the nation's largest such project and the only platinum-certified project in Hawaii, the design team says. LEED certifications for individual projects such as Waiea and Anaha will be pursued as they're built.
The plan also calls for each tower to have a different team of mainland and local architects, to bring variety to the neighborhood. It would not be surprising, though, if many of the projects have Iopa's indirect fingerprints, as he has consulted on the master plan itself.
As for his work on Waiea, he says, "We are excited by the opportunity to participate and contribute to tall-building architecture that says, 'Design does matter.' "
---
About the Author A. Kam Napier, the former editor of Honolulu Magazine, is a public board member of the Honolulu chapter of the American Institute of Architects.
(*Clarification: In this article appearing in the February 2014 issue of Hawaii Business magazine, we stated units at both towers started in the $400,000 price range. The price of the penthouse was also included; the price had been quoted but the price has not been released, according to officials.)