High Seas Entrepreneur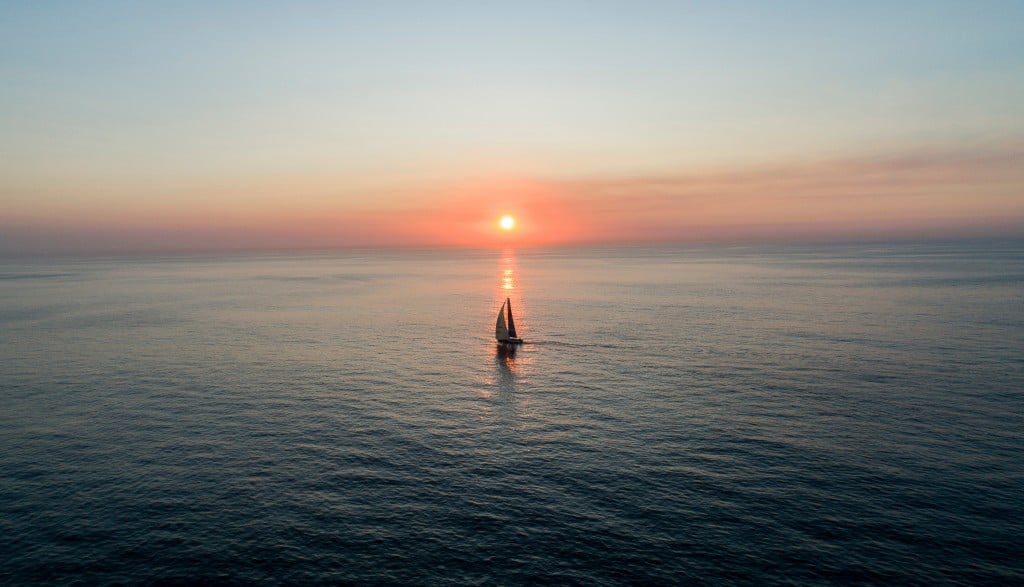 Local sailor charts a unique course in sailing's toughest challenge – a dangerous round-the-world race.
Mark Towill gripped the helm of the 65-foot Volvo Ocean Racing boat in the inky blackness of an Antarctic Ocean night, pushing the boat to its limit in extreme conditions: 45-knot winds, 16-foot seas, air and water barely above freezing, snow on the deck and waves blasting over the bow threatening the crew's very existence.
Video Courtesy of Volvo Ocean Race
It was life on the edge as Towill balanced speed with safety as their boat raced toward Cape Horn, the southern tip of South America and the gateway to the Atlantic. A friend, a crew member on a competing boat, had been knocked overboard and lost at sea only a day earlier. "It's the ultimate team sport because you literally have each other's lives in your hands out there," Towill says.
Three months later, on June 24, he and his Vestas/11th Hour Racing teammates finished the 13th edition of the Volvo Ocean Race in fifth place. All told they covered over 45,000 nautical miles, sailing between six continents over nine months.
This was the second VOR Towill has completed, an incredible accomplishment for the 29-year-old sailor from Kahaluu. He and his business partner, skipper Charlie Enright of Bristol, Rhode Island, have carved a place in VOR with a unique strategy. Young sailors typically earn a coveted spot on a VOR team through the rule that every team must have at least two members under 30.
"For two under 30s to build their own team is quite unheard of," Towill says.
They own their management company, called 55 South after the latitude of Cape Horn. As owners and operators, they juggle sponsor needs and contracts; employ a sailing team, shore team and marketing/PR team; and oversee the logistics of moving a multitude of pieces from one port to the next.
"Mark's perspective stands out to me," Enright says about his partner. "As a sailor he's naturally quite gifted. He is business savvy. He understands ROI, what people want to hear to get deals across the line. He's pretty switched on when it comes to that stuff."
Disney Film
Towill and Enright met in 2007 while sailing from Los Angeles to Honolulu in the Transpac race. They were a part of Disney's "Morning Light" film, which documented a team of young sailors' first ocean race. The young crew was coached by New Zealander Mike Sanderson, winning skipper of the 2005-2006 VOR.
During "Morning Light," Towill was a senior at Punahou and on the sailing team. "I was 18 years old, I'd been sailing these tiny boats and then I was being taught about how to race across an ocean by guys who just won the premier around-the-world race. That was really where my dream to do the Volvo began."
Enright remembers his first impression of Towill on that trip. "I remember thinking he was pretty young," he laughs, "but you could tell that he was mature beyond his years, just focused, intelligent and hardworking."
Towill attended Brown University, where he studied economics and environmental studies. "I went to college with a desire to learn more about renewable energy. … I wanted to do something business related in the environmental space and bring it back to Hawaii," Towill says.
"So we just Figured It Out"
In 2011, Towill was finishing university and preparing to take an energy job in Palo Alto, California, when an opportunity to compete in the Transatalantic and Fastnet ocean races changed his course. Ralf Steitz, president of the U.S. Merchant Marine Academy Sailing Foundation, arranged a boat for Towill and Enright and tasked them with putting the campaign together. "Charlie and I put a program together … and brought with us an onboard reporter, something the teams on the Volvo were doing. We understood it was a commercial thing, so we documented the race. We sent a lot of that to VOR management … and it got their attention." Their team won the youth division and placed well in both races.
Impressed by their accomplishments, VOR CEO Knut Frostad invited the duo to Spain for the start of the 2011-2012 race and encouraged them to consider forming a team. "I think he saw a lot of himself in us," Towill says.
"There's no case study on how to build a Volvo team or how to secure a multimillion-dollar corporate sponsorship, so we just figured it out," says Towill of their first campaign. They took what they had learned from the Transatlantic and Fastnet campaigns and set out to raise a minimum of $12 million. "We were yes guys, talking with anyone who would take our meeting. We spun our wheels a lot and made mistakes. A lot of people told us we were crazy."
The two chased an elusive sponsorship for three years, hearing countless no's before hearing yes from Turkish medical company Alvimedica.
"They were a young company primarily operating in Turkey and Italy and looking to expand globally, with their biggest target market being the U.S.," Towill says. "We were a young team looking to make our mark in the biggest ocean racing event. I remember flying to Amsterdam to meet the CEO and their management team. We had a full-day meeting, went for dinner and walked away with a handshake (deal) and we were off and running. After so many failed meetings and pitches, it felt surreal."
Environmental Values
Like many pro sports events, VOR is a platform to promote sponsor brands and messages. With their second campaign, Towill and Enright worked to attract sponsors that aligned with their environmental ideals.
Vestas is a Danish wind turbine company. "It's a natural pairing, sailing and wind energy," says Magnus Bach, VP of global marketing. "They put their hearts and souls into building this campaign around a message that holds dearly to them, sustainability, and have acted as strong ambassadors for our brand from the outset," Bach says about Towill and Enright.
The race has helped develop project leads for Vestas. "Engaging with corporate guests at every stopover has proved good for business. The route fits our markets well, including mature markets in Europe and the USA as well as developing markets in Africa and Asia," says Bach.
Jeremy Pochman, 11th Hour Racing co-founder and strategic director, saw partnering with Towill and Enright as a natural fit for the organization. "As firsthand witnesses of the planet's marine debris epidemic, Mark and Charlie felt it was time to take action – using the VOR to raise awareness on pressing environmental issues and helping to source solutions to mitigate the problem," Pochman says.
11th Hour Racing is a maritime division of the Schmidt Family Foundation, a nonprofit founded by Wendy Schmidt, wife of Google Executive Chairman Eric Schmidt. The organization focuses on advancing solutions for sustainability and energy responsibility. Vestas, a Danish wind energy company, is the title sponsor for the team, aligning squarely with the team's goals.
Towill explains some of his team's efforts: "Sustainability is at the core of everything we do. … We're tracking air travel, water and electricity consumption, food waste, the footprint of the entire campaign." He says an in-depth understanding of their impact helps reduce the carbon footprint of the large operation.
Meat-free Mondays and rejecting single use plastics are two team practices that fans can also follow to make a difference. "Ultimately what we are trying to prove is that you can be successful in sport and business while still being good environmental stewards and ocean advocates. Those things don't have to be mutually exclusive," Towill says.
His passion for the environment is traced back to his time spent in the Polynesian Voyaging Society's Kapu Na Keiki program. PVS President Nainoa Thompson says the program was "testing the idea, 'How does nature matter in a child's education?' because you cannot protect what you don't understand."
At 14, Towill and a group of peers paddled one-man canoes in various legs around the Hawaiian Islands alongside Hokulea. "It was a great opportunity for us to learn from Nainoa. That opportunity really furthered and cultivated my connection with the ocean," Towill says.
Thompson saw something familiar in Towill. "He's a lot like me. He had this instinctual gravity toward the ocean at a young age," he says. "I admire him for knowing his path at a young age and sticking with it. In a world full of distractions for a young man, he avoided deviating. He knew the island he was seeking, and he figured out the sail plan to get there.
"Mark's story is bigger than Hokulea and it's bigger than the race. It's a story about how to grow up. For the children who need to find real heroes they can believe in, Mark is one of them."

– Nainoa Thompson, President, Polynesian Voyaging Society
"The Ocean Tests You"
Towill learned lessons from Thompson that still guide him. "I remember Nainoa talking about how the ocean tests you in ways that nothing else can. It teaches you about yourself and exposes your weaknesses and puts you in situations where you have to deal with difficult things. Ultimately that has proved to be really valuable experience in this race," he says, referring to substantial setbacks.
One of those setbacks proved tragic as Team Vestas was in second and nearing the leg four finish line in Hong Kong. The boat collided with an unlit Chinese fishing vessel in the dark, sinking the fishing vessel, killing a fisherman and badly damaging Team Vestas. The next two race legs were missed during the resulting repairs.
A second setback occurred on Team Vestas' next leg when their mast broke while approaching Cape Horn after an incredibly stormy run in the Antarctic Ocean, also known as the Southern Ocean. The storm took its toll on the entire fleet, especially when seasoned sailor John Fisher was knocked overboard from team Sun Hung Kai/Scallywag's boat and lost at sea.
Sailing at this level is unforgiving, and that settled in on Towill as he grappled to process this string of events knowing they still had a race to finish.
"Leadership, particularly when times are tough like that, is a hard thing. You have the responsibility of peoples lives in your hand. It's more than running a business at that point, it's life or death stuff. When you break it down to that level it gets very real. My concern is always ensuring the well-being of my team first, then on myself," says Towill.
Few people will risk their life to race across hostile seas on a 65-foot sailboat. It's an even rarer person who also has the grit to manage the complex endeavor.
Towill admits he's a competitive person and loves the complexity of being involved on all levels of the campaign and how fast it moves. "If you're going to be involved in ocean racing, it's the premier event. I like being at the highest level of competition. I want to get out there and line it up with the best to see how we can do.
"I can tell you with confidence that every single person who has competed in this race, at the finish, irrespective of if they got first or last, will feel accomplished because this is a lifetime achievement and adventure."