His Formula for Success: Fail, Fail, Fail, Prevail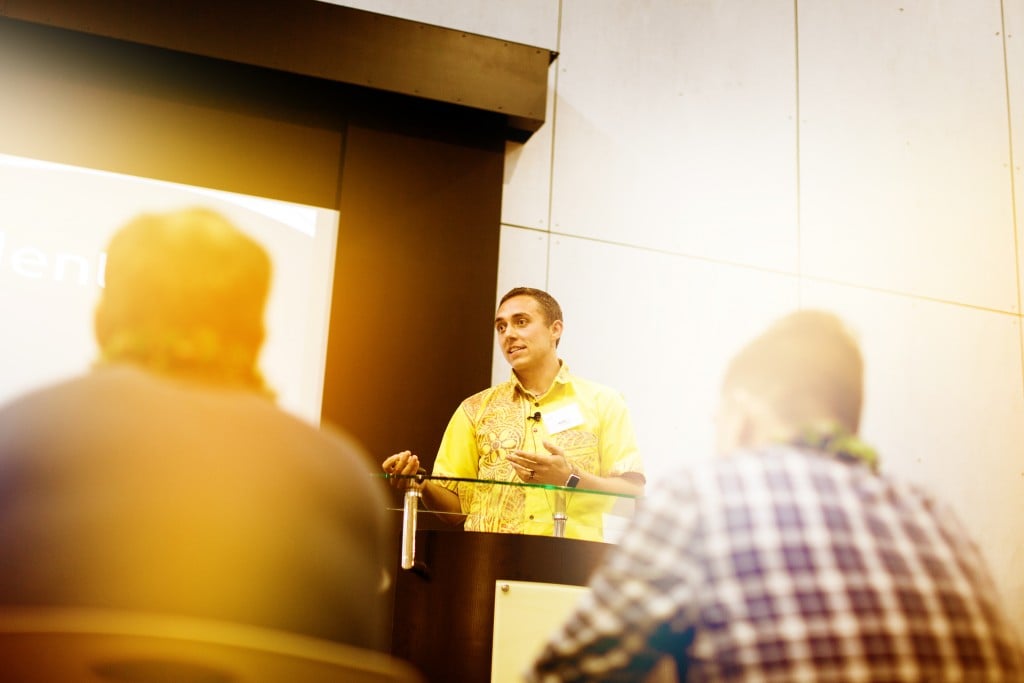 Kalin Uluave didn't let business failures stop him. Good thing, because the fourth succeeded, and the fifth and sixth are on track, too, with a seventh on the way.
Uluave, a business-management major at BYU-Hawaii, topped three other contestants to win the regional qualifier of the Global Student Entrepreneur Awards in January, hosted by the Entrepreneurs' Organization Hawaii. He advances to GSEA's U.S. finals this month in Kansas City. While working for $8 an hour at an office job at BYU-Hawaii, Uluave thought he could start a business that paid him more and let him be his own boss. He started three, one after the next, but didn't have the capital needed to scale any of them to profitability.
He reached out to several mentors and professors, who encouraged him to keep trying, though one professor told him bluntly: "Get a real job." Uluave realized he needed a business where he could get a return on his investments quickly, so he and his wife opened a store at the Polynesian Cultural Center, next door to his university.
Tahitian Treasures sells women's clothes from Tahiti and Hawaii, many of them made by a single woman in Tahiti. After opening on Sept. 1, 2015, Uluave learned which products appealed most to tourists, regardless of the season, and he made a growing profit from the start. Last July, he hired his first employee, leaving him more time for his studies and giving his wife and mother-in-law time off, too.
Since the store's launch, he has started two other businesses: A dance school in which he and his wife taught classes in Thailand and Japan, with more scheduled this year; and Poe Haku, a company that sells haku leis. His next venture is a soda truck, inspired by similar businesses he has seen on the Mainland, and he is already refurbishing a van he bought.
"It is important to diversify income streams; the retail store was starting to plateau so we had to figure out a way to grow without opening up a new retail location. It also is fun to start different projects and helps me stay actively engaged in the business," commented Uluave.
Jason Kim, president of the Entrepreneurs' Organization Hawaii, was especially impressed with Uluave's "personal growth as an entrepreneur and student, his company's consistent revenue growth and commitment to finding the right products for their customers."
Other contestants at the GSEA Hawaii competition had impressive business ideas, too. Traven Watase, a student at Leeward Community College, started Scholar's App. Over the last few years, he has built a website and team that connects students who upload their profi les on the website, and donors, who post their scholarship opportunities.
Sheehan Chase, a student at Chaminade University, created a journal of his grandparents' lives that was so impressive they and others encouraged him start to a business selling similar journals. Thus, "Tale to Tell" was born and Chase is now working with his first customer. One day, he would like to create biographical films, too.
Elvin Jerome Austria Laceda, another BYU-Hawaii undergraduate, grew up in the Philippines, where his grandfather was a farmer. Laceda saw the challenges faced by farmers in that developing nation, where many grow just for themselves, because they are unable to market their produce. Laceda launched a website and is planning an app that will let farmers market directly to consumers without middlemen eating into their profits. Users will simply pay a small fee to use the app.
"This year's finalists showcased the best in student-led business innovation in Hawaii, and embodied the EO core value to make a mark in their communities," Kim says.
To help prepare him for the U.S. finals, Uluave will be outfitted with a new suit courtesy of Saks Fifth Avenue and will receive coaching from Dale Carnegie Hawaii, Pam Chambers Consulting and Business Consulting Resources. If he does well in Kansas City, he might qualify for the global finals in Frankfurt, Germany.