How Healthy is Healthcare in Hawaii?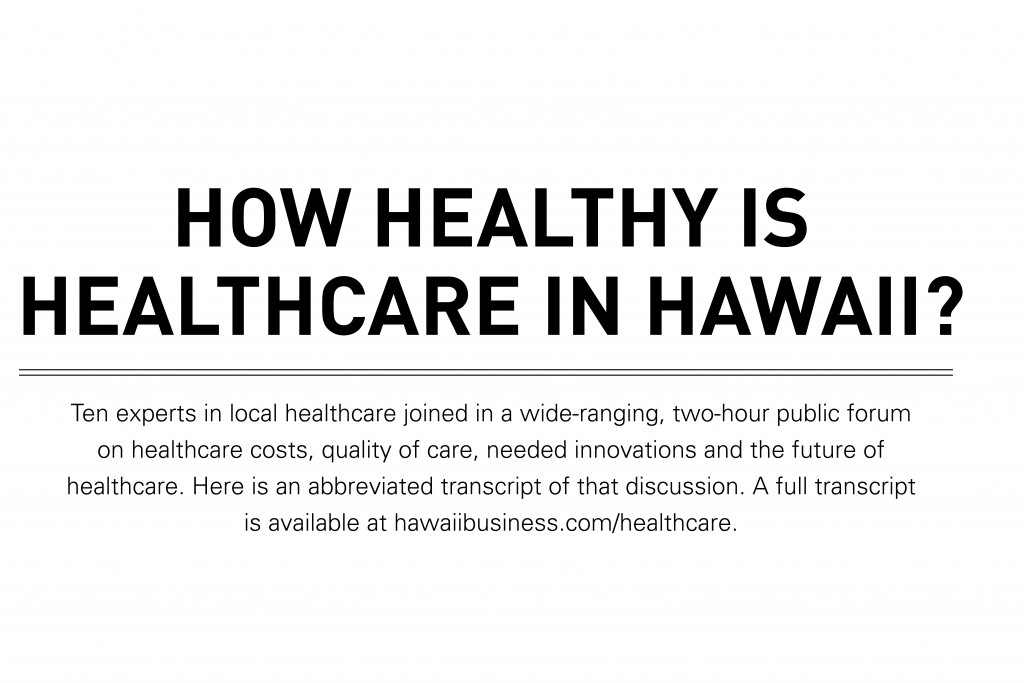 Ten experts in local healthcare joined in a wide-ranging, two-hour public forum on healthcare costs, quality of care, needed innovations and the future of healthcare. Here is an abbreviated transcript of that discussion. Click here for the full transcript.
Hawaii Business, ThinkTech Hawaii, the Hawaii Venture Capital Association and other organizations sponsored a public discussion on Dec. 6, 2011 by two panels about healthcare in Hawaii.
FIRST Panel
Moderator:
• Dr. Virginia Pressler, executive VP and chief strategic officer for Hawaii Pacific Health.
Panelists:
Beth Giesting, the governor's healthcare transformation coordinator;
Dr. Thomas Tsang, senior advisor to the governor on healthcare;
Coral Andrews, executive director for the Health Insurance Exchange; and
Bruce Anderson, president and CEO, Hawaii Health Systems Corp.
Pressler: The 34-nation Organization for Economic Cooperation and Development recently released a study of comparative data on the quality and cost of healthcare. By every measure, the U.S. pays more for its medical system, more dollars per person, and higher prices for drugs, doctors, and hospitals and administrative costs.
The U.S. spends two to three times more than the average for other OECD countries. Total healthcare spending in the U.S. costs about $8,000 per person per year. The next-highest spender is Norway, at less than $5,500 per person.
Quality is a mixed bag. The U.S. has the best five-year survival for breast cancer in the world and we are the second in colorectal cancer survival, yet, when we look at other measures of quality, we rank 27th out of 34 in life expectancy. We are 31st out of 34 in premature mortality. We are 25th in cardiovascular mortality. The U.S. has the second-worst rate of adult diabetes, behind Mexico, and we have the highest rate of adult obesity. And on top of that, we have 50 million uninsured individuals in the U.S.
Yet Hawaii has some of the best health statistics. A recent study ranked Hawaii as the fourth healthiest state. The state also has the lowest rate of uninsured residents, 8 percent, and we have the second- or third-lowest healthcare premiums in the U.S.
Giesting: When we look at the healthcare problem, we first need to see how our system differs from other parts of the economy. Imagine any other part of the service sector that continues to grow while essentially ignoring its customers. The healthcare sector is largely created for the convenience and benefit of the providers, insurers and professionals in healthcare.
There is almost no information available to consumers about cost and quality. Even when consumers get information from their insuring provider, they may not understand it or know what to do with it. Certainly it is difficult for consumers to get the care they need or the information they need, so I would say consumer-driven healthcare is absolutely a mandate.
Another issue: Imagine any other major economic sector that does not use information technology to improve its own business, that does not use IT to share essential information with its partners. A recent study showed only about 10 percent of physicians across the country use electronic health records in a meaningful way. Our healthcare system pays extensively for specialty services, lots of procedures and duplication. What it does not pay for is primary care or prevention. It does not pay for managing care so that you can maximize benefits from available services.
Tsang: My role is to advise the governor about all the best practices across the country, including technology and systems innovations, and what we can bring in and adapt for Hawaii.
There are lots of opportunities for innovators; there is $30 billion in incentive money for providers and hospitals to advance health-information technology. We can see it in the 82-percent increase in the value of health-technology stocks, and we see a lot of folks moving into two huge sectors.
The first sector is managing data. How can we mine the power of data across the country to actually manage risk? Being able to predict and target very, very few resources with a laser beam and target those patients that have the co-morbidities, those patients who have the risk factors for becoming readmission patients.
The second sector is patient engagement. There is a huge new industry called gamification of healthcare, and we see lots of games popping up with the Xbox, mobile phones, etc., to really engage patients and consumers.
Andrews: I view the Health Insurance Exchange as a place where all other things will come together. The exchange was created at the 2011 Legislature. We're unique in Hawaii, because our Legislature set up our exchange as a private nonprofit. The target markets for the insurance exchange are individuals and small businesses with 50 or fewer employees. The exchange will be a bit like Travelocity, where you'll have a webpage where individuals or small businesses can shop. The Insurance Commissioner will qualify the health plans and providers that use the exchange so that they meet the federal requirements for minimum health benefits. It will be up and running in January 2014.
Anderson: Hawaii Health Systems Corp. is the safety net of the care system in the state. [The state-subsidized network provides] emergency and other essential services to the uninsured, the underinsured, those on Medicaid and others with special healthcare needs.
There are many other facilities that think of themselves as safety nets, but our business is really to keep our doors open and make sure people in Hawaii have the services they need. In many areas, particularly rural areas, we are the only healthcare providers. We work in partnership with physicians, clinics and others in all these communities, but we are the most important and largest provider of care on most of the Neighbor Islands. In fact, HHSC is the fourth-largest public-health system in the United States.
Pressler: Do you ever foresee a time when the HHSC, the state hospitals, will be self-sufficient and not require appropriations every year from the Legislature?
Anderson: No, I don't, but we can reduce our expenditures, we can increase efficiencies and we are trying to work more closely with the private-sector facilities to coordinate care.
Pressler: Why aren't we focusing on prevention?
Tsang: That has largely to do with the evidence and the economics of prevention. Much of the hardcore literature hasn't shown equivocal evidence or unequivocal evidence that prevention saves money. I know that's counterintuitive, but that's what the evidence shows. With that said, a lot of what Beth and I are doing does have a prevention aspect, because you're talking about care coordination and identifying outliers in the system that would benefit from interventions. That set of interventions would be hugely preventative. When you have 200,000 patients in the Medicaid system and you can identify, with the push of a button, which patients have not received a colonoscopy, that's using technology to do population health management.
Pressler: Who are the 8 percent uninsured?
Giesting: Some are unemployed and can't afford COBRA, or their working spouse can't afford dependent-care coverage. Some have part-time jobs or are self-employed, homeless people or immigrants who are not working. Providing affordable insurance products for them is going to be a big boom (economically).
Pressler: If payments to primary doctors were doubled, access would increase, hospitalizations would decrease and millions of dollars would be saved. Why can't doctors have control of their pay and their patients' health instead of giving all of the resources to insurance and other companies?
Tsang: I think there's an acknowledgment, at least nationally, that primary-care doctors need their payments, and the reimbursement system needs to be redesigned. That's why, at least with Medicaid, the payments of primary-care doctors are being increased to Medicare values.
SECOND PANEL
Moderator:
Sen. Josh Green,

 

chair of the Senate Committee on Health and a physician
Panelists:
Dr. Jerris Hedges, dean of the John A. Burns School of Medicine at UH;
Hilton Raethel,

 

senior VP at HMSA;
Dr. Nadine Tenn Salle,

 

a practicing physician and president of the board of the Hawaii Independent Physicians Association; and
Dr. Art Ushijima,

 

CEO of the Queen's Health Systems.
Green: The healthcare system in America works for a lot of people, but doesn't work for the working poor very well or for children who live below the poverty line. Those are two large groups. And it doesn't work for a solid part of the middle class that has serious health problems that are extremely costly and push them over the edge.
In 2001, America spent $1.3 trillion on healthcare. In 2011, we spent twice that, $2.6 trillion. That tells you that there was incredible expansion. It also tells you there's an incredible opportunity for solutions.
When we talk about giant expenditures for anything, people want to get their money's worth. This may sound a little crazy, but I'm not particularly concerned about spending trillions of dollars in healthcare, but I am concerned about spending it badly, or not spending it on what people actually need.
Two percent of the population consumes 65 percent of our healthcare resources. In no other business is that tolerated. That has to be addressed.
If you told me today that my 4-year-old had leukemia, what percent of the dollars that I earn from my three jobs would I spend on that leukemia? If I could get her well, if I had a good oncologist, I might spend all of it. Think about what healthcare means to people and what its actual value is, and then think about how we get that healthcare to the people who need it.
Hedges: We have a shortage of providers here in Hawaii and nationally. In 2025, it's anticipated that there'll be 120,000 fewer providers than what the demographics in the U.S. will require. So we cannot simply pull from other states to meet Hawaii's needs.
But we can create a more efficient model of training. I would like to outline a concept proposed by Daniel Hunt, executive director for the accrediting body for medical schools in the U.S. He proposed a Doctor of Clinical Practice degree, to be done in conjunction with current medical schools – essentially a streamlined path to becoming licensed, so instead of the four years of medical-school training, there will be three years.
The three years would be based on the clinical knowledge set that we now provide but would be focused more on application and less on the basic science elements. The anticipation is that the in-hospital subsequent training would be more attenuated and would focus on what one needs to do for continuity of care. The bottom line is that students would complete their training and become ready for a license in four years total, rather than the four years in medical school plus the three or four additional years in residency training. This is something we can do in Hawaii.
Another great benefit is that such trainees would only be licensed in Hawaii and we wouldn't lose physician trainees to other parts of the nation.
Raethel: Historically, healthcare in Hawaii has been paid predominantly on a fee-for-service basis. In other words, the more you do, the more you get paid. You get paid based on volume, not value, and on quantity, not quality. Fee-for-service is a terrible set of incentives for healthcare, but that's the way healthcare has been reimbursed in Hawaii and across the country for years.
If you want to change behavior, you have to change incentives. So we are. We are paying hospitals and doctors now for how well they treat patients. We're paying them for taking care of a patient population. We're paying them for quality, safety, efficiency and reducing harm.
This is not something you change overnight. You can't change a whole system of care in just a few months or a couple of years. We started last year working with every hospital in our provider network across the state, setting a goal of having 15 percent of their reimbursement tied to these outcomes for quality, safety and efficiency.
Tenn Salle: (As a physician) I'm supposed to be the one in the group to bring it all together, because after this entire transformation takes place, the question is, Will you be satisfied? Can I actually practice under the model that is created? In five or 10 years, will you, I, your child, your parents, be able to find a quality physician and be able to access treatment in a timely manner?
I'm in solo practice. I practice at Queen's. I'm involved with internal medicine, which is adults, and pediatrics. So, I'm a little bit of a typical private practitioner in Hawaii. I'm in a nongroup practice. I'm located fairly close to a major hospital but I'm also a dying breed. I am actually a breed that may not survive this healthcare transformation because practitioners such as myself can't afford the overhead, despite the reimbursements that are being put in place.
It's important, as we develop the models, that we keep some things in mind. One is the patient-physician relationship. We have to remember that this is what it's all about. Another is that we must create a system that will serve our entire community, not just the working middle class. We must create government policy that says we have to take care of the indigent, the poor and the medically complex. Finally, I want you to remember something that has permeated both panels today, and that is a re-evaluation of preventative care.
Green: Dr. Tenn Salle, what's the toughest part of being a doctor in a solo practice in Hawaii?
Tenn Salle: It is a very difficult life. It's hard work, but what keeps physicians doing it is a love for what they do.
But physicians are increasingly being pulled away from what they love to do, which is actually take care of patients. My day often starts around 4:30 in the morning, and I just get home to put my children to bed around 7:30 or 8 at night – and that's if I don't get called back to the hospital. My day is popping in and out of rooms, literally. I'm taking care of a patient, and then I have to step out because I need to speak to the insurance company, because they work 8-to-4 jobs. My medical staff can't justify (to the insurance companies) why I need to transfer my patient who has a complication of Hodgkin's lymphoma in radiation therapy. I must do that. I am being more involved in administrative things and that's not calculated into the reimbursement that doctors get either personally or into the model that we're supposed to be responsible for.
Ushijima: Today, there are about 45 million Americans who are Medicare beneficiaries. Their number has grown by about 500,000 beneficiaries per year and at an annual cost now to the U.S. Treasury of about $600-plus billion. Now, there are 77 million aging baby boomers – people born between 1946 and 1964 – and the first of those people turned 65 in 2011. On average, there will be 4 million people per year turning 65 for the next 27 years, so Medicare enrollment is going to increase substantially.
At Queen's, we deal with the most expensive part of the healthcare system, the inpatient area [hospitalization]. We will continue to see increasing demand as the population ages. Strategically, we need to look at how we're going to function and to improve services at the primary-care level to keep patients out of the hospital. We need to concentrate services to achieve scale and to provide as much of the services on an outpatient basis. We also need to collaborate and work together as a community of providers and payers. I'm also a firm believer in investment in technology – not just information technology, but technology to improve diagnosis and treatment.
Green: Why don't the payers alleviate the burden to providers by standardizing pre-authorized and administrative forms to decrease cost?
Raethel: Good question, and I don't really have a good answer. There are a lot of complexities, and the payers all have their own rules. Medicaid, Medicare, Quest plans, Quest Expanded Access plans, Worker's Comp. It would be great if we could simplify that. There have been attempts to do that but we've not been successful so far. But we need to continue pushing for the standardization route, which will help reduce administrative overhead.
Green: How much would standardized forms help you, Dr. Tenn Salle?
Tenn Salle: I think most practitioners look forward to that. If billing, administrative work, preauthorizations, understanding of benefits, etc., could be done online, that could be done outside of time (with patients) and streamline an incredible amount of work.
Green: How do we convince medical students to go into primary care?
Hedges: The future generation of physicians is looking at having a balanced life. Although reimbursement is important, paying educational debt is critical. There's still the reality that there will be more group practice, more shared practice activity, and that sharing of responsibilities is one of the attractors for the current generation of trainees.