How Safe Is Your Hospital?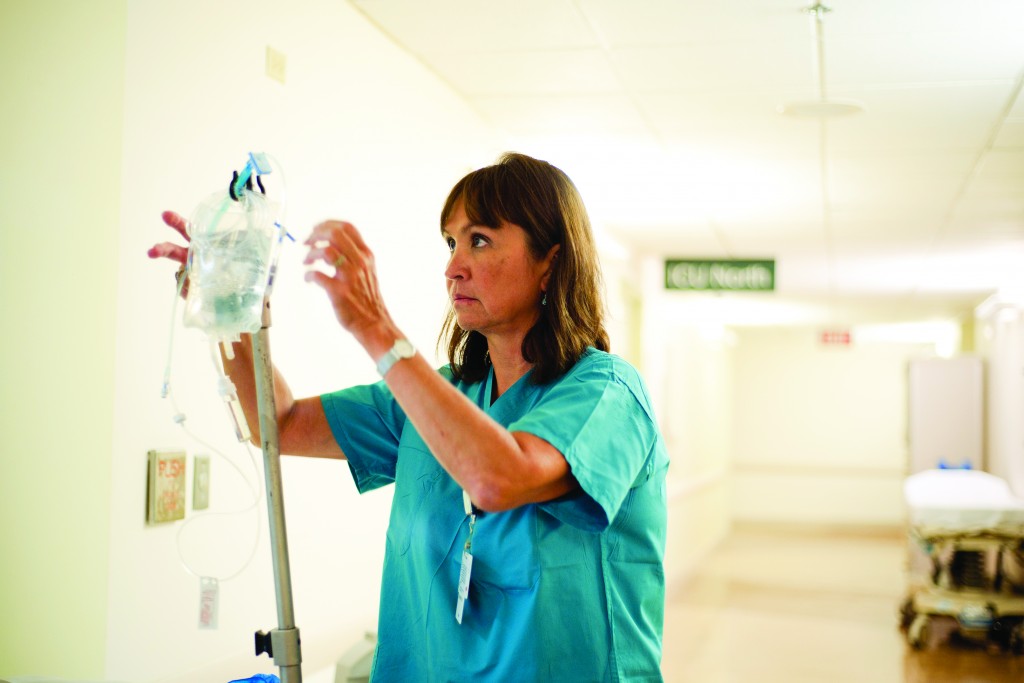 When Barb had outpatient surgery to remove worrisome growths in her pelvic area last November, the biggest difference she noticed from her previous hospital stay wasn't a fancy new medical device or miracle drug – it was all the talk, talk, talk.
From meetings and emails with her surgeon and anesthesiologist before the operation, to conversations with doctors and nurses in her hospital room, to the instructions she was given at discharge, to follow-up phone calls and meetings to review what happened – complete with photos from the procedure – Barb says the amount of communication surrounding her surgery was starkly different from her experience at a different facility 12 years earlier.
"In general, I think hospitals are really much better at describing what's going to happen, and then coming back around and making sure you understand what they did afterwards," says the Honolulu resident, who asked that her last name not be used to preserve her medical privacy.
Barb underwent the operation at Straub Clinic & Hospital, which Consumer Reports magazine recently rated the safest hospital in the state, due, in part, to high marks for good communication with patients.
But the real secret of Straub's success, and one reason it has the lowest surgical mortality rate of all measured Hawaii hospitals, has more to do with the conversations happening behind the scenes, says Dr. Melinda Ashton, VP of patient safety and quality service for Hawaii Pacific Health, the network that includes Straub, Pali Momi, Kapiolani and Wilcox hospitals.
Straub's physicians are employed by or contracted to the hospital, rather than working under the private-practice model used by most medical centers, and that results in an enhanced team-based approach – something more and more hospitals are aspiring to, Ashton says.
"This sort of shared responsibility for patients among the physicians, nurses and other members of the team has been really successful," she says.
What makes Hawaii's top-rated hospitals the safest? In an era of seemingly miraculous medical innovation, both clinicians and outside experts say the most important factor is the culture, not the technology.
High Scores for Safety
Consumer Reports' magazine and website have a strong national reputation for independent evaluations of many products and services. CR's evaluation of hospitals nationwide was based on data collected by the federal government's Centers for Medicare and Medicaid Services. In the CR ratings, Straub received a safety score of 64 points out of a possible 100, the highest score in Hawaii. Miles Memorial Hospital (now called Lincoln Health) in Damariscotta, Maine, got the nation's highest score: 78. The national average was 51.
The scores are a composite of ratings across eight categories, including avoiding infections and readmissions, medical and surgical mortality rates, patient communication about discharge instructions and medications, and avoiding unnecessary chest and abdominal scans.
Kaiser Permanente did not provide data equivalent to that provided by other local hospitals, and therefore is not part of this analysis.
In addition to scoring well for patient communication, Straub received high marks for low medical mortality and avoiding infections. It also had the state's lowest rate for surgical mortality – 109 deaths per 1,000 patients. That rate measures how often surgical patients died due to complications that should have been quickly identified and treated, like a blood clot or pneumonia.
Among other large hospitals:
• Hilo Medical Center received the second-highest safety score, 60, from among the state's hospitals with more than 100 beds – an increase of six points from its 2012 rating. The improvement reflects good medical mortality rates (which measures how often patients die after checking into the hospital with heart attack, heart failure or pneumonia), and the state's best overall score for avoiding infections.
• Queen's Medical Center received a safety score of 59 points, with strong ratings for medical mortality and avoiding readmissions, but higher surgical mortality than Straub and a middle-of-the-pack infection score.
• Pali Momi followed with a 56-point safety score, with some of the state's best rates for medical mortality, but higher surgical mortality rates.
• Castle received a safety score of 54 points (down 11 points from 2012), getting dinged for an increase in certain hospital infections from the ranking two years ago.
• At the bottom of the list for hospitals with more than 100 beds, Maui Memorial Medical Center received a score of 51 points, a 14-point drop from its 2012 rating. That decline seemed to be a result of lower scores for hospital-acquired infections, as well as poor outcomes for surgical mortality – a category for which Maui Memorial received Consumer Reports' worst possible rating.
Medicare data collected by Consumer Reports showed that Maui had a mortality rate of 141 deaths per 1,000 surgeries with complications – well above Straub's 109 per 1,000, and worse than Queen's and Pali Momi, which had 122 and 121, respectively. (The surgery mortality rate is extrapolated from data for Medicare patients, the only hospital population for which this data is publicly available. The rate measures deaths involving specific complications that are considered preventable, such as pneumonia or a blood clot. If patients die as a result of the illness or injury that prompted the surgery or for other unavoidable reasons, they are not counted in this mortality rate.)
Maui Memorial CEO Wes Lo qualified the ratings, noting the hospital's relatively small size and the fact that it receives a lot of stroke patients from smaller Neighbor Island hospitals could create a "denominator issue" that pushes the mortality rates up. He also noted that a waiting list for long-term-care beds on Maui sometimes means that patients end up staying in the hospital to die, rather than spending their last days in a nursing home, which also inflates mortality rates.
But, he added, Maui Memorial was paying attention to the data and looking for ways to improve.
The hospital was already aware that it had a "bad year" for catheter-associated urinary tract infections and, after analyzing its procedure, made several changes, including changing patient hand-off practices so unnecessary catheters could be removed sooner, and switching to a different product that's more infection resistant.
"Our more recent results show that we have dramatically improved," Lo says.
The hospital is now analyzing its surgical procedures to look for ways to reduce mortality.
"When you get these numbers, the point is, how well do you respond to them?" he says. "We've been targeting these areas. We can't control the denominators, but what we can do is continue to work on our best practices."
Patients and consumer groups aren't the only ones looking hard at hospital performance. There's increased focus on outcomes and quality of care within the industry, administrators say.
"I think that's a trend in healthcare in general. There's been a really hard push for quality and performance versus just doing more procedures," says Dan Brinkman, COO of the East Hawaii Region of the Hawaii Health Systems Corp. (HHSC), the semi-autonomous agency that runs the 14 state-owned and -affiliated hospitals.
That's partly due to the Affordable Care Act, which puts a new focus on quality by using Medicare reimbursements to incentivize hospitals that meet national performance benchmarks. Private insurers are following with similar structures that reward performance, Brinkman says, rather than simply paying a fee for service, without regard to outcomes.
With reimbursements being squeezed, focusing on quality of care also saves money by keeping patients healthy and out of the hospital.
"Not only is it the right thing to do," he says. "It's a good business move."
Snapshot of conditions
While some for-profit scorecard programs like U.S. News & World Report and Leapfrog Group collect hefty fees from top-rated hospitals for the right to promote their awards, Consumer Reports doesn't accept money from the hospitals it evaluates.
Hospital report cards can provide a snapshot of medical facilities' strengths and weaknesses, but often don't show the whole picture, administrators caution.
They note that the data being evaluated are usually several years old and, because the data rely largely on government sources, the data primarily measure outcomes for Medicare patients, not the general population.
And while ratings agencies claim to take the differences between hospitals into account, administrators note that risk adjustment isn't an exact science, and say hospitals that treat riskier patients may be penalized for having higher mortality rates.
Finally, the small size of most Hawaii hospitals means the scores are vulnerable to being moved by outliers – in some cases, a single bad outcome in a year could turn a positive score into a negative one, cautions Ashton of Hawaii Pacific Health.
Still, she says, ratings can be useful, if consumers take them in context.
"They're fair," she says. "It's a representation of the data that's out there in the public space. I don't know if these are the most important things to measure, but they are the most available."
Changing the Culture
Hospital administrators say the biggest push to improve performance is at the human level.
"I think definitely there's a change in culture," says Dr. Whitney Limm, senior VP for clinical integration at Queen's. That shift is in response to evidence that hospitals improve safety when clinicians communicate effectively and work as a team.
Gone are the days when a surgeon is God, and other members of the team can't speak up if they notice something wrong, Ashton says.
"All Hawaii hospitals have been working on improving the culture so all members of the team are willing to speak up if they are concerned about something, and increasing the chances that, if they do speak up, their participation will be valued, welcomed and acted upon," she says.
Last year, Maui Memorial began scheduling meetings for teams to "debrief" after every cardiovascular surgery, says director of communications Carol Clark, allowing doctors and nurses to discuss what went right and what could be improved. The strategy has been used successfully at other hospitals.
Those team meetings were so effective they've been expanded to other departments and are now standard practice for all surgeries, she says.
The idea was to break down hierarchies and give all members of the team an equal chance to be heard, says Paul Harper-O'Connor, Maui Memorial's quality and continuous improvement officer.
"If the OR staff has the morale where everyone feels empowered to speak up, then when it needs to happen, it does," he says. "It's the Toyota process of 'Stop the Line.' If anyone has a concern, we empower anyone to stop the line."
For example, after the hospital began using a checklist of best practices during the insertion of central venous lines, there were many instances when the nursing staff would stop physicians from inserting the line until all steps had been completed, he says.
Many hospitals are also encouraging openness by holding daily safety briefings. Since 2012, the heads of every department at Queen's have met daily to discuss safety issues ranging from a slippery floor to serious medical errors.
"It's difficult for a manager to say, 'On my unit last night, we had a medication error,' " says Cindy Kamikawa, VP of nursing at Queen's. "This is a new culture of talking about mistakes – little mistakes and big mistakes, because little mistakes can lead to big ones."
The hospital is already seeing ways in which speaking up has made a difference.
In one recent case, a Queen's pharmacist noticed an error in an order for chemotherapy drugs. The pharmacist spoke up, and the prescription was corrected before the medication ever left the pharmacy.
The case was shared with the entire hospital at the next day's safety briefing, Kamikawa says.
"That was what we call a good catch."
Smarter Hospitals
Hospitals are also converting to electronic medical records in an effort to reduce human error.
"It's been a huge step in patient safety," says Tandy Newsome, quality-management director for Hilo Medical Center, which converted its system four years ago.
"We scan the patient's ID band as well as the medication, so there's a match-up to prevent medication errors," she says. "It also defeats the problem of legibility, which is a big problem in medical safety."
"Everybody's working from the same set of information," says Hawaii Pacific Health's Ashton. "In the old days, the paper chart might not be in the same location as the patient, and missing information was an important thing. People might order unnecessary tests because the data wasn't available. That doesn't happen anymore."
Digital records are also being used to raise red flags; for example, checking a new prescription against a patient's other medications, and warning doctors of potential drug interactions.
Dr. Della Lin, an anesthesiologist and patient-safety consultant, says that electronic medical records can be a powerful tool.
"I think the future is about figuring out how we can take all the data that's in there, and using it to start predicting which patients might get in trouble before they get in trouble," she says.
But, she adds, "It's one of those two-edged swords. If you have a bad process and throw EMR on top of it, you've potentially hidden the bad process."
Converting to an electronic system can also be expensive – and isn't painless.
"It's a massive undertaking," says Maui Memorial's Lo. "If anybody ever said they flipped the switch one day and everything worked, they're cuckoo."
HHSC is spending more than $100 million to convert its network to electronic records. Maui Memorial converted its 35-year-old computer system in March.
"Basically, we had a paper system," Lo says. "We didn't even have the infrastructure to handle a major computer network."
Converting meant hiring new IT employees, bringing in consultants to help with the transition and overhauling hospital processes that had been used for decades.
"Everything changes: how we interact with each other, how we interact with patients," he says. "The medical record is the basis for all care. It touches everything in the hospital."
Lo acknowledged staffers were often frustrated with the change. Some "glitches" were so severe that entire departments were taken offline while the problems were dealt with.
Implementing the system in emergency rooms was especially challenging, he acknowledged, with some cases of providers getting "locked out" of the computer system while they were providing emergency care. The issue is being addressed, he says.
Despite the transition pains, Lo feels the upgrade was necessary and will ultimately result in more efficient operations, fewer human errors and better care.
"People may not be completely satisfied with the system, but I think they're starting to understand the benefits and the reasons for electronic medical records," he says.
Talking With Patients
While many changes are happening behind the scenes, one area of improvement more visible to patients is communication.
Ashton says all hospitals in the Hawaii Pacific Health network are emphasizing improved patient communication – including meeting with patients before their surgeries to discuss what's going to happen and how they should prepare for their recovery.
That's particularly true for elective surgeries, where early preparations by the patient can improve the odds for a good outcome and faster recovery, she noted.
There's also a greater focus on reviewing instructions and answering questions at discharge, Ashton says, and "we make sure we call patients a couple of days after they get home and go through all that again."
The focus on communication reflects an understanding that patients' roles in their own health can be as important as that of their doctors and nurses.
"I think we've aspired to it in the past, but we're really focusing on it now," she says. "It's very clear that being in partnership with patients so they know what to expect makes a difference."
That was Barb's experience at Straub last year.
Already stressed about the possibility that the growths being removed would be malignant, she says the hospital's clear and open communication helped ease her anxiety, and the meetings with her surgical team in the weeks before the procedure made her transition out of the hospital less stressful and her recovery more comfortable.
"When you're coming out, you may not feel well," she says. "That's why I appreciate how much up-front communication was done, because that's when you have time to absorb it, not when you've just been operated on and you're being wheeled out in a chair."
But the best communication she received was the result of her biopsy.
"I had good news at the end," she says, "because what they took out wasn't cancer."
Related Articles:
Deadly "superbug" arrives in Hawaii
If you find this content useful, you may also be interested in: