How to Revitalize Hawaii's Economy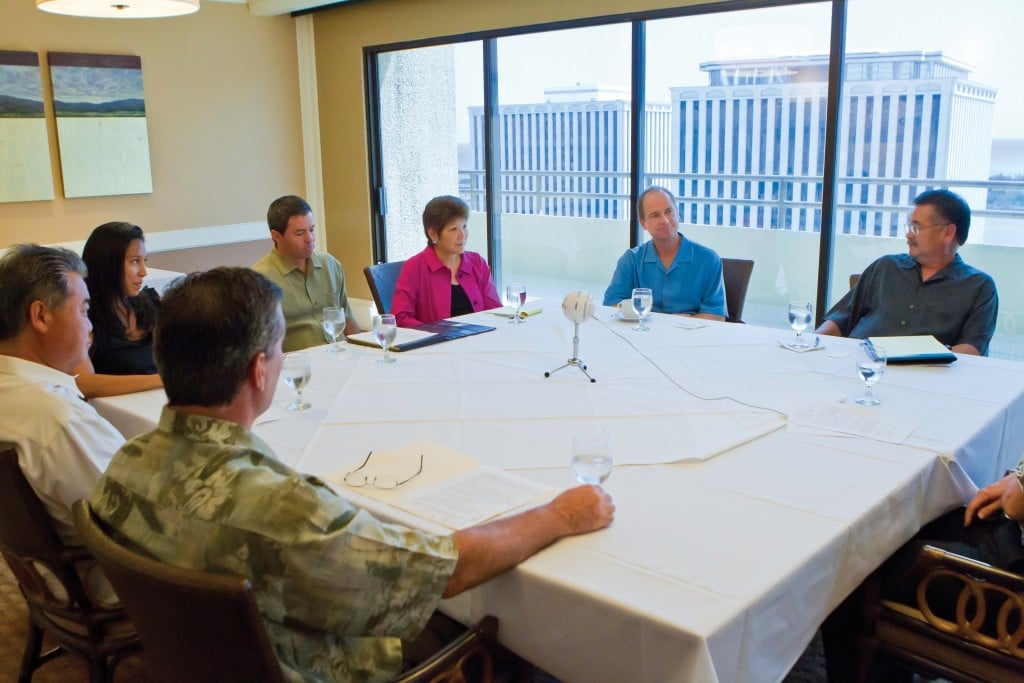 Participants in this discussion:
Kirk Belsby, VP of the endowment for Kamehameha Schools
Kyle Chock, executive director of Pacific Resource Partnership
Keiki-Pua Dancil, president and CEO of the Hawaii Science and Technology Council
State Sen. Carol Fukunaga, Democrat, representing McCully to Punchbowl
Ernie Nishizaki, executive VP of Kyo-ya, owners of Hawaii Starwood Hotels
Dean Okimoto, owner of Nalo Farms and former president, Hawaii Farm Bureau Federation
Patrick Sullivan, founder and chairman, Oceanit
Moderator: Steve Petranik, editor, Hawaii Business
This is the full transcript. Click here for an abbreviated transcript.
Petranik: The topic is revitalizing Hawaii's economy. We're going to start with the big picture and then go down into various sectors and get more specific. Carol, I'm going to start with you because you're the only politician at the table. What should government be doing that it's not doing now, or what should it stop doing that is holding us back?
Fukunaga: What government should be doing that it's not doing enough of right now is organizing our capital improvements so we are really excelling in the amount of spending we're doing for things that we need to pay for, like school repairs, infrastructure development, and all the rest. What would be more helpful than our normal approach is that we should be accelerating and measuring how long it takes to get things done. We should put in specific incentives: If departments are able to perform better than whatever standard we set, then the next year then their CIP (Capital Improvement Projects) standing should go up. If they do poorly, then their CIP standing should go down.
Over the last several years, we have put a huge amount of funding into areas like school repairs and renovations, and a lot of it is in lump sum funding. This last two-year biennium budget, we put in over $200 million in lump sum CIP for school repairs, etc. It could be re-roofing, painting, and one of the myriad of things that you would want to get done, but at the same time, DOE, DOT, most of all the big agencies that handle construction are undergoing Furlough Fridays. So, you know, duh! We should accelerate getting these kinds of projects out quickly and keeping the economy moving. There's probably a number of ways we could get it funded a whole lot faster.
Chock: There's almost a billion dollars in deferred maintenance and repairs between the University of Hawaii's 10-campus system and the entire state Department of Education. For our industry (construction) and the amount of unemployment we have right now, if we just looked at taking care of our schools, that would get a lot of our guys working and off the bench again. It's the classic countercyclical spending in a recession: when the private sector's not putting money into the economy, government really needs to take the lead.
One good example, the legislature this past session funded the University of Hawaii's West Oahu campus – $48 million – and they're going to be able to break in August on construction of a new four-year university in Kapolei. So that's a positive sign for our industry.
Belsby: The good news that's come out of this fiscal crisis is that it's forced us to rethink our expectations of government. There was this view that government was in charge of everything and it's responsible for everything. I think we're now getting back to the very basic purpose of government, which is to provide the infrastructure for the private sector to succeed. And so instead of being responsible for bringing Silicon Valley to Honolulu, the idea is back to providing an educated labor force, highways, other forms of transportation, utility infrastructure in Hawaii. I think that the best thing that government can do is provide the infrastructure.
Secondly, there's this presumption that government is supposed to pay for everything and then we in the business sector get mad when the government puts in bureaucracy in order to measure it or monitor it. I think in all fairness that the better play is for government to do what it does best and provide the infrastructure, but I think where they can help is along Carol's suggestion as it relates to bonds. Right now it's very difficult for development to take place in Hawaii in areas where there is no infrastructure. I think that's what plagued DHHL for years. Whereas, if we use some of the tools I think that are used in other parts of the country, such as Mello-Roos bonds in California, they're basically private sector bonds but have the full faith and backing of the state behind them as a credit enhancement to facilitate the use of those bonds to provide infrastructure, and once the infrastructure is in place, then everything can follow from that.
Petranik: Where is the next area to grow and expand to with this new infrastructure?
Fukunaga: West Oahu is a prime example. For years, we've really not had an opportunity to look at new types of industry development partly because urban Honolulu is so crowded. A lot of our tech businesses are hunting for adequate space in which to expand. I think the UH West Oahu campus is going to give us a tremendous opportunity to combine job growth and new industry development, particularly in some of the areas that UH West Oahu Chancellor Gene Awakuni has focused on, one of which is the Academy for Creative Media. A lot of us are very familiar with what Chris Lee has been touting and championing over the last several years. We now have ACM up and running. We have a very successful digital media set of programs at the school level, on Olelo, all kinds of manner of different platforms, and you have such a demand and a desire at the school level to really go into areas like animation, video game development, and that's a big area that we finally will be able to combine potential industry development right in the middle of a higher education campus. Now, how great is that? We haven't had that for a long time.
Nishizaki: In terms of construction, one would have hoped the Honolulu airport was renovated much sooner. We're talking about the first and last impression that our visitors have of Oahu, and I think that project should have taken first priority.
Petranik: Is what's on the drawing board adequate?
Nishizaki: It's a start. If you look at our airport and compare it to other airports throughout the world, Honolulu Airport is nice, but it's certainly not up to par with any of the other airports.
Petranik: What about the Neighbor Islands?
Nishizaki: The Neighbor Islands are adequate and it could do better but the vast majority of our visitors still go through Honolulu International Airport. It's an airport that needs a whole lot of repair done. Luckily, it is Hawaii and it is open and you can see the outdoors, so that offsets some of the shortcomings, but if this facility were in Los Angeles nobody would go there if they didn't have to. The airport is a place where we need to focus more on.
Petranik: Patrick, you're part of the technology sector. Government has cut back on its incentives to that sector.
Sullivan: They have and, to a large extent, without a complete thought of how to build on what has been started. But just to reiterate, in the short-term, I think that construction is a terrific investment. In the long-term, education has been put under the rug. That's a huge mistake. But in the medium-term, there has been a dialogue in tech that is probably higher and more sophisticated than it's ever been, even though it may not be what everybody wants it to be, but in the last 25 years, for example, there has been enormous growth, sophistication, within the state and business community to understand tech. Stock in Act 221 – it was going to run its course, but the complete thought on tech when it comes to capital formation is to be continuing with capital formation after angel investing. Act 221 created the environment for angel investing, so now we've got some sophisticated angel investors and some understanding, but to really bring a product to market requires more capital. The understanding of that isn't there and that is an important step that I think needs to occur. I think the state government can have a leadership role in that, in encouraging more capital to come to work to bring these tech companies that have been created some really innovative technology to the marketplace.
Petranik: By encouraging to you mean marketing or tax incentives or …?
Sullivan: There was a really interesting article about a year ago that looked at about 18 states. We're not the first to try it. There are many, many ways to do it. There's ways for states to lead a discussion and encourage business, and it's left to one's imagination on exactly how to do it, but we didn't start the idea here and there's a lot to learn from what others have done around the country, and there are ways to do it that can lead to right kind of outcome. One example, an interesting case study was several years ago, Congress supported the formation of new venture funds by taking some of its retirement money and actually putting it into venture funds. Those Venture Funds then created additional capital to go to work with that money. If you look at those funds today, 80 percent of businesses that are created are within about a 30-minute drive of where those funds actually physically reside. National Venture Capital Association numbers show that for every $25,000 invested from these funds, you created one tech sector job. Average salary for a tech sector job is on the order of $70,000 to $75,000. For every dollar that was invested, it created $9 dollars circulating in the economy. So, there are some economic benefits that would come from that, too, and it's well within the flexibility of what the state can do to stimulate that. A matter of fact, there's a series of papers written by a group called Grove Street Advisors (http://www.grovestreetadvisors.com/news/gsa_comm.asp) from the East Coast that really articulated why this was a good idea, how it stimulated the economy and why those funds worked harder to succeed. It argues that some of the early venture funds in their first one or two rounds of hunting actually outperformed significantly the older, more tired funds. And that's one of the reasons they tried it, to see if they could actually stimulate new funds so you get new blood, new ideas, and break through some of the traditions that were not as open to real innovation. So, that's within the ability of the state. There are policy issues and there are ways to incentivize investment that would lead to further growth of these type of companies. And it goes hand in hand with education.
Petranik: I want to ask Keiki-Pua about that. Around a lot of tech centers – Silicon Valley, Research Triangle in North Carolina, etc. – there is a university or two helping feed that tech industry. Is that one thing that we need more of?
Dancil: Yes. That's usually the No. 1 source of innovation, universities. You have team of scientists and engineers that constantly work in innovation. And if you look at these tech centers around the country, they all center around these universities. Their engineering, computer science, medical schools. They find a niche somewhere. I know (UH) President Greenwood has made that one of her top three things to do, and she did appoint an innovation council. She definitely wants to figure out a better way to commercialize technology coming out of the university, and I think that's a great first step. There's been some frustration working with the university in getting technology out of the university, how to license it into different deals. People are communicating better and saying, "It's not working, right now. What can we do?"
Some suggestions were about the Office of Technology Transfer. Is it being effective? We know it's gone through different changes, new directors. What if they have somebody concentrate on just licensing and patenting? You can't just patent everything. You have to do due diligence and vet things and ask, "Is this worth patenting?" What if we outsourced it to say, Stanford? That idea was presented. Or start from scratch. The Innovation Council has recommendations and I am helping facilitate that discussion. It's a great first step.
Petranik: Dean, your thoughts on the big picture?
Okimoto: In agriculture, part of the problem is developing infrastructure. Food safety, for example, requires processing facilities. We're losing a lot of our ag industries like the pig industry, chicken, all of the livestock because we can't keep up with the infrastructure, building of slaughterhouses and the new ways you have to follow to get to food safety. Part of the problem with government is permits, getting and expediting the permits. I had to put up a facility just to wash the produce for food safety reasons. When I started four years ago, our estimated cost was nearly half a million dollars. By the time I finished, it was $2 million. That was after two years going through the permitting – county and state, and that was actually an expedited process. Most small guys are not going to be able to do that. I finished it, but it certainly is hard trying to make that money back. I had a discussion with some people about bringing back, for example, chickens. Just for the processing facility alone you're looking at $30 million, and the regulations are you need to have a FDA inspector in there at all times while you're processing. People don't realize these costs to put that product on your table. That's what makes the whole system of food production not work for small farmers. Corporate farmers are the only ones that can afford this infrastructure. And that's what we lack here in Hawaii – those guys who are able to take that to the next level – plus, of course, our cost to ship in things and everything else. Agriculture is going to need that help going forward.
There's a lot of talk about sustainability, growing more food here, all of these things. Another example is just a simple water meter. A two-inch water meter costs $70,000. For a farmer that will feed about 15 acres, a two-inch water meter at $70,000. That's the kind of infrastructure cost that most guys can't afford.
Belsby: I think there are some bright spots on the horizon, though, because for the last several years as it relates to technology, intellectual property, economic development in general, I think we were trying to copy a lot of the Mainland models. I think now, we've moved to finding where our competitive advantage is and what our value proposition is in many arenas and clearly it would appear that renewable and green energy is such a valued proposition for Hawaii. I think that it's really interesting that companies like General Electric, Shell Oil, First Wind, these large multinational companies are here doing business today, whether it's wind, solar, or otherwise, and with that being said while they're admittedly relying upon federal laws or federal credits, they're not relying upon state support. And so I think we have found some opportunities that we can leverage and take advantage of, and I think it also goes to assist in the ag sector and satisfies a lot of wasted opportunities that we've been languishing over for the last several years.
Petranik: The big companies like First Wind have people they can assign to deal with regulations, but put 10 small businessmen and women in a room and nine of them might say regulation is their biggest obstacle. They're dealing with state and county in most cases, not just one level of government. Are there fixes that we can do with regulation that will help small and big businesses?
Okimoto: One thing is having a one-stop center where you have county and state together in the same building so you're not going back and forth. I think that would help construction guys, everyone. You need some of that bureaucracy to make sure that it's done right, but it could be made a lot more efficiently and there is still a lot of duplication.
Nishizaki: A a study done last year about the loss of the beach in Waikiki that kind of stated that would lead to a $2 billion loss in revenue for Hawaii. Several years ago, there was a notice about how to restore Waikiki beach. About four years ago, our company decided that we were going to spend our own money to look at bringing the public beach back to the area called Gray's Beach right in front of Sheraton Waikiki. That was four years ago. Our consultants told us our timeline would be 18 months to get it done. The timeline is still 18 months. It hasn't changed four years later. We actually have to go through, and this is not just state and county, but also federal, 25 different agencies. I understand there is a need to be cautious about we do for the environment. At the federal level, we were told this was navigable water. This is at our shoreline! We are still going through that. We have spent up to right now over $600,000 in private funds. This is a responsibility that we share. Somewhere down the line, the landowner that owned that property before built the wall that helped cause that problem. We are willing to spend that money. We are still working with the federal, state, DLNR, county. I mean it really gets to the point where you're starting to wonder. We've talked about small business, but our company, relatively large, has been spending $600,000 and we haven't started the project itself. I think that's the frustration for not just small businesses but even big businesses. It's been a long process.
Petranik: It seems to be the fundamental problem of Hawaii. You have this beautiful place and people want to preserve it and there's the tension of being unreasonable about that. I mean preserving it. I mean you want to restore a beach. You want to restore a beach that's been there for generations. So that's in a way, you're preserving it by restoring it but that's the tick. Carol, you deal about it. You're a politician. You have to get voted out of office if you don't somehow balance that tension between people who want to preserve Hawaii yet creating jobs and creating a place where people can make a piece of living.
Fukunaga: It's very difficult to get all the levels of government to cooperate but I'll point to some of our successes in the area of consolidated permitting: for example Hawaii is the only state in the country that has a consolidated permitting process for a film production. With Pirates of the Caribbean, and Hawaii Five-O recently got signed to start on their series, we said this industry is important for our long-term economic prosperity. So, we devised a permitting system that crosses federal, state, and local governments. I don't see why we couldn't cooperate and work together between state, county, and federal in other areas as well.
Those agencies have to sit down and be willing to hammer out whatever compromises are necessary to ensure that whatever is needed is provided. Can we do it one time and can you actually share this among agencies and expedite the process? I think it's doable.
Dancil: Take an example from technology: importation of species. If somebody wants to bring in a virus they are studying, for example, the RBL (Regional Biosafety Laboratory) that has been on the table for discussion. There've been federal funds allocated for it. NIH has funds set aside for it. Where is it today? We don't know. There are still active discussions that it should come and it could be a viable economic engine – if you look at other RBLs around the country, they definitely sustain themselves and bring in topnotch researchers, but there are importation rules. Labs bring in certain strains and who do they go through? When I started my last biotech company, I just wanted to bring in this one strain –very nominal, just normal off the shelf – I had to get this letter from this person, get this letter from this person, go talk to this person, talk to this person. It's a brand-new area. Like with the film industry, we wanted this consolidated approach – let's all work together. We need to educate people. I have to go through government ag office but I'm supposed to be going through Department of Health, because they are medically related organisms.
Petranik: And the officials that you are dealing with are uncertain because they lack the expertise.
Dancil: They're afraid to do anything. So, there needs to be some integrity to the process definitely, but I'd still go with somebody who understands microbiology and yet keeps the security in place.
Sullivan: Obviously the driver in this kind of discussion is the mongoose and the rat: The idea of bringing in the mongoose to fix the rat problem without realizing where it's heading. In talking about permitting on Waikiki Beach – we don't want what's happened to Kuta Beach in Indonesia. It's development out of control. So sensibility about this stuff, that it has to be regulated adequately. It is important because we're trying to define local interests vs. somebody showing up from the Mainland who has got plenty of money and can drop something down here and do whatever they want. They all operate under the same justice system, the same legal system. So, there is probably another way to rethink how we do it so that you can reflect accurately the local interests and diversifying the economy and creating jobs and sustainability. At the same time what we're trying to preserve is what makes Hawaii special and so that's been an ongoing struggle here for quite some time and it exists today except we sort of swung to the other end of this issue. And now, we may need to find some equilibrium point to a more balanced setting because, for example, some of the things Keiki-Pua is talking about with bio-species and life sciences technology. A lot of things that we have to deal with didn't even exist back in the days when the mongoose was brought in to get rid of the rat, yet we're still thinking in the same terms. So, there are ways to upgrade our thinking and that could be reflected in the way some of the way permit jockeys to do their job and get reflected in policy.
Okimoto: Part of that problem though is there's a mistrust of government – more, I would say, by the environmental community because they fear these things will get out. So the bio-security plan that we've been pushing for the last five years is for a facility by the airport where we check everything coming in – and even things going out can be checked there rather than on the Mainland – but controlling it over there and putting both federal and state people there to check. That would probably help the biotech industry and ag, too. Every time a new virus is found in the Islands, people asks me what should we do and I keep telling people that we're not going to be able to control it, period. We're going to have raw mites on every island, these viruses on every island, myconia on every island, coqui frog, because there's not enough controls, which is why this facility is really important. We spent so much time on controlling invasives when they come here, but if we had put all that money to putting up a biosecurity facility, we would have saved hundreds of millions probably by now spent trying to control invasives, especially in agriculture. Right now, we're about 90 percent sustainable on tomatoes. Well, this summer, you're going to see that drop way back down. There is a new virus here that I'm just talking to farmers about and it's spreading like wildfire. And so a lot of tomatoes will be impossible to grow this summer. And this is a new thing, this just came last year. So these are the challenges that these guys are working with and it becomes very frustrating and guys quit because of it.
Sullivan: The last time we did a real comprehensive plan here was during the Aryoshi administration, and the world's changed. It's time to rethink that whole concept and develop a plan for the future to integrate the world as it is today. Why education matters is totally different today. The Internet didn't exist when they did that plan. Concepts around manufacturing are totally different. The idea of disruptive innovation and design thinking are totally different. It's a different world and I think it's time for Hawaii to step into the future. A couple of years ago at a sustainability conference, they asked some kids: Do you believe there's a job for you in the future? Dead silence. No. You know that's the answer, no. But the real problem is us. The grownups running the place don't get it and the kids see the writing on the wall. We've got to take a different view of the future to integrate that kind of thinking. That hasn't been done in a long time. Not everybody is going to be happy about everything, but I think there's the opportunity for a more thoughtful, more politically expedient focus that reflects on ag and education and tourism and all of these other things. I think it would be more efficient for the state to do something like that. There's no panacea here. Issues on capital formation, issues on tech. The discussion going on in the U.S. right now on manufacturing is totally different. The U.S. lost its ability to manufacture, so the discussions going on in places like DARPA (Defense Advanced Research Projects Agency) is how do we bring it back? What's the new kind of manufacturing? We're talking about a thing now called miniature manufacturing that could be done very effectively in Hawaii. It wasn't even possible back then. And, by the way, there's a lot of synergy among ag, the life sciences, the medical school. There's this convergence of thinking and the infrastructure that is needed to make them succeed can be shared by everybody.
Petranik: So one way to revitalize the economy would be to have a comprehensive vision that most of us share.
Sullivan: A big vision.
Okimoto: I think collaboration between all sectors helps. Right now ag is partnering with Kyo-ya in presenting more local food at the (Starwood) hotels. Tech, of course, helps ag and that's why we have the seed corn company guys here and other businesses in the ag sector. We need leaders who are going to be collaborative and bringing industries together within the state. That way everybody has an opportunity to grow and everybody gets to understand each other's issues. That's key, because if you don't understand what ag is about, or what tourism is about, or tech, then when you hear that tech has Act 221 and you don't understand it, then you're thinking, "Wow, they're getting a free pass." Things like that. But once you learn about the different industries you learn how you can help each other and I think that's very, very important going forward. For example, Kamehameha Schools is doing great stuff in agriculture, too, because they realize, I think everybody realizes, that agriculture has to stay, has to be a part of Hawaii. It's just that people don't know how and we're looking at that now and that's really important work.
Dancil: It's a collaboration, everybody at the table talking. Ag, we can help you start on the biotech side. Tourism is our core industry. How can we help tourism be the best it could be? Can we give them tech tools so that tourists can utilize them to have a more rich experience here? How do we sort of help the industries already here to work to be even better?
Fukunaga: That's really the point of the conference that you mentioned, Pat. The Hawaii 2050 Sustainability Task Force (http://www.hawaii2050.org/) may have gotten a little bit polarized between the House and Senate and the legislative process, but I think in terms of what people said they wanted, most people have a sense of what that sustainability vision looks like. I think what has started to happen in the legislative arena is that people realized that it was going to take a big commitment of funds, resources, people and planning, and maybe that's what derailed some of the legislative support for it, but a lot of the momentum is already in place. It's now a matter of all the industries and community partners beginning to step up to the plate and saying this is really where we want to go. At the beginning it was scary. Russell Kokobun, he was one of the champions of the sector, he stepped up to the plate and looked around and saw nobody else was really there, but I think more and more as we talk about what it's going to take, it's really about collaboration and working together.
Belsby: I agree with the big vision. I also think that a lot of industries and companies and various interests were kind of fighting over the wealth that was created in 2006-2007. The crisis has now put us all on the same side of the table. With that said, I think there was value in creating a big vision, but I would not let that stop us from identifying five real projects that we can accomplish in the next 24 to 36 months. Projects that don't require $200 million, but projects that might be $10 or $15 or $20 million, that could bring these interests together and have them work together and actually accomplish something together, so that collaboration has something to show for its efforts.
For example, we talk about agriculture sustainability and feeding ourselves in the event of some major disruption in shipping, whether it be a political event or a weather event. If it's a weather event, theoretically the crops just got destroyed. So, can we build a major cold-storage facility on the North Shore or on Big Island or elsewhere? Something that we've formed together, a farmers' co-op, with support from other quarters, of course. A lot of the green-energy technology could be employed to create this opportunity, and we can multiply that in four or five different places on four or five different islands. I would rather have us think as a team about four or five projects that we could work on that are not going to stop us from dreaming the big vision. We'll dream it together while we're building the cold-storage facility.
Nishizaki: I've been in the visitors industry ever since 1969. I think all of these things about other industries helping out is great, but right now if you look at quick fixes in Hawaii, this industry is the quick fix. We've got to get visitors back. Over the last two years, visitor spending has declined around 23 percent. That is a tremendous amount. Think of the multiplier effect in the community. That's a large percentage of the workforce. The visitor industry employs around 160,000 people. So, maybe it's our fault, I mean, basically these results for not going out and saying how important it is, but we've got to get our visitors back up. If we drive the visitors down, and there's a delicate balance there, being a local person; sometimes people say as the visitor count gets to 7 million, it starts to create problems for the local residents because the traffic, and I quickly remind that if you're driving in from Central Oahu plains and the traffic is bad, most of the visitors are still in bed, so they're not in that traffic, they're not creating that problem. The traffic is coming out because frankly, people coming to work.
We've got to improve the visitor product so it benefits not just the visitors but locals. If locals go to Waikiki, then visitors will go to Waikiki. If locals go to Kaanapali, the visitors will go to Kaanapali. In the short term, we've got to focus on what is really Hawaii's driving force. I'm in it and I believe in it. I believe that it is a good industry. I believe that it needs support. With all due respect to the senator, it's "Visitors don't vote, so let's increase the tax." On July 1, the TAT (Transient Accommodations Tax, or hotel tax, went up) another percentage point (to 9.25 percent). What is the message we're sending to visitors? We tell them to come to Hawaii, but we make them pay 9.25 percent TAT, plus the GET. It's not the right message.
We support the ag industry, even though in another year tomato prices are going to go up (laughter). But we will use local products and we want to use local products. Why is ag important to us? Our local shops want local products and because of sustainability. If we ship in less, we pay less for fuel. The last thing is ag – I lived out in Wahiawa, open space, pineapple and sugarcane fields. We need homes here and housing. But visitors don't come here to look at subdivisions or homes. We need the green space because that's what they come to Hawaii for. Locals also like to look at green space. We need to balance that out.
Okimoto: That's a good point. Even ag and development can work hand in hand. I'll give you examples: I've been getting a lot of heat about supporting Hoopili (a proposed residential and commercial development in Ewa) and I truly support it because it's been embedded in community, it's in community growth plans. If that's where the community wants to grow communities, then I'm for it. That's why rail is really important to the overall whole plan because development is going to be centralized around that rail line going out to Kapolei, and everything will go up and not out. That will preserve more land for agriculture going forward. It bothers me that these people, I will say it's environmentalists, think this is a bad thing, because the more you centralize it along the rail, the less development there is going to be on the Windward side and elsewhere. We should we concentrate on preserving ag lands that are still zoned ag now. People need to realize that you've got to do what you can do now, and if we go back and keep fighting about Hoopili and things that have been decided, where people and companies have spent millions of dollars on development plans and all of these things, that is not the right way to do it. We have enough ag lands going forward to preserve for ag, and to me that development (aligned with rail) in the long run will help us keep more ag land in ag.
Chock: If you ask local people – and we have, through our People's Pulse Survey (conducted by Hawaii Business Roundtable and Pacific Resource Partnership, http://www.prp-hawaii.com/Peoples-Pulse.aspx) – and we asked, "How do you define sustainability?" And most of the respondents defined sustainability as being able to raise a family here in Hawaii, seeing their kids grow up here and have a job here. And if you look at all the metrics, Hawaii ranks 49th in the country in home ownership. We rank 50th in terms of intergenerational families living under the same roof. To me, that's not any kind of sustainable balance to get local kids motivated about wanting to come back to Hawaii after they go away to get a good education, if there's nothing for them to come back to. What kind of message are we sending the business community when the state and the county made planning decisions 20 or 30 years ago to redirect urbanization and residential growth to the second city of Kapolei, and now, there is an undercurrent that wants to revisit whether or not that was a good decision? (This reconsideration) comes after the county and the state said to the development community, "This is where we want you to build homes." A lot of dialogue has been on the jobs aspect of rail, and I think that's part of it, but I think the long-term dialogue is on how we want to redirect and rebuild our urban center from Kapolei to Downtown Honolulu. There are lots of opportunities for us to address issues of open space and redevelopment in a way that is environmentally friendly and still gives businesses a chance to create more density in the urban core. That's something Kirk's group (master planning for Kakaako) is taking a look at and kind of moving people off the mentality that the American dream to own a home isn't necessarily the one with a big yard and a picket fence, but it might be a 900-square-foot condo where you can live and work in Kaka'ako and be part of the life sciences or some of the budding industries that we have now started to incubate. So I think there should be a balanced dialogue that takes into consideration all aspects of what we've talked about doing.
Belsby: I see us right now, from an urban growth perspective, in a state of transition, and transition is always painful. If you go the San Francisco Bay area 30 years ago, everyone was driving into San Francisco to go to work, not unlike everyone driving into Honolulu to go to work today. In the Bay area today, it's a reverse commute: More people are going from San Francisco down to San Jose in the morning because that is where the jobs are. I'm not suggesting 30 years from now everyone will be driving to Kapolei in the morning, but I think and I hope that it will be at least more balanced. So, we have to approach some of these problems from a longer-term perspective. Most of our problems cannot be solved in the next legislative session.
And when we talk about agriculture, I think some people are saying, "I want more agriculture." I think a lot of people are substituting agriculture with the concept of open space, and so I don't think we've really resolved, "Do we really need more agriculture or do we need open space?" At the end of the day, and I defer to Dean, but some of the studies that I've seen suggest that we could largely be self-sustainable on vegetables and some fruits with 40,000-50,000 acres of good productive agricultural land. We have that much land. (Okimoto signals his concurrence.) What we don't have is the labor to provide a successful agricultural product that is price-friendly at the market. What that is telling us is that the labor force, going back to Kyle's point, cannot afford a home to live here to work in the agricultural sector where labor rates are admittedly lower than in many other industries. So when we talk about the affordable housing problem, yes there is, but I think the first thing we need to do is just to provide housing first because under the supply and demand theory, if we can supply enough housing, the prices will moderate. A few minutes ago we understood how very quickly tomato prices were going to come up because the supply would come down. The same theory works in housing. Yet, we make it a point to limit housing and then wring our hands over what happens to the price of housing.
Sullivan: (Affordability) also has to do with the ability of the homeowner to get a job that pays a decent salary. The professional trades and others provide decent jobs, but in the tourist industry there aren't as many high-paying jobs, and I think what's missing is this middle sector. If we had a broader distribution in the workforce, then it would help address some of these issues around affordability. You're always going need entry-level, low-cost housing, and you're always going to have the rich guys at the high end and some of them from California. That's going to happen because we're part of the same country incidentally. What we could do is create a broader middle class and the opportunity to move within that, and that goes to education. The tech sector can create some of those jobs. The financial sector could create some of those jobs. There're other things we could add to the community and the economy, and I think that has to be part of the long-term strategy, and how to do that, because the ability to buy a home is one of those key issues.
Petranik: We probably all agree that one of those key ways to revitalize the economy is to improve our public schools.
Okimoto: Part of the problem is the metrics by which we measure our kids. We're measuring them by national standards, not necessarily a bad thing, but we have job opportunities that are a little bit different from Poughkeepsie, New York. We have a tourism industry that's vibrant. We have a tech industry that could grow. I don't think right now the educational system is directed towards what we have in Hawaii. In other words, workforce development. It's also good that they (our students) can go to the Mainland and compete there.
I'll use ag as an example again. Kirk made a point about people not being able to make enough money in agriculture and part of it is because of infrastructure development. The infrastructure costs for agriculture are huge. For example, Monsanto is here helping a lot of these guys develop irrigation systems, things like that, which lowers their cost going forward. That might allow ag companies to spend more hiring managers who can teach them how to grow better using GPS systems from the tech industry. As far as the educational system is concerned we need to look at the different industries here to see what skills these kids need to come home and work in businesses that are here. Partner with the private sector in developing (education for) specific job needs that they have and likely will have going forward.
Sullivan: What happened in Tucson is very relevant. A very interesting study looked at how the University of Arizona-Tucson and the related community developed jobs in optics (one report on the issue: http://www.tucsonweekly.com/tucson/banking-on-optics-valley/Content?oid=1067627) that supported and were largely part of the growth in communications, but it really started around astronomy. Here we are building a billion-dollar telescope here and where are the skilled technicians, which are really important, you know, they are a critical part of this around the rest of the world. Guys that can run a machine shop. Guys can actually build things. They don't necessarily need to have a degree from a four-year school to be a huge contributor. We need those kinds of people and you've got engineers and you've got scientists. There's an entire infrastructure, and on top of that you plant a billion dollars worth of optics here in the state of Hawaii. We've got an opportunity to grow all kinds of peripheral industries that can create all kinds of other things. Who could have dreamed up a better opportunity for the state, but what are we doing about it? Not a whole lot. You know we focused on a couple of the environmental issues and a few other things, but the community colleges, the (UH) College of Engineering, and the rest of the university, they should be part of creating jobs. For example, right now we're trying to hire optical engineers, electro-optics and optics, and we can't find them here. We're recruiting from several schools around the country who, by the way, are getting big sums of money from NSF – National Science Foundation – just to create those jobs and create those skills, but we're not doing it here. We've got a billion-dollar telescope plus all these other telescopes and we've got to go recruit from these other places. It's insane.
Dancil: We're starting to. Just last week Friday actually we hosted it at Oceanit. We had the community colleges come together, the engineering schools, and it was talking about if "are we preparing our workforce for the jobs of tomorrow?" And that we had some people from the foundation saying, you know, "these are the skills we will need going forward and everything is on the table, so talking about this, how can you start creating internships? How do you start connecting these kids to the private sector? I just held a SciTech Day thing and the whole purpose of the SciTech Day was getting back the day of education in light of Furlough Fridays, and it was scientists and engineers for six hours teaching these kids, but one of the objectives was to introduce these children that you're just not studying a subject for the sake of studying a subject just to study a subject. Here is a company in Hawaii that utilizes it. Just make that connection, introducing these children to the sciences here. And then that is just one step that's in the elementary school, but it's fostering this whole pipeline of developments through elementary, through high school, through internships, and increasing the stickiness factor so that if they do go away to college and could go back and do an internship or something like that. So that they want to come back home as opposed to staying. For example, I was back from the states and I'm getting recruited by all these top firms, why would I want to come back to Hawaii? So, it's just how do we make these children aware of our jobs and at the same time they're aware of the skills sets going forward. The TMT (?) guys, they actually have a full slide of these are the jobs that are going to be coming forward in the next 15 years. Here's the workforce skills that need to be necessary. How do we develop these educational programs to develop these skill sets? Because now I have all these cottage industries doing all these different things around optics, and we have one of the best places in the world to do any sort of optic work. That's a big driver for a big name university guys.
Sullivan: If we give the kids a reason to stay in school and focus, they'll exceed our expectations, I guarantee it. But they don't understand why it's important and the state could do a better job in sharing with them why it matters. I was talking about workplace development with the previous dean of the (UH) College of Engineering. He said: "If the kid hasn't had math by the time he gets through high school, I can't help him." Well if the kid actually knew he needed to it, he might've actually tried it. And teachers would be excited if the kids were excited because there was a demand for these skills and there is a real need for students to learn them. They will rise to the occasion. Look at STEM (Science Technology Engineering and Math) and the robotics, it's amazing what these kids can do.
Petranik: It would be nice if STEM and that sort of stuff was as "cool" to students at football and baseball – if we as a culture could persuade more kids to say, "Hey, yeah, I want to be on the robotics team."
Sullivan: They're smart, they're competitive, and they're fearless. If we just give them the opportunity, they'll exceed our expectations, but I think that's where the state has to decide: "It's time to start talking about it." It's time to let them know that those opportunities are there. We do that all the time, but for the Furlough Fridays we had 40 kids from the Kahuku, Farrington, a bunch of schools. It was really interesting. There's nothing wrong with these kids. It's sort of something wrong with the adults.
Fukunaga: That's where a lot of the efforts have been going on over the last five or six years, STEM initiatives, creative media. Those seeds have been planted and now you're going to see the transition between this (state) administration and the next administration, the Legislature and Department of Business, Economic Development and Tourism. All these entities need to collect some of the information on just what's available and what people are doing, because then I think people would be blown away and excited to see just how much has happened. Look at robotics. When we started some of these efforts, there were only three schools locally competing in FIRST Robotics (http://www.usfirst.org/). In 2010, in the regional competition, there were 37 schools. Now, FIRST Robotics is the most expensive and the most complicated and the one that requires the most support, but to have gone from 3 to 37 within the space of four years is phenomenal. But a lot of people don't really know that because each school, or each group, College of Engineering, Oceanit, NASA, BAE Systems, are providing funding or hosting a tournament. They're all doing it somewhat independently, so we have to put together all those pieces and let people know just where we stand because I think the teachers are there. The ones who are participating are absolutely there. If they saw jobs available for their students, the students would not hold back, they would be racing forward.
Petranik:The unions and the construction industry have a problem with the school system because the graduates don't have some skills that they need to take on the skilled trade.
Chock: Yes, it's been a major problem. One of the requirements into our unit (Carpenters Union) is a math test and it's written at the 8th grade level, arithmetic, reading a ruler, a tape measure, 50 percent of the kids who are DOE graduates cannot pass our math entrance exam. Earlier, you asked what needs to be done in terms of education, the DOE. I think there's a huge accountability problem right now and whether that's solved by an appointed school or an elected school board, or removing principals who are underperforming or having principals remove teachers who are underperforming, there's a question of who's accountable and where does the buck stop. And I don't think that it's a money problem, that schools in Hawaii are being underfunded. When you look at other states that have some of the lowest per pupil spending in the country, Utah and Idaho, yet in terms of the standardized metrics and the outputs, they're at the top of the food chain. Yet in Hawaii, we're not bad in terms of how much we fund our schools, yet we're not getting the results we want. I'm not sure where you start to deconstruct the whole issue. There's a lot of press right now on the governance issue, but I think you've got to look at what assets are currently being deployed in the schools and are those assets working, and, if they're not, how do we redeploy them.
Fukunaga: I think part of what Kyle is talking about is deploying resources more strategically. For example, we have not really had a state CIO (chief information officer) for the longest time and by the time, I think in the past administration (Gov. Cayatano), by the time the governor realized the importance and the value of a statewide CIO to consolidate areas where it makes sense to consolidate, utilize technology to eliminate bureaucratic cubby holes, but it was almost too late because that was the last two years of that administration. In the current administration (Gov. Lingle), we have a CIO, who is also the state comptroller, which we think is not a good, practical way of going about it. I think the city administration and Mayor Hannemann have done a really good job of identifying areas that IT can help to streamline and really help to make a difference on how to do business.
So, we had a very small, modest bill. It doesn't have any money in it this year, but we did get the bill through the Legislature, (referencing) the auditor's audit of state IT governance. We included in the statute that there should be a state CIO, cabinet level position, and there should be an advisory group made up of senior agency people who work with the state CIO to identify the best practices, the strategic deployment of resources, etc. It takes effect Jan. 1, 2011, really for the next administration, and we think that can save us a huge amount of money.
I think there is real value in approaching IT governance and assets from a strategic standpoint and looking for ways that, say, personnel systems, could be harmonized. It doesn't have to cost a lot of money. Some things are going to cost money but you have great creative IT people in the state.
Nishizaki: I can't tell you how to fix those issues, but one thing that all of businesses need to do is go out there to the young people and build their aspirations of who they want to become. Over the last four years, we've hired four local chefs, Rodney Uyehara, Jon Matsubara, Ryan Loo and Colin Hazama. These are all local guys. I encourage these local guys to go out there and talk to the kids. When you think of Alan Wong, he and I went to school together (Leilehua High) – these chefs are like the superstars. People look at big baseball players, big football players, but chefs can also go out and create that same type of enthusiasm. Because not every kid's going to go to college, but KCC (Kapiolani Community College) is certainly an option for these kids to get a degree in culinary arts, and when they come out they aspire to be chefs, to be very creative and in high demand. So, there are some successes with the school systems have evolved.
I guess the concern I have is over the last several years, every so often the University of Hawaii keeps talking about either getting rid of the Travel Industry Management school, or consolidating it, and I'm working with them on that. Whether you consolidate or not I have a hard time understanding how state, when the No. 1 industry is tourism, we are going to just sort of dilute a program that is driving to develop the future managers. About five years ago, when I was with HHLA (Hawaii Hotel & Lodging Association) as a chair, we did a survey, 42 percent of all our general managers were locally born. Today, that number has dwindled. There is something wrong there. You have less and less managers who are locally born. Why is that important? Not to say that local people are smarter than anybody that comes from Cornell, but really truly one of the things that differentiates our industry, we call it the aloha spirit, but our spirit of sharing and caring. That has been true for us. As lead managers, we've got to make sure that you have more and more management people who are going take over for all the baby boomers because like myself who are going to take over and lead our industries. Again, tourism is going to continue to be for a reasonably good time our number one industry. We've got to support the good local people. I will say I see successes on the culinary size. I think about 42 percent of our chefs are locally born. Today, that number has climbed because of programs like KCC were devolving. These are the heroes, when they go out to the Waipahu (High School) travel academy and talk to these kids who aspire to be chefs, and they look up to Alan Wong, to the Roys, the Sam Choys. Colin Hazama, we hired him and he left and went to Princeville (Resort). He is a James Beard rising chef (semi-finalist for a 2010 James Beard award in the national Rising Star Chef category). There are not many. He is one. The highest paid employee, by the way, is a bellman (laughter).
Belsby: I find it interesting that in my prior career I did a lot of consulting work with Chicago School District, San Francisco and Los Angeles school districts, and what I found out is that the larger they got, the less efficient they became. Their precept was that there would be cost savings but larger than that, but of course the bureaucracy that was created offset any cost savings that were ever achieved and so I think to some degree on a smaller scale, we've also realized that issue here in Hawaii. There was a corollary in the old Soviet Union on the agricultural collectives with the small plots of land that were given to the citizens were something like 10 times more productive than was realized in the larger collective. So I think that is very instructive that it takes a village to raise a child, not the state. And I think the more that we can migrate to that village model the better off we'll be. Because I think it's very simple to where people in our own community when they feel they own those facilities or that infrastructure are going to take a more active role. I don't blame the state for the educational problems. It's us as parents. We have given, abdicated our roles as educators of our children to the state, but I think part of the problem is that even with this Athenian form of democracy that we have here in Hawaii where you can go down to Legislature, anybody can go make an appointment with Carol Fukunaga tomorrow, whether a large landowner or whether you're a plumber and Carol will sit down and patiently talk with you. I've seen her do it. It's a wonderful thing. I don't think anybody has that same feeling with the Department of Education (laughter).
Petranik: What a great analogy! In our May issue, we looked at what many agree is the best school system in North America, in Edmonton, Alberta. We talked with the man who created that system, Mike Strembitsky. The state DOE actually consulted with Strembitsky early in this decade, though his reforms were never institutionalized here. One of Edmonton's innovations was turning each school into an independent entity and students could go to any school that had space for them. So you have schools competing for students, you break down the giant bureaucracy of the central office. That means you can have a school that becomes a travel academy, another becomes a tech school, and another a trade school or an ag school. That specialization can't happen when every school is trying to be everything for everybody.
Fukunaga: I've advocated that for a long time. When you talk about not having enough schools facilities and we're always in a backlogged situation for repair and maintenance, one of the things that we had proposed years ago is to allow schools to compete for students. If parents, who have to work in town, were able to choose different schools to take their children to, it would sort of slow down the rate at which we had to build new schools. In Kapolei, parents drop off their kids at the elementary school at 6 o'clock in the morning because they have to commute, so then you have to have a before-school program. Wouldn't it be much more efficient to look for under-utilized schools and offer parents an opportunity to take their children wherever they want them and that would then encourage schools to sort of compete because then the dollars follow the child. If we could introduce competition that could be very healthy and it could lead to a tech school here, a construction academy there, and you really would see a change in behavior.
Petranik: Kyle, what's the role of unions in revitalizing the economy.
Chock: One of the things that we're trying to do more now is leveraging our assets to put our money and capital to work and be partners with the business community. For instance, we try to do more in terms of putting our pension fund assets to work in terms of funding projects at a time when local banks aren't funding projects. So our doors are open for business. We've put money into projects all over the state right now with the idea of deploying our capital to get our members to work with the hammer swinging in at the same time being an asset for developers or hoteliers that are trying to build projects or The tech industry now – we're trying to cross over all kinds of bridges that we've never crossed before and trying to approach it that way in terms of being an equity partner and a business, and if businesses win then you win, versus I think some unions who are still stuck in dealing with the employer as the enemy. I think we've kind of crossed over that a long time ago and tried to find that balance where you could still protect worker's rights, you can still have an honest day's wage for an honest day's work and still have an environment where employers and businesses come together.
Sullivan: We were just talking about this a few days ago. The only way we can really recover is if everybody is working together. If you really look at how capital gets deployed around the country, unions are a big part of it. The sooner we understand why and how that works, the better off how we'll be. Unions built the country. Unions have been a part a big part of building industries and the unions have played a big role in Hawaii. They get sort of set outside like "Those crazy union guys," but actually they're a part of this. We need to work together and the more we do, the more we can accomplish.
Petranik: Unions in the private sector, more and more, are collaborating with businesses to create and protect jobs. But government unions don't have that same incentive to collaborate.
Chock: I'll use this as an example: In the early 1980s in the construction industry, it was employer vs. union labor, opposite ends of the table fighting against each other. Walter Kupau took control the Carpenter's Union in 1970. The first contract that he tried to negotiate for the members, swung for the fences, got this huge contract. Then 1980, first strike, big strike. I think it was a six-month strike. Three or four years later, they come back to renegotiate the collective bargaining agreement, the employer on the other side of the table said, "We remember what you did. Now, we're going to cut and try to roll back your wages three or four bucks an hour." So there was this adversarial relationship between the union and management.
One way we've evolved over the last 20 years is that partnership – looking at how can the employer win, how can the worker win. If you try to resolve all of those issues outside of a collective-bargaining environment, you're going to be more successful when you end up in the economic situation like we're in now, where in our industry, union and management can solve problems with a phone call vs. a strike or this incredible amount of posturing through the media between the administration and public worker unions. That happens because they are trying to resolve all those issues in this collective bargaining environment – (a nonconfrontational approach) really needs to happen in the years outside of negotiating a contract and I don't think that happens enough with public sector union, but it happens a lot in our industry. One of the first things we did when the downturn came was our union ratified a vote among our membership to freeze pay raises that were negotiated and that employers by law were required to pay, and we froze those raises. We tried to be responsive to changes that were happening in the environment and I think you can do that when you put all that equity and trust in the middle of the table between labor and management that, I think, at times, the public sector unions and the state and the counties have struggled to do.
Petranik: What about the military. The military presence in Hawaii seems to solid going forward, but is there a way we can further leverage that?
Sullivan: The Department of Defense probably continues today to be the biggest investor in technology in the world. Everything continues to evolve including the military and what they need and the way they need it. There are big opportunities for local industry to support the requirements of the military because among other things the acquisition concept that was really created post-World War II is outdated and there's a lot of dialogue going on right now about how to do it differently. It's happening at the highest levels in government, from the secretary of defense, right down the chain. People are trying to think about how to do it differently. How to get things out faster, get things that are more responsive? Because the bad guys can go to eBay or get it off the Internet; they're not bound to go through this long protracted drawn-out process. The rate of change of technology is much faster. It's a huge advantage for us in Hawaii especially if you consider the command right here. We have the biggest military in the world right down the street, and so it's an enormous opportunity for the state. I think what the Chamber (of Commerce of Hawaii) is doing is trying to increase the dialogue and awareness at that level. So it isn't just about making sure that you're welcome, which I think is really important. Once you have somebody that has been stationed here and they see the aloha that is here for the military, I think that means a lot. But the next thing that's going to happen is the participation with the tech sector and military, and it's an opportunity that's sort of waiting to happen, and what you'll see then is more participation from local industry in a variety of things. The thing in the newspaper three or four months ago about the Stryker, and you'll notice Sen. Inouye is a big supporter of Stryker and continued funding for that, but out of 38 states in the country where was some company participating in the manufacturing of that, not one from Hawaii. And so, there's an evolution going on in the right direction and I think the military has a huge opportunity for local industry and it's a terrific way to invest in developing new technology that can then be brought to nonmilitary applications. It's moving in the right direction, and I think what you'll see in the next few years are companies not only being responsive and faster but better able to transition these technologies to the private sector. For the first time in the state's history, I think, we have these ongoing get-togethers where we talk about what's going on (To watch a meeting or find out where and when they are held, see http://www.ustream.tv/channel/dualusehawaiis-show). It's an open environment for all local companies as well as large Mainland companies. They want to talk about what they're doing and to collaborate. So there are a lot of real positive things going on in that area.
Fukunaga: State government has made small-scale investments to support that, but the real goal is to have Hawaii companies become globally competitive for that time when we may not have Sen. Inouye to help bring in so much funding.
Sullivan: To give you an example, years ago, I remember looking at Small Business Innovative Research grants, SBIR. The state of Hawaii was 48 out of 50. The state of Hawaii started a matching grant for phase II awards. Phase I is 50 or 100 grand. Phase II is maybe $500,000 to $2 million. Phase III can be $50 million or more. And after the state started this program, you saw that the state's numbers moved from 48 or 49, to 23 to 24, a real direct correlation. It occurred over about a five- or six-year period. What this little extra money did – it wasn't a whole lot – but these (local) companies would show up to compete for the next round of funding. Physically show up in D.C., get in front of these guys, tell them what they're doing. Just by doing that meant that little bit of support was leveraged into a lot of more support, and there have been a lot of things the state's done to support that and it continues to grow. And there's matching funding, too. I think it's huge. It has taken some of the technology then it's leveraging it to these other levels.
Dancil: The dual-use community is probably the most stable tech group, it's been around for a while and it's growing. The state did act (inaudible), which is the commercialization (inaudible) next level. States have got to deliver this all on funding, and from there companies got together the same marketing plans, which you can't pay for in government contracts and marketing plan or how do I commercialize this or how do I build this prototype. If those types of funds aren't from these typical defense contracts, but for them to get the state call on funding to sort of help support this industry, not to sort of help leverage but sort of think of all these products "on the market." Not just the military market but the civilian market as well. As Pat said, now for the first time these small companies have started to work with the large clients. In the past, the large clients didn't really play with the smaller guys, but they are starting to do that more and more. Another thing that is huge here are military construction projects and they (the military) are leading the way with solar and alternative energy projects – green projects. The commercializing that's going on now, companies were developing and working on those way back in the 1970s. That's what they were working on back then. What companies are working on now, who knows what they'll be rolling out in 30 years. Is our remoteness a liability or an asset? The military is here and they're not going away.
Sullivan: The fact that we're not Rochester means that when we think of optics, we don't have to think about a Kodak film. The lack of domain expertise leads to more disruptive innovation, which is a natural act for people in Hawaii, but it's hard for a lot of other parts of the country. It occurs at the University of Hawaii and it occurs in a lot of these companies. Disruption, just to give you a little background on it, 50 years ago, the first ruby laser was demonstrated. Lasers have changed everything that you can imagine, from communications to healthcare to security to you name it. It started with the disruptive idea that light could come out of this gadget, and it has changed everything, but the university and a lot of the businesses here are really pre-wired to think disruptively because they don't have the burden of domain expertise telling us "This is how you have to do it." It's a natural advantage and the fact that the military is here, they need disruption to be able to step way over what's going on to beat the bad guys. They're not going to do it by competing with the same things; they have to step way over with disruption.
Belsby: Part of the challenge, too, is a lot of our policies have been in an arena of trying to get small companies started. Think if you go to every major military installation across the country, one of the common denominators that you'd find is that presence of a large defense contractor: General Dynamics, McDonnell Douglas or Boeing. We have satellite contingents here, but if we put more effort into attracting a more serious presence of these Fortune 500-type companies and get them to commit to a longer-term presence again because of the large military bases we have here, you'll do two things. No. 1, you'll obviously create jobs. No. 2, and this is as important, those companies provide the spin-off opportunities for the smaller companies. When General Dynamics and the defense industry died in San Diego that was the genesis for the life science industry. Many of those people went to form Hypertech or other companies, and Hypertech gave birth to other companies, and so on and so forth. So while a lot of our effort is at the birth of small companies and then building them up, there's another value chain that says, "Let's attract a large company," and obviously that would require a lot of effort and a lot of resources, but it's another way of fast-tracking progress.
Petranik: Thank you for coming today. We had a very stimulating discussion.