HTA Tries to Smooth Out Boom-and-Bust Cycles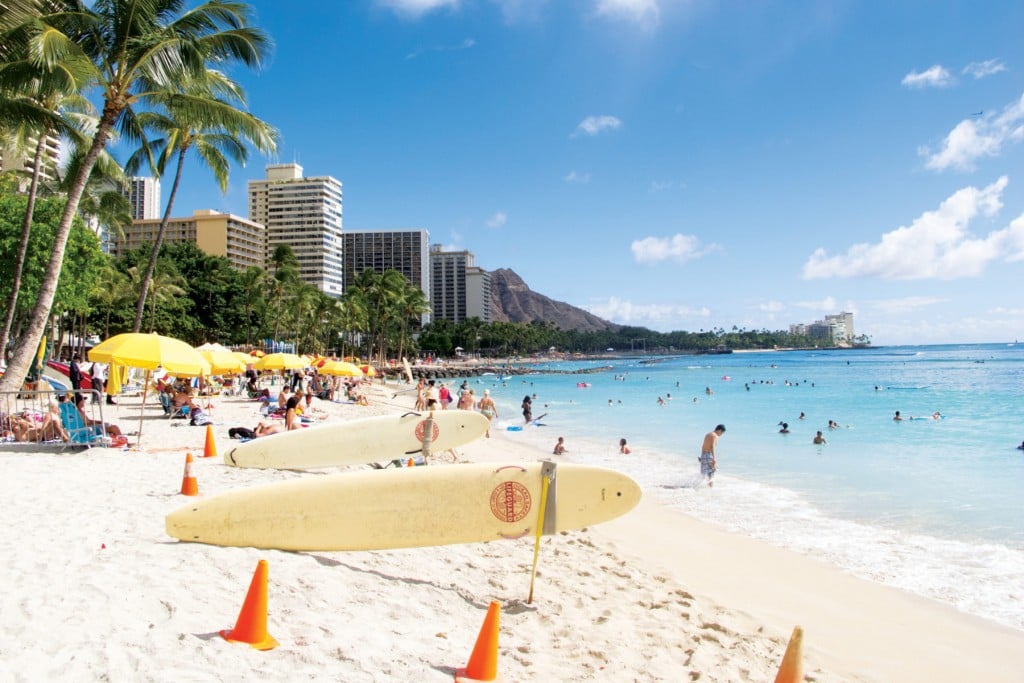 The Hawaii Tourism Authority understands how hard it will be, but it is trying to rewrite the old saying that insists, What goes up, must come down.
There are already strong signs that the tourism boom of the past few years has flattened and key numbers have started to decline.
"We're concerned about the initiation of that downturn and we want to avoid some of the cyclical patterns we've seen in the history of the industry," says David Uchiyama, VP for brand management at HTA. "It's going to have to be a collaborative effort. Everybody has to come together. We're an island (state) going up against countries. Unless we collaborate we cannot be successful."
Mike McCartney, HTA president and CEO, expects 2013's overall visitor arrivals to exceed 2012's, but he fears that declines in arrivals and spending recorded during the closing months of 2013 could continue into 2014.
"Visitors have become more conscientious of their spending as the cost of a Hawaii vacation continues to rise," McCartney points out. "This trend has caused a shortening in the average length of stay."
To counter those trends, HTA is working on:
• Concerts, youth sporting events and other new uses for the Hawaii Convention Center to draw in tourists.
• Supporting added airlift from Asian markets and bolstering Europe and Latin America markets.
• Re-establishing Kona as Hawaii's second airport for international flights to spread foreign visitors away from often-sold-out Waikiki to the underused hotels on Hawaii Island. The airport is already called Kona International Airport, but the only foreign flight comes from Vancouver, and those passengers clear U.S. Customs and Immigration in Vancouver.
Hawaiian Airlines is seeking federal approval for a direct flight from Tokyo to Kona, but the absence of any Customs or Immigration employees in Kona is one obstacle.
Smoothing out the peaks and valleys in the tourism cycle is not just about boosting demand when the tourism cycle is heading down, says Uchiyama. It also means managing the boom times better because the peaks create their own problems. For instance, high demand by visitors tends to push up hotel prices, which may force some visitors to cut their costs by staying fewer days in Hawaii or spending less outside their hotels. Some people avoid coming altogether.
"As price increases," explains Uchiyama, "we start to lose some market share. With loss of market share, you have fewer on airplanes, so load factors aren't as good. So the first thing the airlines do to stimulate loads is lower airfares. If that doesn't help, and they can't recapture load factors, then they cut flights. So now you have fewer people coming to the Islands and now your occupancy at the hotels starts to fall off a little bit. When that happens and hotels adjust their prices to stimulate business, it doesn't help, because there's no seat inventory in the market.
"It's a very delicate situation and we need to try to find balance, otherwise we fall into a tailspin. Then what happens is Hawaii goes on sale. There are all these specials – such as 'Stay five nights and get two free.' Then demand comes back again and with it the airlines put seat inventory back in the market, and the cycle starts again."
By working collaboratively, the hospitality industry can mitigate spikes and valleys, he says, but HTA must help lead that collaboration.
"What we're trying to work with the industry on is finding that sweet spot where hotels are making money, airlines make money and the overall product pricing to the consumer is of value to the consumer."
Another factor that causes fluctuations in Hawaii's tourism industry is the way conventions, meetings and incentive travel are scheduled on a regular pattern every few years. These big draws – referred to as "whales" in the trade – provide a foundation for Hawaii's entire tourism industry and make the difference between a boom year and a listless one.
But unlike humpbacks, these "whales" don't come to Hawaii every year and whale-less years are a problem.
"We see our major groups coming in every four or five years, some every 10, and those are the years we see increases," says Uchiyama. "We've gone back and looked at business in the state during the peaks (of the tourism cycle), and the foundation was the convention business. And we were able to build on top of it. 2014 and 2015 are going to be fairly decent because there's a fairly decent foundation of convention business."
But, Uchiyama says, the number of scheduled whale conventions in Hawaii drops off in 2016, 2017 and 2018 before picking up again in 2019 and 2020. (In one example, the American Dental Association is already on the books for Honolulu in 2019, with 15,000 to 20,000 people expected to attend.)
Unless counter-measures are taken, Uchiyama says, 2016, 2017 and 2018 will be slump years.
---
Did You Know
Big Impact
Convention and meeting attendees will book 375,000 to 425,000 room nights in Waikiki each year during 2014 and 2015, according to an HTA estimate.