What Happens When Private Equity Is Your Landlord in Hawai'i
The Blackstone Group and other firms have been buying rental properties in West O'ahu. Tenants say the result can be escalating rents and unexpected fees.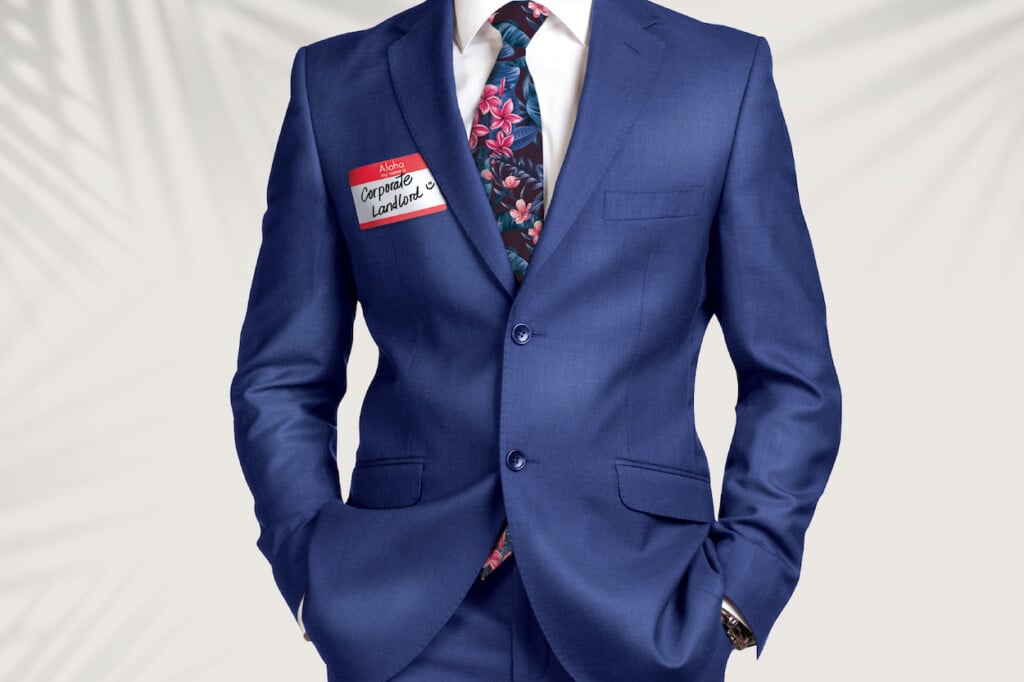 At first glance, Jane thought the Kapolei Lofts seemed like a decent place to live. The 17-acre property's 499 units were spread across 14 modern, low-rise buildings, and it had a gym, pool, walking path and community park.
She had grown up on O'ahu and lived in apartments all her life, and what she liked most about this complex was that it was new and 60% of its units were restricted to renters making less than 140% of the area median income.
Then in 2018, more than a year after living there, private equity giant The Blackstone Group purchased the property for $197 million. Jane and her roommate saw their first rent increase – almost $200 a month – at their next lease renewal.
She says new fees were added over subsequent years for parking, the unit's water and sewer, common area water, pest control and mandatory personal liability insurance. By the time they moved out last year, these charges added more than $300 a month to their base rent. She says she also dealt with disruptive neighbors and that trash littered her building's hallway, the parking lot and dumpster area. She says management would downplay or ignore her complaints and requests to enforce the community's rules.
"They don't care, they only care that they get their money for their rent," she says. "They don't care about people that live there." Jane is not her real name; we're using a pseudonym because she says she fears her former landlord will retaliate against her.
Private equity firms, private equity-backed firms, firms that offer private equity real estate funds, and firms with other private equity co-investors or joint ventures own at least 1 million apartment units in the country – around 3.6% of all apartments – according to a June 2022 research memo by Americans for Financial Reform, a nonprofit and non-partisan coalition. Such landlords have a reputation for hiking rents, reducing upkeep, aggressively pursuing tenants in court, and imposing new or increased fees to extract profits from renters, according to the memo and coverage by ProPublica, Mother Jones, The Atlantic and other national media.
Altogether, Hawaii Business Magazine spoke with 11 current or former renters of local private equity-owned apartments on O'ahu. Some had positive things to say, but many shared stories of sharp rent increases, poor upkeep of their units and common areas, numerous fees, and a lack of transparency about how those fees are calculated. We verified their tenancy by asking renters to share with us leases and other documents.
Several renters spoke with us on the condition that they not be named or that we only use their first or middle names because they worried that sharing their stories could jeopardize their leases or their work. And in some cases, current renters didn't want us to disclose the size of their units, their rents, the number of people in their households or certain other specifics for fear of being identified.
We only heard back from one private equity firm. Blackstone says that it's had a positive impact on its O'ahu communities by investing in improvements, increasing regular communications with renters and helping tenants who couldn't pay their rent earlier in the pandemic.
Corporate Landlords
Private equity firms generally acquire assets by assembling pots of money from insurance companies, university endowments, pension funds, wealthy individuals and other types of accredited investors. They typically seek 20% profits on their investors' contributions, plus 2% management fees, according to PitchBook, a capital markets research company.
Carter Dougherty, communications director at the Washington, D.C.-based Americans for Financial Reform, says private equity firms commonly do leveraged buyouts, where they use both equity and debt to make purchases. And unlike other entities, private equity firms generally hold assets only for three to five years, so there's pressure to extract profit for investors and pay off the debt.
"That model is what is behind all this pressure on tenants in various ways, whether it's raising the rents, skimping on repairs or adding fees," he says. "Behind all those bad things is the private equity model of debt, of wealth extraction."
These firms have traditionally invested in promising private companies, though since the Great Recession, they've also assembled vast portfolios of single-family and multifamily homes. Today, they are some of the largest corporate landlords in the country.
Private equity's presence in Hawai'i's multifamily market is relatively new. The earliest record we could find was from 2003 when California-based The Bascom Group purchased what is now known as the Oasis Townhomes. Mark Bratton, senior VP at Colliers International Hawaii, says private equity and other institutional investors aren't very active here because Hawai'i only has about 30 market-rate residential properties with more than 100 units.
Private equity firms typically want larger deals – $50 million or more – for investments to be worth their time and efforts, he adds. Plus, Hawai'i has to compete with other, more attractive markets on the mainland. Colliers Hawaii tracks local multifamily transactions with sales prices over $1 million.
Blackstone is currently the largest private equity landlord in the Islands, controlling 2,700 apartment units across the Kapolei Lofts, The Element, Kapilina Beach Homes and Kalaeloa Rental Homes. It uses Greystar as its property manager. Waterton Associates, which describes itself as a real estate investment and property management company based in Chicago, owns about 530 units at Waikele Towers and Oasis Townhomes in Waipahu and Palms of Kilani in Wahiawā. We include Waterton as a private equity landlord because its $1.5 billion Waterton Residential Property Venture XIV fund is categorized as a private equity fund in its filings with the U.S. Securities and Exchange Commission. That fund was used to acquire two of its Hawai'i apartment complexes.
Priced Out
On a weekday afternoon, the streets of the Kalaeloa Rental Homes are mostly empty. Cars are parked in their driveways or under their carports, and the former military-housing apartments built in the 1970s and 1990s show no activity, save for palm trees blowing in the wind. Starting rents in December ranged from $2,900 for a 2-bedroom, 1-bathroom unit to $4,200 for a 4-bedroom, 2.5-bathroom townhome.
Tiare and her family have lived in one of the 3-bedroom townhomes for several years, enjoying proximity to her kids' schools and extended family. She's also felt safe because security personnel drive around at night and the community is separated from the rest of Kapolei. Their rent was a little pricier than what they were used to and would increase at renewals before Covid, but it was still manageable.
That changed after the pandemic-related eviction moratorium expired. Her rent increased almost 14% at her 2022 lease renewal, she says. The community's office told her the increase reflected the unit's market value. She had a couple of months' notice, but a job loss during Covid had depleted her savings and other rentals were charging even more, so leaving Kalaeloa Rental Homes was not an option.
"We're still just suffering because of the rent being so high," she says. "And it's like OK, I have other bills that got messed up and you have to choose what is the better thing to make a payment on. Are you going to make your family homeless because you're not going to pay the rent on time, and they'll charge you all the attorney fees and all these extra percentage of fees because it's late?"
Joshua Abiva and his family moved out of their two-bedroom Kalaeloa home last fall after only a year because their rent was expected to increase by $700. He questioned the landlord's reasoning when he saw that an identical unit had been listed for $2,800 a month – $700 less than he was expected to pay.
"If that's the case then we have to move out because I don't know who can afford $3,400 and that's not even including the utilities, and it's not even our own home," he says.
He, Tiare and other renters we spoke with say they know several local families that left Kalaeloa and the other Blackstone properties because they couldn't afford the rent hikes.
Starting rents at the Kapilina Beach Homes vary from $2,900 for a 2-bed, 1.5-bath unit to $3,300 for a 4-bed, 2.5-bath townhome. The community comprises both military and civilian families. One renter we spoke with shared screenshots from the Kapilina resident Facebook group. They show that rent increases of several hundred dollars occurred prior to Blackstone's ownership. Since late December 2021, when Blackstone acquired the property, renters have shared increases on the Facebook page ranging from $90 to $600.
One renter, a single mom, told us it seems common for residents to leave after one year because of the high increases. She had moved her family from the mainland because she wanted her kids to grow up in a safer, more laidback community. She has anxiety about having to move again.
Eight miles mauka at The Element, starting rents range from $2,300 for a 1-bed, 1-bath unit to $4,200 for a 3-bed, 2-bath unit. One renter told us their rent increased 14% last year. "Who can afford that?" the renter asks. "I'm just like, wow, y'all are greedy." This renter did not want their exact increase or unit type specified in the article for fear that management could identify them.
That renter says the military presence in Hawai'i also contributes to the high rents at The Element and other area properties. Military service members on O'ahu receive a basic housing allowance, which in 2022 ranged from $2,000 to $3,900, according to the Department of Defense. Those with dependents and those with higher ranks have housing allowances on the higher end of the spectrum.
"To me, these then are not built for local residents," The Element renter says. "So my biggest question is, where do we go? What do we do?"
'Sucking Us Dry'
Hawaii Business Magazine reviewed about 10 leases from the apartment properties owned by Blackstone and Waterton. These documents were 30 to 50 pages long, depending on the included addendums. And while they included the fees that renters would have to pay, several tenants we spoke with said they felt these fees were hidden among the dense language of their leases, and that the properties' staff were not transparent enough about what the fees would cover and how they're calculated.
The types of fees and their amounts vary from property to property, but renters are typically on the hook for parking, pet fees, common area maintenance, electricity, water, sewer, trash, pest control, late fees, and new payment account fees and monthly billing administrative fees for utilities, among others. Residents pay their utilities to a third-party company, rather than directly to the utility companies.
Tiare, the Kalaeloa Rental Homes renter, says her utility bills come to about $900 a month. She says her monthly bill doesn't tell her how much electricity or water she uses. She says she has to request that information, which provides meter reads and usage, plus the charges for each utility and fee. Her unit is supposed to be submetered, and her building has solar on its roof, but she doesn't know where the meter is so she can verify that her bills are accurate.
Abiva, who used to live in the Kalaeloa Rental Homes' Kaimana apartments, says he would spend about $600 on his utilities. One of his bills from spring 2022 showed that he was being charged about $400 for electricity, $115 for sewer and $55 for common area maintenance, $25 for water, plus a $5.50 service fee.
The Kalaeloa Rental Homes made the news in 2016 for having similarly high utility bills – ranging from $600 to over $1,000 – though it only seemed to impact the Kaimana apartments. The 120 units didn't have separate electrical meters, so bills were based on square footage and the number of occupants. The former owner, Boston-based real estate private equity firm Rockpoint Group, later installed individual electrical meters at each home and solar panels on most buildings.
A LivCor spokesperson wrote in an email that some residents directly benefit from its solar infrastructure and that their team is working on plans to expand the solar capacity at all its properties. LivCor is a Blackstone portfolio property responsible for the asset management of Blackstone's multi-family communities.
A couple that lives at the 50-unit Waikele Towers say they've seen more fees added to their bills over the years. The owner before Waterton required them to pay taxes, which were added to the base rent; mandatory renter's insurance; maintenance fees; common area fees; and a pet deposit. Then, when Waterton came in, they also had to pay for common area electricity and a share of the building's water. There's also a $75 monthly miscellaneous charge, but they don't know what it's for. They've asked management to explain the fee, but management didn't provide a straight answer.
"They would say, 'this is your amount you have to pay regardless,' " one of the couple says. " 'This is the amount that we're charging you.' Basically, 'if you don't like it, you can leave.' Basically, just they're saying like we had no choice to pay these without any explanation."
In total, the fees added about $300 to their base rent. They later pushed back against some of the fees and no longer have to pay for all of them, but they say they still feel exploited by their landlord.
"They're just sucking us dry," one of the renters says. "It's to the point where, like, we're worried … because it's just every turn, it's like, 'You guys owe us more money, you guys owe us more money.' " They have wanted to leave Waikele Towers for a while but were stuck during Covid and relied on rent assistance to pay their bills. They're planning to move as soon as their lease ends.
They admit they didn't read their most recent lease renewal as well as in prior years, so they missed the new addendum adding common area electricity and water to their bills. They say their lease wasn't misleading, but it wasn't very clear either.
"We're not just concerned about us, we're concerned about everyone else in this building that's being affected, and they might not realize what's happening… they might not be as attentive to things," one of them says. "So I'm really worried about the other families and the future families and even the past families that were here that kind of got screwed over by these people." Waterton and its local partner and property manager, Tower Development, did not respond to multiple requests for an interview.
Dan O'Meara, Honolulu consumer and housing managing attorney for Legal Aid Society of Hawai'i, says renters don't always have time to read through complex, lengthy legal documents. The nonprofit serves low-income clients, including some at the Palms of Kilani who also have issues with numerous additional fees popping up on their leases.
The Blackstone and Waterton leases are based on templates from the National Apartment Association. Their utilities addendums include brief descriptions for how a tenant's utility costs are allocated. They might say that the electricity is submetered, for example, or that a tenant's allocation is based on the number of people residing in the dwelling unit, the square footage of the dwelling unit or a combination of the two. But if the allocations are not based on renters' actual usage, there's no clarification as to whether tenants are sharing in the costs for utilities in vacant units. O'meara calls the fees "insidious."
"What happens is you think, 'OK, $1,900 for this. OK, sounds good,' without realizing when you add in things that you normally wouldn't be paying for, like water, sewer, trash, common area maintenance fee and this administration fee, you might be paying an extra $150," he says. "It's really, apples to apples, you're paying closer to $2,100 rather than $1,900 for your rent."
He says he's seen other corporate landlords charge tenants numerous fees. Tenants would benefit if landlords were required to disclose estimated ranges for how much various fees will cost, before lease signing.
In an email, Julio Morales, senior VP of asset management at LivCor, wrote that rents and fees are "thoughtfully set" to ensure they can provide a high-quality living experience.
"Fees are comparable to similar apartment communities in the area – some fees are prorated based on unit size, and all are disclosed at lease signing before a resident moves in and are itemized for transparency," he wrote. We reached Blackstone and its portfolio company through its local public relations company, Bennet Group, and they requested that we email them a list of questions.
Justin Tyndall, a UHERO assistant professor, says landlords typically charge as much as they can, regardless of whether they are private equity or not. Private equity landlords, however, have more tools, personnel and data to act faster and more aggressively than smaller landlords, he says. For example, owners of apartments with artificially low prices might suddenly impose large rent increases if they find it will yield larger returns.
"I think their incentives are pretty similar to a mom-and-pop landlord but the speed with which they make reforms is going to be different," he says.
Tiare, the Kalaeloa renter, says she wishes her landlord was more supportive of local families and their struggles to stay in Hawai'i. "We're in a situation where we have no choices, we don't have options," she says.
Frustrations With Upkeep
Kapilina Beach Homes sits on 392 acres of Navy land at Iroquois Point. The more than 1,400 units are former military housing built in the 1960s. The community has been renovated since it transitioned to private ownership; one of the major projects was the construction of a new community center with a fitness center, kitchen and business room. Shoreline restoration work was completed under California-based Carmel Partners, the real estate investment firm that owned the property between 2012 and 2018. Carmel Partners also renovated the units with new flooring, countertops, cabinets and other additions.
Joshua Klaassen says he enjoys living at Kapilina. He is a special education teacher at Ewa Makai Middle School and has lived in a 3-bedroom single-family home at Kapilina for about seven years. The community was originally recommended to him by a coworker. He says he hasn't encountered large rent increases or had issues with maintenance like some other residents. He says his rent increases have always been manageable, and he hasn't noticed any differences under the property's different owners.
Since he's lived there, the community has opened a splash pad, dog park, and a community center with a pool and fitness center. His family's favorite amenity is the pool. And he likes that the community has grassy areas between the single-family homes, which is different from many other 'Ewa neighborhoods that are located closer together.
"What I like about it is it feels like a safe community," he says, adding, "The speed limits throughout the neighborhood are 15, so … I don't worry too much about having my kid play outside and ride his bike up and down the streets of the neighborhood."
But other renters we spoke with say the homes need a lot of work. Renters in the Kapilina residents Facebook group have posted about plumbing issues, broken appliances and pests. And they relay their frustrations when Kapilina takes awhile to address them or makes things worse when doing repairs.
The single mom at Kapilina who spoke with Hawaii Business Magazine says paint peels off her single-family home's walls: "It's like they're doing Band-Aids on everything, and you can only do that for so long," she says. "The homes desperately need to be renovated."
She also says she's had termites crawling and flying inside her home. She says it took over a week for Kapilina to send someone to inspect the place. Once that was done, the company refused to fumigate and were only willing to replace a damaged built-in wooden structure. And when she had mold in her home, she says, Kapilina failed to take her concerns seriously and showed no sense of urgency.
"They continuously bank on people not knowing their rights, being stuck here and unsure where else to go, and being constantly terrified of the rent going up," she says. "So in a sense, I'd venture to say the majority of people here feel held hostage by the conditions and treatment of management."
Xavier Bonilla, who moved out of Kapilina in March 2022, says maintenance workers were supposed to paint over a patched wall from a burst pipe in the four-bedroom townhouse he shared with four other adults and two kids. The maintenance staff was quick to fix the pipe and patch the wall, but once Blackstone took over in January, they never returned to paint. The wall was still unpainted when he moved out.
Bonilla is also a plaintiff in a class action lawsuit against Kapilina Beach Homes. The lawsuit originally asked the company to stop charging for rent and water when water was contaminated by fuel leaks at Red Hill between December 2021 and spring 2022 and waive exit fees if residents broke their lease. The lawsuit is now in federal court and seeks an unspecified amount of damages, return of rents and other remedies guaranteed by the Landlord-Tenant code, and attorneys fees and costs.
Tiare, the Kalaeloa renter, says she has dealt with rats in her walls for years. She says she'd hear them scratching and squeaking at night, which gave her anxiety and prevented her from sleeping. Sometimes, they'd also run across the floor.
She says she'd call the Kalaeloa office monthly, and maintenance staff members would give her a couple of traps to put outside her home. But they would only send their pest control worker on regularly scheduled days, so she'd sometimes have to wait a week for the traps to be re-baited. Frustrated with their slow response, she finally asked maintenance in 2022 to seal off the area where rats were entering her home.
It's helped, and she says it's understandable that the area has rats because there's a lot of trees nearby, but she's disappointed it took so long to address the problem. She also had to buy her own traps because she says she needed more than the few that maintenance gave her. One month, she caught nine rats in traps, she says.
"Never would I imagine five years ago that we'd be paying this much money in rent for problems," she says.
Rob Harper, head of Real Estate Asset Management Americas at Blackstone, wrote in an emailed statement that the company is "immensely proud of our track record in Hawai'i, prioritizing our residents' well-being while making a positive impact in West O'ahu."
He added: "We have invested more than $17 million to improve our communities, boosted on-site staffing levels by 10%, increased regular communication to residents and introduced popular activities free of charge. Importantly, during the pandemic, we suspended evictions for nonpayment of rent for over two years and instituted generous support programs to help local families most impacted. Our commitment to being good owners and neighbors has resulted in a 22% increase in resident satisfaction rates as compared to the prior ownership."
State and federal laws prevented landlords from evicting tenants for non-payment of rent. The state eviction moratorium was in place from April 2020 to August 2021, and the federal one from September 2020 to October 2021.
Morales of LivCor, the Blackstone portfolio company, wrote that the $17 million investment included critically needed maintenance work, apartment renovations, and enhancements to shared spaces like parks, pools and gyms. More work is planned for 2023 and beyond, including efforts to make its communities more sustainable.
Other Impacts
Blackstone says it has had other positive impacts on its Hawai'i communities. LivCor, the Blackstone portfolio company, wrote that it also developed a rental assistance advisory program to help residents apply for rental assistance and allow them to pay past-due rent via payment plans. The company also waived late fees and credit card fees, and allowed greater flexibility on lease breaks, transfers and roommate changes.
And during the Red Hill water crisis, the company provided each household with a $1,000 grant to help with disruption-related costs, waived termination fees and water service charges through April 2022, delivered water coolers and jugs, offered free compostable serving items and utensils, reimbursed off-site laundry service costs, and arranged access to off-site shower facilities, Harper wrote.
A LivCor spokesperson also wrote that the company has "serious concerns with the integrity of (Hawaii Business Magazine's) survey results given the sample size reflects a tiny fraction of our resident population and the publication took no meaningful steps to assure that those commenting even live in or have ever lived in our communities during our ownership period."
Hawaii Business Magazine issued a call on our website and social media channels to help us find renters who lived at private equity-owned apartments. We also found renters by talking with community members. We asked Blackstone via its public relations firm to provide us with tenants who would be willing to speak with us, but they did not provide any. We verified that the 11 renters we spoke with lived at these properties during the companies' ownership periods by asking renters to share with us their leases and other documents to verify tenancy.
We also spoke to two people who were happy with their rentals, and we have included their comments. For example, mom-of-two Rhee moved her family to O'ahu shortly after the pandemic began. They had previously lived in Northern California and wanted to be around water and live in a place with more stable weather.
They moved into a 2-bed, 2-bath unit at the Kapolei Lofts. Rhee says it was hard to adjust to a new home and new community during the pandemic, but she enjoyed living at the Lofts. She says she often spent time at the property's pool, and that she loved that staff hosted a virtual paint night, socially distanced gift-wrapping events during the holidays, virtual scavenger hunts around the community and breakfast events.
"Every time I do drive by, I'll go, 'Oh look, our first home,' and I always smile because I made it as best as I possibly could and it really was a good experience," she says. She and her family have since moved into their own home.
Bratton, the VP at Colliers International Hawaii, says private equity and other institutional investors have had positive impacts on Hawai'i's multifamily market because they're providing better products.
"The vast majority are always reinvesting right away, trying to lift up the quality of the product for rental housing," he says.
He and his team worked on Waterton and Tower Development's January 2022 acquisition of the Oasis Townhomes. Both companies strategies include making upgrades to their properties. According to Colliers' Hawai'i investment report for the second quarter of 2022, the Oasis Townhomes was in the midst of a more than $20 million renovation. Bratton adds that the property will soon have a new name.
---
Read about the design for this story here.

---
Small Share of Rentals
Private equity landlords own a small portion of O'ahu's overall rental stock. According to the U.S. Census Bureau, there were an estimated 183,000 renter-occupied housing units on the island in 2021.
Deja Ostrowski, an attorney with Medical-Legal Partnership for Children in Hawai'i, wrote in an email that she's concerned about private equity's presence here because it controls some of the larger projects that Native Hawaiian and Pacific Islander families need.
And with 2,700 units in the 'Ewa/Kapolei area, private equity may be the largest landlord in West O'ahu. There are an estimated 10,700 renter-occupied units in the 96707 and 96706 ZIP codes for Kapolei and 'Ewa Beach, according to the Census Bureau's 2020 five-year estimates. Numbers for 2021 were not available.
Dougherty, with Americans for Financial Reform, says when private equity firms buy a bunch of units in a particular area, it creates a small monopoly within that neighborhood: "If you own them in a small geographic area where there's a captive audience where they need to live there, then … you're narrowing people's choices," he says.
In some cases, like when private equity takes over all of the older, more affordable sources of rentals in a community, fixes them up and then charges higher rents for the higher-quality units, that presence can cause entire neighborhoods to no longer be accessible to certain tenants, says Mad Bankson, housing research coordinator with the Chicago-based non-profit Private Equity Stakeholder Project.
The stakeholder project aims to empower communities impacted by private equity investments. That has included helping renters get their corporate landlords to address repairs, neglected maintenance, and to halt or slow evictions and rent increases. Jordan Ash, the nonprofit's director of labor/jobs and housing, says it's hard to fully measure the impact that private equity landlords have had on tenants because many tenants are afraid to speak out. Those who have worked with the Private Equity Stakeholder Project tend to be part of an organization, like a tenants union.
Ostrowski wrote that Hawai'i needs to have a serious conversation about housing security and tenant rights: "We need massive law changes that will prevent rent gouging, regulate how much a landlord can increase rent, require landlords to have cause to evict someone, allow people a grace period rather than 5 days before an eviction filing or 45 days to vacate a unit," she wrote.
"We need a workable way to withhold rent from a landlord that isn't repairing a unit rather than requiring a tenant to bear the cost of that themselves first. We need to abolish laws that require a tenant to risk paying legal fees if they challenge a landlord who has an uninhabitable unit. We need to fund tenant union programs and our landlord-tenant hotline and DCCA to actually regulate bad landlords." DCCA refers to the state Department of Commerce and Consumer Affairs.
Retaliatory rent hikes and evictions are prohibited by the Landlord-Tenant Code, but the main way for tenants to dispute them is to go to court. According to DCCA, its Office of Consumer Protection may initiate investigations based on complaints, but, generally, the office is constrained by law from instituting legal actions on behalf of individual tenants.
State Rep. Troy Hashimoto is the vice chair of the House Committee on Housing. He says that the topic of private equity landlords hasn't become a big enough issue for the Legislature to address, but legislators are aware of it. He says his committee is focused on monitoring how the expiration of Covid rent relief will affect the overall rental housing market.
Philip Garboden, affordable housing professor at UH Mānoa, says Hawai'i needs to create more lower-income, subsidized housing, especially when in the state of Hawai'i there are many mechanisms to make existing housing more expensive or create new luxury housing.
One legislator who has been vocal about the need for public housing is State Sen. Stanley Chang, who has proposed several bills over the years to create a program in which the state would provide low-cost, high-density, for-sale leasehold housing on state lands.
"Those who would focus on a purely private sector solution to our housing shortage, I think, are ignoring the fact that there are a lot of problems that come with these really aggressive private sector investors and landlords," he says.
He adds, "The reality is until we start building 10,000 homes per year, we are going to see more outside investment in our real estate market, we're going to see more people forced to move outside Hawai'i."
A Whole Lot of Stress
Some of the current and former renters we spoke with say they felt trapped living at the Blackstone and Waterton properties. Jane, the former Kapolei Lofts renter, says the property's rule was that tenants must give 60 days' written notice to break their lease and pay a lease buyout fee of one month's rent. The Waikele Towers renters' 2022 lease showed that they would also have to give 60 days' notice, and their buyout fee would be two month's rent.
O'Meara, the Legal Aid Society attorney, says that 60 days' notice is uncommon in Hawai'i leases. And one of the challenges for renters is that the 60 days' notice isn't contemplated by the state's Landlord-Tenant Code.
"The Landlord-Tenant Code doesn't address if you're cutting out during the term of your lease, other than you're still liable and that's where there's a duty to mitigate on the landlord's part," he says.
Tenants could transition to a month-to-month agreement because the Landlord-Tenant Code allows month-to-month renters to provide only 28 days' written notice. But those we spoke with say that shorter-term leases can be $100 or $200 higher each month than yearly agreements.
At Kapilina, the single mom we spoke with says she is basically waiting every day for whatever issue comes next.
"We want to be happy here because our kids are happy and it's an enclosed community," she says. "But there are many issues, and it's hard to feel comfortable living in a community where the management actually does not care about you."
She says she feels exploited by her landlord and wouldn't have moved her family from the mainland if she knew what living at Kapilina was going to be like beforehand.
"It's a whole lot of stress and worry for people because you just never know what's going to happen from day to day," she says. "And hearing this is so widespread in communities that are owned by the same corporation is not comforting at all. It's good to know so that we can avoid those properties if we do have to move."
Our Search for Private Equity Landlords in Hawai'i
We focused on multifamily properties and searched news articles, company websites, property tax records, Colliers International Hawai'i's investment reports and Hawai'i Information Service's tax map key database to identify private equity-owned apartments in Hawai'i. This method may not have captured all private equity-owned apartments. One of our challenges was determining whether a company that self-describes as a real estate investment firm could also be considered a private equity firm or is backed by private equity funding. We used PitchBook, a capital markets research company, to help us look into various companies' funding.
Anikka Villegas, a fund strategies and performance analyst at PitchBook, wrote in an email that both a private equity firm and a real estate investment company can invest in real estate, but the difference is that a private equity firm investing in real estate is a general partner that has limited partners and uses a private equity fund structure.
"Not all real estate investment companies are private equity firms because not all of them are in a general partner-limited partner relationship," she wrote in an email.
A few private equity companies, like Blackstone, are publicly traded, so they are subject to Securities and Exchange Commission rules and regulations. But the overall private equity industry "thrives by exploiting exemptions and loopholes in securities law … fostered by decades of de-regulation in private markets," according to Americans for Financial Reform. That means it's difficult to get a full picture of private equity portfolio holdings.