In-Person Events Are Back But Many Caveats Remain
"Hope" and "Hybrid" are two words Hawaiʻi event planners frequently use while organizing conventions, weddings and other gatherings this year as they see the light at the end of the COVID-19 tunnel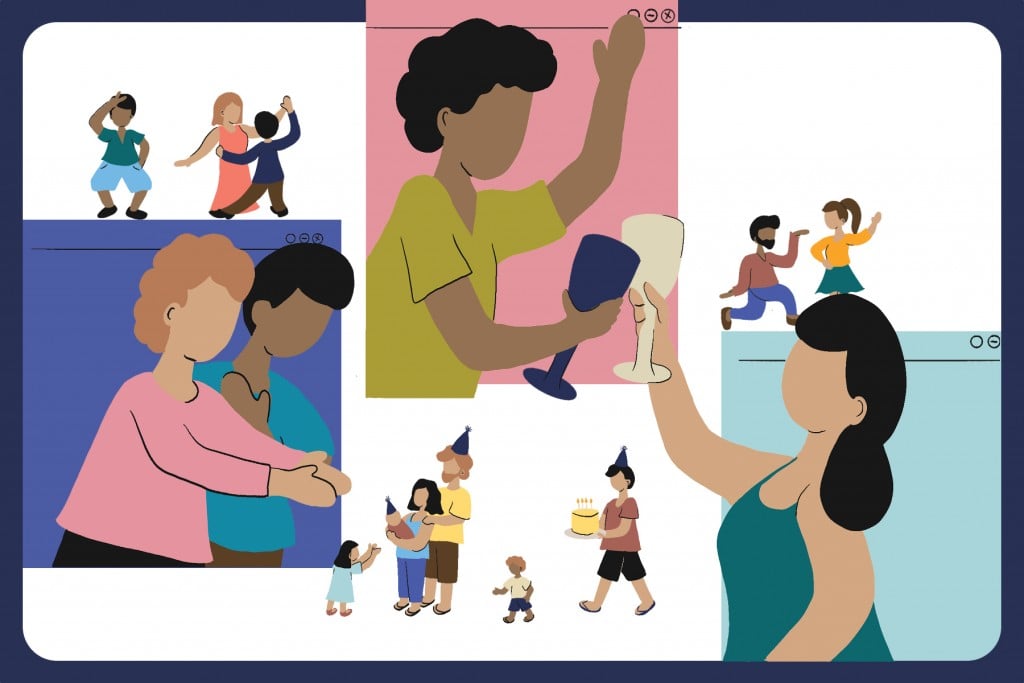 Event planners want their old audiences back but many have also found new ones: For instance, some Mainland companies are moving in-person events from Europe to American destinations like Hawai'i, where COVID-19 is less of a risk.
"They feel like they've gone to an exotic destination, but they're wrapped in a warm blanket of safety," says Colleen Reyes, whose Island Style Innovations company books large events here.
Hawaii Business Magazine was one of many event organizers that pivoted to all-virtual events when the pandemic shut down its annual lineup of almost 20 gatherings. The move opened a new and larger audience: Virtual attendance at July 2020's Leadership Conference was about 1,200, nearly double 2019's in-person attendance. "We were reaching people for our events we hadn't reached before," says Anthony Bagnoli, former events director for Hawaii Business.
"We were able to tap into the Hawai'i diaspora," he says, drawing Hawai'i expatriates and others on the Mainland and Guam and in South Korea, Japan and Australia among other places. "We had people from the Neighbor Islands watching who would have had to fly into Honolulu before."
The virtual format was also efficient for attendees. "They would be sitting at their computers, pause and go to one of our sessions, and then go back to work – and be very comfortable with it," says Bagnoli.
Now as in-person events reemerge, the magazine plans to have both on-site and video conference attendees at its post-pandemic events – good news for the many businesspeople who long for a return to in-person networking and conversations. Hawaii Business had planned a transition to hybrid events before the pandemic, and had done a couple, but COVID-19 accelerated the shift.
Unique Honolulu Marathon
Gigantic Events like the Honolulu Marathon also discovered new markets in the pandemic. Last year, virtual marathons and half-marathons drew huge numbers of people running wherever they were, says Dr. James Barahal, the event's president and CEO.
"We did a virtual (all-day) event in December, which was highly successful, with three events on the platform … and there were over 16,000 participants. It was interesting to see people post pictures from the snow. And then in April we had 13,000 people doing virtual events."
Barahal's team is planning for an in-person Honolulu Marathon this December.
"We're just going to go ahead and do it and be clear that we don't control the ultimate decision," which would have to take into account any pandemic-related government restrictions in place at the time, Barahal says. "But to not proceed means it won't happen."
Events traditionally add hundreds of millions of dollars to Hawai'i's tourism economy. In 2019, 33,255 Honolulu Marathon entrants – half of them from Japan – plus their friends and families spent $130 million here, organizers say.
Lots of Fall Weddings
There is now a surge in planned fall weddings – with in-person contact as permitted by health and safety guidelines. They won't be exactly the same as before, but planners are vying now for venues, flowers and more.
"There's a pent-up demand," says Monty Pereira, GM and sales and marketing director for Watanabe Floral, which usually provides flowers for hundreds of weddings, funerals and other events each year. "We have people inquiring and people booking weddings.
"We're dealing directly with brides and grooms. This is one of the pinnacle moments of people's lives that they've had to put on hold for a year. They are excited to get married finally."
But there's a pandemic side effect: flower shortages.
"The supply of lei is going to be an issue," says Pereira. "When things shut down, these farms shut down. Billions of dollars of flowers were thrown away. You abruptly stopped the supply chain. Many ceased operations or pulled out their plants. Most orchid lei come from Asia and many of the farms there are still not in production."
By late April, event and floral designer Jeff Alencastre of Creative Concepts had already booked 16 weddings for August, 15 for September, 14 for October, and 12 for November. Some couples and families are coming from as far away as Australia and China.
"Definitely people are optimistic for the fall that things will stay steady and they'll be able to have the event," he says, but he needs eight weeks of lead time just to ensure he can get flowers.
"People don't realize how global the flower industry is," says Alencastre. "Things are coming out of Holland, Denmark, South America where the biggest rose production is. But we got hit so hard the flower supply plummeted. Demand has picked up but there's a shortage, so price points have jumped up."
On top of that, imported flowers require transportation. With fewer airline flights, and less cargo space, getting the flowers here is equally challenging.
Booking Venues
Flowers are not the only thing in short supply as demand surges: There's a shortage of venues able to handle groups while keeping people socially distanced.
"I've never had so many Monday and Tuesday weddings on a calendar. That's how desperate people are," Alencastre says. "They want to do it and not lose their deposit. I refunded all my deposits but the hotels, a lot of them are not refundable, and you have all these couples who have put thousands of dollars down, so they're finding a date and just going."
At Marina Florist, partner Jason Ikaika Nurre has turned to local flower growers and suppliers to fill the gaps. And he's seen continuing demand for floral arrangements going to homes, despite the pandemic.
"People were still finding it meaningful to connect with their loved ones by sending flowers," says Nurre. "A lot of these events like Grandma's big birthday or a new baby or a wedding, all of these things people had planned and had to cancel, they still wanted to send something and find a way to connect."
With 90% of his flowers now coming from local growers, Nurre says he's having no trouble getting supplies that stay fresher longer. But he also doesn't expect to see the flower business fully back to what it was.
"We'll have to do business in different ways – in smaller groups, or online ordering through our website so we're able to do business without actually standing in front of each other."
"They Feel Safer in Hawaiʻi"
Weddings are not the only events on the rise. Colleen Reyes and Tatiana von Oelhoffen, partners in Island Style Innovations, say Hawai'i is picking up late 2021 and early 2022 corporate events that are being rerouted from Europe, where COVID-19 cases remain high. The partners specialize in booking on-island events for Mainland clients like insurance, pharmaceutical and financial companies – often incentive trips for top-performing employees. The events generally average 250 to 500 people, but they've also staged some with as many as 3,000 attendees.
When planning trips, businesses "are looking more at resort destinations in the U.S.," says Reyes. "They feel safer staying within the U.S. We're seeing a shift in that business because we're safe and part of the U.S. and fall into the paradise category."
After spending most of last year rebooking dates multiple times, Reyes and von Oelhoffen say they're confident that in-person events will actually take place here starting this fall – with appropriate safety guidelines.
"They're revving up right now for the end of summer and the fall, and they are coming. As long as they can come in, they're coming," says von Oelhoffen.
"It's almost like the floodgates are opening.
"We are pre-booking everything we have and ordering six months out. Usually we just order a month out. And transportation is at 50% because instead of one bus, you need two – so there's not enough, and they're paying double. You can sit on the plane next to someone, but not on a bus. But (as a state) we have to watch and be smart. We can't let everybody in and not have a way to move them around!"
In-Person But Different
Lori Furoyama also wrestled with how to move people around safely. As the person in charge of UH-Mānoa graduations at the Office of the Vice Chancellor for Academic Affairs, she planned May's commencement ceremonies for thousands of Mānoa graduates. Those ceremonies included a college-by-college walk-through in the Bachman Hall courtyard by masked graduates. They received diplomas from deans or administrators stationed behind a plastic shield; messages from commencement speakers were posted online instead of delivered in person.
Each individual walk-through included three photo ops: one on the lawn with two guests each graduate was allowed to invite, another in front of the Bachman Hall mural, and a final one in front of a green screen that could later be changed to a background of their choice.
"I would love to be back" in the 10,000-seat Stan Sheriff Center, where Mānoa commencement ceremonies are usually held in May and December each year, Furoyama says. "But who knows? Next May? That's my hope. I keep saying I wish I could fast forward one year back to normal."
Busy Fall Season
Events planner Kira DiIonno foresees a "wild" fall season with a lot of events – including many with in-person elements if the event can be held outside, though other events will still be all-virtual.
"It won't just be competing events of a similar nature, but you'll be competing with other events," says DiIonno, who is a partner with her husband, Zach, and Seth Buckley in Candela Hawaii, a company whose services include organizing events.
Her advice to clients contemplating an event: "If there's not a clear vision, I recommend they hold up and wait a bit longer. You could just get lost in the sea of events.
"You have to think about how you're going to stand out from others. People are trying to plan and put their stake in the ground and get the word out – even if they're still not entirely sure what the event is going to look like. For those who want to hold it in the fall they have to start now to build up awareness and get the word out."
DiIonno is working on two annual Hawaii Business events: the Leadership Conference in July and the Wahine Forum in October. In 2019, the all-day in-person Wahine Forum drew 1,200 attendees.
The transition to virtual and hybrid events was almost a trial by fire for DiIonno's company, she says. After organizing an in-person event in 2019 for the Big Wave Risk Assessment Group, Candela Hawaii pivoted during the pandemic to produce a series of digital sessions for the Big Wave group.
"We had to figure out how to take these valuable in-person trainings and turn them into virtual events," she says. "It took months of filming and editing, but in February we rolled out a virtual core course and now we have this online product available indefinitely.
"It's something that continues to live even when we do in-person summits."
Plans include adding online refresher courses, plus courses on CPR, first aid, energy management and much more.
"We Want to Be Safe Above Everything"
Ashley Yonamine, director of membership and communications at the Hawai'i Lodging and Tourism Association, says its upcoming events will continue to align with state and CDC safety guidelines.
"As we're allowed to gather in person, we've been doing so," says Yonamine. "The current plan is to do a golf tournament as well as our annual trade show and our annual membership meeting in person."
The golf tournament scheduled for Aug. 12 will have a staggered start and reduced capacity to maintain safety. There are typically more than 200 golfers, she says, but this time "we'll take what we can get. We want to be safe above everything."
The HLTA trade show is tentatively scheduled for Sept. 22-23 at the Hawai'i Convention Center. "Whatever the regulations allow us, that's what we'll do," Yonamine says. "If we have to space 6 feet, we will."
Other HLTA events also emphasize safety, she says. "We've been doing drive-thru food distributions to provide aid to furloughed hospitality workers. Everyone wears a mask and people are driving through and remaining in vehicles." In the biggest event, at Aloha Stadium, deliveries were made to 1,500 cars, she says.
After Hawai'i moved to Tier 3 status, there was a significant increase in calls from clients to the convention center, according to GM Teri Orton.
"We expect demand to increase in the second half of 2021 and beyond," Orton writes by email. She adds that the center is working with clients interested in fall events and expects to firm up plans for new gatherings in the coming months.
"Hawai'i is known for being a productive, relaxed and enjoyable place to conduct business, and there is a pent-up demand for meetings and events, especially in a safe, open-air environment."
Orton writes that clients are feeling comfortable with longer-term bookings, citing Rotary International, which had to cancel its 2020 Honolulu convention but has rebooked for 2027.
The convention center has developed hybrid meeting packages that let some guests attend in person and others remotely, says Orton, and a variety of local agencies are interested in using the site, which includes huge meeting spaces.
"We have also seen increased interest from various city, county and state departments in utilizing our space to conduct safe and socially distant exams," such as for the state bar, and Honolulu fire and police departments, Orton writes.
"We have also seen an increase in schools inquiring about graduation ceremonies, as well as organizations looking for space for religious gatherings."
To support clients and their guests, the center offers individually packaged meals and snacks, thermal cameras and touchless temperature checks, lots of hand-sanitizer and the use of electrostatic sprayers.
Planners interviewed for this story say strong health and safety rules will be at the heart of every event this year.
"It will be safe," reiterates Barahal, the 2021 Honolulu Marathon CEO. "We have a plan and we can do this in any number of ways." He says this year's marathon is a great opportunity to bring people from around the world back to the Islands, to help the economy and to "demonstrate hope and optimism."