Inside the Kitchen at Fête
Since Robynne Maii won a 2022 James Beard Award for Best Chef, expectations are higher than ever.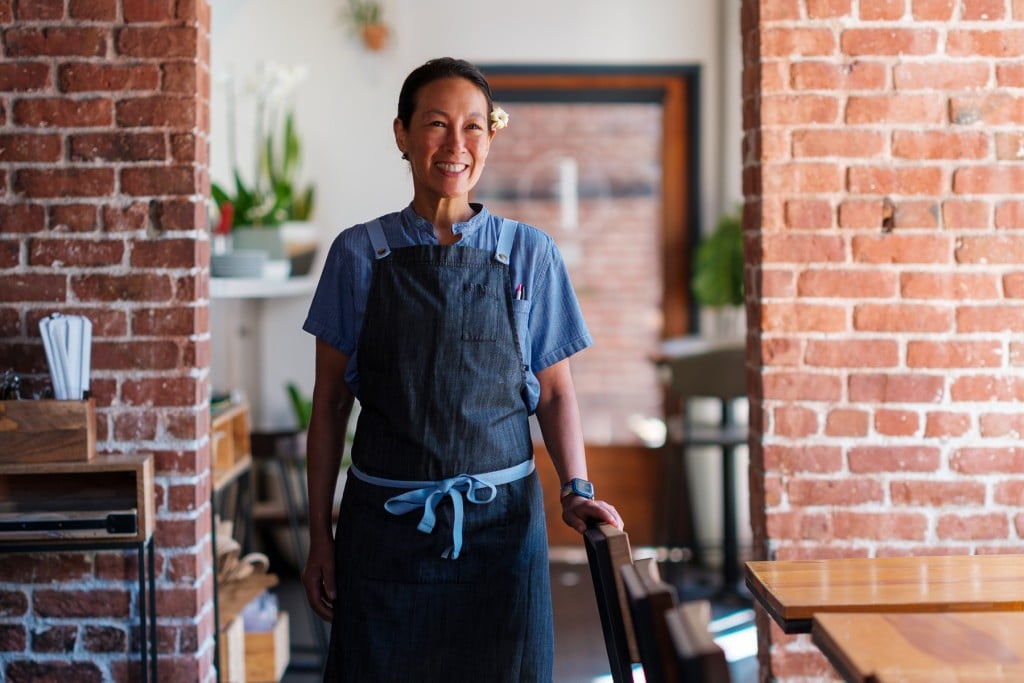 Chef Robynne Maii at her restaurant Fête in Honolulu's historic downtown. On June 13, she won the 2022 James Beard Award for Best Chef: Northwest and Pacific – the first win for a Hawai'i chef or restaurant since 2003.
Has this national attention brought changes, like more crowds, higher expectations or more stress?
Yes, yes and yes! Right now, the mission for our managers is to maintain the Fête experience. We don't want to jam people in just to get them in the door.
Much of your food comes from local growers and ranchers. Did that help when supply chains were snarled?
We went from sourcing 70% of our produce pre-pandemic to now 90%. Our meat and dairy went from 80% local to 95% local. It was more important than ever before to source locally.
What kind of employee programs does Fête offer that restaurants usually don't?
First and foremost, we have a very, very flexible schedule. Traditionally that's not the case. … Because of the pay discrepancy, back of house gets paid vacation after a year and also gets tipped out. We take care of 100% of our staff's health insurance.
Have you seen the FX series "The Bear"?
I actually binge-watched it in two sittings. I loved it. I've never worked in kitchens like that but know many who have. I thought the only thing that wasn't realistic was that there wasn't enough stuff in the kitchen and around. Like, where's all the mess?
Are there any changes coming to Fête?
Typically we aim to change at least a third of the menu three to four times a year, based on what is available. As far as other projects, we also have Heyday (in Waikīkī). We'd like to do a book of some kind … and do provisions and bakery items, with sweet and savory goods.
What are some tips you've learned as a small business owner?
With restaurants, because the margins are so narrow and stakes are so high, people start compromising everything, like how they source things. That's when the lies come in. Why lie? Serve something else then.