Island Maid: 2022 SmallBiz Editor's Choice Award Winner – Long-term Success
The 41-year-old company keeps alive the flavors that Hawai'i's people grew up with.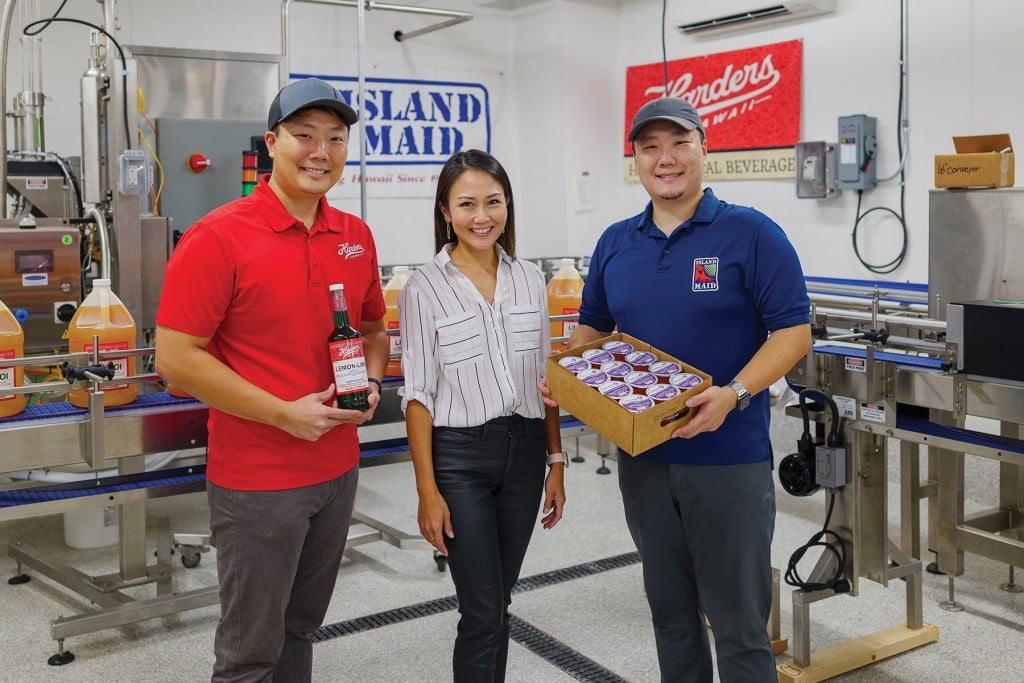 Most locals recognize the passion orange guava drink in the plastic cups with foil lids served on airline flights. But they might not know that Island Maid Inc. also supplies many flavors of syrups and drinks to 7-Eleven stores, Zippy's, Highway Inn and dozens of other restaurants plus shave ice businesses like Matsumoto's, Island Snow and Waiola.
The company was founded in 1981 by Benjamin and Lilian Tsunoda and proudly remains a locally owned family business.
"My dad was very creative and my mom is very organized, which made them the perfect pair to create and run a business together," says daughter and VP Tina Tsunoda.
They formed the company after recognizing the airlines' need for in-flight beverages. They first supplied Mid Pacific Air, Pan American and United before expanding to serve Aloha and Hawaiian airlines, plus hospitals and private schools. They distribute an average of 12,000 cups of fruit-flavored drinks a day.
Island Maid also sells direct to the public at its Waipahu headquarters, though currently only via curbside pickup.
Following Benjamin's death in 1998, Lilian ran the business herself as a single mother of three: Tina, Kevin and Lance Tsunoda. She is now semiretired and her children run the company.
In 2008 – the same year Tina Tsunoda joined the company – Island Maid acquired the Harders brand of local syrups and flavorings.
"We kept all their original recipes that they had since 1933," Tina says. "It's all the local tastes people grew up with while drinking beverages and eating shave ice, so we knew the importance of their flavors.
"We all wanted to help out our mom, and we are so glad we did, because we are able to carry on the legacy of Island Maid and continue what our parents started."
She credits the loyalty of her employees for the company's success – about a dozen of Island Maid's 17 employees have worked there for over 10 years. She says they helped the company through the pandemic, when Island Maid experienced a significant loss of airline sales because of so many canceled flights.
The Tsunodas value the company's charitable work and donate to the Hawaii Foodbank and the Hawai'i chapter of the Alzheimer's Association. They have also donated syrups to the Make-A-Wish Foundation so ailing children could create their own shave ice bowls.
"We're a small family business; we're not very flashy," Kevin Tsunoda says. "Everyone in our team works extremely hard to keep this business alive, to keep the family recipes alive and keep the flavors of Hawai'i alive."