Join Uncle Sam's Club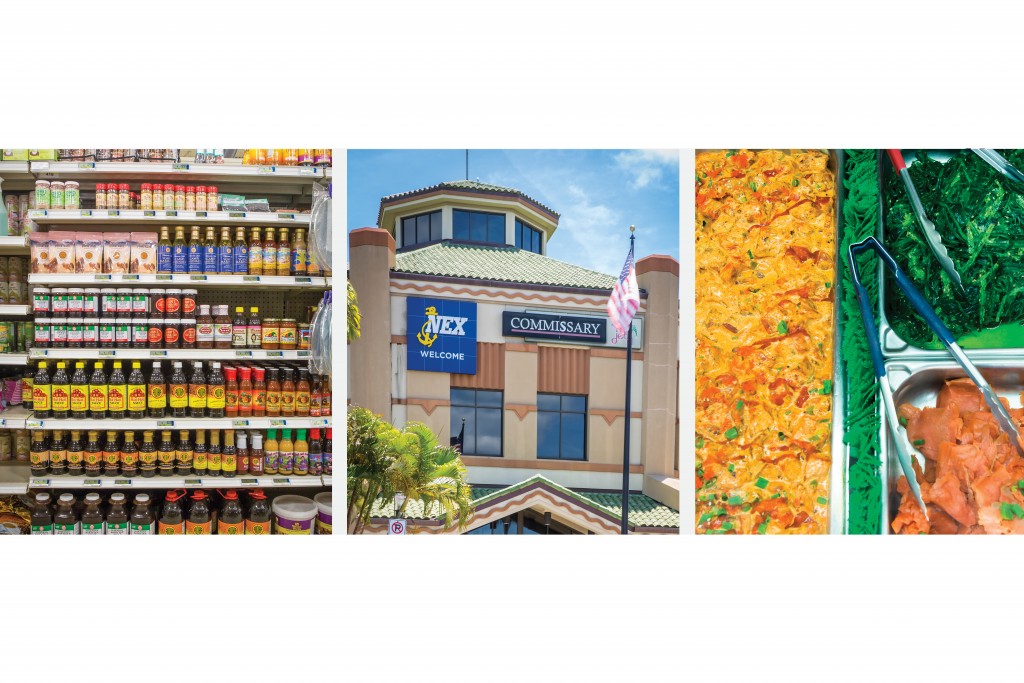 Over the past 17 years, more than 2,000 local products have found their way into military commissaries and exchanges, giving Hawaii companies new customers for items such as coffee, macadamia nuts, aloha wear, kim chee and perfume.
Decades ago, commissaries were generally the same across all U.S. military bases, but since the 1990s there's been a commitment to bring more regional products into the appropriate stores. Retired Sen. Daniel K. Akaka, in particular, pushed to have more local products available to military families in Hawaii. Last year, commissary and exchange buyers added 365 new products to their stores.
If you want to get your items into the military commissaries or exchanges, the best place to start is the annual Hawaii Expo held by the American Logistics Association, the national trade association of companies that do business with commissaries and exchanges. (See box on page 126 for details on the expo.)
At the expo, local sellers can meet with officials of the Defense Commissary Agency and the military exchanges.
"There's a wide range of products that they sell, ranging from snacks to household goods to dog treats," says Sharon Zambo-Fan, who co-chairs the annual expo and runs her own marketing agency, Sharon Zambo-Fan & Associates. "They're looking at food and nonfood items." The buyers will consider products that are made in Hawaii, unique to Hawaii or are national items sold only in Hawaii.
Altogether there are four commissaries and 24 exchanges in
Hawaii, with commissaries selling most of the grocery items and the department store-like exchanges selling everything else. The Hawaii commissaries alone do $254 million in sales annually, says Zambo-Fan.
Michael Irish, who owns the Diamond Head Seafood Co., Halm's Enterprises and Keoki's Laulau, has been going to the ALA expos since they first started. When he first acquired Halm's, the sauce company had already been doing some business with the commissaries. "Back then you could talk to the store guy and ask if you could come in and they'd say sure," he recalls.
But the procedures changed in the mid-1980s with approval needed from the FDA, USDA, the state Health Department and other agencies before products could be sold in the commissaries. The ALA expos made it much easier for small companies to navigate the process.
Irish went to one of the first shows, held at Turtle Bay. On the first day, he showed buyers about 10 to 15 items. The next day he came back and, after waiting in line for three hours, they told him they'd add some kim chee sauce and some Korean hot paste to the pickled Halm's sauces already sold on base. Those two sauces weren't the most popular products in his line that year, but, as sales improved, so did Irish's ability to persuade the buyers to go with his better-selling items.
"The military wants to see consistency, so they're going to try one or two of your products to see
how they work with the organization."
– Mike Irish, Owner of Diamond Head Seafood and Other Companies
The next year they took four more items, then seven the year after that. "As I got to know them, we started to build rapport," he says. "Today, I couldn't find a better group of guys to love."
Irish recommends that companies be patient. It took years, but now his companies do 15 to 20 percent of their sales through the military commissaries and exchanges – Diamond Head Seafood runs the commissary seafood counters in Hawaii – and some sauces were just approved for distribution at commissaries in the Western U.S.
Companies approaching military buyers for the first time should show off their proven products rather than try to use the commissaries as a testing ground for promising items, Irish suggests. "If you say, 'It's brand new and you'll be the first to have it,' they don't like to hear that," he explains. "They want to hear you're in a couple stores and they want to see what sales are."
The buyers will be more receptive if they see there's already a local market for the new products, which they can then offer to their military customers for significantly less than they would pay in a civilian store, Irish says. "Their goal is to get the men and women who serve our country the best possible price." Irish likes selling to the commissaries because they have a small markup and offer military customers similar prices to what they'd find at Costco – but on base and without having to buy in bulk.
The discounts are done on the military side, so local companies sell to the commissaries and exchanges at the same price they'd sell to a store like Foodland. Standardized pricing is critical. "If I'm selling to Foodland at $1.50 a bottle and I offer it to the commissary at $2 a bottle, I'm out of there," Irish says.
The commissaries and exchanges offer substantial space for local products, generally more than you'd find at a regular grocery or drug store. "They probably have two to three times the space they dedicate to local items," says Zambo-Fan.
Hawaii companies already in the exchanges include the major Big Island coffee companies, Hawaiian Host, Mays Meats, Love's Bakery, Meadow Gold, Roselani Ice Cream, Enjoy Snacks and Oils of Aloha. Nonfood items have included aloha-print luggage, jewelry, perfumes and even a toilet-training program.
Hawaiian Sun drinks can be found in the commissaries in Hawaii, the Western region and Asia. Mark Honda, Hawaiian Sun's sales and marketing manager and a co-chair for the ALA expo, says it took several years to get into the stores outside of Hawaii, but persistence and consistency paid off. "Now we do a little over half a million dollars with the commissaries and a million in the combined exchanges," Honda says of Hawaiian Sun's annual sales.
"The show is basically like a stepping stone. Now that you can sell to the Hawaii stores, there's a bunch of companies that can now sell outside of Hawaii. That's another step that gets you to another area of your business."
–Mark Honda, Sales and Marketing Manager for Hawaiian Sun
Honda and Zambo-Fan run the annual expo as volunteers. "We do this on our own because we feel that the value of Hawaii products is so great. In order to be a huge voice for Hawaii, we want a lot of companies to be supporting the event," Honda says.
Trying to get into the commissaries without going to the expo would require setting up appointments in California, then traveling to do the presentation and waiting for a decision. That would cost a few thousand dollars and a lot of time. There's another obstacle: To access military bases, civilians need a sponsor. The expo, on the other hand, charges companies $595 a booth and they only have to wait a couple days for the buyers to make their decisions. The expo also helps companies with paperwork and advises them on how to clear some of the hurdles required to get into the military stores.
Honda recommends that companies do whatever they can to sell their products on base, whether it's offering samples, putting items on sale or creating engaging displays. "You don't just put it on the shelf and pray it's going to sell. You've got to back up your items, as well, and that's what we want to make sure companies are aware of. We don't want it to just sit on a shelf."
At the expos, displays can get pretty elaborate with decorations or even entertainment – one company brought in musicians to generate excitement. "People who do ice cream, they'll bring a freezer," Honda describes. "We have people who do cooking and you see the smoke and smell the aroma of their food."
While it might be summer, Zambo-Fan advises companies to remember their seasonal and gift items, such as local gift baskets, holiday themed-products and holiday flavors. "This is a great time to present your holiday items for 2015," she says.
Ultimately the buyers are open to everything and often willing to give things a try, Zambo-Fan says. "The buyers are well aware of what's going on and what's selling outside the gate." If they're not sure about specialty items, they can buy them in small quantities, she adds.
Of course, with 70 booths at the expo, not every company or product will get selected. However, companies that present products to the buyers will get feedback even if their products aren't chosen. Through that process, they might find out how to increase their chances at next year's expo.