Behind the Scenes of ProService Hawaii's Takeover of Rival HiHR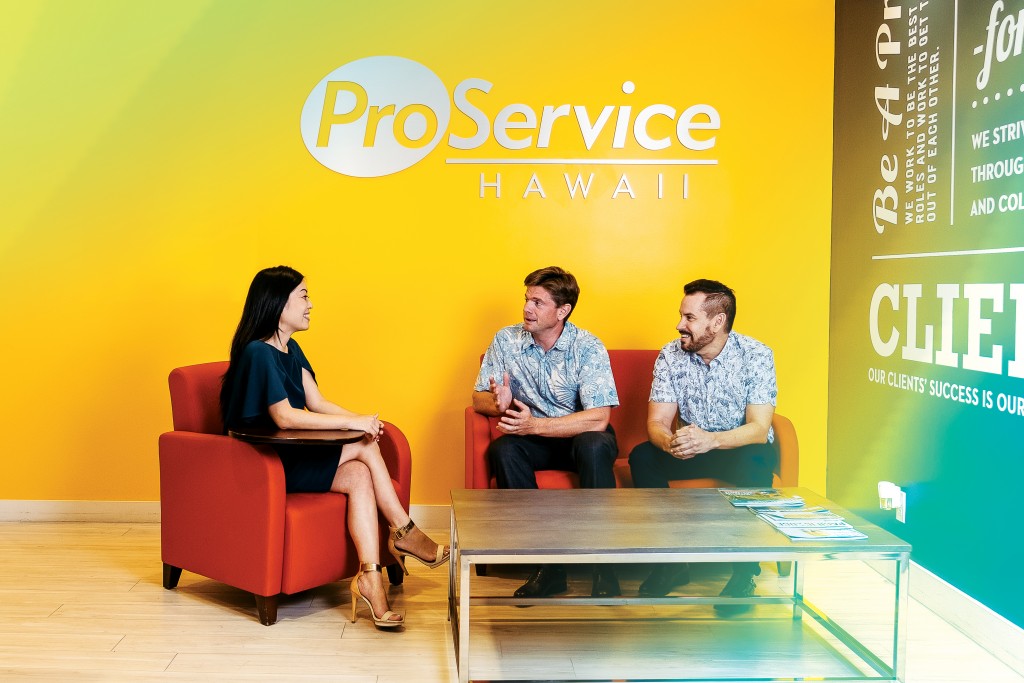 On a Monday morning last summer, a roar of applause broke out in a human resources solutions office in Hawaii Kai. "It was a celebratory time," says ProService Hawaii President and CEO Ben Godsey. "This was the company that we had competed with for a long time, and now we were coming together as one company."
In August 2016, ProService acquired its biggest competitor, HiHR – also known as Hawaii Human Resources – a subsidiary of The Hawaii Group. The acquisition allowed ProService to grow its business by 28 percent in 2016. The company now has about 260 employees and provides HR and other services to 1,900 Hawaii-based businesses and their 33,000 employees. At the end of 2016, ProService handled about $1.2 billion in annual payroll; Godsey expects that number to grow 15 percent this year.
The former competitors are now more than halfway through their two-year integration process. While it hasn't been easy, company leaders say, the transition has gone well, and the goals are to get service to an all-time-high level and for the different offices to provide the same culture and service.
Here's how the two competitors became one.
Before
At the time of the acquisition, ProService was 22 years old. HiHR was only seven and still facing challenges with maintaining its service levels, Godsey says. Human resources is a dynamic industry, says Scott Meichtry, co-founder and former CEO of The Hawaii Group, so it felt like there were growing pains at every step of building the company. "You're just dealing with HR laws, state regulations, compliance issues. It's moving at a pretty fast pace."
Godsey says, "You really have to have the right systems, technology, processes in place and people in place to do that well. And so, those are growing pains that we went through in the early years, and we felt like we've been able to very consistently improve our service over time to a point where our service levels are very good."
Despite HiHR's growing pains, ProService wanted to acquire its clients: "There was really no better way for us to grow toward our purpose, which is to make it easier being an employer in Hawaii, than to pick up this client base and hopefully do a better job of it going forward with our combined expertise," Godsey says.
He reached out to HiHR's owners in the summer of 2016 to negotiate terms of the acquisition. A small team from ProService handled the pre-acquisition work, like validating the number of clients and worksite employees HiHR served and the cost structure the company used. The challenge, Godsey says, was the pre-acquisition work had to be confidential, and the vast majority of ProService's staff couldn't work with HiHR's staff to plan the actual merger until the deal closed on August 15, 2016.
Meichtry says The Hawaii Group hadn't been considering a total asset sale. Instead, it hoped to find a strategic partner that could help grow The Hawaii Group and its subsidiaries. But Godsey reached out, and Meichtry saw that ProService and HiHR would work well together. "There were a lot of synergies in the companies," Meichtry says. "There were similar platforms, it's a local-based company, the employee culture was really important, and ProService has an incredible corporate culture that they've developed and fostered over the years.
"There's no one (else) out there and there's no better fit of who's going to continue to service our clients and also offer richer, better benefits and compensation to our employees. So that was really important to me."
The Hawaii Group now consists of HiAccounting, HiEmployment and HiHealthCare and is run by CEO Matt Delaney. Though Meichtry says he is no longer involved in the day-to-day operations of The Hawaii Group, he says the company is not currently looking for buyers or strategic partners.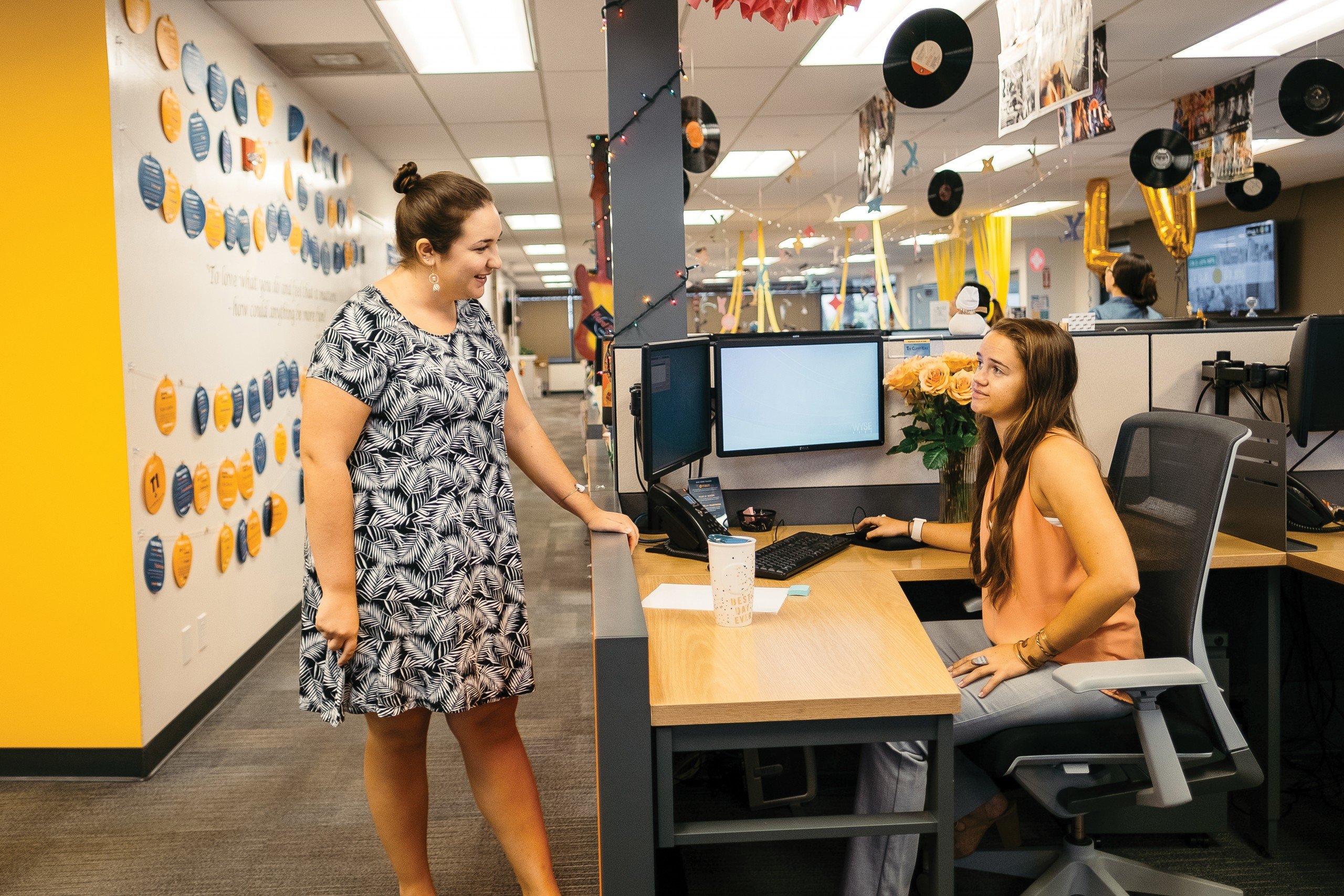 First Steps
The goal for the first transition day was to have the computer systems that would handle benefits, HR and payroll transactions for HiHR's clients up and running, and have a clear plan for how to communicate the acquisition to both companies' staff and clients.
The key message to HiHR employees, Godsey says, was there would be no layoffs and there would be opportunities for them if they met ProService's service standards and accepted its core values. The process was "we tell them what our standards are, tell them what our values are, teach them, coach, and they will either say, 'I love this,' and they will really thrive in this work environment, or they'll say, 'It's not for me,' and they'll leave," he says.
So far, about half of the HiHR employees have left. "This is right in line with our expectations," Godsey says. "We knew our cultures were similar, but not the same. There is a higher level of accountability to the client and a higher level of expectations at ProService."
End of 2016
Trisha Nomura, ProService chief people officer and former HiHR chief operating officer, says the acquisition process took place at a busy time. In the fall, ProService goes through open enrollment with its clients and works on year-end procedures, like processing bonuses and pay changes that begin in the new year. "We really just focused on servicing our clients and making sure that, in this extremely busy period, we didn't have any disruption to our services," she says.
The plus was ProService could offer HiHR clients better benefits, like HR training and new insurance offerings. Hawaii's Better Business Bureau says it benefited from the better offerings. BBB had been using HiHR's services for three years, says Greg Dunn, president and CEO. A few months after the acquisition was announced, ProService offered an upgraded service plan that would save BBB money, thanks to the economy of scale created by the combined companies.
"It was refreshing to have them come to us and say, 'Hey, we can save you money in many ways and go above efficiencies we have now by converting to this higher service plan,' " he says. "So they could have left us in an old plan and we would have paid more money and gotten less benefit out of it, but I think it really spoke to the ethics and internal integrity that Ben and his team at ProService operate under."
At the time of the acquisition, ProService gained about 6,000 HiHR worksite employees; the company now serves about 5,820 of them, Godsey says.
Beginning of 2017
After the new year, the company's focus shifted to the employees. ProService's and HiHR's processes and procedures were evaluated, and the two worked on integrating the two companies' service standards, teams and procedures.
HiHR adopted ProService's service model where a group of clients are serviced by a team of payroll processors, benefits individuals and HR professionals. Under HiHR, staff members were split up by their departments – the three largest being the payroll, benefits and HR departments.
"It's challenging and it does take time to integrate and install new practices – even in a very similar business," Godsey says. "So reteaching and reinstalling, all the ways that we service our customers. Even though HiHR did the same things, they did them in a slightly different way. And we really had to kind of go back and say, 'Okay, we want to just reteach that and we're going to do that. It's going to be the ProService way.' And that takes time."
Now
The transition process has gone well so far, Godsey says, adding that it wasn't hard to integrate the staff from the two companies. He says competitive feelings have not been evident in either group of employees since the transition process started. Meichtry agrees: "Even though we're competitors, we're friendly competitors and I think we got along as far as our cultures went in that regard – that we're able to hang out together and have a good time."
Up next is focusing on the quality of the company's service. "Year 2 is all about service excellence," Godsey says. "We are focused on delivering the best service in Hawaii and ensuring that all of our clients experience the full value of our services."
At the end of the transition process, service levels should be at an all-time high, and employees should be engaged and their numbers growing, he says. "I'm sure there will be a number of them (HiHR and ProService employees) who will have been promoted because we're bigger."
Nomura says the integration was a positive change for everyone. The advantage for HiHR, she says, was that it could gain from the experiences ProService had already gone through. "To take that and apply that, immediately, to our processes and procedures and help our employees to be able to be more efficient in how we operate. … It would have taken us that same amount of time, 22 years, to get to that point if HiHR continued to be a stand-alone company. That's why I say it was a huge win for our clients and for our employees as well."
Former HiHR employees and clients tell Meichtry they're happy with ProService. He says that if he starts another business, he plans to outsource to the company.
"I want nothing more than for this to be successful for them in the long run. Only time will tell, but it's good to hear that the clients they're servicing are happy and they're getting serviced. ProService, let's face it, they got the best platform out there, they got the best program."