Powering O'ahu 24/7 for 60 Years
Behind the scenes at the Kahe Power Plant, which opened in 1963 and still generates firm power to supplement solar- and wind-generated electricity.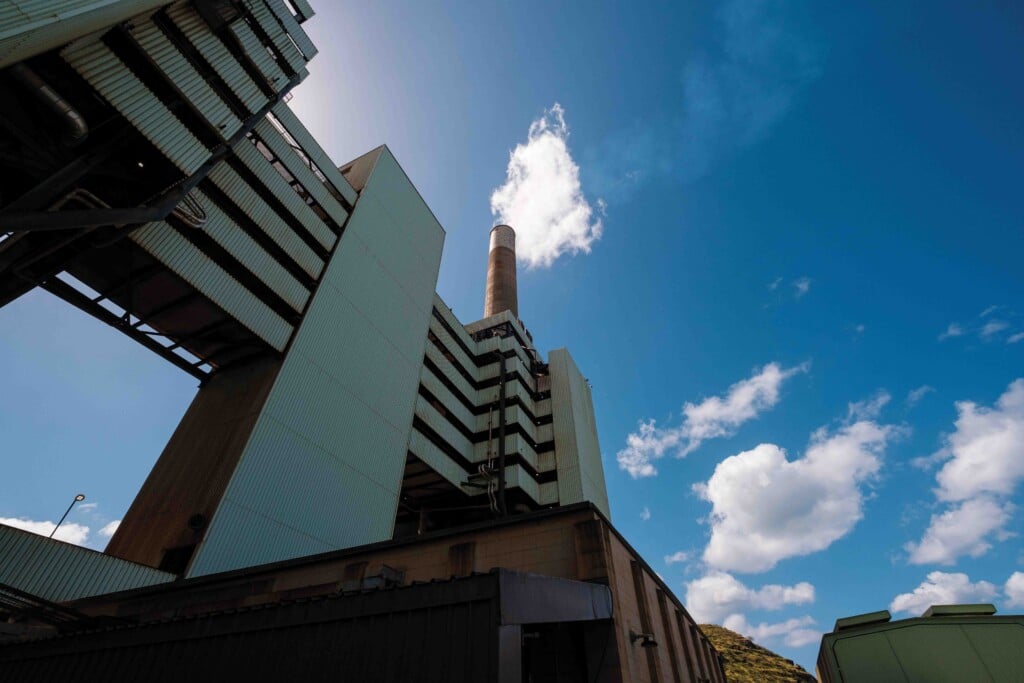 The Kahe Power Plant– located above where H-1 ends and Farrington Highway begins its path up the Wai'anae Coast – this year celebrates the 60th anniversary of its first turbine and continues to power O'ahu.
Kahe's venerable Unit 1 has since been joined by five other units – all burning oil to generate the steam that spins each turbine. Each unit has one turbine and generator set. Together, they provide much of the firm power that evens out the highs and lows of the solar and wind power that now provide much of O'ahu's electricity.
Hawaiian Electric Co. invited Hawaii Business Magazine to tour the power plant. Here is what we saw and learned.
Where Electricity is Made
Maintaining O'ahu's electricity supply is a complex, multifacted operation, but the actual creation of electricity is simple, says Michael DeCaprio, VP of power supply at Hawaiian Electric Co.
"To make electricity, three things are needed," he says. "You need a conductor" – something that easily carries the electricity – "a magnetic field and relative motion between the two. So, when we make electricity here, on all the units at Kahe, what we're doing is we're using steam to spin a turbine that's turning a magnet around the conductor. And that's how electricity is made."
Control Room for Units 5 & 6
The Kahe Power Plant has three control rooms, each controlling two units and operated 24/7. Operations Manager Conrad Higa calls the control rooms and their operators "the central hub of the power plant."
DeCaprio says, "In addition to operating the plants and maintaining normal operations, they also respond to emergency situations, such as when another unit trips, or you have a storm and faults on the system lines are going out. Those operators on the front line are responding to that to keep the system operating and running so we don't have a bigger problem."
Responding to Power Outages
Power outages happen when a storm hits, a line crashes or something else interferes with power lines. Different protocols exist for each scenario, DeCaprio says.
"All those disturbances make the units do things they're not supposed to do. And we have to respond."
Without the right response when one unit goes down, he says, the cascading effect could bring down another unit. "The operators are there to stabilize the unit, to put it in a safe condition and then keep the other units running."
He says it's like the operators are playing "a giant video game." "They are looking at what's happening, they're looking at their indications, and they're making real-time decisions on 'I need to do this or do that. Start this, stop that.' "
Extending the Units' Life Expectancy
Each unit has life expectancy of 30 years, DeCaprio says, but because of good maintenance, Kahe I is celebrating its 60th birthday this year.
About 100 maintenance people keep Kahe running, including boiler inspector Ken Hutchings (shown).
DeCaprio says most mainland utilities hire contractors to do their maintenance work, but Hawaiian Electric uses its own employees. "We have some of the highest skilled utility workers, I would argue, in the nation," he says.
"Real Team Effort"
Kahe has more than 400 people staffing the power plant night and day, seven days a week. "It's a real team effort," DeCaprio says. "The employees are a truly dedicated and skilled group of people."