Kainoa McGee's Company Named Startup of the Year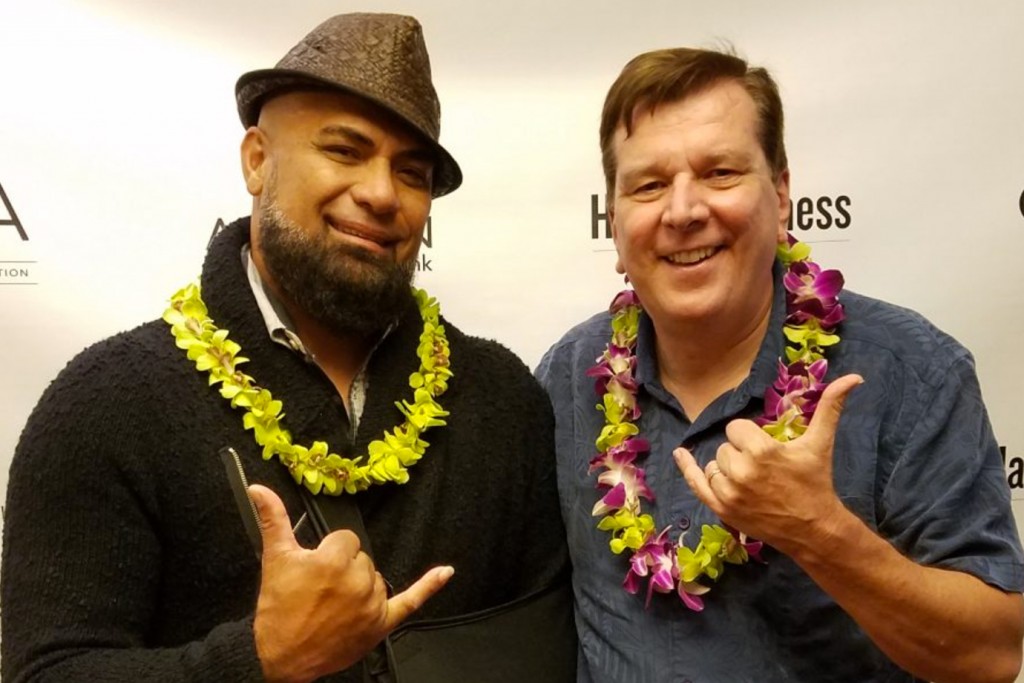 Kainoa McGee's life always revolved around the ocean. In middle school, McGee was already making surfboards. He would buy a stock board, reshape it and seal the board with Sunday newspaper comics and wax. The board didn't stay sealed, but it was enough to get on the water.
McGee – pro bodyboarder, pro surfer and now founder of KMBCo – is using his company to give disabled people the chance to enjoy ocean thrills, too. KMBCo's versatility board is big enough for someone in a wheelchair or for a quadriplegic person to ride with a second paddler, so they "can experience it firsthand rather than watching from the beach," McGee says.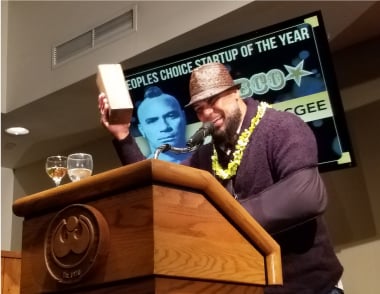 On Thursday night, McGee and KMBCo won the People's Choice Startup of the Year Award at the Hawaii Venture Capital Association's 17th annual Awards Gala.
"We will do our best to make you proud and happy of what we're doing," McGee told the audience.
Twelve companies and individuals were presented with awards at the sold-out gala, which celebrated Hawaii's most notable innovators and entrepreneurs of 2016. Thursday's full house and awards prove that the startup community in Hawaii is thriving, said Meli James, HVCA's president.
Kyle Chang won Student Entrepreneur of the Year award for HealthTechApps, which is developing a mobile application to help athletes receive proper care from doctors and nurses after a potential concussion. Users of the app can upload a video of themselves answering basic questions after a head injury and send that video to their healthcare provider, who can then make recommendations based on the answers.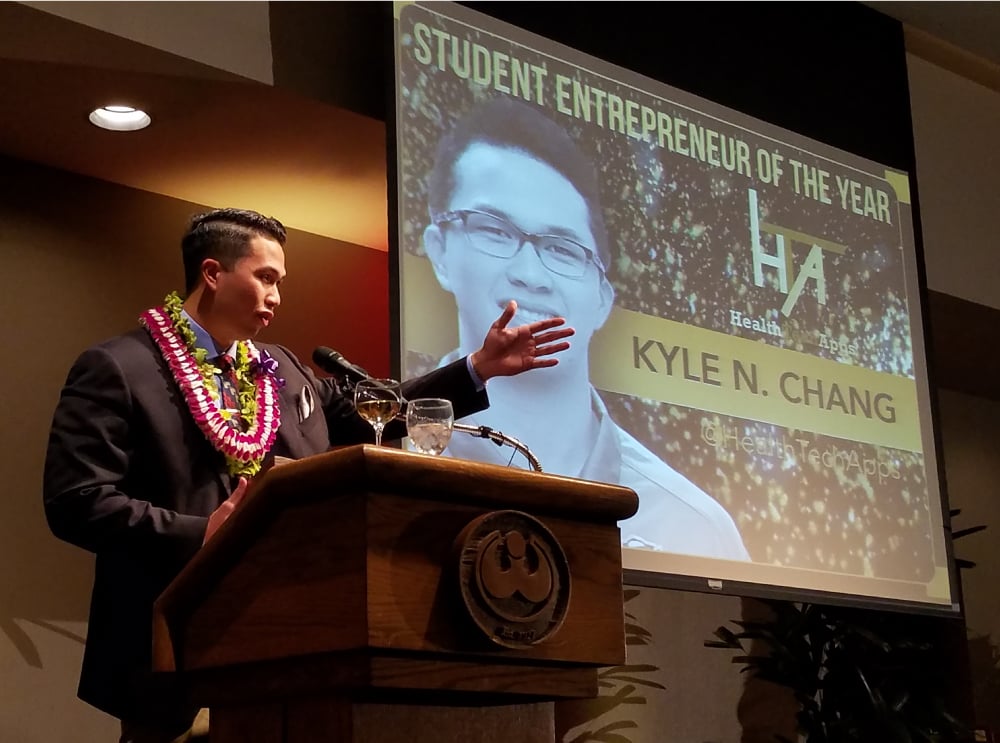 "It's like a medical Snapchat," Chang said.
Dr. Jeffrey Yu was recognized as Life Science Entrepreneur of the Year for his work as CEO of Kineticor, which has developed motion correction technologies for MRI scanners. Before Kineticor, if a patient moved during MRI imaging, the result was often a useless blurry picture; with Kineticor's technology, the scanner will still yield a clear picture.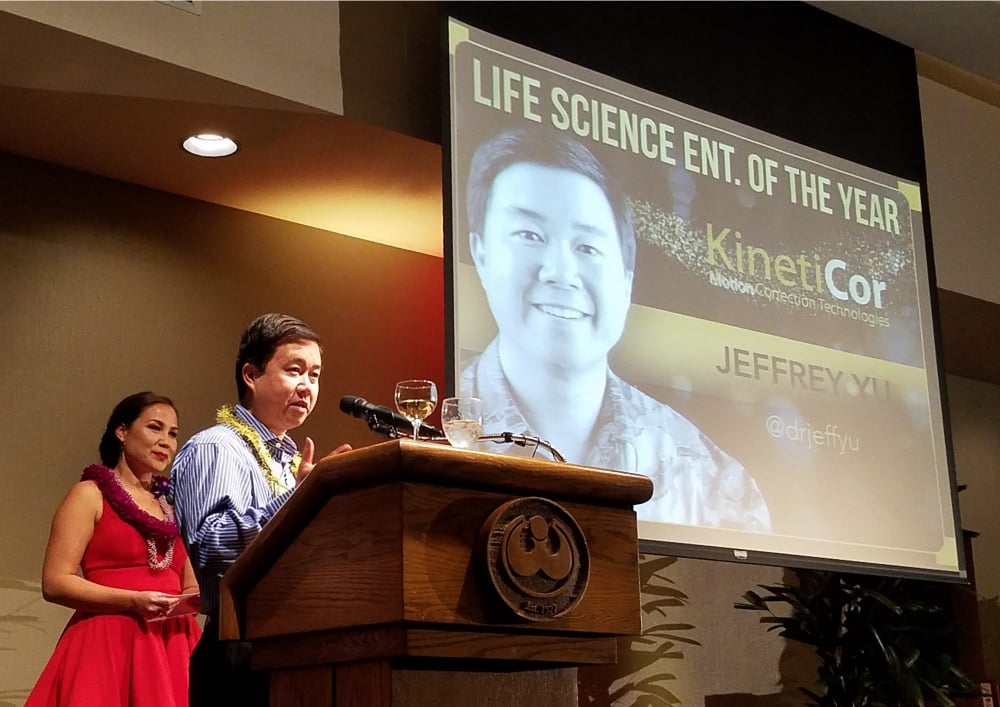 "Getting this to market is important because it will improve care around the world," Yu said.
Beyond Kineticor's technical challenges, Yu and the team had to overcome business hurdles. That's where Hawaii's venture capitalists came in.
"I think the venture capital community here is very important. You can have great ideas, but without capital you can't take it to market," Yu said.
Full list of HVCA awards winners:
Entrepreneur of the Year: Tina Fitch with Hobnob
Clean Tech/Ag Entrepreneur of the Year: Jack Beuttell and Bobby Farias Jr. with Kunoa Cattle Co.
Corporate Intrapreneur of the Year: Ian Kitajima with Oceanit
Tech Entrepreneur of the Year: Alex Cabello with AlgorithmHub
Social Impact Entrepreneur of the Year: Donavan Kealoha, Kelsey Amos and Olin Lagon with Purple Maia
Startup Paradise Champion of the Year: Burt Lum and Ryan Ozawa with Bytemarks Cafe
People's Choice Startup of the Year: Kainoa McGee with KMBCo
Life Science Entrepreneur of the Year: Jeffrey Yu with Kineticor
Student Entrepreneur of the Year: Kyle N. Chang with HealthTechApps
Island Innovator of the Year: Henk Rogers with Blue Planet Energy
Deal of the Year: Scott Mercer with Volta Industries
Investor of the Year: Dawn Lippert and Jill Sims with Energy Excelerator