Kalihi-Pālama and Waiawa: O'ahu's Next Boomtowns?
Kamehameha Schools is planning 15,500 new homes in the areas, but it could take decades to become a reality.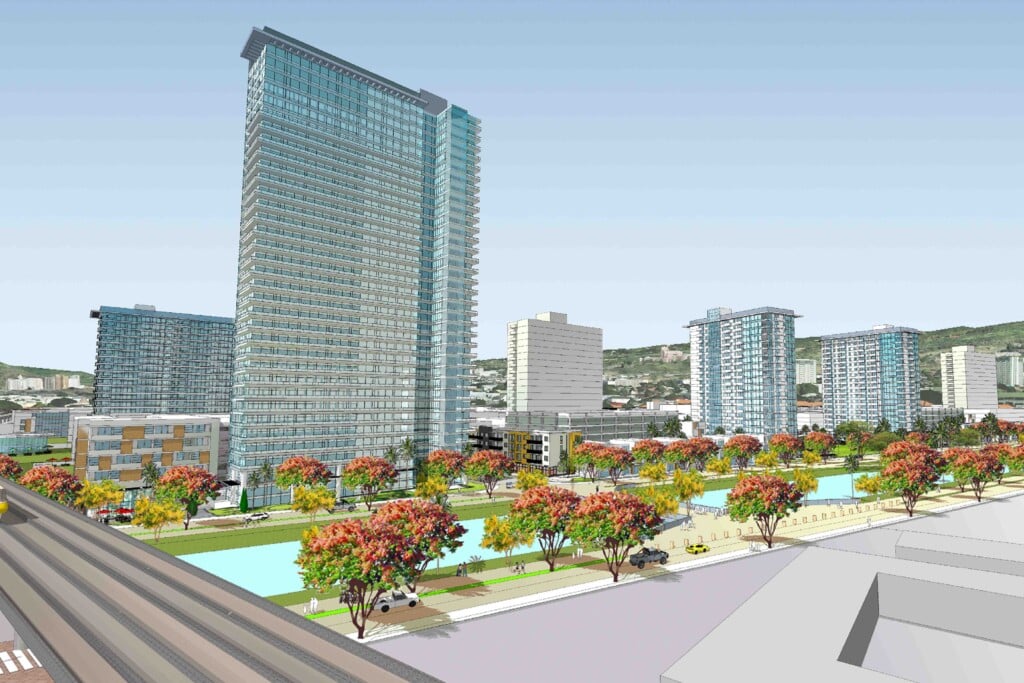 Kalihi-Pālama and Waiawa will experience the largest growth in new homes on O'ahu after 2025 largely due to master planned communities envisioned by Kamehameha Schools.
That's according to the Honolulu Department of Planning and Permitting's most recent land use report. The report provides an overview of 120 known O'ahu projects, with 105,322 units planned as of fiscal year 2021.
Kamehameha Schools hopes 4,500 homes will be built in its Kapālama Kai community and 11,000 in Waiawa. Together they would help reduce the island's housing shortage, but full buildout will likely take 20 years in Kapālama Kai and 50 to 60 years in Waiawa.
KS anticipates that many of those homes will target households earning less than 140% of the area median income; for a family of four, that threshold is currently $182,840 a year.
Kamehameha Schools owns about 105 acres of land in the Kalihi-Iwilei area and almost 9,000 acres in Waiawa, between Pearl City and Waipi'o. The master plans call for the creation of mixed-use communities that take advantage of denser, transit-oriented development close to the rail line. The trust would partner with developers to bring its visions to life.
Walter Thoemmes, managing director of Kamehameha Schools' Commercial Real Estate Division, says the larger goal is to create a return on the trust's land value to support its mission of providing educational opportunities to improve the well-being of Native Hawaiians.
"We try to understand what are the needs today and how do we use our lands to support our mission but also solve for some of the challenges we have in our community today, as well as pursue some of the opportunities that we see," he says.
Near Planned Rail Station
About 50 acres would be transformed under Kamehameha Schools' Kapālama Kai plan. The warehouses and industrial yards bounded by Kapālama Canal, Dillingham Boulevard and Waiakamilo Road would be replaced by mixed-use towers and open, green space. The towers would be taller and denser closer to the canal, especially near the planned Niuhelewai rail station at the intersection of Dillingham Boulevard and Kokea Street.
The anticipated 4,500 homes would be built at various heights and include both for-sale and rental units. Thoemmes says Kamehameha Schools anticipates that many homes would be part of 201H projects. The state's 201H statute allows projects to receive building exemptions and fee waivers in exchange for providing a certain amount of affordable housing.
He adds that Kamehameha Schools has been working on its Kapālama Kai master plan for about five years and is committed to maintaining the area's industrial footprint.
Rail construction is ongoing in the area, which Thoemmes acknowledges can make it hard for developers and future residents to envision a community with homes and other uses. One of the trust's early projects would turn the Dillingham Plaza retail complex into a hub for food systems and creative industries. Foodland, Office Depot and Savers Thrift Store currently anchor that complex.
"We see this opportunity to create a hub of creative industries at this place that will help put Kapālama on a map as a community that we can build out housing and other complementary type businesses and retail around creative industries and food," he says.
In Waiawa, KS plans to focus on about 2,000 acres, many of which are already designated for urban use. The community would consist of 11,109 homes, 51 farm lots, 105 acres of schools, 371 acres of open space, 134 acres of parks, and 558,666 square feet of retail and commercial space, according to the master plan the trust submitted to the state Land Use Commission in 2019.
The idea is to incorporate ahupua'a planning principles by placing businesses, retail, food, health and other necessities near homes.
"It's that type of cultural view that, in my personal opinion, has been kind of gotten lost in the way we plan and zone and entitle land," Thoemmes says. "You put all the houses over there, you put industrial over there, you put retail over here. How do people live? You have to get in your car to drive to all these places."
Kamehameha Schools envisions that as many Waiawa homes as possible would be affordable – targeting households earning less than 140% AMI – if not all of them. The initial development focus will be on the southern portion of the trust's Waiawa lands, which is less than 1 mile from the Pearl Highlands rail station and bus transit center.
"It's really about creating a new community there that has the multimodal connection to our rail system," Thoemmes says.
Infrastructure Needs
Redevelopment of the two areas is expected to be a long process. The transformation of Kamehameha Schools' lands in the Kalihi-Iwilei area is expected to take 20 years and consist of multiple phases. Waiawa could take three times longer and would involve five phases. Those estimates include time for much-needed infrastructure improvements.
Kamehameha Schools has been talking with the county, state and Hawaiian Electric Co. about increasing the Kalihi-Iwilei area's electrical capacity to support future development, says Serge Krivatsy, senior planning and development director.
Iwilei is expected to grow by 27,000 new homes over the next 30 years and nearly 2 million square feet of existing commercial, institutional and mixed-use space would be assigned other uses, according to the Iwilei Infrastructure Master Plan prepared for the Hawai'i Housing and Finance Development Corp. and Department of Accounting and General Services.
The plan, completed in February of this year, anticipates that infrastructure improvements needed to realize the potential of transit-oriented development will cost $951 million to $990 million. That includes about $175 million for sewers; $31 million for water; $414 million to $446 million for drainage; $170 million for walkway, bikeway and roadway improvements; and $159 million to $166 million for electricity and telecommunications.
Part of those improvements include turning the area along the Kapālama Canal into a mile-long recreational area. The project is estimated to cost between $227 million to $258 million and will include water quality improvements, floodwalls, a pedestrian and bike trail, picnic pavilions, footbridges at Kalani and Kaumuali'i streets, parking and a lawn area.
Kamehameha Schools says it hopes to concentrate many of its Kapālama Kai homes along the canal. Ian Scheuring, deputy communications director for the City and County of Honolulu, wrote in an email to Hawaii Business that the county just completed design work for canal dredging and has applied for federal grants to help pay for the project.
He added that the county has an intergovernmental agreement with the state on the planning, designing and construction of infrastructure improvements in the Iwilei area. And a financing study led by the state is looking at options to implement and prioritize the identified improvements.
Some government funds have been earmarked for infrastructure work. The state Legislature's latest budget bill, House Bill 300, includes $86 million in fiscal year 2024 for Iwilei-Kapālama infrastructure upgrades. The bill is pending the governor's signature. And Scheuring says that Honolulu Mayor Rick Blangiardi allotted $2 million in his proposed budget to conduct infrastructure regional planning studies for affordable housing needs in Iwilei. He did the same for West O'ahu and Hālawa.
Kamehameha Schools' Waiawa land, which was formerly used for plantations, doesn't have any infrastructure, except for dirt roads and two solar farms. Thoemmes says the Waiwa project would be tough to build because of high infrastructure costs.
"It's this kind of puzzle that we're hoping we have a compelling enough vision of what this community can be that a developer or a group of developers can come forth and say, 'We can make this work economically, KS, let's get started,' " he says.