Keeping the Goats Happy and Healthy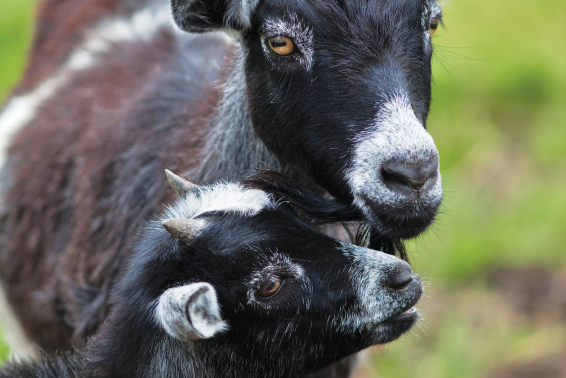 It's kidding season and the number of goats behind the Lava Rocks Puna Goat Cheese label has grown to 43. Some are bucks, kids or mamas out of commission while caring for newborns, so the number of milking goats is 27. They must be milked twice a day.
"This is a lifestyle," says co-owner Lava Stacey. "It's about having chores, and being committed to the goats being happy and healthy. Without the milk, there can be no cheese."
For the past six years, Stacey, 46, and her partner, Steve Sayre, 60, have run a cheese business on their 7-acre farm in Hawaiian Acres. It's fairly easy to make cheese, Stacey says. "The hardest part is keeping the goats."
It was slow going at the start, but today five flavors of Lava Rocks Cheese can be found at Island Naturals and KTA Superstores islandwide, along with the Hilo Farmers Market and the Makuu Market in Puna.
"It's a lot of work and not much money," Stacey says.
One big break came from executive chef James Babian, whose commitment to buying local helped win Lava Rocks a deal starting last year to supply cheese to the Four Seasons Resort Hualalai.
"Now we can get some projects done … become more sustainable," Stacey says. That includes growing food for the goats on their property, including banana trees, kale and chard in pastureland.
All this requires lots of work. The couple has built a cabin for a farm worker, and Stacey's 27-year-old son also helps, giving them two employees on the farm.
When they started, Stacey recalls, she milked the goats, made the cheese and manned the booth at farmers markets. "I'm glad that's passed," she says.
Lava Rocks Puna Goat Cheese
P.O. Box 1064
Kurtistown, HI 96760
(808) 966-8461