Keeping up with the Jones Act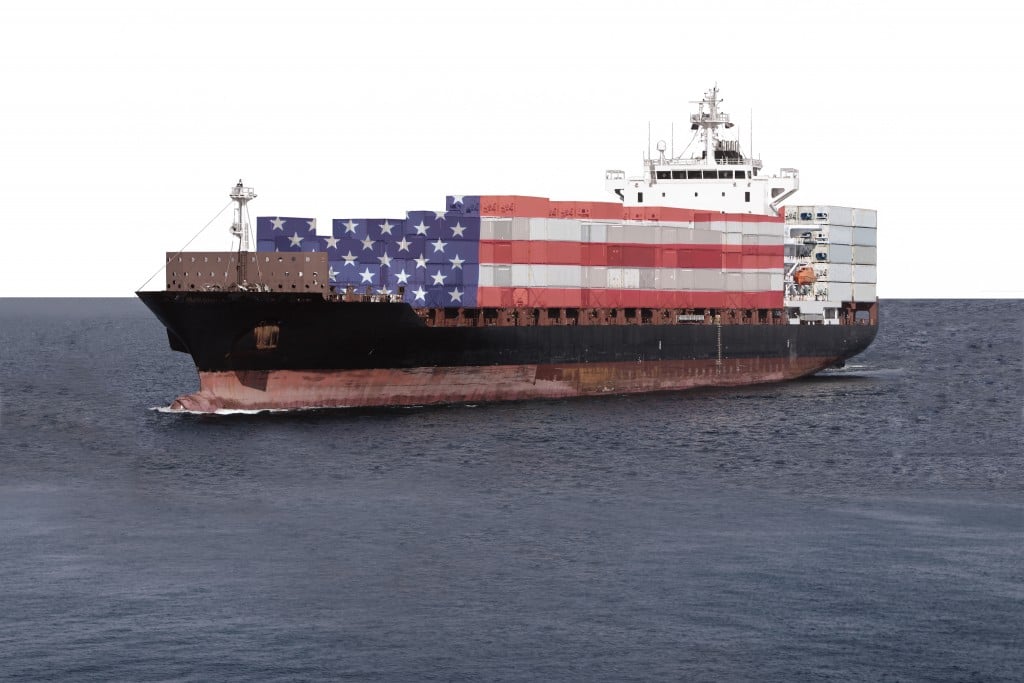 Patrick Novak, CEO of The French Gourmet, a Hawaii company that specialized in artisan frozen pastry dough, reflected on the issues that killed his once-thriving business and kept coming back to the Jones Act.
The company was featured in the August 2010 issue of Hawaii Business as among the small, local companies flourishing on a global scale. Novak launched French Gourmet in 1994 and began exporting products to the mainland and then to places as far away as Singapore, Hong Kong and Dubai. The U.S. Small Business Administration named him "Exporter of the Year" in 1997, but prosperity soon became progressively more difficult to maintain due to shipping-rate hikes. The business shut down in April.
"We used to pay just over $4,000 to ship a 40-foot freezer container to Dubai," says Novak, who says exports made up about 70 percent of his sales. "In a matter of three years, shipping the same container now costs $11,500. How do you tell your customer on the other side that your shipping costs have almost tripled? It wiped us out."
Novak believes businesses have difficulty surviving in Hawaii largely due to the high shipping costs. For that, he blames The Jones Act, also known as The Merchant Marine Act of 1920.
"I'm sure there was some good intention and purpose for (The Jones Act) back then. But I would like to know one good reason that it is a good thing for Hawaii and its people today," he says.
Under the act, vessels that transport cargo or passengers between two U.S. ports must be U.S. flagged, U.S. crewed, U.S. owned and U.S. built. Those rules apply to any ship that brings cargo to Hawaii from the U.S. West Coast – the main lifeline of goods for the Islands.
Foreign carriers cannot compete under those rules, and opponents say the lack of competition drives up the cost of shipping and contributes to Hawaii's high cost of living.
"Open competition is the remarkable motivator of the free market. Competition is healthy and brings better rates, services, productivity and innovation," says Ken Schoolland, an associate professor of economics and political science at Hawaii Pacific University.
"This enriches consumers, who save on everything they buy. It enriches Hawaii businesses and employees by opening opportunities to buy and sell more. But The Jones Act eliminates competition and choice."
Schoolland, who has also served as an international economist in the U.S. International Trade Commission and the U.S. Department of Commerce, explains he "first encountered the folly of the Jones Act while living in Alaska in the 1970s. The chief accountant at a Japanese pulp mill explained to me that, because of the Jones Act, it was cheaper for the mill to send its product from Alaska to Seattle via Japan than from Alaska to Seattle directly. The mill subsequently shut down. What temporarily benefits one special interest group hurts many other businesses and consumers."
But the act's many supporters, including Hawaii's entire congressional delegation, disagree with Schoolland and other critics. Advocates say the Jones Act creates and maintains an American-owned and -operated fleet that would be crucial in times of war and other emergencies.
"The Jones Act … plays a critical role in protecting our national security by helping us maintain our ability to build, crew and deploy U.S. ships when they are needed," U.S. Rep. Colleen Hanabusa says.
"A review by the (Maritime) Cabotage Task Force in 2003," she adds, "determined that the Jones Act costs Hawaii residents $5.52 per person per year, less than two cents per day. That is a small price to pay for the security of our state and our nation."
U.S. Rep. Mazie Hirono adds, "Hawaii is at least 80 percent reliant on imported food. We're hundreds of miles away from major shipping routes. Relying on foreign shippers that can easily decide a stop in Hawaii is not profitable, or who would charge us big fees to veer off their major routes, doesn't guarantee that our hotels and shops have the food and goods they need to support our economy and communities."
Hirono addresses the issue of higher shipping costs by saying, "If we want cheaper shipping and more competition, we should support reinvigorating our domestic shipbuilding and maritime industry and developing clean, affordable shipping fuel."
Under the Jones Act, foreign shipping companies can supply Hawaii directly from Asian ports, but, so far, none regularly do so. Instead, Hawaii is currently served by three major American carriers: Matson, Horizon Lines, and Pasha Hawaii Transport Services, as well as several low cost barge alternatives. Each operates between Hawaii and the U.S. West Coast.
According to Jeff Hull, Matson's director of public relations, these Jones Act carriers provide reliable service to Hawaii from the U.S. mainland five times a week and, to the Neighbor Islands, 20 times a week.
If the law was changed to allow foreign carriers, Hull speculates, these ships likely would not provide the same frequency of service, which is needed to keep local retailers fully stocked with goods. And, because Hawaii has a limited warehousing capacity, shortages of food and other goods would likely occur.
Michael Hansen, president of the Hawaii Shippers Council, an organization representing companies that depend on shippers, says the council wants to alter one key part of the Jones Act Reform by exempting shippers to Alaska, Guam, Hawaii and Puerto Rico from using only U.S.-built oceangoing merchant ships.
"We're really focused on the U.S.-build issues and we're not talking tugs and barges. We're talking about the larger vessels, self-propelled ships," Hansen explains. "It's a fact that the cost to build a ship in the U.S. has become so great that the carriers just can't replace them. U.S.-built ships cost at least three times the amount of foreign-built."
It seems that Matson and Horizon would want the U.S.-built requirement to end, Hansen says, but they don't, he believes, because they don't want to upset the status quo.
"If you changed the law, a new operator could come in with brand-new ships and operate a more efficient service," says Hansen. "(The carriers) don't want to be put in that position. But if you can't build new ships, you're going to go out of business anyway. So please stick your head in the sand."
But, Hull says, Matson has invested more than $700 million in its Hawaii service since 2003, including new container ships, containers, terminal cargo-handling equipment and advanced information-technology systems that provide them with enhanced logistics services.
Matson supports the U.S.-build requirement as a vital component of the Jones Act, citing the importance of ensuring that the U.S. has strong, vital shipyards that are capable of building and maintaining modern, competitive commercial vessels.
Also, the coalition in Washington, D.C., that supports the Jones Act includes politicians from shipbuilding states, so changing that part of the act could endanger the coalition. In 2010, U.S. Senator John McCain helped introduce federal legislation that would have repealed the Jones Act, but the bill did not receive enough support in Congress to pass.
Hull says the biggest cost differences between U.S.-flag and foreign-flag ocean carriers are vessel crew costs (foreign workers earn less than U.S. seafarers) and depreciation (a direct result of the higher construction costs of ships built in the U.S. vs. foreign shipyards). But, he says, these higher costs end up as wages in the pockets of U.S. citizens rather than foreigners. More importantly, he says, these combined costs represent a small percentage of U.S.-flag carriers' total expenses.
"Every other cost that U.S.-flag carriers incur is the same for a foreign-flag operator: cost of fuel, stores, containers, machinery, vessel loading and discharge, customer service, computer tracking systems, local pickup and delivery, insurance, and overland transportation," adds Hull. "Thus, the bulk of the costs of shipping are not impacted by the Jones Act and would be the same for all shipping companies, U.S. or foreign."
U.S. Senate candidate Ed Case says he has believed for some time that, while the Jones Act may have its merits nationally, it "disproportionately harms the noncontiguous parts of our country, like Hawaii."
"This is because, unlike the mainland, with its trucks and trains and other transportation alternatives, we have no practical options to importing our consumer goods and exporting our local products if Jones Act shippers do not price or service competitively," explains Case. "As Hawaii's 2nd District congressman from 2002 to 2007, I represented virtually all Hawaii agriculture, which could not get its products to mainland markets affordably because of an absence of targeted and reasonable transportation services. Even today, Big Island ranches must charter a weekly 747 out of Keahole Airport to get their cattle to the mainland because that's cheaper than Jones Act shipping. There's something wrong with that picture."
But, Matson's Hull says, "The Jones Act is responsible for thousands of American jobs in Hawaii. According to a recent study undertaken by Price Waterhouse Coopers, the Jones Act contributes 23,225 jobs to the state along with labor compensation of more than $1.1 billion annually."
That's of little comfort to the French Gourmet's Novak, who, at the height of his business, employed 85 local workers.
"We employed good people. We paid a good, fair amount of taxes like everyone else. We exported. Did good for the state. But they're killing Hawaii. Hawaii could be so much more."