Koa Capital Feeds Growth in Hawaii Companies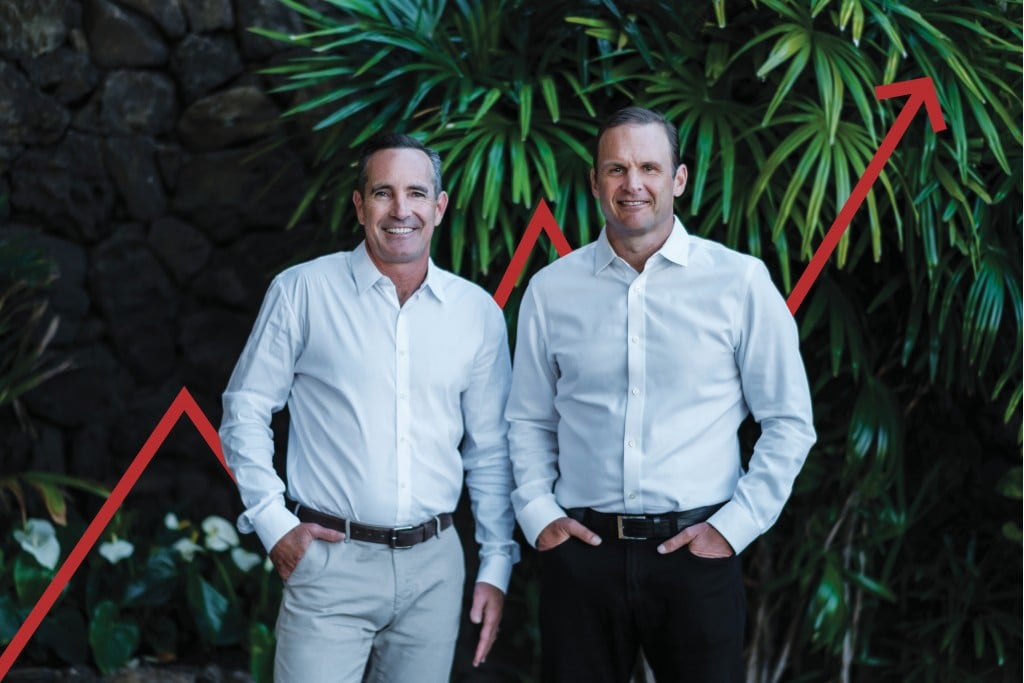 How a Hawaii-based private investment firm helps local businesses flourish.
Acacia Koa, Hawaii's koa trees, is endemic to the islands and has been valued for its versatility and strength. A namesake private investment firm, Koa Capital Partners, likewise is focused on Hawaii growth, by investing in local businesses and guiding them as they mature.
The company is the brainchild of Dustin Sellers and Chris Eldridge. They ran in similar social circles in high school at Punahou, before becoming close friends later in life. Sellers had gone the Mainland business school route, spending much of his career in Chicago, Los Angeles and San Francisco, before returning to success at home with HR outsourcing company ProService Hawaii. Eldridge found his calling as a startup entrepreneur, launching local branches of Fileminders/Access storage and America's Mattress, and Aina Koa Pono, a biofuel company. As the two friends surveyed the local business scene, they spotted a gap.
"Chris and I felt part of the 1990s brain drain," says Sellers. "Some of our best classmates left, and I would not have come back if I hadn't had the opportunity to buy ProService. Chris and I both like P&Ls (profit and loss statements), so we came at the local market from the same perspective." They saw a thriving small business market, and a vibrant banking community, but a dearth of access to capital and leadership support. In 2014, they jumped in with Koa Capital. It's designed to be the bridge, to work with kamaaina or returning kamaaina, developing midcareer executives who can become civic and community leaders.
The Strategy
Koa specializes in seasoned companies with $1 million to $3 million in annual profitability, which translates to $5-million to $15-million in annual revenue for a company. All of the businesses in the Koa Capital portfolio are headquartered in Hawaii, and the investors are high net-worth locals. Investor Stephen Metter, CEO and principal of the MW Group, says of the duo: "They had an absolute determination to build businesses and attract people back to the Islands, to reverse the brain drain. I like to see opportunities for our youth, so they aren't forced to build their careers elsewhere."
Rich Wacker, the president and CEO of American Savings Bank, says in this market, "There's not a lot of organized venture capital and what's here tends to focus on early stage. To me what is encouraging is that they focus on companies that have a good game but are undermanaged or under-resourced to grow." Koa has sought out businesses that were doing well but could expand by 10 to 15 times.
One example: Premier Restoration Hawaii, which offers emergency services to deal with damage from floods, fire and other disasters. Under Koa, which acquired Premier in 2016, the business expanded its footprint from a Maui-based operation with 50 employees by adding Kona and Oahu, and now boasts 156 employees. "It's the confidence and leadership to take that bigger swing," Wacker says.
Anthony Nelson, the senior VP of operations for Premier, explains Sellers and Eldridge's management style. It includes implementation of the Rockefeller Habits – emphasizing clear goals, growth strategies and regular meetings – and a healthy infusion of capital. Then there's what Nelson calls "connectivity."
"It's just Chris and Dustin being who they are," he says. "It's not often I have a problem that they can't help me find a solution to; it's a combination of their business background and network. They know the Hawaii market very well. Having those resources allows me to navigate some of the nuances, such as finding the key influencer on a body of work we're going after."
Nelson notes expectations are high. "We've never been challenged more, but we're also realizing our full potential. Now we know exactly what we're made of." Still, he says, "They are always the first to roll up their sleeves. When we were prepping for Hurricane Lane, Chris and Dustin literally drove down to fill sandbags with us. I know if I call Chris at 7 p.m. on a Friday night to get help sucking out water, he will be there."
The Missing Link
Scott Rabe founded party and large-scale event rental company Accel Rentals when he was still a teenager. He'd grown the business over the years, but after teaming up with Koa 18 months ago, has increased the size of the business from $4 million, tracking toward $10 million for 2019, and completed more than 6,000 events in 2018. Accel Rentals also acquired two Maui events companies.
"We had talked to venture capital groups on the Mainland and I didn't feel like they understood the culture, the customer base," says Rabe. "Koa wasn't interested in squeezing blood out of rocks. They weren't afraid to take advantage of opportunities to get it to the next phase." Koa invested $1 million in new inventory and processes for Accel, brought in outside hires in sales, and, most important to Rabe, "installed a sense of discipline."
"They know that is the missing link for many businesses. You need accountability. Maybe it's a peer group or a managing partner who holds you accountable. Hearing hard truths, but in a very supportive way. It's a mirror that can help you fix your habits." He says he has shifted his mindset away from seeing profit as the single metric, into what is best for the business overall.
Another event-related company, Blake Entertainment, represents Koa's first exit, as founder Melissa Blake bought back her portion of the business. "We felt that was beyond exciting," says Sellers. "Our first bird leaving the nest." Blake valued her time under the Koa umbrella, saying, "As a grassroots entrepreneur who simply started a business out of my love for doing something, I needed hands-on guidance." Koa introduced her to a scaling-up coach, and "contributed greatly to being able to better understand the financial balance and discipline needed to grow the company."
Economy-Resistant Businesses
Stephen Metter notes that Koa invests in "recession-resistant or more recession-resilient service businesses."
"When you look at Koa's portfolio, they aren't targeting the next Snapchat of Hawaii; they are targeting more of the non-sexy industries, like plumbing and restoration, or event rentals focusing on furniture," adds Valerie Wang, the president of Makai HR. "Most are B to B, though some are B to C." After all, companies always need plumbing support, and natural disasters like fires or floods don't care if the economy goes into recession. "I spent the last five years of my life working with startup tech businesses, which is exciting, but a lot of tech companies come and go," says Wang. "They have to reinvent themselves constantly."
Makai is the only true startup in the Koa portfolio. Because of Sellers' background in the HR outsourcing industry, he decided to launch Makai from scratch. It handles HR responsibilities such as payroll, benefits, enrollment, payroll deductions and workers' comp insurance for small to medium-size businesses.
"We allow small businesses to scale, so the owner of a company can have peace of mind about compliance and focus on growing their business rather than a nonrevenue part of their work," says Wang, who works with the businesses in the Koa group. "Koa has been an incredible resource for all of our portfolio companies, not just us. I got to know a lot of incubators and accelerator programs and what I like about Koa is they choose industries they can support but that we can all support each other."
Five years in, Sellers and Eldridge seem pleased. "We always knew there was a place for something like Koa, but we didn't know if people would embrace it," says Sellers. "But five really healthy portfolio companies, and $30 million of equity placed in the market, we know people have. Now we think, What's next? How can we expand?"