Lost in the Lāhainā Fire: A New Affordable Housing Complex
The development company that used low-income housing tax credits to build the 89-unit apartment building hopes to rebuild.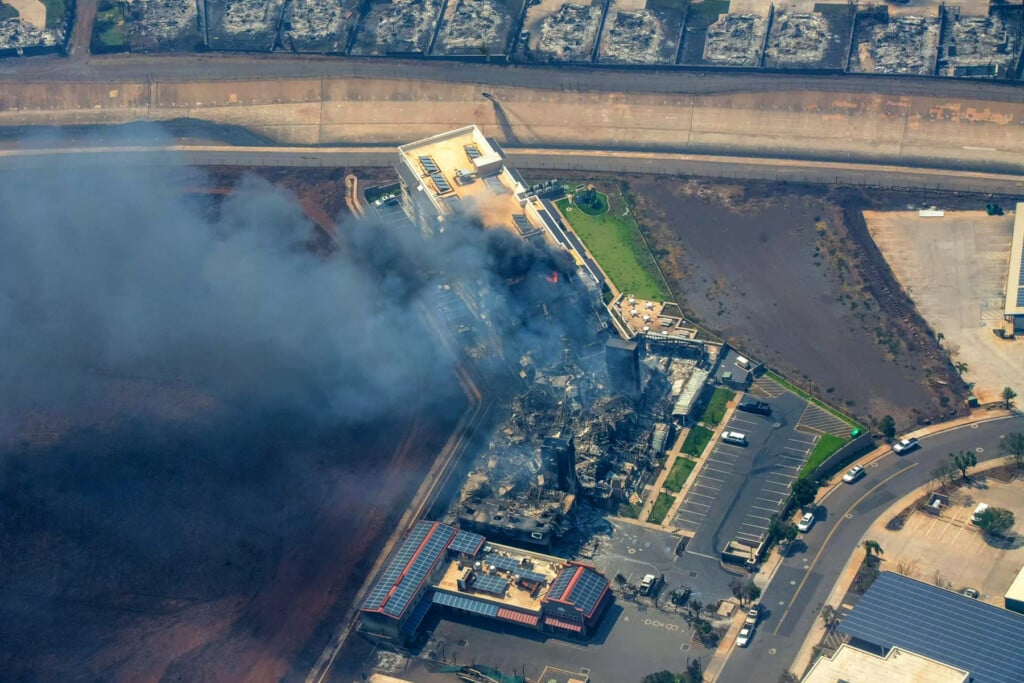 Among the thousands of homes, condos and apartments in Lāhainā that were damaged or destroyed by deadly wildfires was a three-story apartment building that opened less than a year ago to 89 local families.
Kaiāulu o Kupuohi opened in December with 20 one-bedroom, 34 two-bedroom and 35 three-bedroom apartments for families that earn less than 60% of the area median income, which equals $48,660 for a single person and $69,480 for a family of four. The wildfire destroyed the 9-month-old building, one of the few places on Maui a local family could reasonably afford to rent.
Maui had already been called the epicenter of Hawaiʻi's housing crisis. On this tourism-dependent island, where more than 38% of the island's workers staff the hotels, restaurants and activity companies that cater to Maui's nearly 3 million visitors each year, 53.7% of residents pay more than 30% of their incomes on rents or mortgages. The median prices for single-family homes and condominiums so far this year are $1.15 million and $840,000, respectively.
Before the fires, Lāhainā had a little more than 3,600 occupied housing units, according to census data. Over the weekend, the Federal Emergency Management Agency and Pacific Disaster Agency released maps showing 86% of the 2,207 structures in Lāhainā that were damaged or destroyed were residential and that the area may have lost more than half of its housing.
Even before the fire, housing was extremely expensive. The median price of a single-family home in Lāhainā this year through the end of July was $1.9 million, while the median for a condo was $865,000. And many of the lost homes and apartments were rentals – less than half of Lāhainā's housing was owner-occupied. Hundreds of vacation rentals were also destroyed by the fire.
Built with Tax Credits
Kaiāulu o Kupuohi, the new four-story affordable rental building on Kupuohi Street in the Lahaina Business Park, collapsed Tuesday night when winds from Hurricane Dora whipped a brush fire into an inferno that leveled nearly all of the historic seaside town of Lāhainā.
The building had been constructed with the aid of low-income housing tax credits, which are crucial for communities like Maui where modest incomes compared to the cost of construction make housing "unobtainable for many without subsidies," says Douglas Bigley of Ikaika Ohana, which partnered with Urban Housing Communities and Hunt Capital Partners to build the project.
"While it is true that people from off-island buy up homes and crowd locals out of the market – even if there was no land cost, the cost to construct would far exceed what many locals could rent or buy," he says. "The problem is not hard to understand but the solution is complicated."
Bigley says his team is now working to locate the families who lived at Kaiāulu o Kupuohi and help them with their critical needs. He says anyone who has located tenants should call the management company, ThirtyOne50, at 808-466-0554. And the Realtors Association of Maui said in a Facebook post that it's working to connect people left homeless by the fires with others who have homes available or space in their homes.
Ikaika Ohana has a second project in Lahaina, a 200-unit affordable property called Kaiāulu o Kūku'ia under construction that suffered moderate damage from wind but was not affected by the fire. Bigley says his group is now looking to expedite completion of that project.
He says his team is also developing a strategy to rebuild Kaiāulu o Kupuohi and is looking to expedite the zoning, permitting and other needed entitlements to build other properties in the area. Ikaika Ohana has two other affordable housing developments on Maui, both in Kīhei, as well as projects on Oʻahu and Hawaiʻi Island.
"The fire was a terrible loss, especially for those who grew up in Lahaina," Bigley says. "It will take time to move beyond the sudden shock of it all, but we are committed to doing our part."