Leadership Conference 2019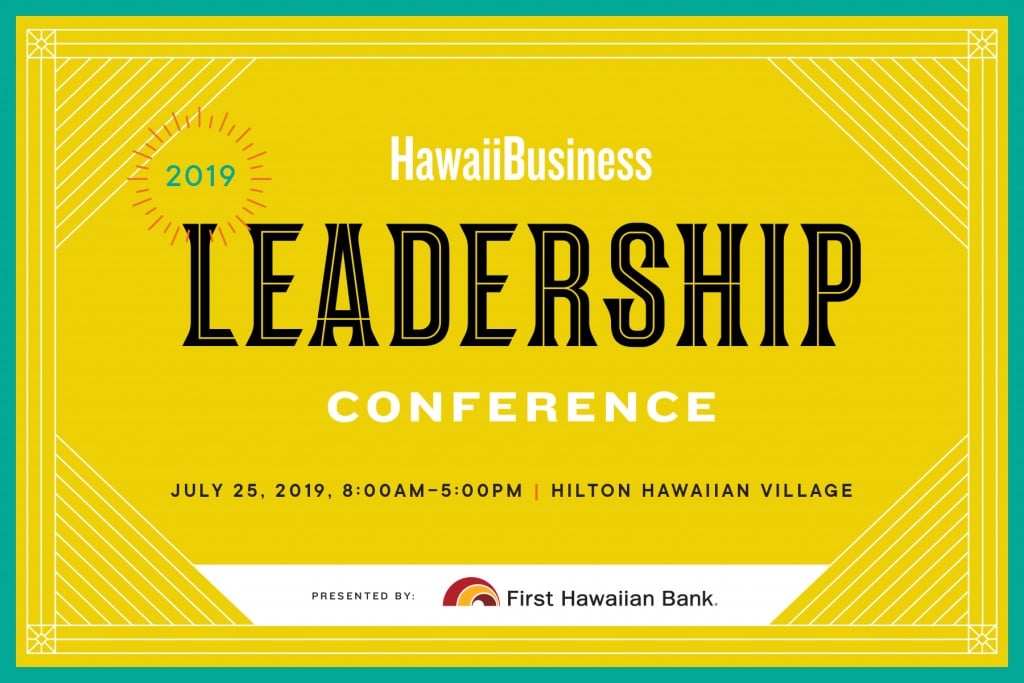 Thursday, July 25, 2019
8:00 a.m. to 5:00 p.m.
Hilton Hawaiian Village – Coral Ballrooms
ABOUT THE CONFERENCE
Join Hawaii Business magazine for the 6th Annual Leadership Conference, Hawaii's largest professional development conference. Develop valuable new relationships, build influence in your space, challenge yourself to think differently and push yourself to grow as a leader.
AGENDA
REGISTRATION & NETWORKING EXPO
8:00 a.m. to 9:00 a.m.
MORNING GENERAL SESSION

9:00 a.m. to 10:00 a.m.
Opening Remarks
Climate Change is Real and Hawaiʻi Needs to Act
Environmental awareness needs to be on the agenda of every business leader, because the economy is dependent on the environment. Climate change is here. We're already seeing rising sea levels, warmer temperatures, and more intense rainfall and tropical storms. Preparing for these changes will require facing costs and developing systemic solutions from leaders abroad and at home. The problem is too vast for any single business. We must prepare for climate change and help mitigate its impacts. In this session, we'll explore:
How do we prepare for increased coastal flooding and rising tides? How can we develop an economy based on clean energy? How do businesses help the state meet its goals for 100% clean energy and carbon neutrality? How are local businesses in Hawaiʻi becoming more sustainable? What can we learn and apply to our own business?
Featured Speakers:
Dr. Charles "Chip" Fletcher, Associate Dean for Academic Affairs and Professor of Earth Sciences, School of Ocean and Earth Science and Technology (SOEST), University of Hawaiʻi at Mānoa and Vice-Chair, Honolulu Climate Change Commission
John Leong, Chief Executive Officer, Pono Pacific & KUPU Hawaiʻi
Justin Gruenstein, Deputy Chief Resilience Officer & Deputy Director, City & County of Honolulu Office of Climate Change, Sustainability and Resiliency
Bettina Mehnert, President & Chief Executive Officer, AHL
Brian Kealoha, Executive Director, Hawaii Energy
Danya Hakeem, Director, Agriculture & Circular Economy Innovation, Elemental Excelerator
Moderator: LiAnne Yu, Freelance Writer, Hawaii Business Magazine
Click HERE to read about this session's speakers.
BREAK / TRANSITION TO NEXT SESSION
10:00 a.m. to 10:15 a.m.
MORNING BREAKOUT SESSION I
10:15 a.m. to 11:15 a.m.
Lead with Cultural Intelligence and Resist Unconscious Bias
The capability to know how you view others through your own personal and cultural lens is vital. Open-minded leaders gain advantages when they see the value of diversity of thought, perspective, and experiences. But it's not enough to just be aware of your unconscious bias. Leaders today need to take several steps to make diversity and inclusion a part of their leadership strategy and company culture. Learn practical tactics and specific policy changes to help reduce unconscious bias within the workplace.
Featured Speakers:
Karen Wilkins-Mickey, Director of Diversity & Inclusion, Alaska Airlines
Dr. Kristin Pauker, Associate Professor of Psychology, University of Hawaiʻi at Mānoa and Director, ISP lab
Justin Levinson, Professor of Law, William S. Richardson School of Law, University of Hawaiʻi at Mānoa
Moderator: Stuart Coleman, Hawaiʻi Coordinator, Surfrider Foundation
Click HERE to read about this session's speakers.
CX: Customer Experience Is THE New Product
A company that focuses only on improving its product is likely to be met with mixed results in a competitive market. A strong consumer experience is invaluable to any successful business. Local CX experts will share how to build a brand through satisfied customers that keep coming back.
Featured Speaker:
Brian Rothe, Director of Product Management – Omnichannel, Servco Pacific
Elliot Mills, Vice President, Hotel Operations, Disneyland Resort and Aulani, A Disney Resort & Spa
Michael Contreras, Executive Director, Unified Contact Center, Hawaiian Telcom
Moderator: George Yarbrough, Co-Founder, Impact Hub Honolulu
Click HERE to read about this session's speakers.
Leaders of Tomorrow Need To Be More Than Corporate Leaders, They Should Be Community Stewards
The problems society faces are enormous – poverty, food security, urban crowding, climate change and so many others – and solutions require participation. Leaders of tomorrow need to play an active role in solving the issues of their community. A successful leader will need to be a project manager, a choreographer, a facilitator. The task at hand requires greatness, selflessness and commitment. Hear from business leaders who are leveraging their networks and influence to make a difference in Hawaiʻi's community.
Featured Speakers:
Duane Kurisu, Founder & Chairman, aio
Karen Tan, President & CEO, Child & Family Service
Jack Wong, CEO, Kamehameha Schools
Dr. Michael Latham, President, Punahou School
Wayne Kamitaki, CEO, Maui Varieties, Ltd.
Moderator: Steve Petranik, Editor, Hawaii Business Magazine
Click HERE to read about this session's speakers.
BREAK / TRANSITION TO NEXT SESSION
11:15 a.m. to 11:30 a.m.
MORNING BREAKOUT SESSION II
11:30 a.m. to 12:30 p.m.
Fine Tune Your Negotiation Skills
So much of life and work involves negotiation, but the ability to negotiate successfully does not come naturally. It takes preparation and knowledge. During this session, gain insights and key techniques from local leaders about tackling tough situations.
Featured Speakers:
Scott Hogle, Senior Vice President of Sales, iHeart Media and Best-Selling Author of PERSUADE
Unyong Nakata, MBA, CFRE, Executive Director of Development, Shidler College of Business, University of Hawaiʻi at Mānoa
Emily Reber Porter, Chief Operating Officer, The MacNaughton Group
Nathan Okubo, Partner, Cades Schutte
Moderator: Meli James, Co-Founder, Mana Up & President, Hawaii Venture Capital Association
Click HERE to read about this session's speaker.
Embrace Continuing Education: Why You Should Invest In Your Employees
As Richard Branson said: "Customers come second, employees first." It is a philosophy that brings unexpected benefits to both the company and its clients. As AI and other forms of technology change the way businesses operate, there's an increasing need for businesses to be adaptable. You can save yourself a lot of headaches when you invest in your current employees to help them master these changes. Not only will it improve employee engagement and loyalty, but this move will also help you shape your company's future. Are you poised to lead your team in the right direction?
Featured Speakers:
Seina Rahim, Payroll Quality Assurance Manager, ProService Hawaii
Rachael Wong, Founder & Strategic Advisor, One Shared Future
Derek Kanehira, VP and Director of HR Services, Hawaii Employers Council
Moderator: Trini Kaopuiki, President & CEO, Make-A-Wish Hawaii
Click HERE to read about this session's speakers.
Present and Sell a Bold Idea
It's one thing to be able to create compelling, innovative creative work, it's another to effectively present it to stakeholders. It is not just about your talent, experience or expertise. The skill of 'selling' is crucial. During this session, learn the importance of visual design and hear how to work persuasively with colleagues at all levels. Our panel of speakers will help you build the confidence needed to successfully present your ideas convincingly.
Featured Speakers:
Jennifer Tanabe, Partner & Creative Director, Wall-to-Wall Studios Inc.
Omar Sultan, Co-Founder & Managing Partner, Sultan Ventures, XLR8HI, XLR8UH
Stacy Kealohalani Ferreira, Executive Strategy Consultant, Kamehameha Schools
Moderator: Yasmin Dar, Executive VP & COO, RKT Media
Click HERE to read about this session's speakers.
NETWORKING LUNCH / CONFERENCE EXPO
12:30 p.m. to 2:00 p.m.
AFTERNOON BREAKOUT SESSION
2:00 p.m. to 3:00 p.m.
Foster Resilient Teams: Treat Leadership Preparedness Like Disaster Preparedness
In a workforce that's evolving at an exponential pace, great leaders need to be agile and build adaptable teams that can navigate the uneven terrain. Leaders need to empower employees to develop support systems, adopt resilient behaviors and shift mindsets before the unexpected occurs so they can respond to adversity and move forward. In this panel, hear about ways leaders can help their teams develop the critical thinking, self-awareness and strong communication skills necessary for success.
Featured Speakers:
Sherri Okinaga, Vice President of Talent Development, First Hawaiian Bank
Jeff Wagoner, CEO, Outrigger Hotels & Resorts
Major Jeff Martin, Divisional Leader, The Salvation Army – Hawaiian and Pacific Islands
Moderator: Rusty Komori, Motivational Speaker, Author, TV Host, Leadership Consultant, and Tennis Professional
Click HERE to read about this session's speakers.
Creating Safe Workspaces For All Employees
Businesses, non-profit organizations, and the public sector in Hawaiʻi all have one primary thing in common: they employ people, who are often their most valuable asset. Since the start of the #MeToo movement, there has been much national coverage of sexual harassment in work settings. In Hawaiʻi, however, we haven't seen as much. Which may make us wonder why. In this session, local business, military and nonprofit leaders will share how they have responded to sexual harassment and misuse of positional power by improving policies, procedures and practices within their organizations. Come learn and explore what may be possible for your companies and communities, and what you can do to create safe workplaces.
Featured Speakers:
Michael Broderick, President & CEO, YMCA of Honolulu
Major General Susan Davidson, U.S. Army
Jessica Morikone, Senior HR Consultant, Hawaii Employers Council
Moderator: Rachael Wong, Founder & Strategic Advisor, One Shared Future
Click HERE to read about this session's speakers.
Honoring Hawai'i Makes Sense on All Levels
These local businesses have thrived by honoring the place in which they do business. They put Hawaiʻi's history and culture at the core of how they work and lead their teams. Hear how they've achieved success and community impact while helping their clients.
Featured Speakers:
Kuhao Zane, Creative Director, Sig Zane Designs Hawaii & Founder, SZKaiao
Malia Kaaihue, Founder & President, DTL Hawaii
Kawika McKeague, Principal and Director of Cultural Planning, G70
Mark "Gooch" Noguchi, Chef & Co-Founder, The Pili Group
Moderator: Mahina Paishon-Duarte, Co-Founder, The Waiwai Collective
Click HERE to read about this session's speakers.
Strategic Leadership Now and Then
What makes someone a strategic leader and how does what is required now differ from the Washington 24 Principles of Leadership and Management? Please join Lieutenant General Joseph Anderson, U.S. Army, for this special presentation.
Click HERE to read about this session's speaker.
BREAK / TRANSITION TO NEXT SESSION:
3:00 p.m. to 3:15 p.m.
CLOSING GENERAL SESSION
3:15 p.m. to 4:45 p.m.
What It Takes To Lead
Prominent leaders talk about motivating, guiding, and managing diverse teams while pursuing important goals.
Featured Speakers:
Chief Susan Ballard, Honolulu Police Department
David Lassner, President, University of Hawaiʻi
Dr. Christina Kishimoto, Superintendent, Hawaii State Department of Education
Chris Tatum, CEO & President, Hawaii Tourism Authority
Lieutenant General Joseph Anderson, U.S. Army
Moderator: Bill Dorman, Vice President & News Director, Hawaii Public Radio
Click HERE to read about this session's speakers.
Keynote Address:
Siri Lindley, World Champion Triathlete, High-Performance Coach & Author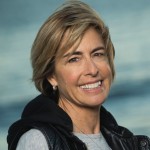 With inspiring lessons on cultivating the mindset of a champion and a winning formula for life and career success, Siri Lindley empowers audiences to be the absolute best they can be.
As a former triathlon world champion and coach to many of the sports world's top stars, Siri has made it her business to help others change their lives and make their dreams come true. She positively influences and empowers people by connecting them to their greatest strengths and passions, while giving them the courage to live their best life from a place of fearless love and authenticity.
During her pro career, she dominated the International Triathlon Union World Rankings, winning 13 World Cup races, and was the 2001 ITU World Champion. Siri won the World Cup Series in 2001 and 2002 by being the #1 ranked triathlete in the world. Later, she became a coach to help others discover the high-performer within – she has coached numerous athletes to Olympic medals and World Championship crowns at both the Ironman and half ironman distances.
In her book, Surfacing: From the Depths of Self-Doubt to Winning Big and Living Fearlessly, Siri offers a candid account of her journey to personal growth, self-belief, and self-discovery. On stage, she illustrates why it's never too late to live the life you always dreamed, and shares emboldening strategies for realizing your ultimate potential, conquering self-doubt, and changing the thoughts, habits, and behaviors that keep you from taking your life and career to the next level.
MAHALO TO OUR SPONSORS & PARTNERS