Leadership Roundtable: Merging Visions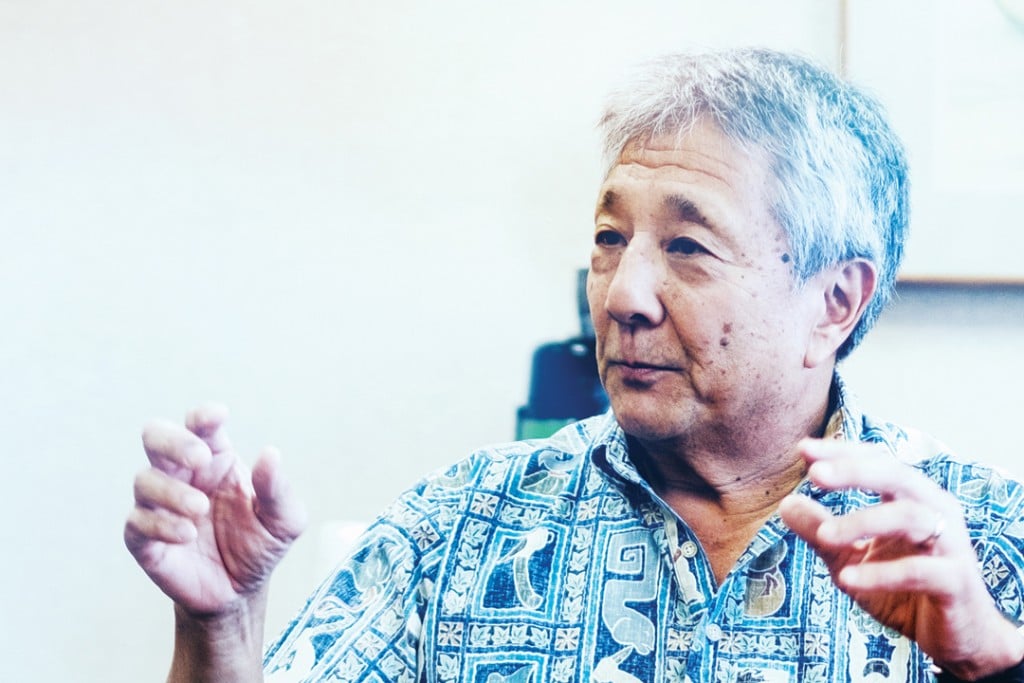 The Participants:
Peter Ho, 51
Chairman, President and CEO, Bank of Hawaii.
Melialani James, 38
President, Hawaii Venture Capital Association, and Head of New Ventures, Sultan Ventures.
John Komeiji, 62
Chief Administrative Officer and General Counsel, Hawaiian Telcom.
Colbert Matsumoto, 63
Executive Chairman of the Board, Island Insurance.
Robert Nobriga, 42
Executive VP and CFO, The Queen's Health Systems.
Virginia Pressler, 67
Director of the State Department of Health.
Kawika Riley, 33
Chief Advocate of the Office of Hawaiian Affairs.
Nicole Velasco, 30
Executive Director, Office of Economic Development, City & County of Honolulu.
Baby Boomer Moderator
Steve Petranik, 59, Editor, Hawaii Business magazine
Millennial Moderator
Daniel Ikaika Ito, 34, Digital Media Director, Hawaii Business magazine
This discussion was edited for clarity and conciseness.
---
"(Millennials are) generally more comfortable in a collaborative environment, in a flatter, less hierarchical environment, definitely more capable with technology and, importantly, more comfortable around technology."
—Peter Ho
Chairman, President and CEO, Bank of Hawaii
Petranik: First question: The workplace is changing, and technology, globalization and competition are all responsible. Every generation has to adapt. What characteristics do Millennials and other young people have that can improve the changing workplace? Peter?
Ho: I think you hit the highlights of what's challenging in the workforce today. Technology, disruption and globalization are all coming at businesses and organizations and, therefore, at people and employees. We've done a lot of thinking about the different generations working at Bank of Hawaii, and we've concluded we want people who are comfortable with change, who work collaboratively and are willing to embrace technology. We realized that's not the core of traditional workers at Bank of Hawaii, but it's very much the core of Millennials. This group is generally more comfortable in a collaborative environment, in a flatter, less hierarchical environment, definitely more capable with technology and, importantly, more comfortable around technology. And certainly more exposed and savvy to new media like social media. So we see Millennials as a real opportunity to upgrade the skill sets we need for the 21st century.
Petranik: Are Millennials teaching your older workers how to do these things?
Ho: In sometimes painful ways, yes. Sometimes Millennials are criticized, but that's not how I feel. I'm more like, "This is a group of people who have different experiences and different ways of doing things. We need to figure out how to mainstream them into our changing organization."
Petranik: A Millennial told me yesterday that she feels her generation is like a punching bag for older people. Nicole, are Millennials unfairly criticized?
Velasco: Every generation is going to find difficulties with every other generation. You could see that in the '60s, '70s and throughout time. What Peter was referring to is that the experiences we have had, whether by design or just by graduating in the middle of the recession, like myself, have created a mentality and work ethic very different than, let's say, my parents and grandparents. I constantly tell people, "We're not afraid to work, we just want to work in a smart way." We recognize time is limited and resources are scarce. In some ways, that scarcity mentality forces us to think of creative ways to accomplish what we want. So while it is valuable to talk about Millennials as a generation in the workforce, it's more important to think about it as a long-term shift in work lifestyle and in the ideology of what success means. I know my idea of success is very different from that of my parents. My parents were at Aloha Airlines from the day they graduated high school to the day that it went under (march 2008). I've done everything from selling tonic water, to event planning, to running the neighborhood board system and, now, working in economic development. A very different way of coming into the workforce. I see difficulties in how Hawaii handles that change and few organizations think closely about, "What does that look like? What are the characteristics of this group of people?" So its encouraging to hear Bank of Hawaii is thinking about those changes.
Ho: Our biggest employee group is Millennials, at 44 percent of our full-time employees, so if we don't get that right, we don't get much right.
James: Working in the innovation sector, I see what Millennials want. A lot of people complain that Millennials want to be CEOs after working at companies a year. But a lot of that is they want to feel like they're solving problems and tackling things that make a positive impact. They often feel underutilized. Steve Case's new book, "The Third Wave," explains how the Third Wave is not just an idea for futurists; it's already here. The first wave was the creation of the internet, the second wave was creating apps on top of the internet – Google, Facebook. The third wave is about how the internet is going to connect all things, the Internet of Things, and how we're going to utilize amazing technologies to create positive impact. That aligns with what is important to Millennials. So we should start thinking about how we can engage them to make positive change within corporations. It could be creating a task force where Millennials get out of their departments and problem solve within the corporation, so they don't feel like they have to change jobs every year and a half.
Hawaii can be a leader in many ways, especially in the innovation sector, sustainability, clean tech, ag. I love the word intrapreneurship, because it's not about separating entrepreneurs and corporations. It's about having risk tolerance and problem solving within companies, and a culture that lets Millennials tackle big problems and make an impact. If we do that, they'll be retained longer and utilized more to make positive change in organizations and corporations. And taking Hawaii to that next level.
Pressler: I think Millennials get a bad rap. My kids are Millennials and the Millennials I know are hardworking, energetic, smart kids. They've grown up in a very different world than the Boomers did. My life is stable and I didn't have these major changes when I was a young career person, such as the economy and the fact that older people, because of the economy, are not retiring. Many younger folks haven't had the opportunities for advancing that we did. For many years in Hawaii, I kept seeing younger folks trying to break through, "Let me in." This older guard was holding court and keeping them from that opportunity. Between the poor economy and job opportunities, but also because of this impenetrable ceiling, we lost a lot of folks in that in-between age.
Now, the Millennials are coming in as some of the Boomers are finally retiring and making way. They have skills we don't, so I welcome the Millennials and think they're pretty cool.
Petranik: You are in government, and the Boomer bulge is especially big in state and local government workforces.
Pressler: I came back as state director of health a year and four months ago. I had been there previously in 1999-2002, and when I came back to the executive team of about 30 or 40 people, I looked around the room and said, "I know all of you." (general laughter) "The problem here is that I know all of you." The same people were here 20 years ago and I started worrying about succession plans immediately. Then I see all these Millennials and they are excited about public health, they're mission driven, smart, they've got technology, and I go, "We're going to be OK. We just need to foster these folks to get into public health."
Ito: Another thing I see in my generation versus my parents' generation – they are both Kamehameha Schools graduates – is that my generation is far more knowledgeable about Hawaiian culture. I'm able to communicate and articulate my culture in a way that my parents' generation never could. I can bring Hawaiian cultural values to the workplace, the type of workplace culture we want. One strong part of Hawaiian culture is that it's always about community, never about the individual. It's about the group and how the group can succeed together.
Velasco: I think Millennials' value system is similar to Hawaii's value system. It is one of collaboration and collective understanding. What makes Hawaii Millennials even more valuable is they can walk on both sides, with local culture and global perspective, and they're probably doing that every single day. "How do we balance this?" Because Hawaii is a very different place than anywhere else. We recognize that we have a very different mentality on certain things and so the blending of the two is really a fine art.
For us, the world is not confined to Hawaii. We may be physically here, but our world stretches beyond our shores. And everyone has reached out and brought part of that back and made it their own. We don't see the limitations that are in the minds of other people and organizations. But how do you leverage that thinking in a way that works for Hawaii? I think all of us say the same thing: "We've seen the world, but how do we make it work for home?"
"Generally, the Millennial population is more comfortable with risk, because they accept it as normal. … (But) we think and talk a lot more about retirement and savings – making sure we're building our long-term safety. We don't take them for granted."
— Kawika Riley
Chief Advocate of the Office of Hawaiian Affairs
Riley: When we talk about Millennials, it is important to talk about the diversity of that population. For 30-somethings, the defining moment in our young adulthood was Sept. 11. Any individual now in their 30s can tell you, with incredible clarity, what was going on for them that day. Whereas, for those now in their 20s, I believe the defining moments were more what happened in the Great Recession, the housing bust, watching their parents' savings, jobs and companies evaporate. Those are two different focusing moments, but what's common to both is the floor was pulled out from under them and their families.
Petranik: Does that increase Millennials' risk tolerance?
Riley: People go different ways. Generally, the Millennial population is more comfortable with risk, because they accept it as normal. And whatever is normal is something you can work with. But, at the same time, something I find among a lot of people in my age group, Millennials, versus people 10 years older, is that we think and talk a lot more about retirement and savings – making sure we're building our long-term safety. We don't take them for granted. We didn't grow up in a time when you assumed it would be there for you. But, in other ways, I think some of us go out of our way to create instability for ourselves.
Matsumoto: It's refreshing to hear the Millennials share their perspective. What I found challenging is, I've been waiting for Millennials to truly emerge. We all look at society from the perspective of our experiences. I'm a child of the '60s, so I grew up in a time of social unrest and change. My generation, Baby Boomers, was very much engaged in the issues our society was facing. I look at our society today and wonder: When is the younger generation going to emerge, in terms of leadership and tackling critical issues? Will it happen? Where will it come from?
The presidential campaign this year, with Bernie Sanders, seems to have activated a number of Millennial participants. But many are also saying, "If he's not the nominee, I'm not going to vote." That seems like disengagement and doesn't necessarily lead to real change. I'm looking for that generation to emerge, assert its role and contribute, because that's what our society needs.
Petranik: What about the Thirty Meter Telescope? Young people led that charge against TMT – at least on social media – but that was not the change most people hoped for.
Matsumoto: What I've gleaned from public opinion polls is the vast majority of people support the telescope. People recognize it as an important economic initiative for the Big Island and the state, and blocking that permitted project has potentially collateral consequences for our state as a place to do business. So I was waiting for, "Where is that counter point?" Because it's not my generation that needs TMT and its jobs, it's the younger generation. We talk about diversifying our economy. Where is the younger generation on that?
Many of my contemporaries don't see what the younger generation's vision is. Where they see our society going. How they're going to help shape that vision, other than broader generalities, with respect to the Internet of Things, and how technology changes everything. You can say all of that, but in what kind of social context? So, I was glad to hear Daniel talk about bringing Hawaiian values and embracing Hawaiian values. But, I don't know that the Millennials I've interacted with necessarily subscribe to all those values.
Ito: To back up to the Thirty Meter Telescope: I was digital media manager of Mana Magazine when the first arrests happened, so I got to be on the Mauna. Eventually, there was no real way you could discuss the issue on social media without suffering retaliation. Nobody wins those social media battles; everyone just looks dumb in the end.
Matsumoto: But isn't that the real risk in asserting your generation's leadership? You look for balance, but how do you achieve balance in the face of such strife, opposition and criticism? It takes courage to assert the counterpoint.
"I look at our society today and wonder: When is the younger generation going to emerge, in terms of leadership and tackling critical issues? Will it happen?"
— Colbert Matsumoto
Executive Chairman of the Board, Island Insurance
Ito: Yes. On social media, you have a lot of "friends," but you only have a core group of real friends who always understand where you're coming from. Everybody else, if they're going to be haters, they're going to be nasty on social media, so you just assume it's lonely on the top. I use Kamehameha as a perfect example, because Kamehameha's name means, "The Lonely One."
Petranik: How do we get to that shared vision that brings us together? Fifty years ago, five or 10 older white guys in the room could come to a consensus about the future of Hawaii. Today, we all agree there should be more people in the room, everyone should be involved, but how do you reach a consensus when you've got many different perspectives?
Nobriga: I work in organizations very much driven by collaboration and the need for consensus. In large organizations, it's hard to just make calls and expect everybody to follow. You have to collaborate and I agree that Millennials have that trait – not necessarily work for you, but work with you. That's an adjustment, especially for older generations, who believe it's more like, "This is what we're going to do and now go." We need to adapt to a different style of decision making and problem solving.
I'm on the borderline between the older and younger generations. My whole career, I've been looking up and dealing with individuals who are much older and always thinking, "How can I make effective change? What approach do I need?" I tried sticking my head down and bulldozing, but it didn't work. Now I'm in a position to navigate change, a position where I can facilitate the younger generation to help us.
I'm always conscious of how to structure the work environment to foster collaboration. At the same time, you have a job to do, your organization has objectives that must be met, and you need a talented workforce to do that. So you look at the different generations, and what they're good at. The Millennials have skills, but the older generation has institutional knowledge, "Been there, done that," and you need to capitalize on both. It's not an easy formula.
Another thing to consider: Colbert and I were talking in the elevator up here about many influences people have, especially in Hawaii: Where did you grow up? Who were your parents? What high school did you go to? There are so many other things that will mold you and the values you have, not necessarily when you were born.
Petranik: Is it easier to unite people in mission-driven organizations?
Nobriga: I think so, because you don't have to manufacture a culture or shared objective. It's obvious, whether it be health care or education or whatever. In for-profit organizations, it's harder to come together, especially with the younger generation. For them, it's not just security and a job, but the way I spend my time has to be rewarding and mean something. Sometimes you have to manufacture that value system in the culture of your organization to keep them engaged. Otherwise, they're back at your desk every three months asking, "What's next?"
Pressler: What brings us together or tears us apart, more than our age or experiences, are the values we share. Then people from all over the world can come together and make decisions. The whole collaborative piece still requires leadership – not everyone is going to agree – but after everyone's had their opportunity to make things better by working together, someone still has to make tough decisions about what else you're going to do and not do. That's values driven and so we try to create organizations of people with the same values. That makes them successful organizations.
Petranik: John, how do you create the values that engage people of all generations in a culture of innovation?
Komeiji: Part of my job at Hawaiian Telcom is to lead an effort to create employee engagement. I've settled on a very simple definition of engagement: "An environment where employees feel they belong." It's about empowering people. That in itself has nothing to do with technology, and I don't deal too much with generational differences. For 30 years, I was a trial lawyer, so I've tried to understand what makes people tick. Yeah, there are differences around the edges, but basically I think people are very much the same.
What we try to do in our program is give people a voice, whatever your generation. One of our core values is to create a situation where you believe you have a meaningful work life. That may be different for each of you, but that often means people want a voice. Not necessarily that their decisions be implemented, but they want assurance that their idea was carefully considered, that somebody heard them and we talked about it.
Let me give you an example: I have a program in my area called, "Try Something New." Every quarter, each business support group that reports to me has to get together as a group and agree to do something different. Try something new. That's the total definition. There are two boundaries: It cannot cost any money, because nobody has money. (general laughter) Secondly, it has to be implementable tomorrow. I tell them in writing that it's OK to fail, as long as we fail fast and fail forward. Learn. All they've got to do is have their business leader send me an email every quarter that says, "We've tried something new." Because there is a fear of failure, I tell them that you need not tell me what you've done. You need not tell me whether it's a failure or not, just tell me that you met as a group, had a discussion and were trying something new.
One group in our warehouse decided that every morning, "We're going to meet for five minutes to talk about what our work day is like." Really easy, right? They talked as a group and found it's very helpful to each of them and now they're really into this idea of trying something new every quarter. Our fleet, our buildings people, our regulatory team, my legal department. Everybody's trying something new, with the idea that we're hitting two things at once: We're hitting innovation but also creating this collaborative, participatory culture.
To me, the issue of vision begins with the tone of our discussion or the lack of safe platforms to have a discussion about vision. It's important that many Native Hawaiians support TMT, but they don't want to make a statement because they're going to get blasted on social media. You're going to get hammered if you say, "I support TMT" or if you say, "I don't support it." That hammering is happening across the country. That worries me more than the vision itself.
Petranik: Kawika, is it possible for Hawaii to have a shared vision that will move us forward? Hawaiians have been criticized in the past: "They can't agree even among themselves," but white people can't agree among themselves, no group can agree among themselves, so how can all the groups in Hawaii agree on a shared vision?
Riley: For that to occur, we need more leaders willing to lay out their visions. We have a structure of leadership that is conducive to the Millennial style and works for Hawaii: facilitator/convener-style leadership. A leader who brings people together and then says, "You guys figure it out. My job is to get you in the room." That's terrific, but sometimes that does not solve the real wicked problems we face as Hawaii, especially when the problems come from factors outside Hawaii's control. Things like our cost of living crisis, especially the cost of housing, changes in Hawaii's culture, our inability to control who comes and who leaves, all of those things. We need leadership that's flexible and has range, and can go from a facilitator/convener style to saying, "I'm not telling you this has to be it, but I believe this is the best vision. Here's what it looks like and here's why."
"I constantly tell people, '(Millennials are) not afraid to work, we just want to work in a smart way.' We recognize time is limited and resources are scarce."
— Nicole Velasco
Executive Director, Office of Economic Development, City & County of Honolulu
We've mentioned the Thirty Meter Telescope: I've gone up the mountain and talked to the individuals who've placed their bodies there in defiance of the plans for the telescope. People from different generations, from late teens to retirees. My experience has been that, for the core of the group driving this, the issue is how sacredness is defined. It's competing definitions of sacred. The younger generation among them, the ones using social media, have propelled that mission, that vision and made it stick among a critical mass of Native Hawaiians. It turned into a proxy for the question of whether justice is being done for Hawaiians in Hawaii. When that becomes the question, it gets into a space that can be visceral, a space that can bring a lot of Hawaiians who would not put themselves out there, who've never been to the mountain.
My family has a tradition to go to a specific space on the mountain to plant our piko, umbilical cords, and I've gone there for that purpose. Many people feel passionately about the development on the mountain, either not being done the right way or that it shouldn't be done any more than it already has. But it's not necessarily because of their personal experience with the mountain, it's because of their sense of whether or not justice is being done for the Native Hawaiian people. And it's hard to get to an answer that works for everybody.
We, the Hawaiian community, don't have a defined, legitimate government structure of our own. We have a number of Hawaiian-serving institutions, but ever since the change was made with OHA in 2000, when it was no longer Native Hawaiians who were electing the trustees, we haven't had a body of our own that is driven by and of Native Hawaiians. I think that has a lot to do with why passionate, educated Native Hawaiians, who both feel voiceless and who, I think to a lot of people outside of the community, have the volume turned all the way up. It's because, in the absence of having what we think is fair and in the absence of having a legitimate decision-making structure, we're trying to figure out our own stuff. What do we do? Where do we go? How do we create change? How do we protect what we define as sacred?
Matsumoto: How do you balance that, though, against the exodus of young Native Hawaiians from Hawaii, because they don't feel they have the right job opportunities or the ability to live a decent life here because of the cost of living? That's why one of the challenges I see with a lot of these issues our young people rally around is that, other than the immediate issue itself, is there a bigger perspective on the implications for our community. So when you talk about vision, one area where Millennials are providing that vision for our state is what Representative Chris Lee has done at the Legislature, by advocating for 100 percent renewable energy by 2045. It's a very bold and aggressive public-policy goal to basically put into law, and it has huge implications for our community and our society.
It's great that young people are leading that charge, because that is vision about what kind of society they want. But have you thought out all the other economic and societal implications of that decision? How is your generation going to deal with that? Because, as we grapple with homelessness, affordable housing, job opportunities, diversifying our economy, how do you accommodate all of that in the context of the huge cost associated with realizing that energy goal? That's what I'm looking for: That vision and leadership from the next generation, because it's going to be your society that you're living in.
Nobriga: The first thing you brought up, which I get passionate about, is jobs. Jobs for the Native Hawaiians and other people who have left Hawaii, because they can't get well-paying jobs to provide for their families and make good decisions. It impacts their health and much more. I grew up here and went away to college, wondering, "Do I come back?" A lot of my friends did not come back, so I've always tried to do what I can to give local people a good shot at those jobs. There are a lot of well-paying jobs in healthcare alone, and there will more, but we import so many of the people to do those jobs. So a smarter investment in education and workforce development is absolutely critical. When local people get high-paying jobs, the benefits are multifold: They can take care of their families and it trickles through the rest of their communities, especially less affluent communities.
James: I think it's not just about helping more local people get those few jobs that pay well. It's about job creation. That means looking at startups, technology, innovation and creating those jobs. Jobs people actually want. I get hit up every December, literally back-to-back coffees with people who are here for the holidays visiting family and want to talk to me about opportunities in Hawaii. They want to move home, but they don't know how. It shouldn't be, "I had to take this job to move home." It should be, "I got this amazing job and I also get to move home." That's one of the biggest reasons I do what I do.
It's kind of selfish: I want more smart people doing amazing things in Hawaii who I can hang out with socially or be doing great work with. The governor said, "You guys have two years. My son is graduating with an engineering degree in two years, and I want him to have opportunities to move home." You look at your kids, your grandkids and it becomes very personal. It's not just about making the kind of money that allows you to live a decent life here, but to have a job you want, that you're passionate about. It's not just startups.
Look inside corporations: How can you almost disrupt yourself? It's not just about having innovation in your mission statement. It's not about hiring an innovation manager, who's supposed to somehow miraculously make the whole company innovative. It must come from the top, creating a culture that promotes creativity. The C-level execs and all management must have that mindset: think outside the box, have risk tolerance and trust, trust because it may fail, but it may be the next great idea and we're willing to invest in that. We give people opportunities to problem solve. It's turning corporations slightly different, where you can be intrapreneurial within your company and feel excited about coming to work, that you can make a difference.
It's also about creating paid internships. Too often, young people have to work at Cinnabon or wherever, because it was pays $8 an hour and the internship at the super awesome robotics company didn't pay because they have no money and are barely paying themselves. It's about giving kids paid internships in high school and college. Opportunities to work with entrepreneurs and get paid, even if it's just a little, because that can make the biggest difference when you're younger.
Riley: Before I came home, I worked in Washington, D.C., for almost nine years. I did the usual thing, internships, glorified internships that paid and making my way up the ladder. When I got the opportunity to reopen and run the Office of Hawaiian Affairs office in Washington, D.C., one thing I wanted to work on was a public-service pipeline for Native Hawaiians. I'd seen that for so many other groups, African Americans, Hispanics, Asian Americans, but also much smaller, even regional populations. They all had a presence in Washington, with staff and resources dedicated to translating to their populations: "What are the public service opportunities? How do they help my community? How do I navigate that?"
We had our first and only Hawaii-born president in the White House, yet we didn't have a single presidential appointee who was Native Hawaiian at the time. That's not because President Obama has something against Hawaii or Native Hawaiians, it's because other communities had resources, intent and deliberate action helping their folks compete on a level playing field with everybody else. By not having that, as lahui, as Native Hawaiians, we actually were not competing on a level playing field. Now, we at OHA work on that Native Hawaiian public-service pipeline, promoting internships, fellowships, career opportunities for Hawaiians. Our pitch is not just, "Have a good job and have it in Hawaii." But, "Do something meaningful for what matters to you, wherever you happen to be." Because we're moving closer to a time when it's projected that the majority of Native Hawaiians will live in the other 49 states.
"People (at work) want a voice. Not necessarily that their decisions be implemented, but they want assurance that their idea was carefully considered, that somebody heard them and we talked about it."
— John Komeiji
Chief Administrative Officer and General Counsel, Hawaiian Telcom
Komeiji: That leads to a question I was going to ask: In my generation, I believe I always had to prove my skills to people in the Mainland. I firmly believe people in Hawaii can compete in every profession, at the highest level. But you talk to local engineers, accountants and they say people from the outside don't believe we have the skills or capacity to compete. A lot of professionals my age tell me, "Yeah, I'm an engineer and the first three meetings with these guys, you have to prove you do more than just sit under a coconut tree." The question I have for Millennials: With the bigger world you face, do you feel there's more acceptance outside of Hawaii for your skills?
Velasco: Even going back to Governor Burns, he identified this layer of subtle inferiority that pervades the state and still exists to some degree. But that perspective has changed a lot for our generation. We have to shed the thinking that it can't be done here, because it's increasingly clear it can be. The challenge is figuring out how. I met some Belgian developers who were here for an app challenge and I said, "You guys think of maybe coming here and developing here?" They said, "We are now."
I have found a far greater reception to coming from Hawaii than it being a detriment. There is still that slight barrier and I think it's a variety of different things, so it's important to build the vision collectively to solidify what we're doing and why we're doing it. And then doing it. That's the one thing I always struggle with in government work. At some point, just do it. I have big issues with civil service law – we definitely do not hire slow and fire fast – so we find ourselves in this continuum of the same. I think that can be a frustrating environment for Millennials.
Ho: What would enable that? To get it done?
Velasco: Guts. And being able to take the responsibility that, "If this hits the fan, I'm OK with that." In Hawaii, we honk to say hello. In New York, it's more like, "I want this piece of paper to make me a sandwich and it's going to make me a sandwich." Whatever it took, you did it. I graduated college in 2008 as both of my parents lost their jobs as Aloha Airlines went under. I had to hustle in New York. I was held accountable for whatever life decisions I made. It came down to, "How are you going to make it work?" I think that's what we're all doing now: Trying to figure out how to make it work.
The challenge for Hawaii is acceptance of that failure environment, to reimagine what failure means here. For my parents and their generation, failure was not an option. You didn't want to fail and iteration was not ideal. But now it has to be in order to come up with the ideas that synergize all these different parts of who we are, what we do and how we do it. We need to really solidify that and it takes guts. It means going out in front, and the challenge we have is, "How do we support the person or people who are going out front?" Because I watch it happen all the time on different things: Trying to push forward, you have every possible obstacle against you and, at some point, that person gets tired. So, before we ask our friends to come home, how do we reimagine it for ourselves here? Do we have everything here in place?
"What brings us together or tears us apart, more than our age or experiences, is the values we share. Then people from all over the world can come together and make decisions."
— Virginia Pressler
Director of the State Department of Health
There are so many articles about Hawaii's brain drain. I could have been one of them because I love New York. So why do you come back? In 1959, we really knew the "Why," there seemed to be a collective "Why." Groups of people were getting together consistently to discuss what that future should look like, not leaving it to three guys at UH to come up with a futuristic report for 2050.
We are having those conversations again. We've talked about how to get people together, not just from one generation, because we need all perspectives. We need the young guns who are building apps in seventh grade, and we need the ones who have seen this place from a very early point till now.
But we have to just decide we're going to do it. That can be very difficult because it's lonely to say, "TMT could be a very valuable thing." Was the story told the right way? No. But, at the same time, why don't we do what we do best? Hooponopono. Hell of a story, recreate the narrative, find out what matters. For Millennials, we will not be included if we are those people who don't show up because Bernie's not on the ballot.
Petranik: How do we get those conversations going?
James: I think this discussion is one of them.
Velasco: I've always thought of having a group called, "The Summit." Not specifically because of Mauna Kea, but with the idea that you've got to start somewhere and you can only get to the top by going in one direction with each other. You make time for it. I know everyone here is extremely busy, but you made time for this discussion. The values we have and the culture we have in Hawaii compels us to make time. I told the mayor I couldn't go to his meeting because I was coming here. So it's doing that and doing it consistently.
Komeiji: When Colbert and I were your age, we used to convene a group of all different types of people, to talk about these issues once every three or four months. We had really smart people in that room. The problem is we didn't know where to take it. After a little while, you just talk, and people get tired and say, "I don't need to come."
Ho: That's my concern. There are so many things for us to be proud of in our culture, but I think one thing we should recognize: We are a culture of obstructionists. Hawaii, as a society, is world class in passive aggressiveness. This is a great discussion, and the discussion has been had many times before. The question is how do we get past the hurdles? The Why is, "Because we want good jobs to go to local people" and "We want people to have great jobs in Hawaii," but it's even more fundamental. The economic drivers we lived on for a long time are maturing and maturing is another way to say "petering out." Not likely in my generation, but certainly in your generations, that's going to be a real social-economic issue. So how do we help the younger generation?
"Look inside corporations: How can you almost disrupt yourself? It's not just about having innovation in your mission statement. It's not about hiring an innovation manager, who's supposed to somehow miraculously make the whole company innovative. It must come from the top, creating a culture that promotes creativity."
— Melialani James
President, Hawaii Venture Capital Association, and Head of New Ventures, Sultan Ventures
The question Colbert's been asking several times today, "When is the younger generation going to step forward and make that transition?" We've talked about it a lot. 1959 was a very optimistic period and its kind of gone down like this since (indicates a slow but steady decline). We need a trajectory up. We need to change things meaningfully to have a sustainable path to get where we all would like to go. So I'm interested in the guts and what it takes to get the guts. That's the real issue.
Pressler: Social media has its role, and I recognize the state and companies need social media to connect, but, to me, it's much more negative than positive. Instead, solving problems is all about personal relationships. Any time we've got an issue, it's, "Who needs to be at the table?" Getting the right people together, you can make the right decision. Otherwise, you just flail around and nothing gets done. But, if you get the right people together around an issue, you can make decisions and move on.
Ito: You can use social media that create those personal relationships. That's how I made a connection with Nicole.
Pressler: But you're talking about a one on one, not a broadcast to the world.
Ito: But if you need to send out a message, it is very efficient to use social media, if you have the right network and it's coming from the right ambassador. If it's somebody who is authentic and credible in the community, that message is powerful.
James: Hawaii has the second biggest brand in the world, behind Coca-Cola. In our industry, we are doing this shift: It's not a bad thing that startups are in Hawaii, it's actually an amazing thing, because you can be an evolved entrepreneur. Millennials want a work/life balance and you can have that in Hawaii. You are no longer sitting in a cave, coding, eating Funyuns, drinking Mountain Dew and being a total weirdo. You can go dawn patrol in the morning and start coding by mid-morning. That's really enticing to Millennials. And that's something really important as Hawaii becomes the leading force it can be. Hawaii is soon going to be seen as a strength.
Peter, I loved your question: Where is the next generation of leadership and what will it look like? I wanted to ask what that looked like for you?
Ho: I came home because I was afraid that if I stayed longer on the Mainland, I would never come home. I love New York. It was exciting and you could make the piece of paper make you a sandwich, if that's what you wanted. I came home in the '90s and started my career here at a lousy time in Hawaii. The economy was terrible and we had a lot of task forces and things – I was below the radar at that point – but nothing really got done. Then a lot of my peers, my age group, got busy doing other things. We always wanted to help push Hawaii in the next direction, but, frankly, we haven't done that.
I come back to the darker sides of our culture and community. It is a small place and it's a hard place to say no to people. It's a hard place to say, "That's not the right idea." That is a beautiful thing, but it also can be deadly. One thing I see in the Millennial generation is this gift of collaboration that doesn't exist in Generation X and, I don't think, in the Baby Boomer generation. If you harness that and, since you are young, agitate for change, that would be a great thing. Without some tilt, this place will have a hard time making ends meet. We may be getting to a critical mass under a call to arms so a group of people can succeed. I still struggle with figuring out, "Who could that be?" because I don't think it's going to be government. I think it's got to be more a community thing and it might as well be you folks.
Riley: About the power of Hawaii's brand: There's a saying that the true enemy of the truth is not the lie, it's the myth. I remember trying to bring federal decision-makers in Washington to Hawaii to see firsthand what our issues were, because, otherwise, the myth left us misunderstood. That's because the power of this Hawaii brand leaves people thinking it's not really poverty if it's in Hawaii, cancer is not cancer if it's in Hawaii. Our problems are not so bad because we live here, and if you don't like the cost of living, you should go elsewhere. That's your choice. We're not going to kill the myth overnight, but if we strategically harness the myth and use it to improve our conditions, that's great.
Peter mentioned 1959. At the time of statehood, we had somewhere upwards of a 90 percent voter turnout and, now, it's dismal (93.6 percent in 1959; 52.3 percent in 2014). We're missing that culture of civic engagement. There are times when we have that in the Hawaiian community, rallying around malama aina issues, but it often stops at "slacktivism," where we go on social media, make the comment, like the thing, send in testimony and that's it. We caucus for Bernie Sanders, but, if that doesn't work out, we go back to disengagement. We need that culture of civic engagement. If we have that, then a lot of the things we are talking about, like social media, become forces for finding the right solutions. To fail forward, then move forward and come up with the right answers.
Matsumoto: The Millennial generation has a tangible opportunity to have an impact on our society. This 100-percent renewable-energy initiative has tremendous economic implications and opportunities for our state. But my generation cannot envision that. It's going to take Millennials to envision this new reality. What is that new paradigm for Hawaii? Now is the time for them to put flesh around the bones of that vision. It's a tremendous opportunity, but it lacks broad-based leadership.
Ito: I love what Colbert said, because that gives the Millennial generation a kuleana, a responsibility, and that's one of the first times I ever heard it come from somebody so well respected, an older person who wasn't Native Hawaiian telling me, "This is what you've got to do as a Hawaiian." Even more, "This is what you do as a citizen of Hawaii." An awesome next step would be to create a space so Baby Boomers, Gen Xers and Millennials can talk about what the kuleana is. Bounce ideas off the older generation: "Did you guys try this before? You did? What if we readapted it this way?" A safe space to throw out ideas; some will fall off the wall but some will stick.
Pressler: We need to emphasize the values, too. It's about respect: respecting Native Hawaiians, respecting differences in opinion.
Velasco: The other thing, if and when flesh gets put to the bones, is accessibility to decision-makers, if we are not already in a position to make decisions. I agree with Peter: Government is not the answer; in fact, for me, part of our problem is government. Some leaders get it, some don't. A lot of people forget that, first and foremost, it's a job. It's not an office in the Capital, it's a job. So, we need a shift in leadership in a variety of areas. Then we need access to that leadership, to have a two-way dialogue to bounce ideas off institutional knowledge, to refine them, but also to see action. That's why people disengage, because they feel, "What's the point?" You can't expect people to show up if it doesn't matter, whether it's a protest or to clean a beach.