A Hawai'i Quirk: You Own the Home But Not the Land
About 1 in 8 condos for sale on O'ahu are leasehold. Many, including some prestigious properties, are declining in value as the end of their land leases near.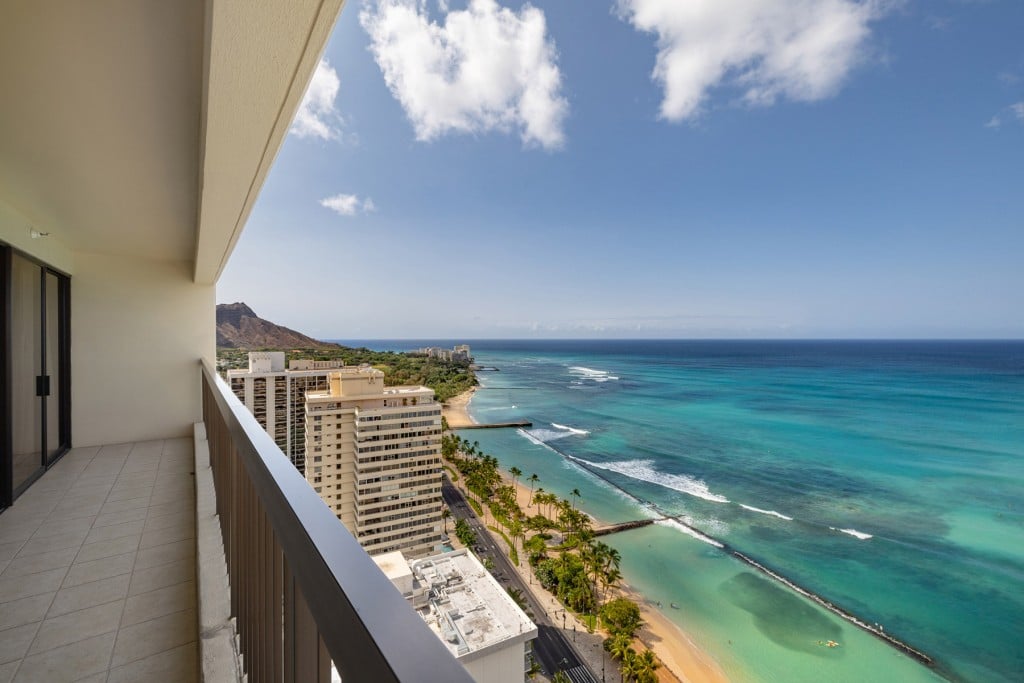 At first glance, a three-bedroom luxury condominium directly on Honolulu's tiny Kāhala Beach for $550,000 seems like the deal of the century.
But the for-sale listing clearly spelled out just why this 2,700-square-foot jewel in one of Hawaiʻi's priciest neighborhoods was priced so low: "PLEASE NOTE this is a LEASEHOLD condo which you must surrender in July 2027."
Hawaiʻi is one of the few places in the nation where a homebuyer can purchase a leasehold property – a property that is split so one entity owns the land and leases it to another entity that owns the building, whether it is a single-family home or a condo building. Residential leasehold is available in a few locations on the mainland, such as Palm Springs, California, and in New York and Florida.
Leasehold today is merely a remnant of a once dominant form of Hawai'i homeownership, especially on Oʻahu. There's a good reason most homebuyers stay away: Leased land adds extra costs in the form of lease rent and it's difficult, if not impossible, to get financing so most deals are cash transactions.
Then there is the risk. When a lease expires, the landowner has the right to take the property back, house or condo included, and the homeowner is left with nothing — the equity in the home returns to the landowner, along with the key.
About 130 Active Listings
Today, few single-family homes are offered as leasehold. The vast majority are on Hawaiian Home Lands, and buyers must qualify under Department of Hawaiian Home Lands rules.
But many hundreds of leasehold condo units still exist, mostly in Honolulu and the bulk of those in Waikīkī, although those numbers have declined as well.
According to the Honolulu Board of Realtors' Multiple Listing Service, there were about 130 active listings for leasehold condos in mid-February, about 12% of the nearly 1,100 condos for sale on O'ahu. They range from a 300-square-foot studio in a four-story walk-up near UH Mānoa listed for $40,000, to a two-bedroom, two-bath luxury condo with sweeping ocean views from the 33rd floor of the Waikiki Beach Tower listed for $999,999.
"It's just a jewel for the price," says Realtor Miki Kanda of Coldwell Banker Realty, who represents the seller of the Waikiki Beach Tower condo.
In addition to the purchase price, the buyer would have to pay nearly $6,000 per month in lease rent, maintenance fees and property tax. But that's in a building where short-term vacation rentals are permitted and well-placed units can fetch $10,000 to $15,000 a month, she says.
The Kāhala condo is one of 196 units in four buildings that make up the Kahala Beach Apartments, which was completed in 1967 on 6.68 beachfront acres between Waialae Country Club and The Kahala Hotel & Resort.
The land is owned by Kamehameha Schools. The 60-year lease on the land expires on July 15, 2027; a spokesman for the trust says the property will then return to the Kamehameha Schools portfolio.
"The Kahala Beach Apartments are significant to our commercial real estate portfolio because of its history, location and community interest," the trust says in a statement. "As stewards of 'Āina Pauahi, we continuously evaluate our portfolio to serve our mission. The property will return to KS in July 2027 at the expiration of the lease. Meanwhile, KS has begun collaborating with the Kahala Beach Association Owners board of directors on the transition."
Kamehameha Schools also owns the 6.5 acres beneath the hotel next door – the building itself is owned by Resorttrust, a Japan-based company – plus the 4.3 acres beneath the country club's clubhouse and tennis courts on the other side of the condo complex, and the 145-acre Wai'alae golf course that hosts the PGA Tour's Sony Open each year.
History of Leasehold
To understand how Hawaiʻi land became leasehold, one must go back to the Great Mahele of 1848, when King Kamehameha III divided land on the Islands and gave nearly all the royal lands to members of the royal family, the government and a few aliʻi, or chiefs.
Kamehameha Schools was created by the estate of Bernice Pauahi Bishop, the great-granddaughter of Kamehameha I. When she died in 1884, her estate included 375,500 acres, and her will established Kamehameha Schools, with campuses today on Oʻahu, Maui and Hawaiʻi Island.
While other family trusts have owned large tracts of land, Bishop Estate/Kamehameha Schools was and still is the largest private landowner in Hawaiʻi.
Most of Oʻahu's housing stock, including leasehold, was developed after 1950 during the post-World War II expansion of Hawaiʻi's economy that included statehood in 1959 and the advent of modern tourism.
In 1950, there were fewer than 2,000 leasehold homes, but by 1978, 1 of every 3 owner-occupied single family homes on Oʻahu was on leased land, a total of 26,000 homes.
Because most leases had a clause that called for renegotiation of rents in 25 or 30 years, the state Legislature passed a law in 1975 governing lease renegotiation.
Around this time, large-scale lease-to-fee conversions began, starting with the Pflueger-Cassiday Estate's lease-to-fee conversions for homeowners in Niu Valley.
By that time, Bishop Estate had 14,000 leasehold lots on Oʻahu, including in Kāhala, Hawai'i Kai and Kailua, and held the leased fee in another 13,000 condo and apartment units.
The drumbeat for lease-to-fee conversion culminated in a 1984 U.S. Supreme Court decision that held the state could use eminent domain to force landowners to offer fee simple land ownership to leasehold tenants. Over the next 20 years, many single-family homeowners were able to purchase the land beneath their houses.
But condos weren't part of that, which is why there are still hundreds of units in the inventory – over the last year alone, 445 leasehold condos traded hands.
Many With Declining Values
Leasehold condos come with unique issues. First, the lease rent can change every 10 to 20 years, depending on the terms of the lease. Then there are property values, which change in relation to the terms of the lease: As the lease gets closer to expiration, values of individual condo units often decline, as buyers are unable to get conventional 30-year mortgage loans.
At the Admiral Thomas Apartments, the tower across Victoria Street from the Honolulu Museum of Art, prices started to decline a few years ago when the lease period dipped below the 30-year threshold. Its owners include Honolulu Mayor Rick Blangiardi.
The most recent sale at the 34-story building was a one-bedroom, one-bath unit that closed for $185,000 in August; the seller bought it for $398,000 in 2008, according to tax records.
"The values of the units have depreciated since we went under 30 years on our lease," says Bill Gaeth, the current president of the Admiral Thomas association of apartment owners. "Which is too bad, because five years prior to that, the valuations were with the fee simple market."
The lease with the First United Methodist Church next door, which owns the land, expires in 2046, and the rent renegotiation is due in 2026, according to Gaeth, who bought his unit 15 years ago after renting another unit in the building since 1980, when the building was new. He says the church has not offered the land to apartment owners.
"Fifteen years ago, there was not a perception that leasehold was something to avoid," Gaeth says. "The Admiral Thomas still remains a quality building, in a great location."
Some Willing to Buy
A condo in an upscale building in a great location still draws buyers: owner-occupants, second-home owners and investors who can make a leasehold condo pencil out, especially in buildings that allow short-term vacation rentals.
Kanda, the Realtor, says the Kahala Beach condo that sold for $550,000 was a good deal for a buyer who wants to be close to the beach. At one time, condos there could sell for $2 million or more, but values have declined as the end of the lease nears.
Kanda says a back-of-the-napkin calculation puts monthly costs – including lease rent, maintenance fee, property tax and purchase price – for that unit at around $16,000.
"It is a really good price … it's much cheaper than rent," she says. "You can't get a rental property for $15,000 a month for that size. And single-family homes on the oceanfront go for $15,000 to $20,000, easily."
To buy a similar oceanfront property fee simple, which means the buyer owns the condo or house and the land beneath it, prices start at $4 million and can go way past $10 million. The three current oceanfront listings along Kāhala Avenue are priced from $19 million to $23 million.
"So when you divide it into so many years, this is really cheap," Kanda says.
Other units in the complex that don't face the ocean have sold for much less. A two-bedroom, two-bath unit off the beach closed for $85,000 in December, and last year another unit with a garden view sold for just $21,901, but with monthly costs of about $4,000.
A Return to Leasehold?
Some see leasehold homes as a solution to Hawai'i's affordable housing shortage. With the median price of a single-family home now topping $1 million and the median for a condo around $500,000, the idea of separating land costs from building costs looks attractive to some lawmakers.
State Sen. Stanley Chang, chair of the Senate Committee on Housing, this year introduced four bills that would create an ALOHA Homes development of leasehold homes on state lands. The name is an acronym for "affordable, locally owned homes for all." Similar bills introduced during last year's session failed to pass.
Chang based his proposal on land tenure in Singapore, noting Hawai'i's similarities to the city-state in Southeast Asia. In Singapore, most housing is built on government-owned land with 99-year leases.
Chang posits that Hawaiʻi could offer 99-year leases on state-owned land for the construction of tens of thousands of residential for-sale units. The amount of available land was reduced in this year's legislation by eliminating for consideration ceded lands, former crown lands that were ceded to the Territory of Hawaiʻi or the state.
The measures specifically identify state-owned lands along the route of the Honolulu rail project for the construction of these for-sale units. Lease rent in these areas would be a "nominal amount," says Chang.
"This is primarily a high-density model development," Chang says. "And the state is the largest landowner along the rail line, so there are many potential parcels that the state could choose to develop."
Chang says that if the proposal passes, new homes could be built on state-owned lands in as soon as five years.
Study Calls Proposal Infeasible
But a study prepared for the Hawaii Housing Finance & Development Corp. by the Hawaiʻi Appleseed Center for Law & Economic Justice and the Hawaiʻi Budget & Policy Center says the proposal, as written, isn't feasible.
The study, which was first published in February 2021 and updated in September, notes it's not possible to replicate the Singapore model in Hawaiʻi because of the differences in government structure — Singapore's national government has greater control over land use and citizens have limited say in what gets developed, unlike in the U.S. Singapore also has lower construction and labor costs and significant subsidies for low-income buyers.
Those aren't the only reasons the program would be infeasible, according to the study. Another is the high cost per unit. For example, the study says, building 150 units with two bedrooms and two baths would run $62.6 million, or about $422,000 per unit, far higher than the $300,000 envisioned in the bill.
The mandated density of 250 homes per acre, a lack of state subsidies for low- and mid-income buyers and a lack of a renewal option on a 99-year lease also make it infeasible to enact such a program in Hawaiʻi, the report says.
The study concludes that even though the ALOHA Homes proposal is not feasible as written, the concept could be implemented on a smaller scale as part of a larger affordable housing strategy.
The overall proposal doesn't have the backing of the Hawaii Housing Finance & Development Corp., the state agency that would be charged with implementing it, primarily for the reasons spelled out in the study, according to written testimony from HHFDC Executive Director Denise Iseri-Matsubara.
"There were overall concerns not only with the feasibility of the model, but also the practicality of implementing such a program as a whole," she wrote. "However, there are elements of the model that could be beneficial in moving affordable housing forward. Government housing agencies need a wide range of tools to facilitate increased production of affordable housing."