Little Fire Ant Could Take Big Bite Out of Hawaii Island Economy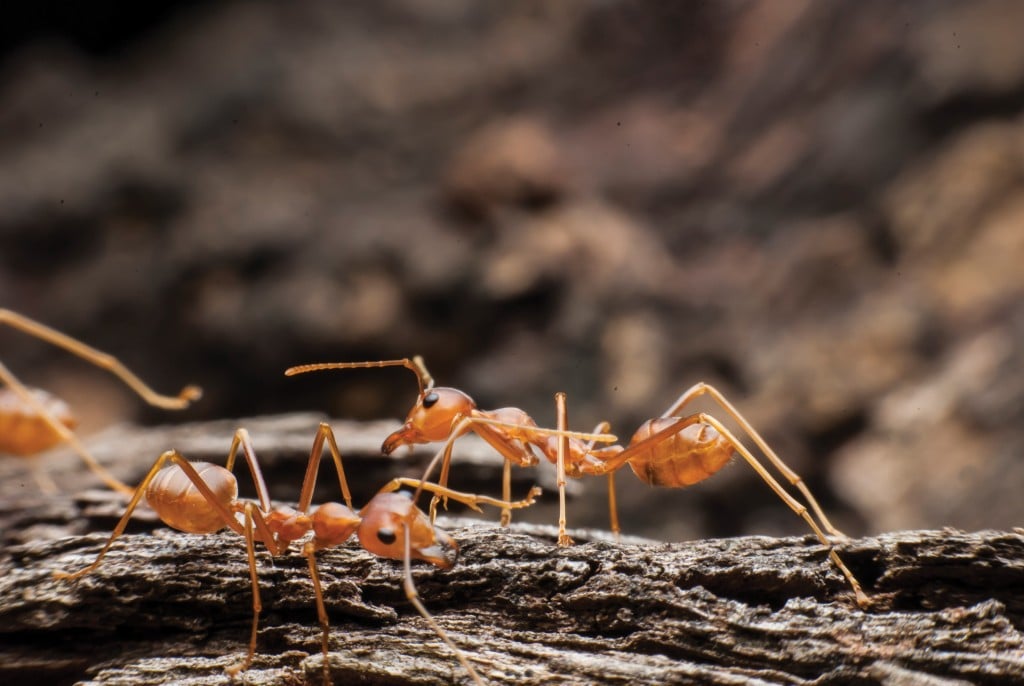 As far as invasive species go, the little fire ant is considered one of the world's worst.
Its burning sting causes a painful, long-lasting and itchy rash in humans; can interfere with nesting and endanger the young of native species; and causes blindness in pets who can't brush the biting ants off their faces. And, unlike other ant species that nest only in the ground, little fire ants will nest in trees and bushes, dropping onto people who happen to brush by.
What's the price tag for all that suffering? It could be more than $6 billion over the next 35 years for Hawaii Island alone if the spread of the little fire ant is left unchecked, according to a recent study.
Researchers with the UH College of Tropical Agriculture and Human Resources created mathematical models to forecast the spread of little fire ants across Hawaii Island, then added data about the pest's impacts on agriculture, tourism and other industries, as well as what people were spending to keep it under control.
What they found was sobering: a predicted $140 million in economic losses and $1.2 billion in treatment and control costs over the next 10 years if current management practices are continued. And if that's not enough of an "ouch," their model also predicted 390 million human stings and 107 million pet stings over the same period.
But aggressively increasing control efforts could pay off big time. The study found that spending $8 million on little fire ant removal over the next three years would take a significant bite out of the pest's populations. Under this model, 10-year costs would only total $11 million in economic damages and $15 million for mitigation, with just 76 million human stings and 5 million pet stings.
Over 35 years, the Hawaii Island could save $5.5 billion in control costs and $538 million in economic losses by increasing eradication efforts now, along with preventing 2.2 billion human stings and 762 million pet stings.
"The sooner you act, the less expensive it is, and the longer you wait, the more expensive it is."

– Joshua Atwood, Hawaii Invasive Species Council
Other long-term benefits would include protecting endangered species and native wildlife, and reducing the risk of further spread to the other Hawaiian Islands, the researchers note.
While attempting to eradicate all little fire ant colonies would be too costly, "increased management effort is economically warranted," according to the study.
Donna J. Lee, a senior research economist with the Natural Resource and Economic Management Department at CTAHR, and the lead author of the study, says little fire ants can hurt businesses in a variety of ways. The ants collect and "farm" aphids, their main food source, so an agriculturual infestation can also increase the number of aphids on crops, resulting in lower productivity or requiring the use of more pesticides. They can also interfere with harvesting and other agricultural activities, with several farmers reporting that workers walked off the job rather than face the stinging ants.
Nursery owners might find themselves unable to sell infested plants.
But Lee noted that the biggest cost would be the expense of treating crops, homes, parks, golf courses and hotels to keep the ants under control.
"It's not that people are just going to let themselves get inundated with ants," she says. "Everybody is going to start buying the bait and treating them. The ants will go away for a little while, but if they're on your neighbor's property, they're just going to keep coming back."
Little fire ants were first detected at 13 locations on Hawaii Island in 1999. Early containment likely slowed the spread, but, within three years the ants were found at 21 locations, and today they're believed to be established in 4,000 locations, with active infestations along the island's eastern coast from Kalapana to Laupahoehoe up to an elevation of 2,000 feet, and scattered populations in Kailua-Kona, South Kona and Kau, according to the study. Ants have also been detected on Maui, Oahu and Kauai, although eradication efforts have helped to keep them contained and under control.
Current state funding for little fire ant response includes $239,177 for the Hawaii Ant Lab at UH; $175,000 to Hawaii County for control measures; $158,000 for the development of a little fire ant detector dog program; $30,000 to the Ant Lab for research into little fire ant control; and $18,217 for public education and outreach.
But Joshua Atwood, program supervisor for the Hawaii Invasive Species Council, says "a lot more investment" is needed to prevent the kinds of economic, health and environmental impacts outlined in the study.
"This is something we need to be proactive about," he says. "The sooner you act, the less expensive it is, and the longer you wait, the more expensive it is."
Lee says her group singled out the little fire ant for study because it had the potential to cause so many problems in Hawaii and, while its relatively recent arrival meant it still had the potential to be controlled, it wasn't yet receiving enough funding to prevent the spread.
She said cases on Oahu and Maui showed that investing in eradication early could be effective in controlling the pest, but that the effort would need significant, sustained funding over several years to make sure the ant population remains suppressed.
"Some people say this isn't a big deal because we've had ants before, but this is a different ant – and a particularly bad one," she says. "If they treat the ant before it spreads, it's going to save the state a whole lot of money in the long run."
---
Learn More
The study appears in the March issue of the journal Ecological Economics. Read the abstract or buy a copy of the full report at tinyurl.com/q2fnwrp
Research was funded by a $151,775 grant from the USDA's Tropical and Subtropical Agriculture Research Program.