Living Art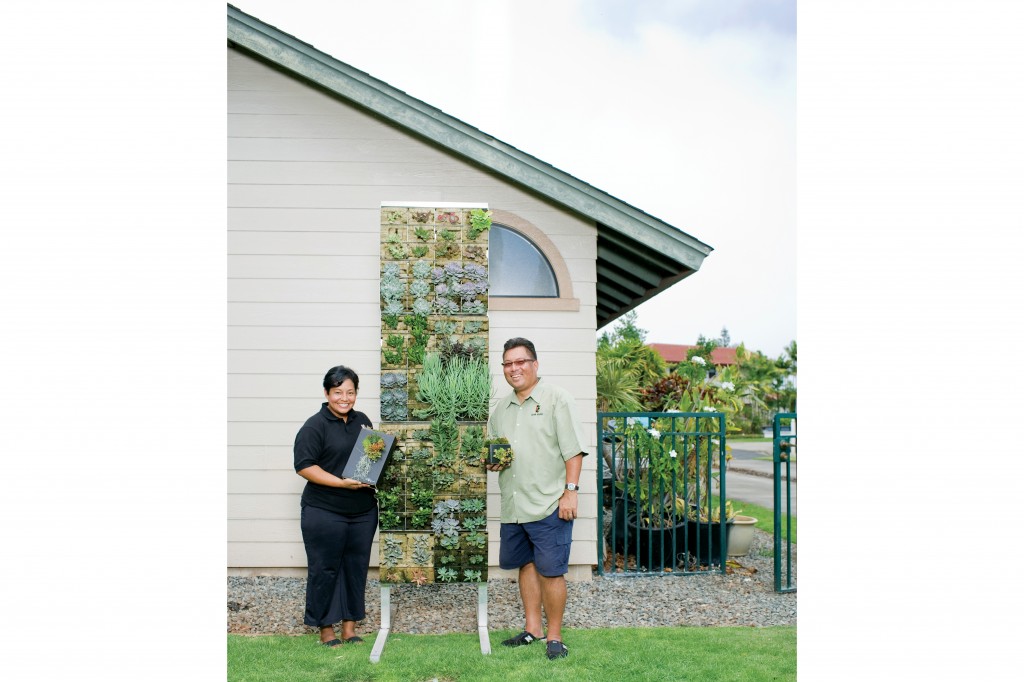 Greg Lee, CEO of 1st Look Exteriors, combined his two greatest passions — plants and art — to create a niche business that's so unique he's the only licensed contractor of his kind in the state. 1st Look Exteriors designs and installs living walls, stunning vertical murals of tropical plants for indoors or outdoors. Response has been so positive that Lee and his crew recently created scaled-down versions called living vases intended for home or office countertops.
All of the plants are grown at Lee's 6-acre nursery in Punaluu on Windward Oahu. The roof of his Waipio showroom serves a second purpose: It's a garden. "Whatever plants we're going to use right away for our living walls or vases, we grow right outside on our green roof," Lee says. To reduce waste, all leftover plant clippings from living wall projects are used to create living vases.
Besides their aesthetics, exterior living walls help cool buildings and provide insulation. Some designs are self-sustaining and use rainwater catchment systems. Living walls use drought-resistant plants suitable for Hawaii's climate, Lee says, so they are easy to care for.
1st Look Exteriors' patent-pending living vases are currently sold at Whole Foods at Kahala Mall and in select stores in California. Currently, 70 percent of the company's business is local and 30 percent from the Mainland. Lee expects that ratio will be closer to 50/50 in coming years. "We've received so much interest and positive feedback from the design shows in Los Angeles, San Francisco and New York City," he says.
1st Look Exteriors is also working on edible living walls for Hawaii chefs that will include ingredients such as oregano, Chinese parsley, shiso, okra and Thai basil.
1st Look Exteriors
94-422 Ukee St., #3, Waipahu
676-8988
1stlookexteriors.com