LocalKineBiz: Activewear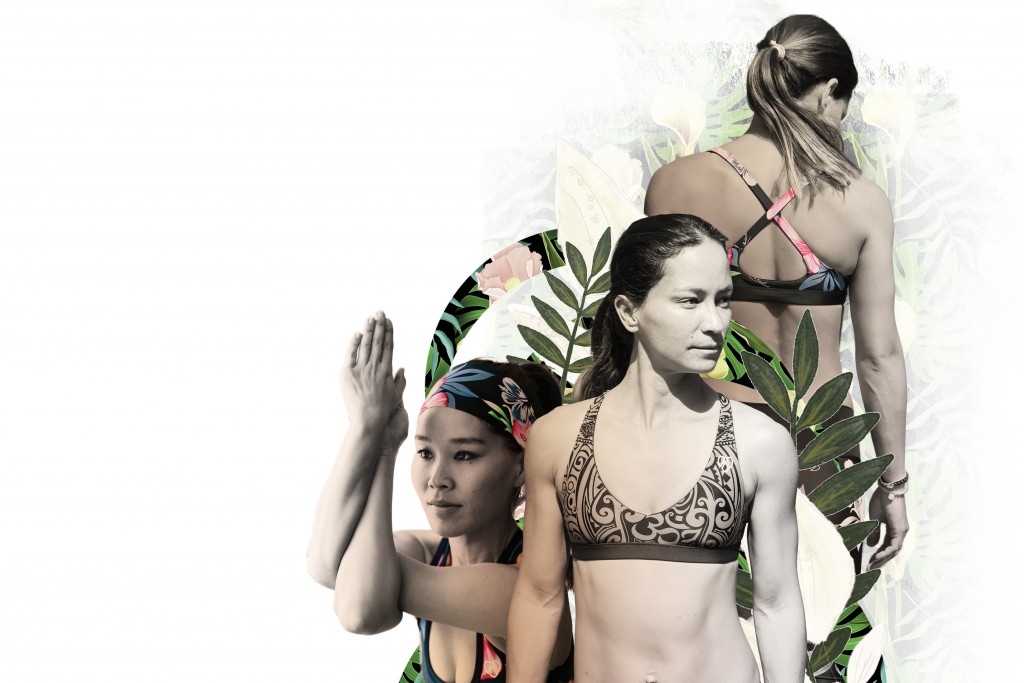 It's like a sickness. It's very addictive," says Sandra Kamiyama, giggling as she describes her frequent shopping visits to Mahiku Activewear in Haleiwa. "Their clothes are so comfortable, it's like they're made just for my body shape! I can wear them all day long – maybe even wearing a different set to bed!"
The Waialua resident goes to the store in the Haleiwa Town Center several times a month to check what's new. "The colors are beautiful. The materials are wonderful. But the reason I wear them is the way they make me feel.
"For the very first time in my life, I can wear a top and capris and expose my belly! They hold you in properly and you won't fall out anywhere. And my husband really likes them," Kamiyama says, chuckling knowingly.
Mahiku in Hawaiian means "uncultivated land" – perfect for a new business, thought married co-owners Krista "Ehiku" and Ingo Rademacher. It also contains part of Ehiku's name.
Ehiku Rademacher had been active as a canoe paddler since she was 10, then later got into stand-up paddling. "I saw a need for clothes that would dry quickly, but that could still be used at the beach," she explains, "and sun protection is such a big deal."
Rademacher grew up in Hilo on the Big Island, but graduated from her mother's and aunt's alma mater, Pearl City High School on Oahu. She stayed with friends in Haleiwa as she cast around for a good job out of high school.
After taking on a variety of jobs, she met her husband-to-be while working out at Waimea Bay in 2006. He's an actor who has a recurring role on "Hawaii Five-0" and spent 17 years on the soap opera "General Hospital." Together they have two young sons. After traveling for several years, the couple decided to return to the North Shore in 2011, then started their own business the following year.
"We lost money at the beginning," recalls Rademacher painfully. "For instance, I put in a 1,000-piece order and the whole order couldn't be used. I had to learn really quickly about stitching, how to order elastic and all about threads. It was hard.
"In the garment industry, no one will help you."
Initially, Rademacher tried using local sewers, but they all had different styles and she wanted consistency.
Luckily, a paddling friend told her about a clothing manufacturer he'd heard about in Santa Ana, Califonia. Rademacher flew there and, once she discussed her plans with the owner, she knew it was a match. Mahiku hasn't looked back since.
"We made our first great sample in 2012. In 2013, we started to sell our actual, manufactured wear.
"It was always canoe-club-based," Rademacher says about the company's sales. "There was a lot of word-of-mouth at the canoe races where we'd be selling. Then we set up our online site. We got the word out about our products via Facebook and, now, Instagram. Little by little, we'd get retailers in the paddling industry approaching us to carry our gear."
In May 2015, Mahiku opened a store in Haleiwa and has one full-time and five part-time employees.
At first, the couple used their personal savings to start the business, but now the "company floats itself," according to Rademacher, "but we're still not able to pay ourselves yet."
Rademacher says that what makes the Mahiku brand different from others is her almost obsessive need to field-test the clothing, making sure it fits properly for each body type and size, and that it's strong enough for strenuous, physical activity.
"Most of my family and friends have had me ask them, 'Can I draw on you?' " she quips.
Rademacher does all the designing based on real-life models, then periodically spends time in California with the manufacturer running sample lines for family and friends to wear daily and give feedback. She says she doesn't release the line until all the design flaws are resolved.
Kamiyama can attest to that. "I've tried many other brands, but they're not made for my body. Their rise is not right for my body shape. Their length is not right.
"I've never found anything else that was perfect. And it just so happens these are perfect!"
Mahiku Activewear
66-165 Kamehameha Highway, Haleiwa
888-6857
mahiku.com
---
Always Active Wear
♦ Capri pants (leggings): Mahiku's original product line is still the most popular. "I wanted to redesign canoe leggings in nylon spandex fabric so they could be worn in or out of the water, but so they would also fit right," says Rademacher.
♦ Technical (Tech) Shirts: The shirts for men or women are made of a lightweight "technical" fabric that wicks away moisture, and carries an ultraviolet protection factor (UPF) of 30+. "The shirt also wears like a regular cotton shirt, so the look can carry you from day to night with ease."
♦ Tank-inis: These are a cross between a tank-top and a bikini, with a bra top. "In my busy life, I can manage my workouts and my kids during the day without having to change clothes."