Family Cycle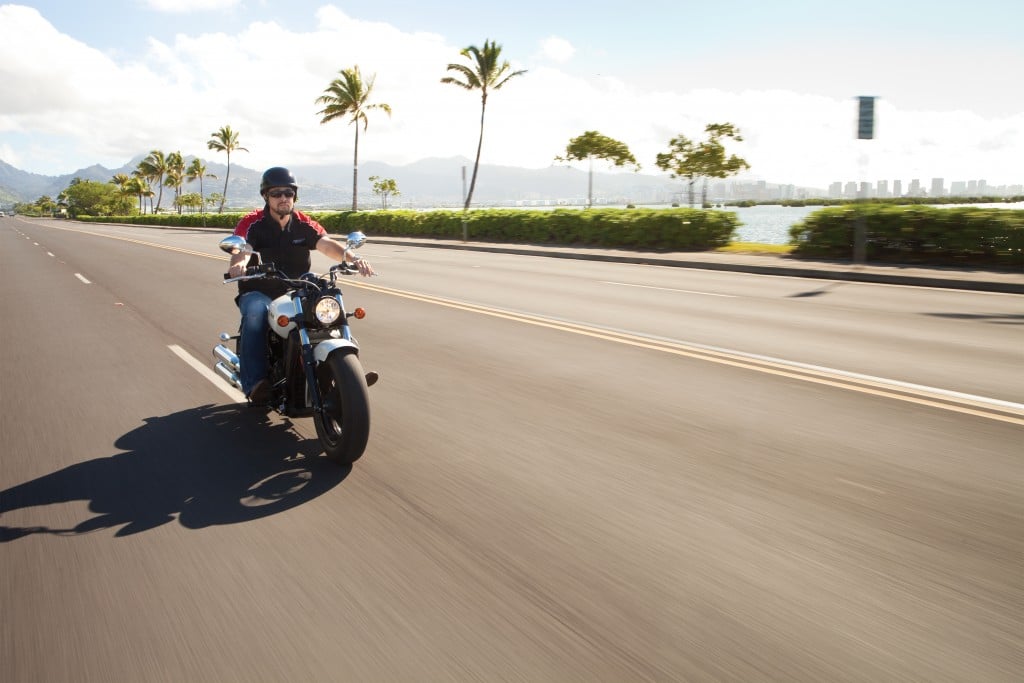 The Montgomery family has been in the motorcycle sales and repair business for more than 70 years.
"It all started in the living room of my grandparents' house in Pearl Harbor housing, back in 1945," says Ross Montgomery, VP of Montgomery Motors Ltd. "My grandfather would pull motorcycles into the house in the evenings after he was done playing electrician for the Navy, and literally fix them in the living room and on his coffee table. My grandmother thought this could be profitable, so she encouraged him to turn his hobby into a full-time business.
"After saving up some money in 1946, Al Senior bought his first location at 804 Dillingham Blvd. He bought and sold used Harleys, as well as repaired bikes. Our old location is now part of the parking lot of Honolulu Community College."
Thus was born Montgomery Motors, which was then the largest motorcycle shop in the state and attracted a lot of drag racers and dirt bikers, according to Ross. Many in the family were also racers and riders.
In the 1950s, Montgomery Motors acquired the franchise for Harley-Davidson, but, by the early '70s, the quality of the line was deteriorating, Ross says. At the same time, Al Senior's health was failing and Ross' father, Al Junior, was taking over the business, so the company switched to the Suzuki line and has been the state's distributor and dealer ever since.
The '80s saw tremendous growth for Montgomery's. "At one point, we owned and operated six different locations," Ross points out, with a variety of names, such as "Suzuki (location)" or "Cycle Sports (location)." The main store had moved to 818 Iwilei Rd., but there were also shops in Kaneohe, Wahiawa, Waipahu, Hilo, and on Maui and Nimitz Highway.
Of all the branches, only the Hilo store remains – run by Al Junior's wife, Jackie, CFO of Montgomery PowerSports, and her sister, store manager Neva Makizuru.
In 2013, with its property lease coming up, the family-owned and -operated business moved a block – from its longtime space on Iwilei Road, to a larger, customized and more visible 19,950-square-foot showroom at 550 N. Nimitz Highway., next to Liliha Bakery.
"Moving was definitely the best decision," says GM Layden Paulino, 46. "We've got 20,000 people daily passing by us on the roadway. It's more accessible, and the area's better for business. Our customer volume has grown by about three or four times since we've been here."
With the move came a change in names. "To diversify brands and be more competitive, we had to split the distributorship from the dealership," Paulino explains. "Montgomery Motors Ltd. remains the distributor for Suzuki, but now Montgomery PowerSports Ltd. is the dealer for Suzuki, as well as for Victory and Indian motorcycles, and ATVs and ORVs (off-road vehicles)."
There are about 19 full-time and two part-time employees.
"We have factory-certified techs in different brands," Paulino continues, "and all of our techs are state-certified. We also do outer-island repairs."
Montgomery's is headed by the second generation, with the third being readied to take over. Al Senior's son, Stafford, 56, is president of the two family companies. Al Junior's daughter, Errin Sanford, 38, is VP of Montgomery PowerSports. Stafford's son, Travis, 32, is warehouse manager and service tech. One of Al Senior's granddaughters, Brittany Grace, 26, is head cashier and handles finance and insurance.
Paulino estimates that half of the company's customers are military and half are local. The ATVs and ORVs attract people in law enforcement, water safety, farming and the visitor industry.
"We've been around so long, we have customers that are generational," Ross Montgomery says. "One bought his first motorcycle from my grandfather in 1948. When his son was old enough, he bought one for him. And when his grandson was old enough, he bought him an ATV, so one family has been our customer for three generations!"
Wayne Rhoden, 49, owner of A&W Disaster Recovery LLC, has known the Montgomerys since he was 4, and goes there about once a month as a customer. "My father was a mechanic there back in the '70s. Now I do subcontracting work for their building, and I also shop there for all my dirt bike parts and accessories for family and friends.
"I like the fact that they've remained a family business in a changing industry environment. The family today still makes customer service its first priority and practices business on a handshake as I remember as a child."
---
MONTGOMERY BRANDS
SUZUKI: "Since the early '70s, we've been the sole importer of Suzuki motorcycles in the state," says VP Ross Montgomery. The Suzuki line now includes ATVs and outboard motors.
POLARIS: "With the market getting more competitive, we couldn't make it on just the Suzuki brand," says GM Layden Paulino, "so we brought in Polaris. It makes Indian and Victory motorcycles, ATVs and ORVs."
GEM: Also engineered by Polaris, Gem electric vehicles are marketed as safer and more comfortable than golf carts, and greener and more maneuverable than regular cars.
---
MONTGOMERY POWERSPORTS
550 N. Nimitz Highway
536-7023
montgomery-powersports.com