LocalKineBiz: Healthier Meat for Molokai and Beyond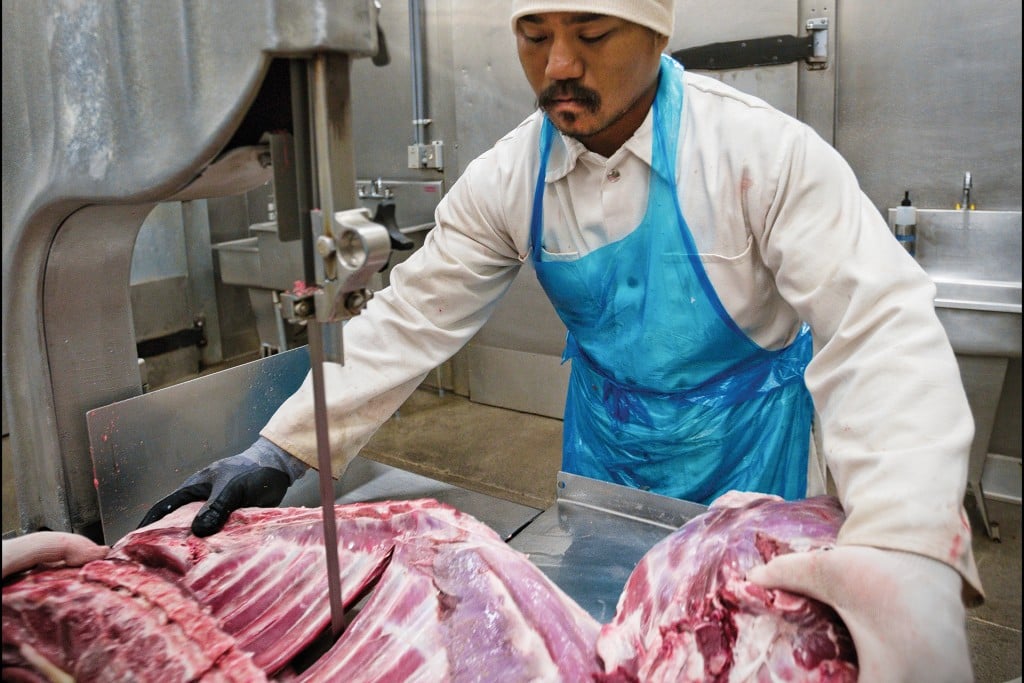 With consumers seeking healthier options, small producers like Molokai Livestock Cooperative are enjoying a spike in popularity.
"We have seen an increase in consumer demand over the years," says GM Jack Spruance, 62. "But marketing is not our biggest challenge, animal procurement is, and getting ranchers to realize quality makes a huge difference in this process."
Since 2006, the cooperative has been processing grass-fed, hormone-free beef for member farmers on the Friendly Isle. In recent years, the USDA-inspected small slaughterhouse and processing plant has expanded its outreach to stores on Maui and Oahu, and other restaurants and retailers.
"It's actually not that difficult for animals to be hormone-free in Hawaii," says Spruance, who first came to Molokai in 1989 from East Bay, California, to work at the organic Puu O Hoku Ranch. "I don't know anyone in Hawaii who does mass-production feedlots," where cattle are typically fed grain, growth hormones and antibiotics.
"The demand exceeds the supply, so there's room for all of us. Also, I view business as a collaborative effort, if we're all to survive."

— Jack Spruance General Manager, Molokai Livestock Cooperative
"But it depends on the skill of the rancher to grass-finish a calf here, which could take anywhere from 18 to 40 months. There's a huge economic difference between being able to finish animals in 18 to 24 months, versus 36 to 40. … So it depends on how committed you are to the idea of local food and local production."
The co-op – which currently runs on the model of both a business and a cooperative – started in 2003, when a small group of grazers built a dedicated slaughterhouse and processing plant on the island, years after the closure of the Molokai Ranch slaughterhouse in the mid-1980s. Construction began in 2004 and the plant opened in 2006. Spruance has been on the co-op's board since 2003 and eventually became its operations GM.
Original funding from federal, state and county grants ran out in 2008, and the co-op went into debt and closed for about six months, Spruance says. "If you run it as a co-op, then you depend on the members to provide you with enough product. If you choose to run it as a business, then you make business decisions to obtain enough product."
When the co-op reopened in late 2008 under the new business model, it obtained new grants but started with no capital, so much of the initial work was volunteer. At first the plant just did custom processing of meats – no animal purchases – until more equity was built up and its debt paid down.
"The business has limited cash flow, so it's still a struggle, but we're slowly making it," says Spruance. "I'm hopeful it'll get better over time.
"Molokai doesn't really give us the percentage of animals we need to survive, so we're also getting cattle from off-island, such as the Big Island and Maui."
Also, as the opportunities present themselves, Molokai Livestock also processes pastured pigs and wild axis deer (hunted under USDA protocols), and it may process sheep in the future. Growers or hunters must sign a form certifying that any animals they sell to the co-op have been grass fed and are hormone free.
The volume of animals processed per week has also increased, averaging about 12, up from an average of seven in 2012. And the number of full-time workers has grown, from four at the beginning to eight now.
"I don't feel we're competing with other slaughterhouses in the state," Spruance observes. "The demand exceeds the supply, so there's room for all of us. Also, I view business as a collaborative effort, if we're all to survive."
One of the businesses helping the co-op to survive is Foodland Super Market Ltd. "We go out of our way to support local producers and, of course, we want them to grow," says Bill Haynes, Foodland's meat and seafood director, who's been a wholesale customer of Molokai Livestock for the past four years.
"We buy about 4,500 pounds of ground beef from the co-op every three weeks. We promote it as 85-percent lean local grass-fed ground beef from Molokai, which is a little leaner than our mainland ground beef. The price point is a little higher, but some of our customers want healthier options.
"We also bring in a few of their primal cuts (steaks), but not on a regular basis. We have discussed purchasing non-GMO poultry, pork, fish or other game from them in the future.
"The feedback from our customers has been great. They like the beef because it's local, it's got good flavor and it's healthy.
"When we first opened our Kapolei store, we promoted having ground beef from Molokai ranchers and some customers drove all the way to Kapolei thinking only that location had it, when it's actually carried in all our stores.
"We would definitely expand our selection from Molokai Livestock, when other options are available."
---
Each month, Local-Kine Biz tells the story behind a Hawaii small business.
If you know a business we should cover, email localkinebiz@gmail.com.