"Magic" + Science = Fun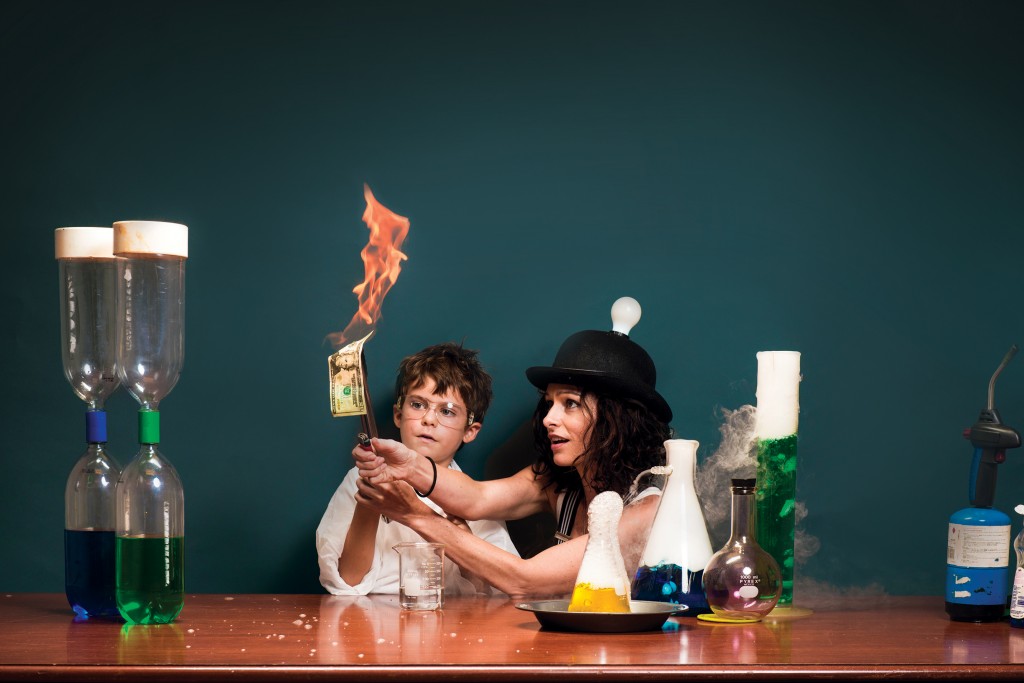 "Cosmic Kelly" Ferreira is an expert on kids.
"Growing up on Maui, I was the oldest in a family of five, so I was more like a second mom to them," she recalls. "And I was always an extrovert, not an introvert."
In fact, Ferreira is energy personified, which comes in handy as the owner and lead performer of Magic Science Hawaii, a children's entertainment and education company that presents live science shows around the state. "I really believe learning should be fun," she says, which might be the motto for her company.
However, she remembers how uncertain she was before her first show in 2004.
"I was utterly terrified. I had no training. I was given a science kit and told to do the show. I had never performed before. But at the end of the show I realized I hadn't bombed and the kids had so much fun."
Ferreira didn't major in science, though she did have a chemistry kit growing up, plus a passion for science fiction. Otherwise, her transformation into Cosmic Kelly was accidental.
In a complicated history, the business originally started as the Honolulu franchise of the Montreal-owned Mad Science company. Ferreira worked for a few months under the original franchisee, then her mother bought the franchise in 2004.
She worked her way up through performing, managing the company, then becoming a "verbal partner" in 2007, but, in 2010, she moved back to Maui to raise her son, Ryder, now 5. Ferreira continued to help remotely with scheduling, but another performer did the shows in Honolulu.
When the Mad Science contract ended in 2014, Ferreira bought the local business from her mother and moved to Oahu in 2015. She renamed the company Magic Science Hawaii, and has since been working to develop new shows and workshops while serving existing clients.
"All the equipment belongs to us from the previous business, and you can't copyright science experiments," explains Ferreira. "So now I'm working on creating new show topics and changing the order of the experiments so they're unique to us."
While doing R&D for new shows, Ferreira continues to do special events and birthday parties. In the future, she hopes to develop workshops that would be useful for teachers and correlate with STEM curriculum (science, technology, engineering and mathematics).
She says a show lasting 45 minutes to an hour takes several months to a year to develop, practice and memorize. Each show progresses from simple to more complex experiments, then ends with a "really flashy" demonstration that results in the "aah factor, like a loud boom."
"My son is my test audience at home," Ferreira says, "and if there's an experiment at an event where he accompanies me that's a little scary, I'll call up Ryder and have him show the other children.
"The shows are very interactive. It's not just me performing, it's me asking the children questions and having the children coming up to do an actual experiment.
"One of my favorite shows was with a bunch of local 13- and 14-year-old girls and the adults in their families," Ferreira remembers. "They were a bit older than our usual age limit, which is 12. They were too 'cool' to show interest, but once I started joking with the adults, they started to loosen up.
"Junior high kids really are interested in the experiments, but they just don't want to show it."
Regular clients include the parks departments of Honolulu and Maui counties, various public and private schools, and Kamaaina Kids. Ferreira says she's even performed yearly at some children's birthday parties and has watched them grow up.
Jenn Hew, 35, hotel and convention program manager for Kamaaina Kids, has used Magic Science Hawaii for its military and convention childcare programs since 2007.
"I like that Magic Science Hawaii provides consistently exciting, engaging and educational shows," Hew enthuses. "I can always count on them to entertain audiences of all ages, from toddlers through teens.
"They rotate the programs offered, covering a variety of science themes and experiments. Kelly provides excellent customer service. She is responsive, thorough and helpful. Additionally, she and the scientists are energetic and wonderful with the kids."
Ferreira says the company is not a big moneymaker. "We're doing a little better than breaking even," she says. "But I want to keep prices reasonable so I can bring science to kids who don't get science and who can't afford it. Those are the kids who need to be inspired because America used to be the No. 1 leader in science, but in the last decade or two, we've fallen far behind."
---
Magic Science Hawaii
463-5699
magicsciencehawaii.com
---
Each month, Local-Kine Biz tells the story behind a Hawaii small business. If you know a business we should cover, email localkinebiz@gmail.com.