LocalKineBiz: Pae Thai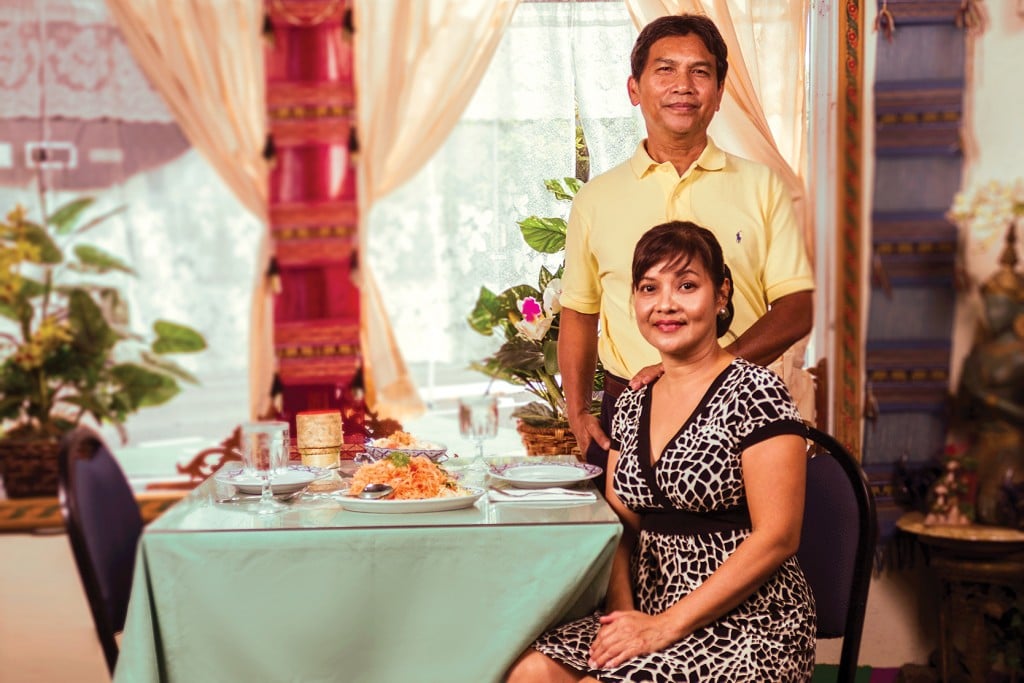 "I WANT TO make people feel at home here," says Supreecha Sangthong, nicknamed "Dang," co-owner of Pae Thai Restaurant in Makiki. "I'm happy to cook for them, and I want to personally make sure they're satisfied. I'm not so concerned about making money."
Employing this almost anti-business philosophy for nearly 20 years, Dang, 63, and his co-owner wife, Natsuree, 56, have been successful in their mission of giving customers the experience of genuine Thai cuisine in a cozy, family atmosphere. Colorful Buddhist statues, shrines and a flowing waterfall inside the restaurant make for relaxed dining.
Named after the Thai monk Luang Phor Pae, known for helping others and supporting hospitals and schools, Pae Thai replaced a previous Thai restaurant at the same location in 1996.
"I started my own restaurant because I didn't want to work for somebody else anymore," explains Dang, who was previously a chef at Siam Orchid restaurant and Golden Dragon restaurant at the Hilton Hawaiian Village. Steeped in the Thai culinary tradition since childhood (his mother cooked and sold food from a street stall in Bangkok), Dang holds two degrees in agriculture and is intensely interested in herbs and how to combine them for just the right taste. He cultivates several garden planters of Thai herbs outside his restaurant.
"I've been to Thailand, and the food at Pae Thai tastes like the real thing."
— Robert Chanin, Regular Pae Thai Customer
But Thai food is more time-consuming to prepare than American food, which is "all thrown together," says Natsuree.
According to Dang, "It's important in Thai cuisine to cook your sauce separately, then add your meat and then your vegetables. This allows for more of a distinction in flavor."
Also, "Thai food has so many ingredients," explains Natsuree. "It's hard to find qualified Thai workers nowadays who know the food and how to cook it. This new generation just wants to work at fast food places in Waikiki."
In order to weather a down economy, a lack of qualified staff and food costs that have "gone up by 30 percent" in the past few years, the couple cut out lunches and restricted restaurant hours to dinners only, but have given customers "extra food, sauce" to entice them back, according to Natsuree.
The Sangthongs started to notice a decline in business after 9/11, and the 2008 recession certainly didn't help, but they also saw a marked drop about three years ago. "When we first started, we had about eight people working for us," Natsuree says, "and now we only have two. And, we've reduced the menu options by about 25 percent."
Yet 30 to 40 percent of Pae Thai's customers are long-time returnees, some from the very beginning. "We have many regular customers from Kaiser, Queen's, Kapiolani Medical Center, UH, even from Kaneohe, and one comes all the way from Kailua every Friday evening," boasts Natsuree. "A visitor from Indonesia eats here every time he comes to Hawaii.
"Some of the regulars don't even need a menu, because I already know their favorite dishes."
Robert Chanin, 66, is that regular from Kailua, along with his wife and sometimes his friends and children, who makes the trek into town about three or four times a month just to eat at Pae Thai. "I've been coming here for almost 40 years," says Chanin, a retired business owner, "even when they were under a different ownership. My favorites are basil chicken, any curry and Angry Fish.
"I've been to Thailand, and the food at Pae Thai tastes like the real thing, and their service is excellent. I think they've got the best Thai restaurant in town."
But the Sangthongs may consider retiring in the near future, as their daughter June will be getting her master's degree on the mainland and, unfortunately, isn't interested in taking over the business.
"We'll be really sad if they retire," says Chanin. "This is a good ol' place, 'Where everyone knows your name.'"