Sweet Paradise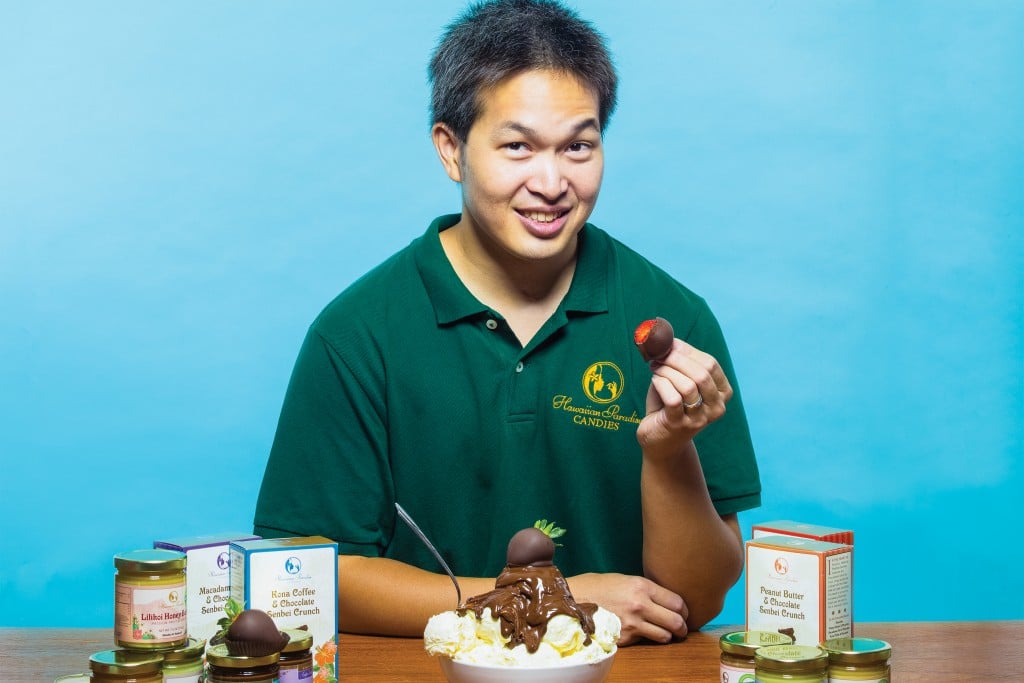 Richmond "Rich" Chang always wanted to own a business.
"I was a finance major at UH and, when I graduated in 2000, I didn't know what sort of business I wanted, but I knew I wanted to buy one," remembers the 37-year-old owner of Hawaiian Paradise Candies, a small chocolate confections factory in Nuuanu. "I'd go onto those websites that sell businesses and I'd see what the costs were and if I could make it work."
Serendipitously, as Chang was working at various jobs to save for his dream company, he met his wife-to-be, Miyuki, at a gym where they both worked out. She had come to Hawaii on an internship, and used to work in Japan as a product development manager for the Cadbury chocolate company.
The Makiki couple decided to buy Hawaiian Paradise Candies (formerly Kona Paradise Candies) in 2011. They married a few months later and have two young children.
Chang says the business struggled for the first year or so, but now its volume has doubled. The couple can't afford to hire employees yet, so they do it all themselves. They usually each work about 60 hours a week, says Chang, but, from Thanksgiving through Christmas, they work about 20 hours a day!
"I couldn't do it without Miyuki," Chang points out. "We each have skill sets that complement each other. Miyuki is very fast with her hands, so she does all the packaging and the actual chocolate-making – tempering and decorating. I do the ordering, decide which shows we'll attend, take customer orders and attend all the farmers markets."
Wendy Loh, a self-taught chocolatier, launched Kona Paradise Candies in 1989; Sam Aiona of Kettle Corn Hawaii owned it briefly before Chang took it over. The method of blending and handling the raw chocolate bars was passed from Loh to Aiona to Chang.
"It helped that Miyuki had previous management experience and experience with chocolate," says Chang. "We had to learn everything else on our own – such things as how to avoid 'blooming,' and learning about humidity and temperature." (Blooming occurs when a whitish coating appears on the chocolate during production.)
According to Chang, Hawaiian Paradise sources its chocolate from a variety of reputable companies, such as Blommer Chocolate and Guittard Chocolate in California, and the Original Hawaiian Chocolate Factory on Hawaii Island.
"Our chocolate is a blend," says Chang. "It's sweet, but a little bitter, and not too milky and not too dark."
When he took over, Chang continued the three main products of chocolate-covered fortune cookies, Oreo cookies and wafer rolls, but gradually expanded the selection to create more continuous demand so he wasn't only servicing parties or special occasions – "which makes it hard to grow the business. You might be really busy one week, but then slow the next."
"It's fun to think of new products to fill," Chang says with a smile. "We first make a small batch of the new item, then we test it with customers and see what the response is. If it's good, then we'll add it to our list. All of the products with our brand are handmade by us."
About three years ago, Chang also bought the Hawaiian Fudge Sauce company and folded the ice cream toppings line into Hawaiian Paradise's portfolio.
Another new frontier for the couple is selling wholesale to retail outlets and finding the right prices for that market. "Selling to direct customers is different from selling to retail stores and allowing for their markup," Chang reflects soberly. "We had to do a lot of trial and error to discover what consumers could afford."
Some retail outlets that carry the Hawaiian Paradise line include Don Quijote, Neiman Marcus, Honolulu Gourmet Foods and Made in Hawaii stores.
About half of the company's sales come from individuals and special parties, a quarter from craft fairs, shows and farmers markets, and the remainder from wholesale outlets, Chang estimates.
Gail Nakayama, 47, a director of special events, has been a customer for about 18 years, since Wendy Loh owned the confections factory.
"I met Wendy while working on projects at the Hilton Hawaiian Village, and working with Rich's team has been seamless. I usually go to them for special events and holiday gifts. I've recommended them to others who were also very happy with their products and service.
"Their chocolate-covered fortune cookies are amazing. They're always fresh and crispy, and you'd think the cookie would be the draw – but there's something about their chocolate. … Whatever their secret is, it's ono! Another great thing is that you can customize your fortune on the inside.
"It's easy to support a business whose product is consistently amazing, their service is prompt and courteous and they're local!"
Hawaiian Paradise Candies
128 S. School St.
599-8777
hawaiianparadisecandies.com
---
BONUS: PARADISE PICKS
CHOCOLATE SENBEI CRUNCH
"This is our unique creation," says Chang. "It's chocolatey, crunchy and delightful."
HAWAIIAN FUDGE SAUCES
"These are amazing on ice cream, like a premium hot fudge sundae. Kona Coffee is the most popular. Private Reserve is made with Waialua Estate Dark Chocolate, and Premium Hawaiian is made with dark chocolate from the Original Hawaiian Chocolate Factory."
HAWAIIAN BUTTERS
"The butters are all natural and used in local restaurants, such as in the hollandaise sauce for eggs benedict." They come in a variety of flavors: Guava, Haupia, Mango, Pina Colada and Lilikoi.