Making Hawaii Greener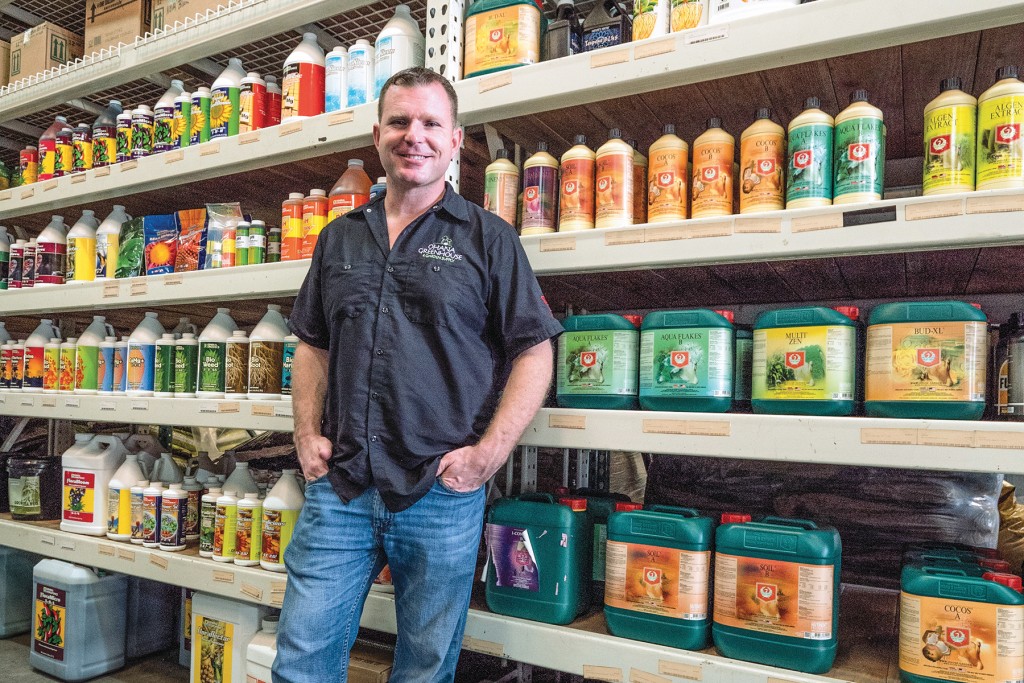 Daniel Lankford opened the first store of his Ohana Greenhouse chain when he was just 23. Thirteen years later he has four locations.
Daniel Lankford is compelled to succeed.
"I've worked a full-time job since I was 14 and I started my first business when I was 16," says the president and co-owner of Ohana Greenhouse. "I was a straight-A student and had really strong math skills.
"My best friend died right after high school, so that inspired me to dream and follow my heart. After his death, I wanted to live twice as hard.
"People say you should stop and smell the roses. But I'd rather plant more roses and know they're being smelled by someone else," he says with a grin.
The 36-year-old California native says he grew up around a lot of poverty, so he knew he had to work hard to get ahead. Lankford has worked full-time jobs
as a financial consultant, a trails builder, a firefighter and a foreman for a private water company.
While in Lake Tahoe in the early 2000s, he became friends with the owner of a garden shop, who became Lankford's silent business partner. "He told me there was no specialty garden store chain in Hawaii. There were a couple of garden stores, but none had the purchasing power or inventory of Mainland stores."
In 2005, "I put all my eggs in one basket" and moved to Kahului on Maui. "I shipped a 40-foot container of inventory and signed a commercial lease, all within one month."
With hard work, he succeeded again and again. A Hilo branch opened in 2006; one in Kona in 2007; a second store on Maui in Haiku opened in 2008, but closed in 2010; then a store on Oahu in Kalihi opened in 2009.
"But rather than compete against and potentially shut down a great family business on Kauai – Garden Island Hydro in Puhi – I found a way where we could work together," Lankford says. "I help supply them and that made me feel good, rather than going in like some big corporate giant and forcing them out.
"We're the largest specialty garden supplier in the state," he says, and adds that he plans to stick around for "the next 30 to 40 years."
But the road to success wasn't easy.
"I opened Ohana Greenhouse when I was 23. I put in an incredible amount of hours each week at the beginning – probably around 100," he recalls. "And every warehouse I've gotten I've renovated myself."
For the first year and a half, Lankford says, he didn't get a paycheck. "I survived off my credit cards and savings. I lived at the Kahului warehouse and showered at the gym. I found if you start to pay yourself off the business profits, then you can never grow the business."
Now that Lankford has a reliable staff of six full-timers and two part-timers, he's able to "take it easy" and says he currently works about 40 to 60 hours a week.
But he's constantly on the go – checking in-person on his various branches at least monthly, and traveling for both business and fun. "I fly on average 80 to 90 times a year – 60 of those being interisland trips, about 10 to the Mainland and five international trips," he says.
Technology has been a boon. "All my stores have cameras where I can monitor their activity on my smartphone," says Lankford. "My accounting is mostly bill-pay online, though I do have an accountant in San Jose that I visit once a year. 
"I do my own payroll with QuickBooks, and I can do it remotely when I'm on a trip. I found that the expense of automation is very little compared to the benefit you receive."
Who are some of Ohana Greenhouse's clients? "I work with a lot of schools. The agriculture programs are big on Maui," Lankford says. "We deal with home gardeners, landscape societies, hotels, museums, military families, those who want to grow medicinal marijuana and even those who've never gardened before but have white flies all over their mango tree."
Chris Speere, 61, is coordinator of the Maui Food Innovation Center at UH Maui College. He's known Lankford for 13 years, since Lankford first introduced his business to the school and volunteered to support its culinary program with his products.
"Dan immediately offered to install and plant out two units with basil as educational tools for student learning. We receive timely and friendly service twice a year.
"We've encouraged all our sister culinary programs within the UH system to meet with Dan and learn more about his products and services. Our relationship has been a total win-win."
Green-Thumb Tips:
Hydroponics: "If you've never done aquaponics or hydroponics, you should start out with hydroponics," Lankford says. "There are more 'doomsday moments' with aquaponics. Hydroponics is space-saving, water-saving and fertilizer-saving."
Soils and Growing Mediums: "We have a wide variety of soils and growing mediums, such as volcanic rock from Europe spun into a sort of sponge. It can hold air and just the right amount of water to plant a seed in or a cutting."
Nutrients: "We stress organic fertilizers. If we do stock chemicals, they're food-grade chemicals, which you can spray on a plant and essentially eat it the same day. The last thing I want to do is carry items that harm our environment."