Mei Day Turns Locally Grown Tropical Flowers into Works of Art
Owner Tamara Rigney's creations adorn Hawai'i's luxury stores and hotels, and brighten weddings and corporate events.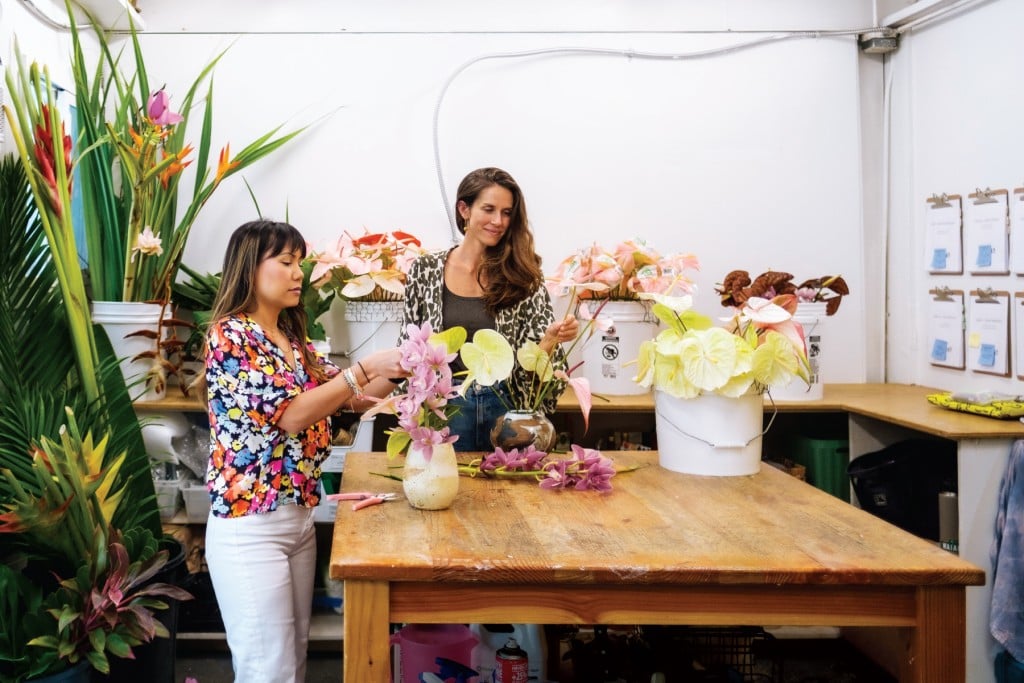 Brandi Lelepali and Mei Day owner Tamara Rigney create artful arrangements of tropical flowers from a space at the Lana Lane Studios in Kaka'ako.
Their work brightens the interiors of Tiffany & Co., The Ritz-Carlton, Louis Vuitton and other luxury brands. Rigney also handles weddings and corporate events, and prepares florals for professional photographers.
She gets most of her hardy ginger and heliconia from growers on O'ahu's Windward Side. Protea, which needs a cooler climate, comes from higher elevations on Maui and Hawai'i Island, and a shipment of foliage and anthuriums arrives each week from Hilo farms.
A self-described "flower nerd" who grew up in 'Āina Haina, Rigney says that as a child, "decorating my elementary school for May Day was a highlight of my year."
After college, she worked as a landscape architect but left her Bishop Street job to launch a dream career. "I am so grateful it worked out," says Rigney. "I get paid to play with flowers all day."