Mental Illness in the Workplace: Anxious, Traumatized, Depressed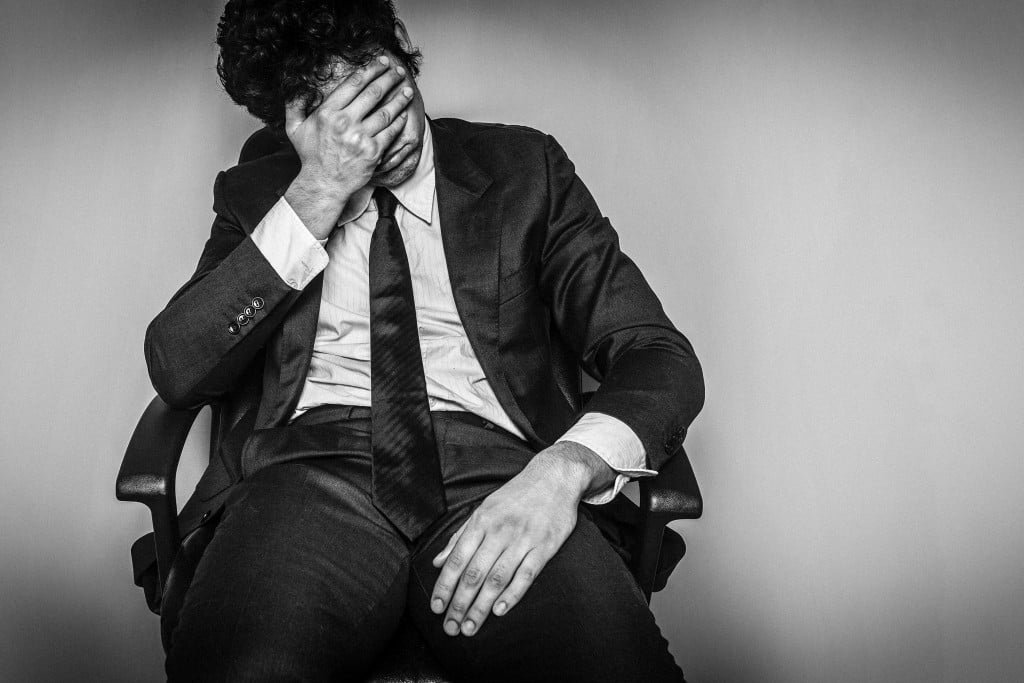 A MANAGER AT A HEALTHCARE NONPROFIT ON MAUI FELT stuck. One of her employees had anxiety, made worse by the stressful, high-conflict working environment of their field. The manager wanted to help, but when she spoke with the nonprofit's corporate higher-ups, they told her to fire the worker if she couldn't handle the pressure.
"She got there early. She was a good employee," recalls the manager, who asked that neither she nor her former place of work be identified. "Definitely not an employee I would have fired. She just had great anxiety."
Instead, the manager looked for ways to work with her, and realized that, if the employee knew what to expect from the day – and had a plan for dealing with what might go wrong – she felt less stressed. The manager began meeting with her each morning before work, talking her through every step of the day.
"She's much better than she used to be," the manager says. "It took patience and time, but, if I'd followed corporate, she wouldn't be there." "She's much better than she used to be," the manager says. "It took patience and time, but, if I'd followed corporate, she wouldn't be there."
Almost 20 percent of Americans experience some form of mental illness each year, and around 4 percent struggle with a serious condition that impairs their ability to function, says the National Institutes of Health. That means mental health affects nearly every workplace.
It's also costly. According to one study, stress and anxiety cause more employees to miss work than physical illness or injury, and short-term disability claims related to mental illness account for more than 30 percent of disability costs for the typical employer.
Within the workplace, mental illnesses such as depression take a toll through absenteeism and " 'presenteeism,' not being engaged in the work that you're doing," says Robin Miyamoto, a clinical psychologist with the UH John A. Burns School of Medicine. Fatigue, reduced productivity and difficulty getting along with co-workers are also common problems, she notes. And mental illness is often cited as a contributing factor to physical ailments such as chronic pain, gastrointestinal disorders and weight gain that can lead to heart disease and diabetes.
Yet, mental illness on the job can be a sticky problem for employers. Uncertainty about privacy laws and fear of missteps give some employers pause about stepping in, notes Greg Payton, CEO of Mental Health Kokua. He says it's important to tread carefully.

"You may be trying to help, but people don't always see it that way," he says. "It could look like you're trying to discriminate or build a case, so it's more complicated, but you have to start by asking questions somewhere."
"So-and-So is Being Weird"
Astute employers may notice red flags, like employees who miss work, lose focus, isolate themselves from co-workers or show up looking tired or unkempt, says Marya Grambs, executive director of Mental Health America of Hawaii. The first sign of trouble might also be a comment from a co-worker, says Anna Elento-Sneed, a Honolulu attorney who represents employers in employment law.
"If people haven't had any training, they might tell management, 'So-and-so is being weird,' " she says.
That's a moment for perceptive human resources professionals to ask the follow-up questions that will help them figure out whether they're just hearing about a clash of personalities or about someone who needs real help. "I've had situations where the employee is crying in the bathroom or crying at the desk and you wonder, 'What's going on?" she says. "In those situations you've got to find out, because it's not normal for someone to just be crying at work."
It's not unusual for problems outside of work or stressful life events to affect an employee's behavior on the job, says Payton, but, when those personality changes persist for more than a few weeks, "It's time to see what you can do to help." That's the point at which an employer should gently start the conversation and probe what's happening.
"Catching it early and showing concern is one way a supervisor can jump in without it looking like you're trying to build a case against someone," he says.
The key is to focus on the employees' behavior – not their personal problems or possible health issues, says Melissa Pavlicek, executive director of the Hawaii chapter of the Society for Human Resource Management. "HR professionals might say, 'How can we help you do your job?' instead of saying, 'How's your health?' " she says.
"If employers are aware that it's a line they need to walk, they can do it," says Susan Moye, HR manager for Hawaii Human Resources Inc. "I think it's harder when sometimes managers are so close to the situation that they're not able to be neutral."
When work relationships feel like friendships, employers and managers may want to step in and offer help, but that's a mistake, says Hawaii HR COO Harry Byerly.
"Sometimes the corrective action the employer thinks could help could actually hurt," he says. "Don't put yourself in a situation where you're trying to diagnose the problem or prescribe a solution. It's really not an employer's place to do that."
Instead, he says, offer resources. An employee assistance program can be especially helpful as a starting point for workers to get confidential help. EAPs, usually offered through an independent provider, give employees a place to call for immediate counseling, with a referral to more specific follow-up services, like drug treatment or a psychologist. Usually, the employer doesn't know who's using it or what services are being tapped, just that it's being used.
"Without getting too involved, (the employer) can say something like, 'I don't know what's going on, but it seems like something's up, and I'd like to give you the space to get some help,' " says Tyler Ralston, a Honolulu psychologist who specializes in treating anxiety and post-traumatic stress disorder.
If an employee seeks help through an EAP or sees a psychologist regularly, one of the most important things the employer can do to help is give that person time or flexibility during work hours to make it to those appointments, he says.
Keep Expectations Clear
While depression is one of the most frequently studied issues in the workplace, anxiety is actually more common, Miyamoto notes. Anxious employees may worry excessively about job security, and the fear of losing their jobs or not meeting expectations may be a constant source of stress. That's one reason managers should provide workers with clear job descriptions. "For someone who's anxious, knowing what they're responsible for and what they're being evaluated on really makes a difference," Miyamoto says.
Setting clear rules about when workers are expected to be accessible by phone, and when it's OK to be offline, can also go a long way to reducing stress. "With texting and emails, we have this idea that we're 'on' all the time," she says. Instead, communicate your expectations – for example, respond to emails within 24 hours, or 48 hours on the weekend – and encourage employees to disconnect from work when they go on vacation, she suggests.
Finally, reassure employees by acknowledging good work. "Recognition for a job well done can go a long way," she says.
Elento-Sneed also encourages employers to write detailed job descriptions and suggests they list the mental requirements of each job. While it's illegal to ask about a job applicant's mental health, making it clear that a position requires someone who can multitask, deal with interpersonal conflicts or work at a fast pace encourages applicants to self-screen.
Elento-Sneed recalls one case in which a company hired a receptionist who arrived at her first day on the job, only to realize that, due to her agoraphobia (a fear of being in open or public places), sitting near the large glass doors at the entrance to the building would give her panic attacks. That's not something employers typically list on their job descriptions, she notes.
Above all, says Grambs, employers should establish a culture that doesn't stigmatize mental illness, and encourages employees to seek help if they need it.
"To the extent that the workplace can reduce that stigma, then it will be a healthier place, and people will reach out for help more, instead of hiding it, which makes it worse," she says.
While it's less common, sometimes an employee's behavior will be so disruptive that it's clear they're struggling with a severe mental illness. For example, the employee is clearly having delusions at work or breaking down in tantrums. In those cases, the employer should address the issue directly and treat it like a potential disability case, says Elento-Sneed.

"It's best to hit the nail right on the head," she says, "because, how can you deny that all this is happening? Everybody will testify that it is."
That could include asking the employee to get a medical opinion from a physician about whether the condition impairs his or her ability to do the job, she says.
The employer must also try to make "reasonable accommodations" that would allow the employee to continue working.
If symptoms border on violence, and a manager fears the employee could become dangerous to himself or others, the employer should ask the employee's physician to provide an opinion on whether or not that person poses a threat. "Those tend to be rarer cases, fortunately," Elento-Sneed says.
In such cases, an employee may already be receiving treatment outside of work and getting the treating physician involved could result in an adjustment of medication, or recommendations for changes at work that would help the employee function. In some cases, the treating physician might recommend the employee take leave to address the issues.
How do you know when it's time to call the police? "Usually there's a threat to themselves or somebody else, and there's a means to carry it out," Payton says.
Dignity and Respect, No Matter What
While an employer may focus on an employee who's struggling, the employer should also recognize the behavior may affect the rest of the workers, maybe because the employee is disruptive, can't get along with others, or can't do the job and others must pick up the slack.
To protect a person's privacy, employers can't directly discuss the employee's issues with other employees, but employers can demonstrate they understand the impact by dealing with the situation. "People will see that you're taking action," Payton says.
If disruptive behavior escalates into a traumatic crisis – such as a threat to another employee or a suicide at work – a critical incident debriefing can help team members heal and get back on track, Payton says. Sessions include gathering employees to speak openly about what happened and address concerns. While the process doesn't require a specialist, "Sometimes it's helpful to have someone removed from the company come in to do that," he notes.
Perhaps most important, employers should support their teams by demonstrating and clearly communicating a corporate culture that encourages employees to seek help when they need it, and emphasizes a respect for privacy, says Moye.
"The key words are dignity and respect, no matter what, and part of that is having an understanding that if something happens in a public way, it doesn't become water-cooler discussion or gossip," she says.

An aging workforce means dementia is an increasing problem in the workplace, says attorney Anna
Elento-Sneed.
She has counseled clients on how to handle employees who are still working into their 70s or 80s and may show signs of impaired cognitive function. Warning signs include forgetfulness and disorientation. In one case, an employee showed up for work on days off.
"You wonder how someone can keep coming to work as their mental condition deteriorates. It happens," she says. "The body just automatically goes to the place and sits."
The problem can become especially challenging for employers when the worker doesn't have family members available to help. In those cases, the employer may want to help, but could face difficulty doing so.
In employment law, Elento-Sneed says, "It's presumed the employer is the opposition and it's an adversarial role, and it restricts the employer from inquiring or getting information absent the employee's consent. But how do you get consent from someone who may not think there's anything wrong, or can't even comprehend what's going on?"
In three of the cases she handled, the patient's doctor was able to determine that something was wrong and provide referrals to specialists and social services. But, "in one case, there was no doctor. The person was not physically deteriorating – it was her mind."
In that case, the company's human resources employees called social service agencies until they found a program that agreed to help the employee.
She says most employers look for ways to help the employee. Letting the person go is usually a matter of transitioning them to disability insurance as a bridge to disability retirement.
"It sounds horrible, but (terminating the employee) is actually the simplest kind of case, because the person really is not capable of performing the job," she says.

Employers who think post-traumatic stress disorder primarily affects military veterans may overlook a much larger population at risk: victims of abuse.
One in five women suffers severe physical abuse in her lifetime, according to the National Coalition Against Domestic Violence, so "Most employers are much more likely to have a battered woman as an employee than a veteran," notes Kaimuki psychologist Tyler Ralston, author of the book "Treating PTSD in Battered Women."
PTSD can cause difficulty concentrating and trusting others, memory challenges and outbursts of irritability, he notes.
Fortunately, treatment, such as cognitive behavioral therapy, has been proven to be effective, relieving symptoms in as little as 10 to 15 weeks, or more than a year, depending on the person's risk factors and willingness to commit to therapy, he says.
If an employee seeks treatment for PTSD, the most important way an employer can help is by providing the flexibility to attend regular therapy sessions, he says.
The employer can also help by understanding the employee and working around possible triggers. "If somebody can't come to work because they're afraid to walk from the office through the parking lot, some accommodations could be made until the person is further along, like having a co-worker walk them to their car," he says.
But it's a fine balance. Helping someone with PTSD avoid all possible triggers – like banning red shirts from the office because a female employee was assaulted by a man wearing a red shirt – can slow the desensitization process, he notes.
He says employers should be willing to work with the employee and therapist to determine what accommodations are necessary.
What not to do? Employers shouldn't try to make an armchair diagnosis and place blame – such as telling the employee she shouldn't have waited so long to leave an abusive marriage. That would only make things worse.
Under no circumstances should an employer call the abusive spouse. "That can jeopardize the person's safety," Ralston says.
Instead, he says, "Let the therapist and the client take the lead. Really, the role for the employer is to be supportive and open to the idea that there may be more going on than the employee is willing to share."