Middle School Miracles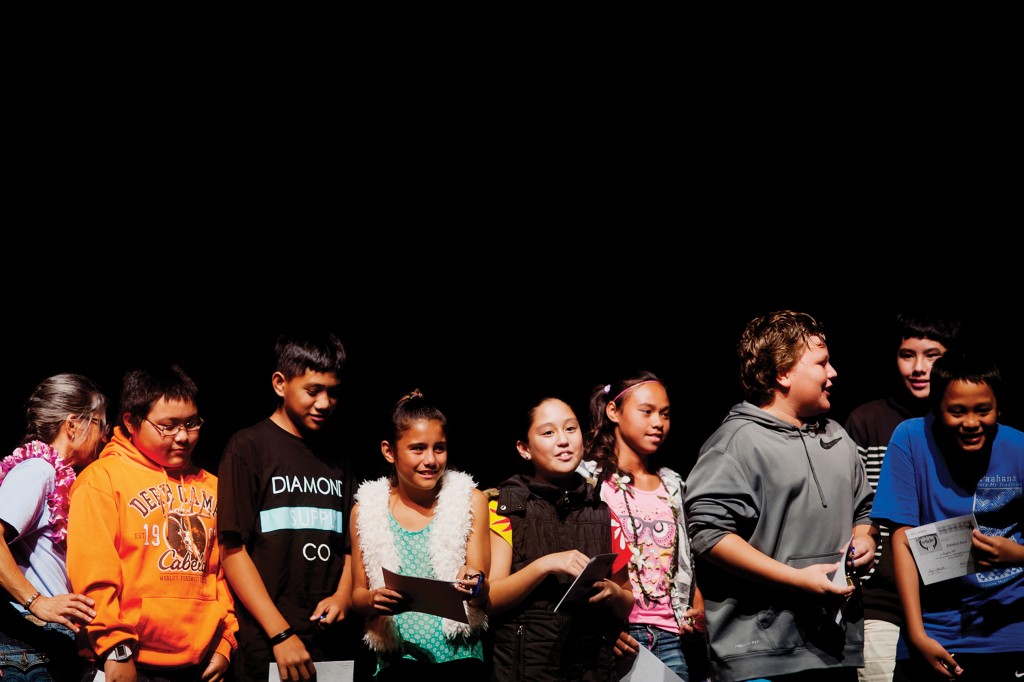 A groundbreaking program – based on solid data about student performance – is leading to remarkable changes in middle-school students around the state.
Let's start with three students at Waimea Middle Public Conversion Charter School. One eighth grade boy was shy, reserved and self-absorbed two years ago. Today, he's a school leader and has been selected for the Boys to Men USA Youth Council, sponsored by his mentor.
"Seeing his confidence grow has been just awesome and so rewarding," says principal Amy Kendziorski.
Then there's a young man whose first language isn't English, who came into sixth grade reading at the second grade level. Now, he's devouring books on science because his mentor, an astronomer from the W.M. Keck Observatory, challenged him to read and bought him numerous books to catch his interest.
"For both summers, this child has met the challenge of reading so many books and been so excited to report to his mentor about what he's read," Kendziorski says. "Now he's reading at the fifth-grade level – a real success story – and that's due to the involvement of his mentor."
And there's the girl who came into sixth grade timid and fearful, and is leaving as a leader, honor-roll student, athlete and all-round success.
"She's a good role model for our younger girls," Kendziorski says.
These three and many other students have excelled as part of "Connecting for Success," a program funded by the Hawaii Community Foundation and launched in 2013 at 10 middle schools. It has now been extended for a fourth year at the eight schools still participating.
There are many ways to inspire middle-school students at risk of not graduating from high school. But this new program is driven by data from the Hawaii Early Warning System developed by the state Department of Education, which tracks students' academic performance, behavior and attendance. About 800 middle-school students statewide have participated in Connecting for Success and the pilot project. If its success continues, the DOE hopes to eventually offer the program to all middle schools statewide.
Some of the most remarkable results are taking place among the rolling hills of paniolo country in Waimea on Hawaii Island, and in an urban Honolulu neighborhood, where more than half of the school's students come from families in poverty.
"If kids are missing from school, I don't care how smart they are, they're just not going to be able to keep up."
-Chris Van Bergeijk
VP of Strategies, Initiatives and Networks, Hawaii Community Foundation
Waimea Middle School began its program in 2013 and this year has a cohort of 58 students drawn from sixth, seventh and eighth grades, who are getting as much extra attention from the school and community mentors as they can pack into each day.
The participants have individualized student learning plans, personal mentors and daily tracking, and there are three youth-centered organizations on campus almost daily to offer support. As a result, 75 percent of the students in the cohort have exceeded what was expected of them, considering their circumstances; 40 percent have improved their grades; a majority have improved their reading and almost all have better attendance records than the average student.
"For a principal with budget and financial woes, to be able to participate in a project like this is essential," Kendziorski says. "This has been a resounding success. It has made our school a better place for those kids in the program, and for the rest of our kids as well because some of the practices that have evolved during this program have now become school-wide practices."
That means attendance plans for all of the school's 265 students, plus individual learning plans for all English-language learners and all students in the Migrant Educational Program.
For DOE administrators, the Hawaii Community Foundation's involvement and funding have been godsends.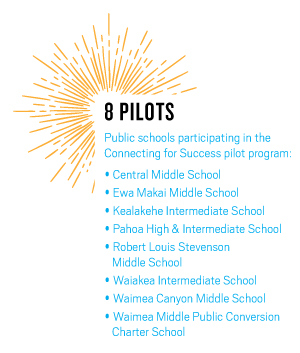 "Middle school is where the drugs and gangs come in, and we want to divert them from that," says Ruth Silberstein, a former public-school principal and now the complex area superintendent for the Kaimuki, McKinley and Roosevelt high schools area, with 28 K-12 schools under her tutelage. "If they don't gain the strength in middle school to cope with peer pressures, you're going to lose them very easily. They need to see their self-worth and know they are valuable as human beings. It's that stage where they're looking for where they belong."
But let's start at the beginning – back in 2008, when the Hawaii Community Foundation began a five-year project with 20 private schools to redesign their classrooms to reflect the needs of 21st-century students. A private donor provided funding for that project, which challenged schools to create learning styles for a distant tomorrow. But, then, the foundation wanted to do something with public schools.
"We had been doing research about the importance of middle-school years and we felt that was an age range that didn't get enough attention, especially in view of how important it is," remembers Chris Van Bergeijk, the foundation's VP of strategies, initiatives and networks.
"Also, the Department of Education had implemented the Hawaii Early Warning System data bank (part of its Race to the Top initiative in 2010) and started rolling it out around 2012. It now had the ability to track course marks, absenteeism and adverse student behaviors. Those are the three critical indicators that a lot of research has shown to have high predictability for a child's academic success," says Van Bergeijk.
"The data shows that attendance really matters. If kids are missing from school, I don't care how smart they are, they're just not going to be able to keep up, especially in middle school, where courses are more abstract. The world just gets a little more complicated when you hit middle school, and attendance matters."
For instance, if a child misses more than 9 percent of school days, that child falls into the "red zone" for trouble. As absenteeism rises, grades drop, says Van Bergeijk. "The indicators that go hand in hand are grades and absenteeism."
Plus, she says, there's an important third indicator: adverse behaviors.
"With the research saying these things can predict future success – grades, how much they come to school and what their behaviors are – we realized the DOE all of a sudden had the ability to track the right data. Now schools can collect and report on data that would also tell them whether or not the interventions they apply make a difference. So we felt we would be able to go in and work with a group of schools, and let them design interventions for a specific group of students."
The foundation offered schools $150,000 a year if they created their own programs of intervention based on the Hawaii Early Warning System data. Waimea Middle School was onboard from the start.
"The point of the grant was to identify middle schoolers who are at risk of dropping out of school somewhere along the line, mainly in high school, and to catch them now and help them become more connected to school," says Pat Rice, a retired principal who now manages Waimea's grants. "We want to really provide services to the kids who need the extra support.
"So we identified kids through the DOE Hawaii Early Warning System database which identifies kids who are either on track (green zone), approaching off track (yellow) or off track (red) in those three areas. We have ongoing data for kids for each of these areas with attendance and behavior done daily, and grades done quarterly.
"This is the way we target the kids initially," says Rice. "Then we look at other data as well, including their standardized scores, then our school-wide measures, and for this we use a standardized test called Star, which is a product of the educational assessment software company, Renaissance Learning, that compares students against the rest of the nation in math and reading skills, plus anything else we can find. That would include whether they're special-education students, English-language learners, whether they qualify for the migrant education program, or if they have any other disability. Then we look at teacher recommendations."
Assembling that data gave school leaders a comprehensive picture of all students and their needs.
Waimea Middle took three steps before launching the program: One, it identified 40 student candidates the first year, 53 the second and 58 the third; two, it went to the students and their families to explain the program and get approval; and three, it recruited 35 mentors from the community, including business people, attorneys, retired educators, ranchers, scientists, a seamstress and many others. School leaders say the program's strength has resonated with the entire community, and has helped them recruit more volunteers.
The volunteers are regularly on campus, which helps create a community culture, Rice says. In fact, students not in the program are clamoring for mentors of their own.
Results from the first years of the grants have shown the strength of community partnerships. At Stevenson Middle School in Honolulu's Makiki neighborhood, for instance, support from the nonprofit Kula No Na Poe Hawaii, which operates out of the nearby Papakolea Community Center, has strengthened the students' connections to the school because of its close ties to neighborhood families.
"Our community partners are really important," says Linell Dilwith, principal at Stevenson, which has enjoyed dramatic improvement in grades, attendance and behaviors because of the grant. "We meet with them every week and talk about our students. Because our partners are from the community, many times they know the families, know different situations, and they go into the home for us. If a student isn't responding, they'll meet with parents on our behalf.
"They also help us arrange support from the University of Hawaii, Hawaii Pacific University and Chaminade University, bringing in tutors to help us such as social work students, nursing students. They've also arranged after-school hula, ukulele, movie night and parent involvement. It's interesting, because the kids will see the aunties and uncles from the neighborhood visiting classrooms and providing support, so that's really a critical piece for us. We actually have kids who are not in the cohort wanting to join. We don't turn any away."
Piikea Miller, program director for the Hawaii Community Foundation, who works closely with the schools that won the grants, says research shows that mentors, either from within the school or the community, can help a child feel connected to school, and that feeling of connection is all important.
"If students believe somebody at school cares about them and what happens to them, they have a greater connection to the school," Miller says. "The greater their connection, the more likely they are to stay in school – and that reduces the likelihood of dropping out or taking part in risky behaviors. The Centers for Disease Control and Prevention even talks about this: It believes it's a proven strategy for preventing dropping out, as well as preventing a variety of risky behaviors."
"Middle school is where the drugs and gangs come in, and we want to divert them from that. If they don't gain the strength in middle school to cope with peer pressures, you're going to lose them very easily."
-Ruth Silberstein
Complex Area Superintendent for 28 schools, including Kaimuki, McKinley and Roosevelt high schools
Dilwith and her team used the grant money to identify 80 to 100 of Stevenson's 650 students who especially needed the extra assistance and to recruit two new people: an at-risk counselor and a literacy teacher. Those two helped make a huge difference.
"Among the at-risk students, quite a few of them are on their own for whatever reason," says Dilwith. "And the nice thing about Christian Ellis, the at-risk counselor, and Shawn Roldan, the literacy teacher, is that they'll jump in their cars and go down to the houses and pick the kids up. They pound on the door, wake them up, get the parents on the phone and the parents may not even know the kids aren't at school. Just about every morning we look at our attendance – we have kids on our radar – and when the bell rings and A, B and C students aren't there, you do a home visit."
She says a student's occasional doctor's appointment doesn't raise a red flag, but chronic absenteeism does, "either because they have to stay home and babysit younger siblings, or because mom and dad have to work and they wake up on their own and have to get themselves to school. Those are things that impact their success in school."
To counter absenteeism, Stevenson and other successful schools have been imaginative – and forceful.
"The kids know, 'If I don't show up today, there's a good chance Mr. Ellis will be knocking on my door,' " says Dilwith. "There's accountability, and they usually aren't accountable for anything."
Male specialty teachers have been role models for the program's boys, who are a majority in all cohorts.
"I think a big component of our program's success," Dilwith says, "is that the male role model is important, along with men's ability to form relationships with the students and hold them accountable for behaviors, course marks and attendance."
Silberstein, whose complex area of 28 schools includes Stevenson, says special attention for middle schoolers can be critical to reducing dropouts and other serious issues in high school.
"Educators know this is where the explosion of the intellect, the emotions and the physical side of growth hits," says Silberstein. "They need understanding educators who show caring and model values for them to emulate. They can easily be led astray during these years and by the time they reach high school, it may be too late already and difficult to make changes. They're harder to reach in high school."
Silberstein says the partnerships with the Hawaii Community Foundation and the community have been a tremendous boon for schools.
"Schools can't do it alone," she says. "We have a limited amount of funds in education that have been almost the same for years. Any partnership with the community is of tremendous help to schools, especially addressing students with more challenges."
Silberstein and Dilwith are gratified by advances they've seen. The improvements are even more pronounced among students who have been part of the program for two years, not just one.
"We went from over 400 incidences (of bad behavior) in the 2012-13 year to about 200 last school year," Dilwith says. "But our biggest accomplishment is seeing the attitudes of our students transform. They're going from uncaring adolescents to being more respectful, responsible young people. This year our eighth graders are in their third year, and what a transformation!"
---
A CENTURY OF MAKING A DIFFERENCE
In the past year alone, the Hawaii Community Foundation has pumped $45 million into the Islands from the more than 750 funds it manages. That money has helped children and the elderly, homeless people and veterans, marine habitats, educational innovations and much more. In fact, the foundation has helped make Hawaii a better place since its founding in 1916.
Now, in its centennial year, it has launched a two-year initiative to increase local philanthropy, as well as increase the impact of individual donors and organizations. One example is the $8 million grant for Connecting for Success, says Chris Van Bergeijk, the foundation's VP for strategies, initiatives and networks.
"Donors were interested in pooling resources and getting behind one program with one design," says Van Bergeijk. "We pitched them on how we need to pay attention to middle school because that's when kids go off track and need a lot of support to guide them back on track."
Fourteen donors enlisted, all but one from Hawaii. The foundation's management of both the money and the program made it work for the schools.
"The schools could never have managed 14 different donors with 14 different ideas," she says. "So we bring the donors together twice a year and sometimes we've taken them on site visits. And we share a lot of data with them. As soon as we get evaluation data, we show it to them. They've been really interested in what's going on."
"A single grant like Connecting for Success is just one piece of a far broader picture the foundation envisions," says Van Bergeijk. "We want to pull out the lessons we have learned from doing this and the schools have learned and see what it takes to disseminate it across the whole system. Our real interest is having a bigger conversation with middle school principals to share what we're all learning and help them understand this really makes a difference."
---
NEW WAYS TO ENGAGE STUDENTS
The Connecting for Success program suggests better ways to teach middle-school students, particularly those at risk, according to a Department of Education leader and an analyst at the Hawaii Community Foundation.
Ruth Silberstein, who, as a complex area superintendent, manages 28 K-12 schools, four charters and five adult-education schools, says struggling middle-school students thrive in small groups, but such learning is expensive.
"If schools can continuously apply for this type of (funding) help, a lot of students would be saved and receive the support they need," says Silberstein. "Grants like this one provide for small-group study which is very costly. … If you want to help those students, you need small-group settings with caring and individual support, until they can become independent of it."
No matter what the system is called – effective teaching or middle-school concepts or 21st-century learning – it comes down to engaging students by addressing their unique needs with individual learning plans, she says. There must be high expectations as well as continual monitoring and immediate feedback.
The Hawaii Community Foundation provided the grants for the Connecting for Success program. Foundation VP Chris Van Bergeijk says she has seen the value in engaging students, especially by offering subjects that interest them.
"A middle-school teacher told me they used to run an early auto mechanics class as an elective," she says. "The boys who had been absent a lot, once they learned they couldn't be in that class if they were absent, started being in school.
"I think we really need to stretch ourselves to make class more engaging and also figure out, 'How do you engage a 13-year-old boy?' That's why we're interested in looking at career pathways beginning in middle school. What would it take to get more career-and technical-education classes into middle school? Not just auto mechanics, but the things our community colleges do really well."