Miles From the Telescope, He Watches the Stars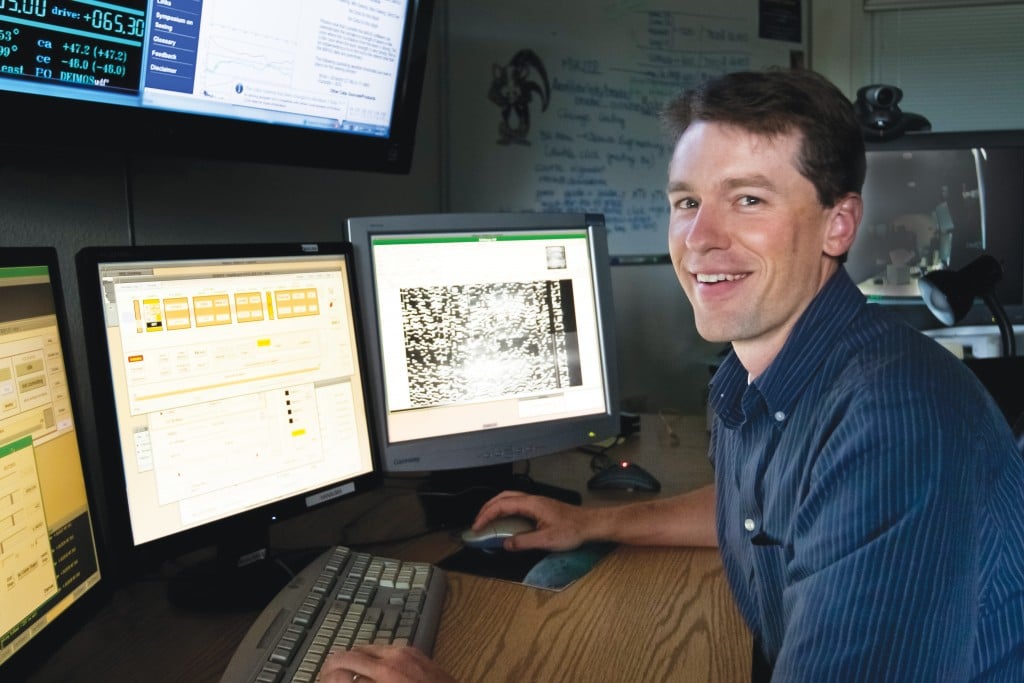 Name: Marc Kassis, Ph.D.
Job: Support Astronomer for W.M. Keck Observatory
Years of Experience: 9
Starting out: In high school, Kassis thought physics was "the coolest stuff ever" and went on to earn a Ph.D. in astronomy from Boston University. He also educated himself on the ins and outs of computers.
"It's very important to have a rounded education that includes physics and computers, and to be able to think critically," Kassis says.
Daily work: Kassis spends his nights surrounded by computers and screens in a quiet office at Keck headquarters in Waimea town on Hawaii Island. He provides technical support by phone to "planet hunters," remotely observing astronomers who are primarily at UH, the California Institute of Technology (Caltech), the University of California schools and NASA.
Challenges: Every night involves constant adjustments to provide high-quality data and new issues to solve as each instrument has its own personality and weather can change. "It's troubleshooting in real time."
Staying awake can be difficult on consecutive night shifts. "A lot of tea, coffee and sodas are consumed to help stay alert," he says, adding, "When shifting back to a day schedule, it takes me a day to shift back."
Working nights also impacts his family life. Some days, Kassis doesn't see his children as he is asleep when they go to school in the morning and gets home after they have gone to bed.
Worst day: One night, the entire computer system died and Kassis spent all 10 hours unsuccessfully troubleshooting. Turns out the air conditioning unit had broken.
Rewards: Kassis spent three months at the Cerro Tololo Inter-American Observatory in Chile, mapping an old, open star cluster using a manual – as opposed to an automated – telescope. "It was fascinating. Super cool."
Biggest misconception: Many people do not realize there are no astronomers looking through a telescope atop the 13,796-foot summit of Mauna Kea. Most of the observing is done remotely. "No longer do we actually look at something and draw in a notebook. … Now, it's all lasers and digital." On the summit, there is a lone observing assistant.
Goal: Astronomy's primary purpose, Kassis says, is to find whatever life is out there. "When we find life, we will let everyone know."
Pay: $40,000 to $100,000 a year depending on your graduate-school experience.