Military Drives Alternative Energy in Hawaii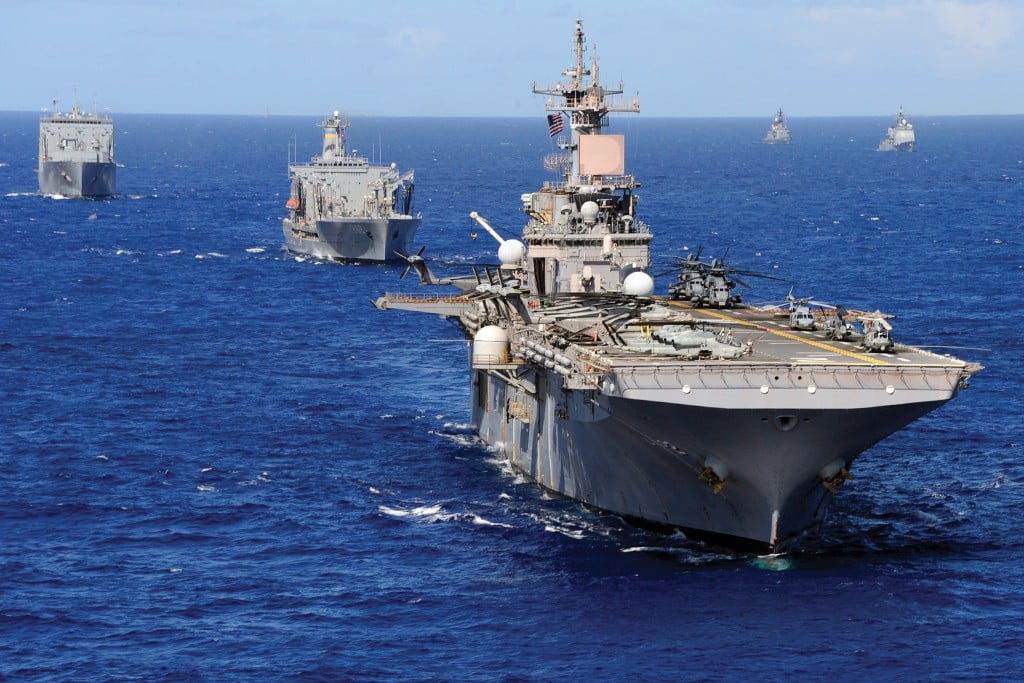 The Pentagon is investing billions in alternative energy and conservation, and that's good news for local companies
it's good news for hawaii's economy and local aspirations when the state's goals align with the American military's goals.
That's because the U.S. Department of Defense spent $6.5 billion in Hawaii in 2011 and employed 16.5 percent of the workforce. Only tourism brings in more money and employs more people in Hawaii.
Right now, the DoD's energy-security goals are aligned with the state's goals for a cleaner energy future. That has made the military a big spender in Hawaii's alternative-energy sector, including multimillion-dollar investments in solar, biofuels, conservation and other areas. The applications include fuel for ships and ground transport, and a multifaceted effort to turn military-base homes from energy hogs to energy misers.
"The military is a big partner with the state in any kind of initiative that involves sustainability … renewable or clean energy," says Charlie Ota, VP of military affairs for the Hawaii Chamber of Commerce.
Mark Glick, Hawaii's Energy Office administrator, says the state and U.S. Pacific Command have been collaborating on cleaner energy solutions. "The state appreciates the U.S. Department of Defense's voluntary commitment to comply with the state's goals to achieve 70 percent clean energy by 2030," he says.
The DoD's push for sustainability has a strong national-security component. As the Pentagon sees it, the military's dependence on foreign oil could cripple it if its supply lines were cut during war or another crisis. According to the DoD's June 2012 report called Energy Investments for Military Operations, "Improvements in military energy security provide the Department with a unique opportunity to improve efficiency while increasing operational effectiveness."
The Pentagon acknowledges that climate change is also a national-security threat. The 2010 Quadrennial Defense Review, the main public document revealing military planning, describes climate change as an "accelerant" of global conflict and geopolitical instability. Millions of people worldwide could become environmental refugees, forced from their homelands by drought, floods, infestations and disease caused by shifting climates, the review says. Thus, the Pentagon would also be aiming to neutralize its own carbon emissions and other greenhouse gases the way it would any other destabilizing entity.
Military doctrine is also being influenced by the fear that rising global demand will drive up the price of fossil fuels in the long term, and possibly reduce the supply to the U.S. military. The DoD is the single biggest consumer of energy in the world, accounting for 80 percent of the federal government's energy consumption, according to Sharon Burke, assistant secretary of defense for operational energy plans. Last year, the military consumed the equivalent of about 5 billion gallons of oil at a cost of $20 billion. For each $10-a-barrel increase in the price of oil, the DoD pays more than another $1.3 billion a year.
The DoD is working to reduce its demand for oil. Starting with Executive Order 13514 in 2009, all federal agencies get annual scorecards that track opportunities and set goals for reductions of pollution, improvements in efficiencies and cost savings. This "what gets measured gets managed" approach helped lead to an 11.8 percent reduction in oil consumption by the DoD in 2011 from its 2005 benchmark year.
That's why the DoD is also seeking long-term contracts with Hawaii biofuel producers for 32 million gallons a year as a replacement fuel. The Navy and the federal departments of Energy and Agriculture are ready to invest $510 million in Hawaii, assuming matching private sector investment, for biofuel refinery construction and upgrades. While this represents just six-tenths of 1 percent of the total current oil use by the DoD, it is clearly increasing. Hawaii is viewed as a strategically critical location for DoD operations, and having a stable source of fuel is important to ongoing operations in the region.
The state Department of Energy says 600 million gallons per year of biofuels can be produced in Hawaii by 2030. That's an audacious goal, but, if it is reached and assuming a price of $150 a barrel by then, this would be a $2.9 billion a year market for Hawaii.
Major landowners and developers are investing in big biofuel projects, though actual sales to the military are, so far, limited. Hawaii BioEnergy is a company established by Kamehameha Schools, Grove Farm Co. Inc. and Maui Land & Pineapple Co. Inc. HBE has a contract to sell 10 million gallons of biofuels for 20 years to Hawaiian Electric Co., a deal that is currently going through regulatory approval, according to HBE's Joel Matsunaga. In 2011, Boeing and HBE announced a collaboration to study biofuel development for the aviation industry. The company has already built a 33-acre research facility on Kauai for development of jet fuel from microalgae, on behalf of the DoD.
Hawaiian Commercial and Sugar Co., owners of Hawaii's last sugar plantation, which is on Maui, is another major player in biofuels. HC&S has received a five-year, $10 million research grant to study the possibility of converting former sugar plantations to biofuel production.
Pacific Biodiesel, currently the only local producer selling biofuel to the DoD, is ramping up. Pacific Biodiesel is now only processing used cooking grease into biodiesel and sells about 1,000 gallons a month to local DoD operations, but it is looking to create 5.5 million gallons a year and 60 to 80 new jobs in agricultural biofuels. Pacific Biodiesel mainly supplies nontactical DoD vehicles, those not used directly for combat, according to Jenna Long, sales manager at Pacific Biodiesel. The company has been working with the DoD for about seven years, she says, providing B20 (20 percent biodiesel, 80 percent diesel) for most of the nontactical vehicles at the Marine Corps Base Hawaii at Kaneohe Bay and Joint Base Pearl Harbor-Hickam, and has recently successfully tested B20 in tactical vehicles at Fort Shafter.
Pacific Biodiesel also supplies part of the fuel for nontactical marine equipment, such as the boats that take visitors to the USS Arizona Memorial in Pearl Harbor. Pacific Biodiesel does not supply fuels to tactical marine vessels, as the chemical composition of its fuels does not currently meet the DoD's requirements for tactical ships and boats.
Lack of local supply didn't stop the Navy from conducting this year's RIMPAC exercises, described as the "Great Green Fleet," with half of all the fuel used during RIMPAC coming from biological sources. The biofuel came from the mainland, derived from chicken fat and used cooking oils and a small percentage of algae-produced biofuels. RIMPAC was the first large-scale test of alternative fuels and the military called it an operational success, but the price tag for the biofuels was $12 million – almost seven times as much as regular fuel.
RIMPAC's biofuel expense drew criticism. David Kreutzer, research fellow at the Heritage Foundation, says some energy technologies that are too expensive for civilian use may make strategic sense for the military, but he believes biofuels are not among them. "Biofuels are more costly than the petroleum-based fuels – even when petroleum prices are high," Kreutzer wrote in an opinion piece in the National Journal. In addition to the cost, Kreutzer cites the aspirational goals of the Air Force to replace 26,000 barrels of oil per day with high-priced advanced biofuels, and contrasts that figure with production from the Thunder Horse drilling platform in the Gulf of Mexico, which provides 175,000 barrels of oil per day, equivalent to the daily consumption of all Air Force jets.
In a less controversial move, the DoD is investing in sustainability and energy security at U.S. military bases in Hawaii and around the world. This self-reliance can help bases maintain vital operations during energy disruptions and enemy attacks on supply lines. The Army, Navy and Air Force are each committed to developing 1 gigawatt of renewable energy capacity on bases by 2025, enough energy to power 750,000 homes. For instance, Hunt Development has a proposed 5.9 MW solar installation, pending regulatory approval, on a Marine Corps site on Oahu that would power more than 5,000 homes. SolarCity has called its renewable-energy partnership with the military "SolarStrong," a program it kicked off in 2011 by outfitting 2,000 military homes at Hickam Communities with solar panels.
The DoD is also reducing energy consumption in its nonhousing buildings. The Army has committed to buildings that fit the energy-efficient 189.1 standard set by ASHRAE, the international technical society focused on heating, ventilation, air-conditioning and refrigeration. According to the Army Corps of Engineers, lighting upgrades, solar PV panels, water efficiency and other measures can help cut the Army's energy use by 45 percent from current levels.
Similarly, the Navy and Marine Corps, in a public-private partnership with Forest City Military Communities, piloted a program in 2010 called the Resident Energy Conservation Program, which is aimed at reducing energy use by military families. Previously, military members' housing allowances (up to $2,739 per month) had been used as full payment for on-base rent, utilities and all other costs for service personnel and their families. The new program started billing families for energy use if they exceeded a normal usage range. The purpose was to curtail excessive consumption, as military families who have not had to pay their own electric bills average about double the energy use of similar households in the area who do pay their own electric bills.
It's not all sticks; there are carrots, too. If military families consume less than the normal usage, they get rebate checks. The Hawaii Energy Smart initiative, launched in May by Hawaii Energy in conjunction with Forest City Military Communities, teaches energy-efficiency habits, including smart air-conditioning use, properly setting water heaters and timers, and using advanced power strips that stop phantom loads (that is, energy consumed while an appliance is plugged in but not turned on). The program's goal was to reduce electricity use in Forest City-managed housing in 36 Hawaii neighborhoods and roughly 6,700 military households. According to Hawaii Energy, the program saved $147,125 during June and July 2012, compared with the same two months in 2011 – about a 4.6 percent reduction in energy use. The program was deemed a success and is now being rolled out nationwide by the Navy.
A similar program, at the Navy housing neighborhood of Catlin Park, mauka of Honolulu International Airport, has also shown potential for reductions in energy use. The homes are being upgraded with solar PV, solar hot water, insulation weatherization and shade landscaping. In addition, residents who have achieved the lowest bills help others lower their energy use. In May, the military formally recognized the first "net zero" energy home at Joint Base Pearl Harbor-Hickam. Net zero means the family was drawing no net power from the grid through a combination of generating solar power and reducing power consumption.
DoD money is also helping dual-use Hawaii companies develop innovative products. Greenpath Technologies has supplied roofing and solar PV systems to the DoD and other clients, but is especially proud of the portable solar modules it developed for the military. The Soldier Transportable Alternative Energy Storage System provides portable solar power harvesting and energy storage for units deployed a long way from home. With STAESS and a similar product called STORM, the company is also looking for buyers in the fields of humanitarian aid and disaster relief.
Big Island Dairy, which has been looking for alternatives to its costly imports of feed supplement, may also benefit from the downstream effects of DoD expenditures. Military bases may use their buffer zones to grow biofuel crops. Pacific Biodiesel is heading up the Hawaii Military Biofuel Crop project, an agricultural pilot program for the DoD, with preliminary findings suggesting that short-term crops such as sunflowers can produce biofuels. The company is building a feed mill on the Big Island to extract oils from these crops that can be processed into biofuels. Pacific Biodiesel researcher Matt Johnson indicates that what's left after the oils are extracted is a high-protein feed, referred to as "seedcake," which can be produced less expensively than feeds Big Island Dairy imports from the mainland.
Cows can eat two to three pounds of this seedcake per day, according to Johnson, and it looks as though these biofuel crops have the byproduct of 1,000 to 2,000 pounds of seedcake per acre per planting. Sunflowers can realistically have three plantings per year in Hawaii's climate. Jatropha, kukui nuts, safflower, canola, soy and camelina are also being tested as potential biofuel crops, mostly in Waialua on Oahu. Johnson's research will be published when it is complete, and Pacific Biodiesel is planning to use it to teach workshops to farmers across the state and help them incorporate biofuel crops into their rotations.
The missing link in the chain was the processing facility the DoD money helped bring to Hawaii. "No farmer could afford the (crushing mill) by themselves," says Long. The $2.4 million congressional appropriation for the mill through the Corps of Engineers will help Hawaii develop the full supply chain from "soil to oil," as Long puts it. Pacific Biodiesel is constructing the crushing mill in Keaau on Hawaii Island, which is scheduled for completion in the first quarter of 2013. The facility will have the ability to process 20 tons per day, so the mill will help play a role in Hawaii's energy future, regardless of what the military does.
Despite its initial investments and these kinds of projects, the DoD was ranked "red" on its Scorecard on Sustainability/Energy, meaning it is lagging behind its goals, especially in two main areas: renewable-energy development and making its 3,628 buildings more energy efficient. We can expect significant expenditures in these two areas. For instance, in July, the DoD put out a request for proposal in the $300,000 to $400,000 range for an older heating, ventilation and air-conditioning system to be replaced by an energy-efficient system at its 103rd Troop Command Headquarters in Pearl City on Oahu.
With the directive coming from the top, similar RFPs will become more common. Hawaii businesses looking to do business with the DoD can go to "Fed Biz Ops" (www.fbo.gov), a website detailing RFPs and government contracts. Businesses can also get free help on how to do business with the government through the Hawaii Procurement Technical Assistance Center (www.hiptac.org), where specialists will help them find and apply for appropriate contracts from the DoD and other government agencies.
Asked for advice on working with the DoD, Pacific Biodiesel's Long urges patience and persistence. "It's slow developing a business relationship with the military," she says. However, she says the military's top-down directives on sustainability and alternative energy have made her job easier. "There's been more acceptance in the last few years than we used to see." 
---
Burning Oil
Jet fuel, other transportation and electricity each consume similar amounts of oil each year in Hawaii:
12 Million Barrels
Jet fuel for both military and civilian use
12 Million Barrels
Ground vehicles and other transportation, mostly civilian
10.8 Million Barrels
Generating electricity
Sources: State Department of Business, Economic Development and Tourism report, "Hawaii Energy Facts & Figures" (June 2012), and Hawaii Natural Energy Institute