Million-Dollar Business Runs Out of Kahuku High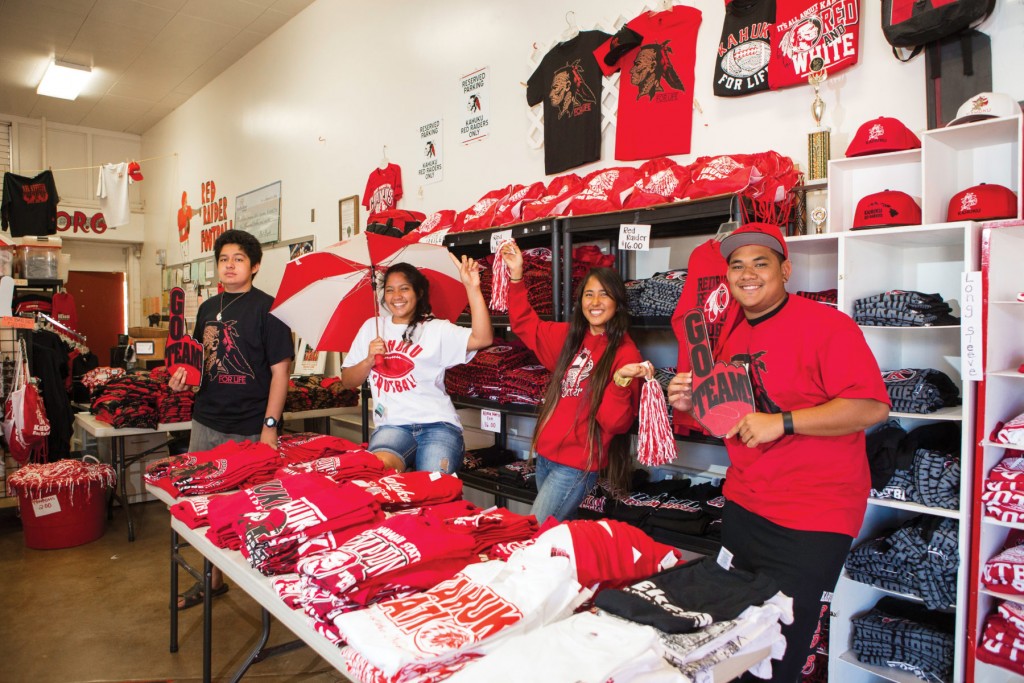 From July to December, customers crowd a classroom-size room at Kahuku High School where almost everything is red.

 

Kahuku.org, which has made over $1 million in revenues since 2001, sells Kahuku High T-shirts, hats and hoodies while also teaching students how to run a business.
Five community members founded the store in 2001 because people were making and selling T-shirts that featured Kahuku's winning football team, the Red Raiders, but not all of the money went back to the school.
"Kahuku.org was made so that we could trademark the school logo. The shirts would be made on campus and sold on campus or sold by authorized people off campus so that the funds could all go back to the school," says manager Alicia Esche.
The Red Raiders repeated as state football champions in 2012 and that was the store's most successful year: It paid the school $34,000 of its profits.
"If that football team doesn't win the state championship, we have a bad economic year. There's a difference of $50,000 to $60,000 worth of sales or more without a championship shirt," co-founder Mary Anne Long says. A championship-winning game in November will drive sales through December and into the new year, even until the next season starts.
Teaching About Business
Kahuku.org was founded as a program of a nonprofit called the Koolauloa Educational Alliance Corp. KEAC says its mission is to work with Kahuku business and community members to support school-to-college and school-to-career success. Today, Kahuku.org employs six students, all paid by profits, grants and programs like the federal Workforce Investment Act, Esche says. While working, the students learn how a business runs.
"They actually design shirts, we plan for the season, we go out and sell on the football field. They help when it's busy, they see when it's slow, they see what generates sales, they learn how to run a cash register, they learn about inventory," Esche says.
The store and its affiliated website also have their own graphic-design program in which students design shirts and learn what designs do or don't work. "I think it's a really educational experience for them to be involved in the designing process and the creating and the making, the production, right to the sales," Esche says.
Kahuku senior Tiana Swassord has worked at the store for three years as a cashier, bookkeeper and designer. She also takes inventory and helps restock the store. She says the work has taught her to always be prepared.
"I think it's very cool being able to do all this stuff in the store and learning new skills that could prepare for the future, for other jobs," Swassord says.
Kahuku's Student Store
Aside from the campus store and website, Kahuku.org also sells items at football games and at Tamura's Market in Hauula. Esche says the school would like to have a kiosk off campus and other community partnerships, and she would prefer to see sales less dependent on the football season.
"I think the only way we would be able to do that is if we get out off campus and different places and be able to expand that way. But that is the goal for this store, to be able to sustain itself," Esche says.
Kahuku.org Inspires Other Schools
History teacher James J.J. Cabralda and six other staff from Leilehua High School visited Kahuku High about two years ago, to learn Kahuku.org's story.
Cabralda says the Kahuku team recommended that Leilehua create a dedicated space for its store, but he says that hasn't been possible. Instead, business teacher Scott Kusuda's entrepreneurship class started an online store during the 2012-2013 school year, Leilehuamules.org. Students run the store and work with the school's graphic-design class to design merchandise.
Kusuda says revenue goes back into the store and he hopes it can grow so eventually it is self-sustaining. "We didn't do it just to make money. We wanted the students to actually learn something from it," he says.
People from Kalani High have also spoken to Kahuku.org and Kalani principal Mitchell Otani says the school is considering whether a student store fits into its plan to expose students to real-life experiences.
In 2012, Sen. Jill Tokuda introduced a Senate concurrent resolution that established Kahuku.org, the Hilo High Foundation and the Farrington Foundation as models for other schools that want to create their own endowments. Tokuda says the concurrent resolution was about sharing best practices.
"We wanted to encourage our public schools to tap into their alumni resources to look for possible donations, possible partnerships that could really open up their classrooms for mentorship opportunities," Tokuda says.