Much More Than The Local Toyota Dealer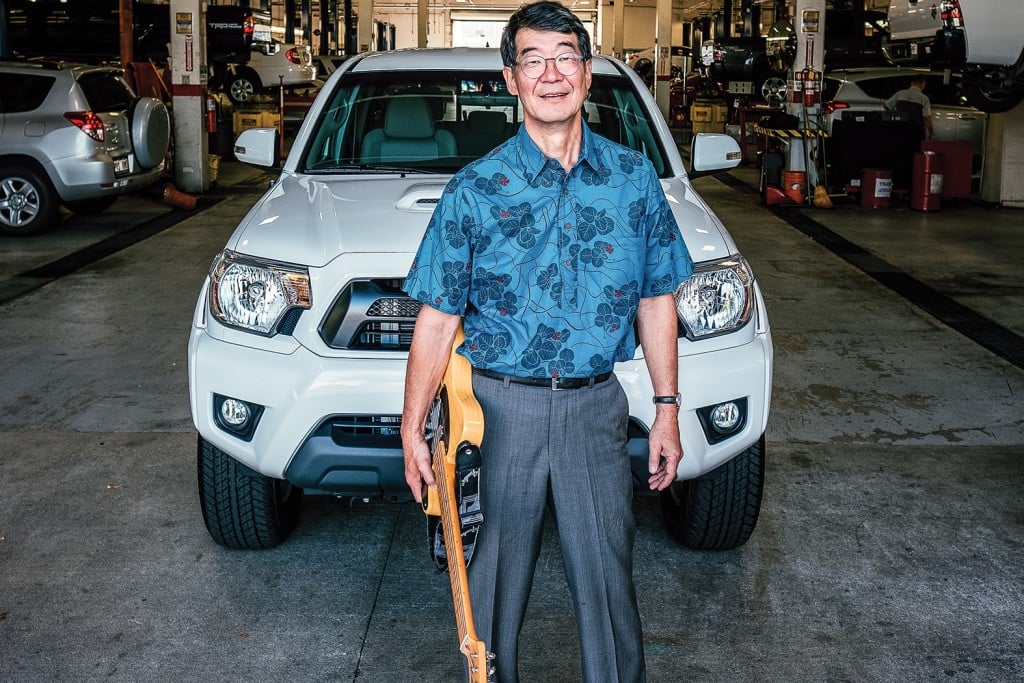 SERVCO PACIFIC HAS been growing for nearly a century and its holdings today cover cars, tires, insurance, appliances and a private equity firm, and they stretch from Australia to the U.S. mainland. Plus Servco now controls Fender, the company that makes the guitars used by Hendrix, Clapton, Springsteen and many other rock stars.
Every three months, Hawaii's Mark Fukunaga talks guitars with Paul David Hewson and David Howell Evans, though you probably recognize them by their other names, Bono and The Edge.
Fukunaga says it's been a cool experience getting to know the leaders of the rock band U2. But their music talk is also business: Fukunaga is the CEO and chairman of Servco Pacific and, in 2012, the Hawaii-based company and its private-equity partner together became majority shareholders of Fender Musical Instruments Corp. Today, Fukunaga is co-chairman of Fender's board of directors and meets regularly in various locations with its 11 members – which include Bono and The Edge. They most recently met in New York City, so the U2 bandmates could schedule the Fender meeting around their performance at Madison Square Garden.
When most locals think of Servco Pacific, they usually think of cars and the company's local Toyota dealerships. That's only natural: Founder Peter Fukunaga started the company in 1919 as a car repair shop with two bays in sleepy Haleiwa. Ninety-six years later, it's still in the car business, including 10 Hawaii dealerships, an auto parts warehouse in Kalihi, two service warehouses and two tire stores. In between its first auto venture and its recent takeover of Fender, the private company also became a wholesale distributor of home appliances, a specialty insurance underwriter in Hawaii and the Pacific Northwest, and the owner of 10 auto dealerships in Australia, among other holdings.
In 2014, this portfolio generated $1.2 billion in revenue, which placed it No. 7 on Hawaii Business' Top 250 ranking of the state's largest companies and nonprofits. And Fukunaga says Servco isn't done growing.
"Expansion beyond Hawaii's shores is a smart strategy. "We're a small state so the growth potential here is limited."


— John Butler, Management Professor
UH Manoa's Shidler College of Business
But he also says Servco isn't simply concerned with the bottom line. It is one of only two companies that have made Hawaii Business' Best Places to Work in each of the list's 11 years, and was ranked No. 1 among large companies in 2013. That reflects a culture in which employees receive plenty of benefits along with professional development that allows them to grow in their careers.
Past, Present and Future
Though Peter Fukunaga started small in 1919, he soon put the company on a path of growth and diversification. Seven years after opening the initial car repair shop, he acquired the company's first Chevrolet dealership. During the Great Depression in the 1930s, the company coped with declining auto sales by expanding into home appliances and began selling Easy Spin-Dry washing machines in downtown Honolulu. Today, it wholesales home appliances to companies such as Best Buy on Oahu and The Home Depot in Guam, and supplies appliances and plumbing products directly to developers and builders in Hawaii and throughout the South Pacific.
Peter Fukunaga's Knack
for entrepreneurial innovation has been passed down in the family, first to his son, George Fukunaga, and eventually to third-generation current CEO Mark Fukunaga.
At its peak, Servco had 40 businesses under its corporate umbrella. Not every venture was a long-term winner. "We've done everything," says Mark Fukunaga. "We've grown plants in Waimanalo, baked muffins for 7-Eleven, we were in consumer lending, we sold cosmetics, jewelry and Rolex watches, water purification systems, copy and fax machines. We had an advertising agency that specialized in political campaigns."
Rick Ching chimes in. "We had a travel agency, we had women's discount clothing stores on the U.S. mainland as well as here in Hawaii and down in the South Pacific, video rental (companies)," says Ching, Servco's COO and president of Servco Hawaii Automotive. Locals of a certain age might remember the names of some former Servco ventures: Education Works, Evergreen Nurseries, Granny's Muffins, Hawaiiana Advertising and Public Relations Group and Gibson's department store, now the site of Servco's Mapunapuna dealership and service center, and its headquarters.
"Founder Peter Fukunaga "always said, 'You can either grow, or you can shrink, there's no middle ground.' If you stay the same, everyone else will overtake you."

— Mark Fukunaga
Chairman and CEO, Servco Pacific
The two men have been working together for almost three decades. Ching started at Servco in 1985 in corporate finance, then moved to auto operations in 2001. Fukunaga joined the company in 1988 and spent his first year roving in each division, including making customer service calls during a product recall in the appliance division. He became CEO in 1994. Like many Servco employees, Fukunaga and Ching drive what they sell: For the past two years, the two executives have been using Toyota Prius plug-in hybrids as their main modes of transportation.
In the years following Fukunaga's CEO appointment, Servco unloaded several ventures. Today, Servco has pared down its business operations from 40 to three areas: automotive, commercial insurance brokerage and appliance distribution. "Even though we're patient, we try not to be stupid," says Fukunaga. "That means having an objective view of our own strengths and weaknesses in what we do for customers and suppliers and whether we truly are delivering value. And when you go through those screens, you don't end up with that many businesses."
Auto remains the company's top earner. Fukunaga says Servco's market share for Toyota, Lexus and Scion in the Islands is more than double the market share of its mainland counterparts. In fact, Servco is on track to pass a major milestone this year: Its 500,000th Toyota vehicle sold since it became the sole Toyota dealer in the state in 1958.
In 2007, Servco took its half-century-long relationship with Toyota to Australia. "We found it culturally similar to how people do business in Hawaii," says Fukunaga. Servco now has 10 dealerships Down Under and he expects it will add more in the future.
Servco's second-largest consumer business is its insurance division, established in 1971. The company works in specialized areas, such as marine, aviation, retail and hospitality. In 2010, it expanded beyond Hawaii by opening offices in Washington and Oregon. Ching attributes its growing success to consistent customer service. "In the businesses we're in, there's a long-term relationship that the customer values," he says. "It's not just a one-off transaction."
"In the businesses we're in, there's a long-term relationship that the customer values. It's not just a one-off transaction."

— Rick Ching,
COO, Servco Pacific and President, Servco Hawaii Automotive
Expansion beyond Hawaii's shores is a smart strategy, says John Butler, a management professor at the UH Manoa's Shidler College of Business. "We're a small state so the growth potential here is limited," he says. Plus, being in different economic markets protects the company against economic swings. "Every business you have, in every location you have, people are learning things," he says. "And if you can capture that learning and disseminate it through your entire organization, then that's a benefit."
If you think the takeover of Fender was a stretch for Servco, consider the company's musical roots started in 1939 with the founding of Easy Music Center, a store that sells instruments, amplifiers and assorted gear. Servco sold Easy Music in 2005, but kept the minority share in Fender that it first acquired in 1985.
Fukunaga has been playing guitar for around 20 years and now owns 10, including a Fender Stratocaster and a Telecaster. But he demurs at being called a guitar player, though he continues taking lessons from a local jazz guitarist. "He's very patient with me," says Fukunaga with a laugh.
He says Servco saw an opportunity to increase its stake in the legendary company whose guitars have been shredded by Buddy Holly, Jimi Hendrix, Bruce Springsteen, Pete Townsend, The Edge, John Mayer and many other music icons. In 1965, founder Leo Fender sold his company to the Columbia Broadcasting System, but CBS failed to do well with its acquisition and, 20 years later, the company was sold to a group of investors, including Servco.
In 2012, Fender planned to become a publicly traded company, hoping to pay down its $246 million debt, but pulled its IPO at the last minute citing a poor industry outlook (though it's likely that its debt also spooked investors). That year, Servco bought the shares of a private-equity firm, Weston Presidio, but didn't feel it could run the company on its own. So it partnered with another private-equity firm, TPG Growth, and together the companies have a majority share in Fender. "Our day jobs are automotive and insurance," says Fukunaga. "As much as we love the Fender business and its potential, we wanted a partner who could really help us fulfill what we saw in Fender."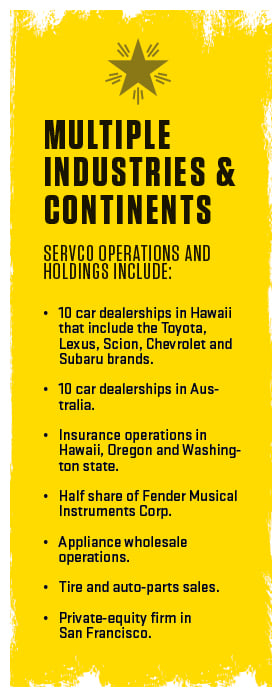 UH's Butler suggests that Fukunaga is probably being modest. He says Servco's 27-year-old investment in Fender gave it a vast knowledge of the musical instrument industry, which guided its takeover decision. "If they just bought it on a whim, it would be just like you or I buying it," he adds.
Together, Servco and TPG Growth have refinanced the guitar company, re-engineered its website to allow online sales (previously, shoppers were directed to Amazon and other dealers) and, this June, hired a new CEO.
"It's been a great investment," says Fukunaga, adding that Fender now wants to cultivate a bigger presence digitally and as a lifestyle brand.
On Fukunaga's office wall at Servco's headquarters hangs a Fender Stratocaster. It's an intricate replica of the instrument played by seminal guitarist Stevie Ray Vaughn and named "Lenny" for Vaughn's wife, Lenora Vaughn. Only 185 of the signature guitars were made, and they retail for $17,000.
"We always tease Mark," says Ching, smiling. "We always say, 'Cars or guitars?!' He's got a choice of hanging out with us or …"
"Bono and Edge," says Fukunaga, finishing Ching's sentence. "It's my one chance in 59 years to be remotely cool."
Team Servco
In 1998, the company took a hard look at its mission statement. The company values are an acrostic forming "Team Servco" and stand for: teamwork, enjoyment, achievement, motivation, service, excellence, respect, vision, communication and ownership. Fukunaga says the company's employees, not its executives, drafted it.
Fukunaga insists Team Servco is more than just corporate platitudes hung on the office wall. He says it's no coincidence that service was built into the company name and adds the company not only values service to its customers, but to its employees and the community. "It's more than just a place to make a buck. It's a place where you enjoy the people you work with and are excited about what you're doing."
That's reflected in 11 straight years of making the Hawaii Business list of Best Places to Work. Servco also hires an outside company each year to help it stay on track by surveying its 1,700 employees – 1,074 in Hawaii – and surveying customers.
Employee perks include not only discounts on cars, but also price cuts for friends and family, as well as discounts on parts and services. The company's employee scholarship program is also open to spouses and children, and each year awards eight to 10 scholarships. Personal and professional development opportunities include training with the Disney Institute, the professional development arm of The Walt Disney Co. There's even an on-site gym at Servco's Mapunapuna campus.
But Servco goes beyond helping its own. Employees regularly organize projects for nonprofits and volunteer on their own. In 1950, founder Peter Fukunaga started the Fukunaga Scholarship for students seeking a business degree. Since its inception, more than 400 students have been given a four-year scholarship worth $16,000, including 12 in 2014. In 1986, the company established the Servco Foundation, primarily funded by Servco's past earnings, to donate to educational, social and cultural organizations in Hawaii. In 2014, the foundation donated $325,000 to more than 100 local nonprofits.
"We're part of this community, Hawaii is our home base," says Ching. "Our attitude is volunteerism is a win-win both for the community at large and the organizations our folks get involved in. It's a great opportunity for our people to learn something outside of their regular jobs."
Ching attributes this company culture to the founding family, the Fukunagas. "It's a part of the DNA of Servco," he says. "I think the perspective they take is much more long term (because it's) a private company. It's a huge part of Servco's success, the investment into the company, the community, the employees, even our customers."
Fukunaga says that, while Servco has long been a local, private company, his family has taken pains to separate itself from the company's day-to-day operations. "We try to run Servco like a public company in terms of governance," he says. "We wanted to try to take some of the arbitrariness out of family companies. The family business comes in terms of long-term stewardship." And it leans heavily on its board of directors, most of whom are independent professionals, including Walter A. Dods, Richard Gushman, Warren Luke and Janai S. Wall. Fukunaga says the board is active in referring Servco executives to other businesses, and providing a reality check.
"Very few firms are successfully passed to the third generation," says UH's Butler. "My experience is that companies that have outsiders (on its board) benefit because outsiders can advise family members in ways that are different than family members can advise other family members."
Continuing Innovation
Whether it's guitars, cars, insurance or appliances, Servco celebrates each division's success by aiming for new expansion opportunities. Fukunaga says Servco will continue growing in Australia, where it runs 10 dealerships. It's also looking to expand its insurance division to the U.S. East Coast and in Asia. This year, Servco is going to get the Toyota Mirai, the brand's first hydrogen fuel cell vehicle. Hawaii will be the second state, after California, to demonstrate the car, and plans to start selling it in 2016, for $57,500.
Most recently, Servco formed its own private-equity firm in San Francisco, headed by a former Servco partner. Fukunaga explains that the company isn't seeking to invest in tech businesses, but global supply companies, with a local partner. "We are looking at doing more as an investor to look for businesses that share Servco's DNA, more traditional businesses," he says.
When it comes to Servco Pacific's longevity and continued expansion, Fukunaga says, he often thinks of what his grandfather used to say. "He always said, 'You can either grow, or you can shrink, there's no middle ground.' If you stay the same, everyone else will overtake you."