Mural's Themes Include Early Migration and Local Cannabis Farming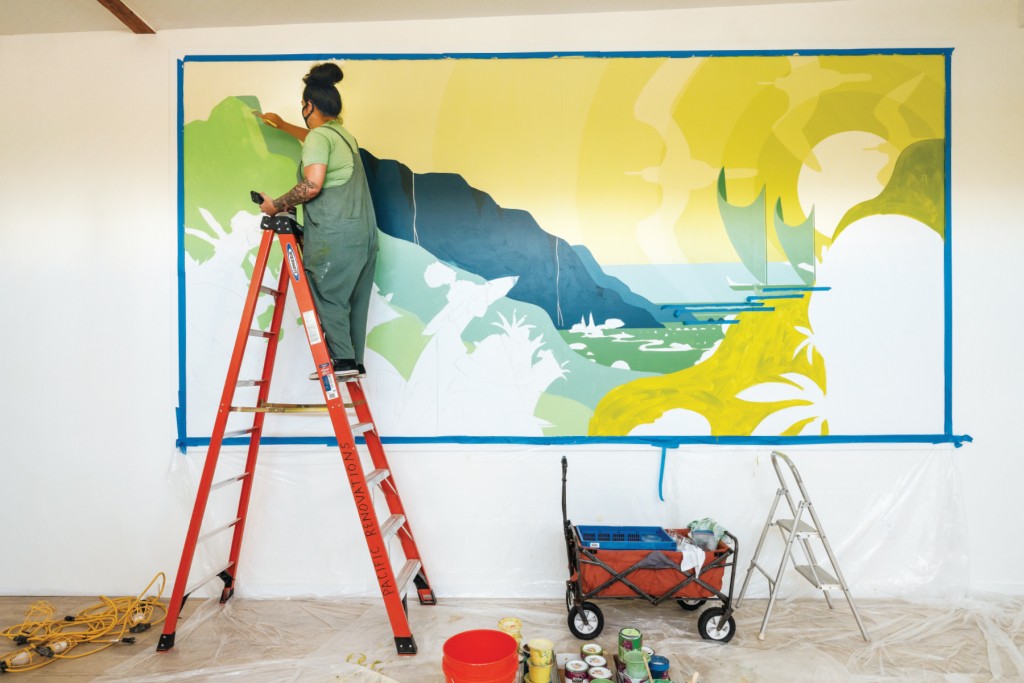 Local artist Shar Tuiasoa paints an indoor mural at the new dispensary in 'Aiea for Noa Botanicals, a medical cannabis company.
Tuiasoa's mural tells the story of migration and the different ways in which plants, resources and people have migrated throughout Polynesia.
"When Noa Botanicals approached me, they wanted an image that wasn't just a typical cannabis leaf," says Tuiasoa. "They wanted something that tied into agriculture in Hawai'i, and that was the idea that I went with."
She used interior house paint for the 16-by-8-foot mural and curated her palette from colors used in Noa Botanical's new packaging, logo and website.
"In Hawai'i's history there have been families who have cultivated their own (cannabis) strains over the course of generations, so there was all this information that I needed to put together into one image," says Tuiasoa. "You can see the two wa'a (canoes) in the background and you have the 'iwa birds in the skies. That is my nod to travel and migration, and how some of our resources have traveled throughout Polynesia.
"And then of course, again swinging it back to the farmers, a nod to the generational cannabis farmers in Hawai'i."
Tuiasoa is the artist behind Punky Aloha Studio, a design and illustration studio based in Kailua, where she was born and raised. She studied fine art at Windward Community College for six years before earning a BFA at California's Laguna College of Art and Design in illustration and entertainment design.
Tuiasoa is recognized for her bold graphics, midcentury modern aesthetics and depictions of Polynesian women that contrast with conventional Western ideals of beauty.
Visual representation has long played a big role in the way people communicate, says Tuiasoa, so if we are conditioned to believe that a certain body type or certain look is beauty exemplified, then a big section of us are left wondering, "Where do we fit in?"
Tuiasoa's depictions of strong women of color began as a self-love journey after growing up surrounded by Eurocentric representations of beauty.
"I wanted to throw my hat into the ring and see what I could come up with as a Polynesian woman creating Polynesian women or Polynesian people. I got such good feedback from a lot of other people who were craving to see that – people who were maybe the same little girl I was."
Tuiasoa says her visual art makes space for women like herself and other underrepresented minorities.
"Women of color exist and we are super proud of ourselves, we are super confident and we belong in the mainstream just as much as anybody else," says Tuiasoa.
"Shapes and color are both tools of visual storytelling. And so my designs have always come down to shapes and how those shapes tell my story."
Noa Botanicals' new 1,120-square-foot 'Aiea retail dispensary is located at 98-302 Kamehameha Highway, about a half-mile southeast of Pearlridge Center, and is Noa's third location on O'ahu.
"We are excited to be part of the 'Aiea business community and to play a role in reinvigorating the area. We believe this will be one of our busiest locations," says Aimee Donzis, marketing director and project manager of the 'Aiea dispensary.