My Job: Calligrapher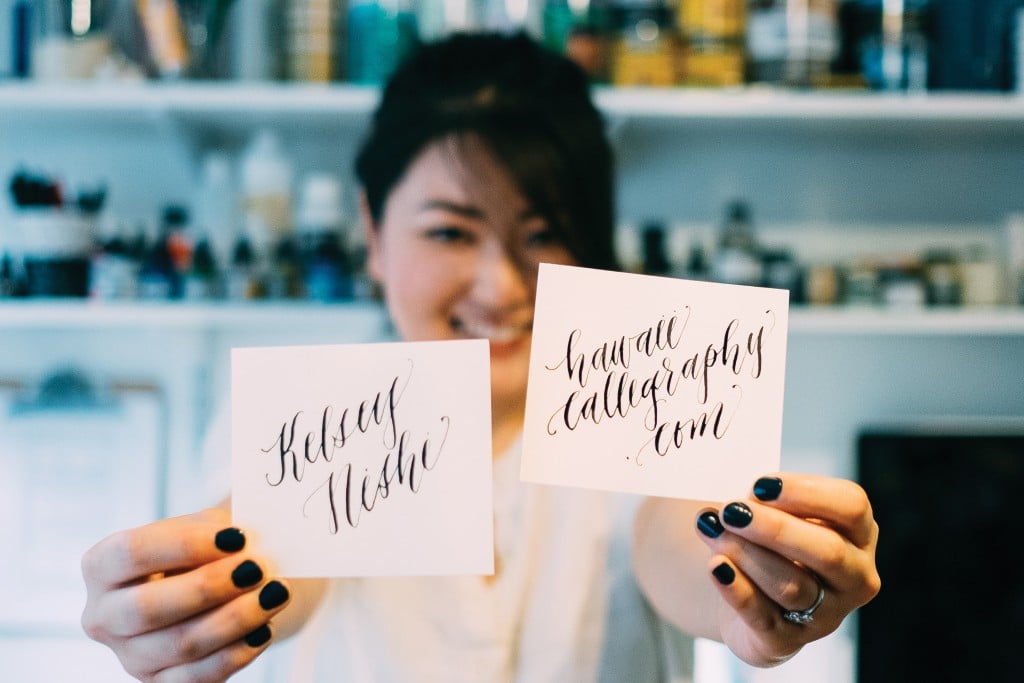 Name:
Kelsey Nishi 
Job:
Calligrapher 
Experience:
One year
Start:
Most local fashionistas know Nishi for her jewelry line, Padma & Pickles, named after her Labradoodle and rescue cat. But a year ago, she picked up a calligraphy pen and found another passion.
"It was just the most fun thing," says Nishi, 28, owner of Hawaii Calligraphy. "I read a bazillion books, joined forums, got on Instagram and got inspired by the people and materials they were using."
Best part:
The market for jewelry is saturated, she says, but few people in Hawaii do calligraphy. "With jewelry, you can look at something and reproduce it almost exactly," Nishi says. "But with calligraphy, short of tracing what somebody else has done, it's so personal.
However, you don't have to have great penmanship to do calligraphy. "Anyone can do it as long as you have the right equipment and a decent imagination," she says.
Busy time:
Wedding season, January through August, is one of her busiest times, with brides and wedding planners contracting her to write signs and table place cards, design the lettering for invitations, handwrite vows and even address envelopes. She does a lot of corporate events during the holidays.
Longest day:
"The other day, I had to address an envelope every 3.5 minutes for 12 straight hours. I couldn't use the bathroom and I couldn't eat. It was a rush order and the client really wanted it, so I did that."
Typical pay:
Nishi has about 90 clients and commissions a month. Handwritten place cards start at $2 each and addressing envelopes starts at $3. She charged $700 for a large seating chart she did for a wedding. Return-address rubber stamps start at $47, monograms at $85 and print-ready custom invitations at $250.
Favorite letters to write: 
"W is one of my favorites. S is pretty cool, too. I really dislike capital H. It's so boxy and hard."