My Job: We All Scream for Ice Cream!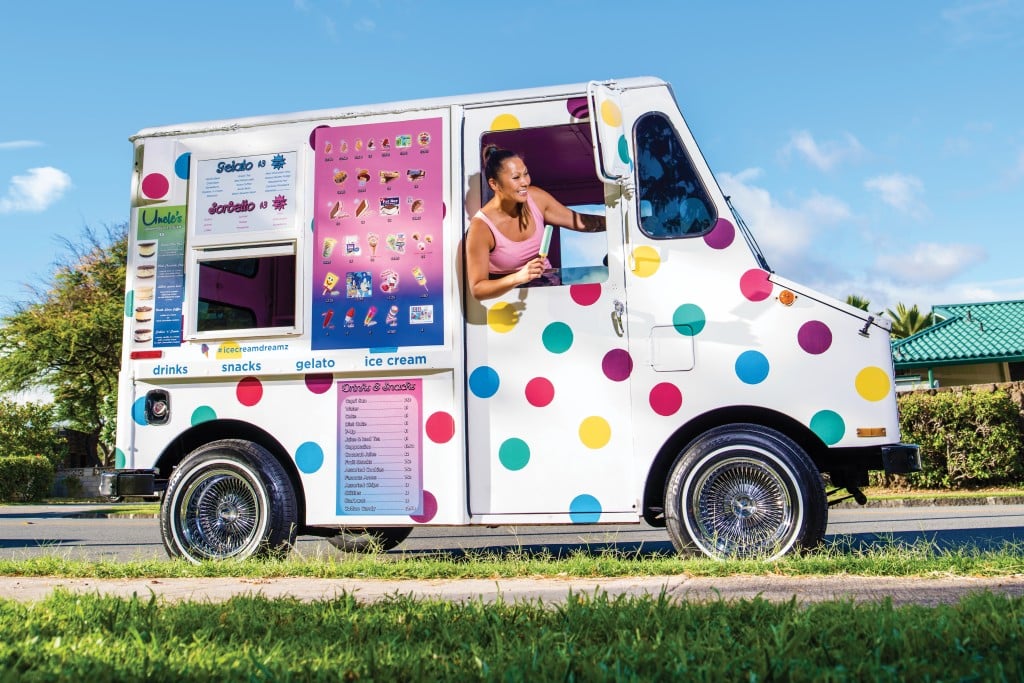 NAME: Cari Ann Leong
AGE: 32
JOB: Owner, Ice Cream Dreamz, an ice cream/gelato truck, and full-time hairstylist
START: "It's a family-run truck," the Sacred Hearts graduate and Kaimuki resident explains. "We started it about three years ago. It was my lifetime dream to have an ice cream truck, as I have a passion for ice cream.
"The hard work of ordering, stocking and maintaining the inventory and going out on runs becomes enjoyable when you see the customers' faces light up at the sight of our colorful, polka-dotted truck coming down the street."
WHAT IT TAKES: "One difficulty we have is maintenance on the truck, as it's older than me. Another worry is if there's a power outage. Early into starting the business, the power went out for over half the day. Of course, it was right after we filled our four freezers. Everything was ruined. We now have a generator.
"We have over 70 items, from handmade ice cream sandwiches, gelato, sorbetto and novelty classics (popsicles, mochi ice cream, snow cones, etc.). We drive around Kapahulu, Kaimuki, Palolo, McCully, Makiki, Waikiki and sometimes Manoa.
"The adults initially are the ones who get excited as they bring their children to tell them how they used to do this when they were kids."
TUNES: "People love hearing the fun music from down the road. We have digitally updated versions of old-time songs that play through a speaker underneath the truck. Some of the songs include 'The Entertainer,' 'Sailing, Sailing' and 'Turkey in the Straw.' "
HEARTWARMER: "Sometimes you can literally see someone's bad day turn into a good one, once they see our truck. One kid dumped out his piggy bank savings on the sidewalk and took 10 minutes to count out his money. When he finally got his ice cream, he was so happy, he ran back into the house screaming and left the rest of his coins on the sidewalk."
MISCONCEPTIONS: "People assume we get to eat ice cream all day. We do have to try the product and make notes, but this is still a business and we need to make money to stay alive."
SERENDIPITY:  "We don't have any social media presence because we want to provide an 'old-time' or 'back-in-the-day' experience. Running after the truck or just happening to be home at the right time makes for a great experience."
PAY: "We try to keep our prices low to ensure repeat customers and to work toward a longtime profit. After all the initial equipment and inventory costs, it took about six months to show a profit."
This interview has been edited for clarity and conciseness.