Nonprofit Corner: Connecting People to Forests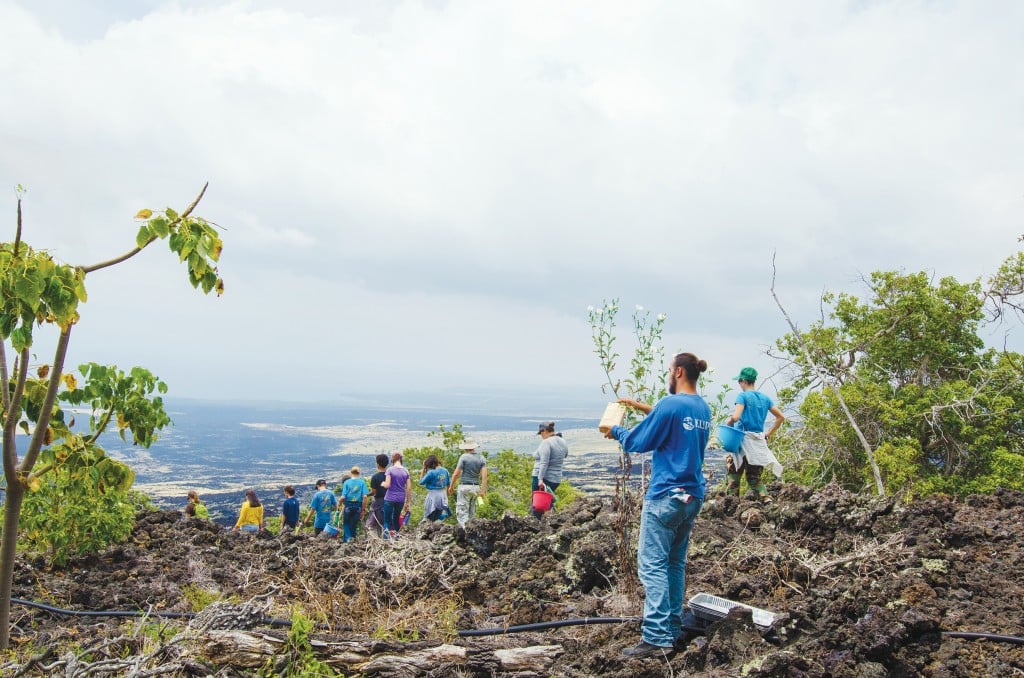 Native plant restoration is an ongoing process at the Kaupulehu Dryland Forest in North Kona – one of more than a dozen projects by the nonprofit Hawaii Forest Institute.
"Not all (Hawaii) forests are native forests," notes Rob Pacheco, who helps raise money for HFI and is the founder of the tour company Hawaii Forest & Trail. In addition to native forest restoration, HFI is also concerned with "forests that are extractive for timber and other forest products … which makes it unique among any of the conservation groups."
HFI, an educational and outreach offshoot of the Hawaii Forestry Industry Association, estimates that some 2,200 volunteers of all ages got their hands dirty in 2015 while learning about the state's unique forest ecology through programming at sites like the Kaupulehu Dryland Forest. HFI's collaborative outreach projects, collectively dubbed Mahalo Aina, aim to raise awareness about Hawaii's forests, both native and working.
Projects include signage at dryland forest sites, a 65-part Hawaii Public Radio series on forest-related topics and "discovery forests" planted at the Panaewa Zoo in Hilo and Honolulu Zoo with the help of school groups and community volunteers.
"Part of the reason the forests at the Panaewa Zoo and the Honolulu Zoo were created was because most of the areas where we do this work is fairly inaccessible and, in many cases, closed to regular general access," says HFI president Dr. Travis Idol, an associate professor in forestry at UH Manoa. "We wanted them to be much more visible, so … the public can just come and see the forest and (watch) its progress."
"(HFI's programs) are relatively small, they're very doable, and they have the potential to reach a lot of people."
— Rob Pacheco, Founder of Hawaii Forest & Trail and supporter of Hawaii Forest Institute
Other HFI projects include a plot of fir trees that may someday offer a sustainable alternative to Christmas trees shipped from the mainland, and the management of a koa forest with trees large and straight enough to help buoy the Hawaiian tradition of canoe building.
"HFI's programs are conservation programs, but they're not these huge, massive landscape type of projects like some other organizations are doing," says Pacheco. "Theirs are relatively small, they're very doable, and they have the potential to reach a lot of people, get them into the forest and connected to the forest emotionally."