This Nonprofit Is a Lifeline for Special-Needs Children and Their Families
HUGS provides services and support to every member of the family.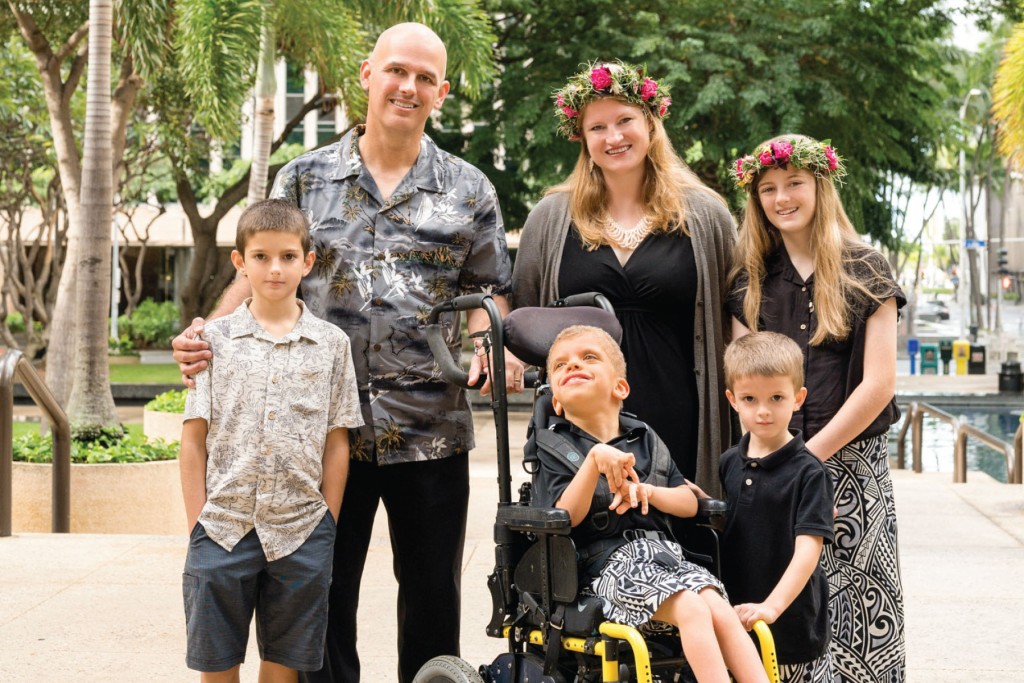 Nine days passed before Erin Rodgers was able to hold her newborn son in her arms.
He had been diagnosed with Costello's syndrome soon after birth – one of just 350 reported cases worldwide. "I went through a time where I really experienced a sense of loss," she says. She talks of the many "dreams and hopes" she had for her child when she found out she was pregnant, each one like a big, beautiful balloon.
But one by one those balloons burst. Then when Grady was 8-10 weeks old, Rodgers was woken in the night by a phone call from the hospital saying he had accidentally taken his breathing tube out and health workers were having a difficult time getting it back in.
" 'We don't know if he's going to make it. You have to get here quick,' " the hospital told her.
Tears fill her eyes and her breath-ing hitches. "I remember driving to the hospital and I was praying: 'I have one balloon left and that's my baby's life. Just please don't take that one.' "
God was gracious that day, Rodgers says, and Grady is now 10 years old. Surviving the breathing tube episode was just one of many miracles that she and her husband, Cody Rodgers, have experienced.
Financial and Emotional Support
Another miracle was being introduced to the nonprofit HUGS in 2019 after moving to Hawai'i. HUGS – which stands for Help, Understanding and Group Support – provides services to Hawai'i children and young adults up to age 21 with life-threatening illnesses or diseases.
Executive Director Joan Naguwa says HUGS provides financial and emotional support, and helps families find assistance through other nonprofits and community resources.
HUGS' staff of seven serves over 400 families on all Hawaiian Islands, but they have a lot of help, Naguwa says. "The community support is tremendous, and we can't do it without them.
"We have businesses, churches and high school students – all kinds of people who volunteer for us and sponsor some of our events. That's a true blessing."
Erin Rodgers says Grady has had at times dozens of appointments a month for interventions, therapies and doctor visits, and that the stress of all that strained her relationship with her husband and three other children.
When they moved to Hawai'i, the first thing the doctors said was: " 'We want to know what's best for your family. What are your family dynamics and what are your goals for Grady?' "
"I don't think anybody had ever asked us that," she says. A nurse referred the family to HUGS, where they learned how to be a family again, focusing on each other while still taking care of Grady.
Help for the Entire Family
Erin Rodgers says HUGS met needs they didn't realize they had. And after experiencing this support in Hawai'i and building a strong foundation for their family, she says, they've found a "sense of belonging and identity."
HUGS supports every member of every family it serves, Naguwa says. They have date nights and mothers and fathers nights for the parents, summer camps for the siblings, and activities for the children suffering illness or disease.
Cody Rodgers says on fathers nights he connects with other dads who understand the challenges of raising a child with special needs. They share stories, laugh and find commonality. "Having that community is a big deal," he says.
Siblings understand the struggles of not being the main focus in their families so HUGS provides ways for them to bond. And the children with illnesses are free to be themselves, judgment-free.
These children are in the hospital for most of their lives and are continually stared at, whispered about, and avoided or ignored, Naguwa says. When children grow up in that environment, she says, "they lose their sense of normalcy."
Because of its limited staff and resources, she says, HUGS can only thrive with community support.
"I really want to express our gratitude on behalf of our families for the whole community in the way they support us. From just the man who appears at the door with a toy, to big companies, to churches, to people who donate their Hawaiian Miles to us. There are so many ways that people support us."