Old Sails Become Light, Durable Bags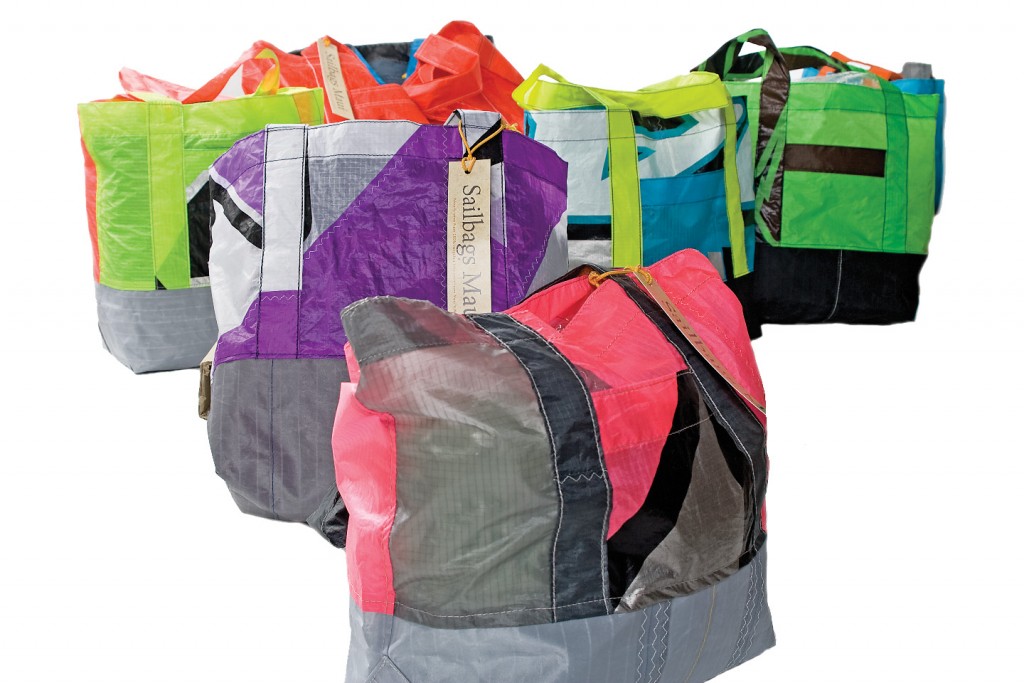 In one of the sailing capitals of the world, it makes sense that tough old sails are being remade into something new and bold: bright and feather-light handbags and beach bags that dry fast and can carry a heavy load.
Surfer Kristine Hoffman was working last summer at a boutique in Paia, Maui, when a bag made out of recycled yacht sails intrigued her. She realized old kite sails made of rip-stop nylon could be put to similar use.
"My first concern was that there wouldn't be enough material," Hoffman says, but she discovered there was a surplus of material waiting to be reused. "Because the kite-surfing companies are constantly coming up with more efficient designs, kites from two years ago are considered obsolete," she says. Even industry giants Naish and Cabrihna regularly supply Hoffman with donated boxes of old and outdated sails.     
Ocean dunked, wind battered, and rain drenched, the old sails are washed repeatedly and line dried before they are sent to the cutter. Once cut, Hoffman selects and assembles the color combinations for each bag — some in retro neon like fluorescent yellow and hot pink, others in bold classics like zinc white with contrasting red stitching. The pieces are then sent to three sewers, each of whom previously worked for Dakine when windsurfing gear was manufactured on Maui. 
One-hundred-percent Maui-made, Hoffman's chic Sailbags debuted at Biasa Rose Boutique in Paia last February. They sold out on opening night and have been sailing out the door ever since. Hoffman says Mainland boutiques and yacht companies have placed orders because they are ideal boat bags and beach totes.
"The nylon that makes kite sails able to withstand nature's most intense elements also means that it takes years to decompose. This material is so durable it deserves to be given a second life."
Sailbags Maui are also available at Naish Maui Pro Center in Kahalui and online at www.sailbagsmaui.com. Three sizes starting at $78.